After having made Granit Xhaka their first signing of the summer, a glimpse of just why Arsene Wenger and Arsenal management acted so quickly once the transfer market commenced, paying just over £30 million was easily evident during the Euros.
A top performer throughout the competition only added further value towards a player who had already grown in stature in his 4 years tenure with Borussia Monchengladbach.
After having secured his services in a 5 year deal at the Emirates, it was revealed that the Gunners watched the Monchengladbach star, a staggering 30 times during last season.
So what is it that makes Granit Xhaka so special? What is it that makes him potentially the signing of the summer? In this article, FTB looks to answer these very questions.
Tracing back to his full debut as a first-team player at the age of 17, Xhaka rose to fame as one of the two rising stars at St.Jacob's Park. The other, of course was Xherdan Shaqiri.
Whilst Shaqiri had his reputation grow leaps and bounds from the onset, with direct high prolific moves to Europe's elite Bayern Munich and Inter Milan, a more modest route was adopted by Xhaka. Although his talent was never in doubt, his occasional inconsistencies and hot temperament needed to be ironed out and that's exactly what happened in his time at Borussia-Park. Seeming to have been around since forever despite being at the age of 23, the Swiss playmaker was the heartbeat of a Borussia side trying to bring back good times to Gladbach.
Now, nine months after his peer's career has taken a slight backward step in terms of advancements after having left the elites of Europe and joined Mark Hughes at Stoke city, Xhaka's stardom continues to rise. His 2015/2016 Bundesliga campaign has been the nail in the coffin in terms of rising to the challenge of establishing himself as a leader with manager Andre Schubert stating that he was bound to be a great leader, and Ex- Swiss chief Hitzfeld further labelling him as "Young Schweinsteiger".
For the past 18 months, Xhaka was Die Fohlen's creative architect, by taking in the ball deep inside the team's own half and dictating the play of the game from there on with his immaculate left foot. Technically gifted going forward, he always possessed the stamina required to backtrack and do the nasty defensive work as well. Always capable of throwing himself into a block even on the edge of his own box, it would take a matter of 10 seconds for him to be on the opposite end of the pitch, looking to fire a shot at goal.
Overall, the Swiss Star is not regarded as a prolific scorer, nor does he try and break records in the top assist charts, but his credentials lie in his play-making abilities. Often regarded as the "Little Einstein" due to his interest in science, his ability to instigate moves and lay down foundations to commence forward and attack is what defines his gameplay.
After speculation regarding his future started doing the rounds in January, Xhaka did not hold back to state that his dream was to play in England. The news spread like a forest fire and the next thing you know, new Manchester City boss Pep Guardiola starts to enquire about whether his services would be available for the Etihad next season or not.
However things did not materialise and eventually, Arsenal's 12-month chase paid off and they landed their man.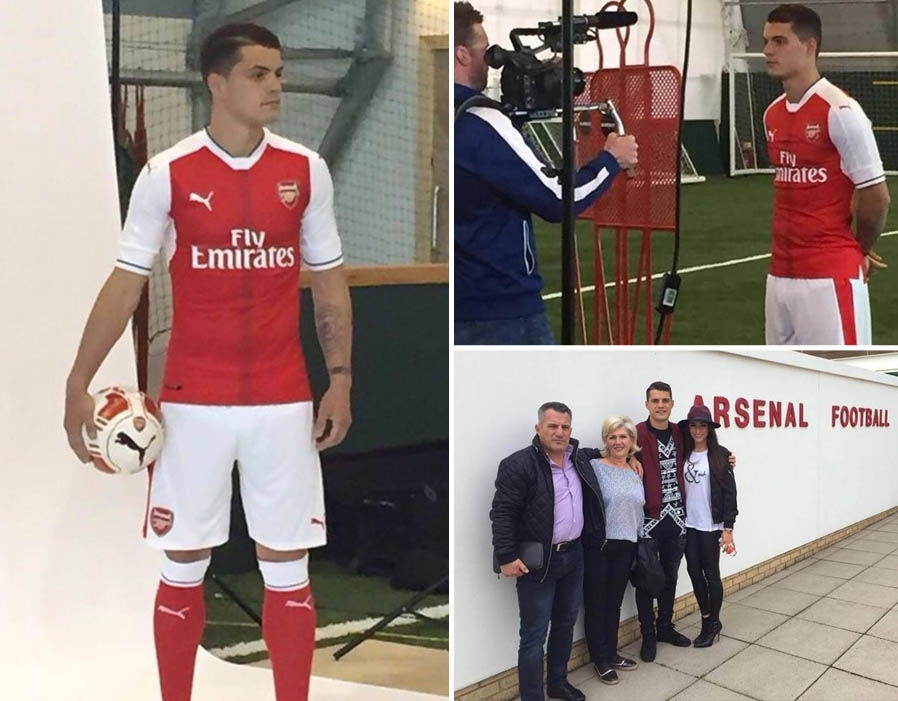 After being presented to the media in his new red and white kit, Xhaka mentioned how he was looking forward to the challenge at the Emirates and proving his worth in the upcoming Premier League Season was his main agenda.
It is this self confidence and commitment that makes one believe that the Gunners managed to land one of the most important signings in their recent history. After failing to have won the title since 2005, Wenger can now have assurance that his defence will have the much needed support to both stand tall as a rock or push forward whilst on the attack.
With today's value of players in the transfer market having reached new heights in terms of transfer fees and buy out clauses, at £30 million, Arsenal seem to have bagged a bargain and potentially the best signing of the summer. What now remains to be seen is whether our argument is proved right or wrong as the season progresses.