Chelsea have won Premier league title and the celebration was vibrant. After beating West Brom 1-0 at The Hawthorns, Conte's men changed their name to "CHAMPIONS" on Twitter.
Celebration began on ground where Conte and Pedro were hoisted on air in front of Chelsea fans.
Chelsea's manager Antonio Conte got his first premier league title in his first season as manager of the blues.
The victory, Chelsea's 28th of the season, put the long-time league leaders 10 points clear of second-placed Tottenham Hotspur, who have only three games left to play.
Conte is only the fourth manager to win the Premier League title at the first attempt. Before him, Jose Mourinho in 2004-05 and Carlo Ancelotti in 2009-10 triumphed at Stamford Bridge while Manuel Pellegrini achieved the feat with Manchester City.
Pedro is definitely flying high after this win.
This is how the blues, fans celebrated their win inside the dressing room and on internet
You know the words, Blues fans!!! ?#ChelseaChampions ? pic.twitter.com/Fy0lMojXsr

— CHAMPIONS! ? (@ChelseaFC) May 12, 2017
Diego Costa in full celebration mode without his pants, jumping and dancing.
Spanish Army ???? @cesc4official @marcosalonso03 #cfc @ChelseaFC pic.twitter.com/8AMyk2wfcx

— Pedro Rodríguez (@_Pedro17_) May 12, 2017
CHAMPION SELFIES!!! #ChelseaChampions ? pic.twitter.com/hMVQqsEHfD

— CHAMPIONS! ? (@ChelseaFC) May 12, 2017

Selfie – Time With the pals.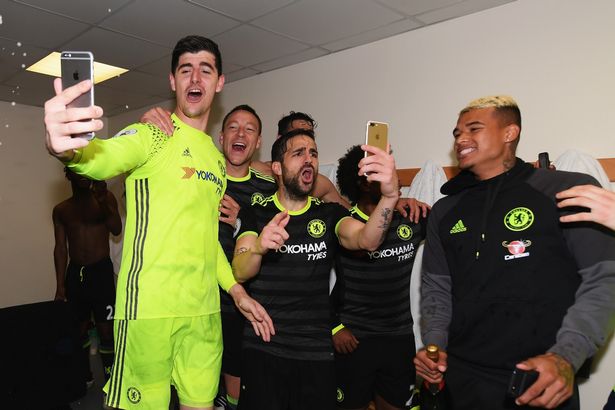 Courtois and Fabregas : "Lemme Take A Selfie"
Conte was soaked in champagne as he entered the dressing room.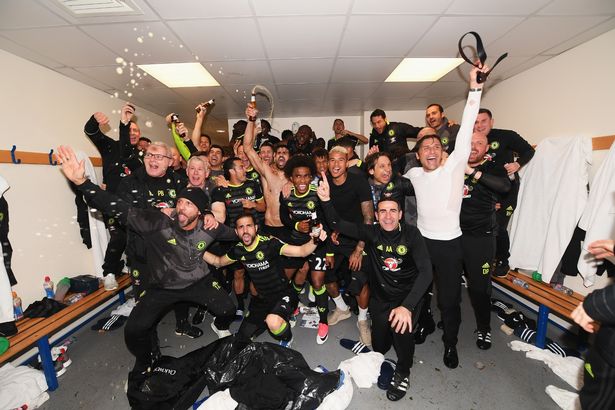 Blues fans went bonkers after Conte clinched his maiden Premier League title in his debut campaign in England. We bring you an assemblage of the best tweets and reactions on social media:
Don't worry I got this yall ?? God loves unexpected heroes ❤ Very happy tonight enjoy the title FAM !!!! #CFC #KTBFFH #Neversurrender pic.twitter.com/8pCEsR3Z2h

— Michy Batshuayi (@mbatshuayi) May 12, 2017
Michy Batshuayi became the hero who came off the bench to score in the 82nd minute.
And Conte became the fourth Italian after Achelotti, Roberto Manchini and Claudio Ranieri to win the Premier League title – a year after Ranieri inspired Leicester City to their incredible triumph.
Chelsea won 5 Premier League title under John Terry's Captainship.
Congratulations to @ChelseaFC on winning the 2016-17 @premierleague title. ?

— Swansea City AFC (@SwansOfficial) May 12, 2017
Many Other clubs congratulated BLUES for wining Premier League title.
Congratulations @ChelseaFC!

Premier League Champions 2016/17 pic.twitter.com/xOaz8o2I4B

— Premier League (@premierleague) May 12, 2017
Congratulations Blues !! ?? https://t.co/qXIlrd8Zhb

— Oscar (@oscar8) May 12, 2017
Congratulations @ChelseaFC on winning the title. Strongest team all season. It's well deserved ??

— Danny Simpson (@dannysimpson) May 12, 2017

Football world wished the champions including the official league.
Congratulations to @ChelseaFC on becoming Premier League Champions.

— Gary Lineker (@GaryLineker) May 12, 2017
Champions!!! ? @ChelseaFC

— Justin Rose (@JustinRose99) May 12, 2017
Top pundits and other sports personality too wished them.
How can chelsea fans lag behind when the whole sports world is congratulating the blue.
Who is bruce wayne? I only know one batman #chelsea #cfc #wbache #batshuayi #champions pic.twitter.com/kTGNIst0EH

— Ashish ambawat (@ambawataaa) May 12, 2017

The BEST reaction on twitter and tribute to Batshuayi, the hero of the match.
#Chelsea night ? pic.twitter.com/RdBCDLMwbP

— Guglielmo Cannavale (@GugliCannavale) May 12, 2017
Retweet
If you're a happy #Chelsea fan! pic.twitter.com/FZE7Kin2xp

— THE CHELSEA FORUM? (@TheChelseaForum) May 12, 2017

From all around the world Chelsea got wishes and some reaction on twiterrati was directed toward Wenger.
Antonio Conte =1 Premier League title in 9 months at Chelsea.

Arsene Wenger= 0 Premier League title in 14 years.#ChelseaChampions #CFC pic.twitter.com/g6twfaH42G

— The Blues ? (@TheBlues___) May 12, 2017