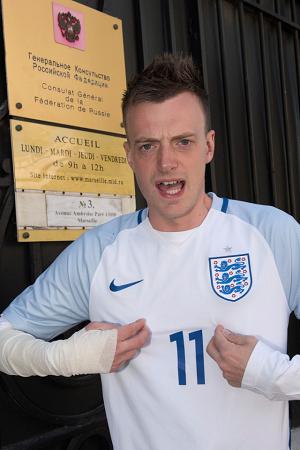 Lee Chapman, who famously shot to fame for his uncanny similar looks to Leicester City and England forward Jamie Vardy, is too scared to leave the house after England got knocked out of the Euro 2016 tournament by Iceland in June.
According to various reports, Chapman, 29, is thinking to end his new-found career as Vardy lookalike as online trolls take to social media to hurl threats and abuse at him.
In a report by The Sun, Lee said, "When Leicester won the league I was on top of the world – everybody loved Vardy and they thought I was him.
"Now that the team have done so badly in the Euros, all I'm getting is a stream of abuse. But I just watched the tournament on the telly like everybody else."
Lee shot to fame after a video of him outside the Leicester City stadium went viral, with the internet claiming he is Vardy's doppleganger.
He became an overnight sensation and took six months off his job as a postman to work as a lookalike.
Since the team's meteoric rise to fame Lee and his girlfriend Sarah Baker, 28, get mobbed when they go shopping in the city centre.
But things turned sour soon not just for England but also for Chapman after the country's loss to debutants Iceland at the Euro 2016 in June.
Fans started sending messages of abuse, with one editing a photo of Lee so it looked like he was holding a sign saying: "I am a nonce."
Lee said, "Ever since England went out of the Euros, all I get is abuse from angry fans. It's not my fault the team played so badly.
"I'm trying to take it in good humour and wait until it all blows over."
Since there's enough hate in the world, here are some support for the doppelganger:
.@Lee_Chappy is just doing his job but all these TROLL accounts just abuse him. Would they like it if I went to there work and abuse them?NO

— AwayBöyz Singer (@SingerAwayBoyz) July 12, 2016
Can not believe the amount of abuse @Lee_Chappy has got whats wrong with it he's only providing for his family and u can't change how u look

— #BradPittlookalike (@nathanmeads) July 11, 2016
@nathanmeads @Lee_Chappy How would they like it, if someone called their Grandfather Father, Uncle, Brother or Son a nonce?

— Hazel M R Fernandes (@HazelFernandes2) July 12, 2016
if you don't like @Lee_Chappy then keep it to yourself; there's no need to be wishing death on him, he hasn't harmed anyone

— alex ≈ (@indiealexx) July 11, 2016
@Lee_Chappy is a top top bloke realy dont no y people r bein so cruel, well actually I do its called jealously, get on with ur own sad lives

— The Organiser (@theorganiser10) July 11, 2016