Rumours surrounding Pogba's anticipated summer move to Manchester United has received a spur after the French midfielder's latest move on social media.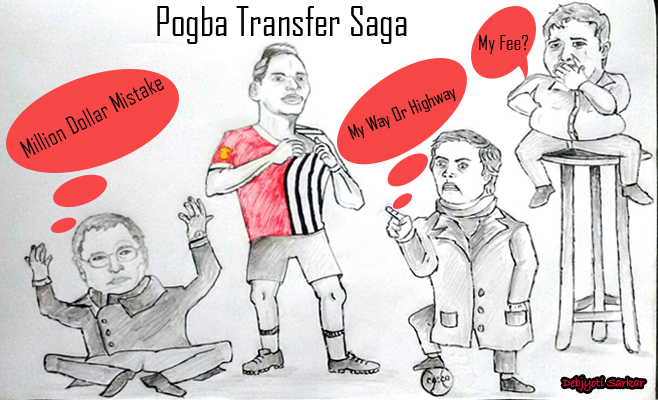 Paul Pogba is set for a record transfer to Manchester United, this time the home coming will be close to £100 million from Juventus.
The transfer saga has taken a mammoth dimension after Pogba continued to tease the Manchester United fans with his recent updates on social media, while on holiday in the United States after Euro 2016.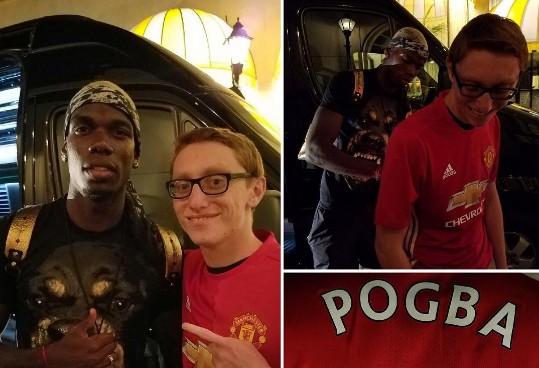 This time Pogba has fuelled the transfer rumours by signing a No.6 shirt of a Manchester United fan.
Die-hard Man Utd fan Jonathan Perkins was wearing his new 'Pogba 6' shirt while celebrating his 18th birthday in Los Angeles, and he got his greatest gift when he bumped into the Juventus star playmaker Pogba – along the streets of California.
Earlier during his vacation, Pogba posted a black and white image on Instagram with a splash of red all over to fuel the rumours a higher pedestal.
Pogba joked in another Instagram picture and tried to portray that he was carrying a contract.
Don't believe everything you read in the papers.
It's all just blah, blah, blah. #FirstNeverFollowshttps://t.co/hJyjHuyUMM

— adidasfootball (@adidasfootball) July 28, 2016
The United kit manufacturers have seemingly confirmed that Paul Pogba's transfer from Juventus to United is done after they released this video today, featuring Pogba, Old Trafford and United super-fan, the grime artist, Stormzy.
"Don't believe everything you read in the papers," a hooded, but laughing Pogba was seen saying before enjoying a quick kickabout.
The video cuts from Pogba to a billboard showing the United crest and the word 'blah' – a word used by Pogba's agent Mino Raiola in a tweet sent last week.