This was coming for a long time. Lille have been crowned champions of France after tonight's win against Angers on the final day of Ligue 1. Their win, combined with PSG's draw earlier this month against Rennes, confirmed a fourth league title heading to Stade Pierre-Mauroy. Led by one of the most admired managers in the country, Christophe Galtier, Les Dogues have steamrolled oppositions all season long. 
Winning the league after a gap of 10 years, Lille have managed to finally stop the trend of PSG walking to the championship in recent years. Furthermore, what is even more praiseworthy is how the club managed this feat after selling two of their top talents in the last two seasons. A huge portion of it has come to the savviness of former sporting director, Luis Campos.
𝟙𝟘 𝕐𝕖𝕒𝕣𝕤 𝕤𝕚𝕟𝕔𝕖 𝕥𝕙𝕖 𝔻𝕠𝕦𝕓𝕝𝕖#OnThisDay 10 years ago we won the @coupedefrance 🏆 🥳 #OTD pic.twitter.com/qbDvC2raci

— LOSC (@LOSC_EN) May 14, 2021
The Portuguese has managed to generate a profit of £118 million in profit from player sales while getting in raw, exciting talent for cheap who will multiply their values here. 
7️⃣9️⃣ points after 3️⃣6️⃣ games ! Our highest ever total at this stage of the competition 🔥 pic.twitter.com/o4vBmblGjz

— LOSC (@LOSC_EN) May 8, 2021
Their young players have been at the core of this title-winning team which has been brilliantly led by a pair of veterans, who most had consigned to the washed-up bin. It has been a lesson on how teamwork can literally make the dream work.  
THE ROAD OF THE CHAMPIONS
Lille began their season with a 1-1 draw against Stade Rennais, which was followed by an eight-game undefeated streak till November. Their first defeat came against Brest, which featured seven yellow cards and at one point, had been trailing 3-0 before succumbing 3-2. This might have caused some jitters to a fanbase already resigned to their fate of being the nearly-men again.
11 – Lille have picked up 11 points after 5 games in Ligue 1 2020/21, their best tally at this stage of the season in the 21st century (alongside with 2014/15, 8th in the end). Fangs. #loscfcm pic.twitter.com/GSXwcnuJej

— OptaJean (@OptaJean) September 25, 2020
However, the team went on a seven game unbeaten run, which was even more crucial than their last stretch. This run included four points taken off their nearest challengers, PSG (0-0) and Monaco (2-1). Just when it seemed like their season was nearing full speed, they suffered a shock home loss to Angers, going down 2-1 in the first game of 2021. Remarkably, that would spark yet ANOTHER great run of games.
In their 18 games hence, Lille have lost just once, while winning 13. Once again, their unbeaten streak against their nearest challengers was the key. Crucially, they managed to collect seven points against Monaco (0-), PSG (1-0) and Lyon (3-2). That last encounter was one for the ages, with their Turkish striker Burak Yilmaz finding the winning goal in the 85th minute to keep Galtier's side on top.
66 – Lille count 66 points after 31 Ligue 1 games in 2020/21, the highest tally in their history at this stage of the season (3 points win). Each of the 26 teams with at least this total at this point have finished on the podium, with 21 being crowned champions. King ? #PSGLOSC pic.twitter.com/gMGoKofYZq

— OptaJean (@OptaJean) April 3, 2021
Indeed, Lille's three losses this season is the joint-fewest suffered by a club in Europe's top-5 leagues (tied with Serie A champions Inter). The French club have the meanest defence with only 22 goals conceded, while goalkeeper Mike Maignan has kept a league-high 20 clean sheets. Both of these things have been imperative in squeezing out narrow wins all season long, 11 of their wins coming by a margin of a single goal. 
2️⃣0️⃣ clean sheets in #Ligue1 💥 We've got 𝙈𝙞𝙠𝙚 𝙈𝙖𝙞𝙜𝙣𝙖𝙣 💪 @mmseize pic.twitter.com/2FLVFfi2zu

— LOSC (@LOSC_EN) May 11, 2021
When compared to the 2010-11 champions, Les Dogues have a better record of points, defence, and losses. This has truly been a season of merrymaking in Ligue 1, which often gets bad press in the form of "farmers league" and not being competitive enough. Thus, Lille's championship win could not have come at a better time for both France which can establish its credibility as a top league and of course, the club itself. 
THE DOGUES OF WAR UNLEASHED
Lille winning Ligue 1 seemed a far off dream when Christophe Galtier was appointed manager in the winter of 2017. The former-Saint Etienne boss had won the Coupe de la Ligue eight years in charge at the Greens. Taking over from Marcelo Bielsa, the club flirted with relegation the rest of the season, eventually finishing 17th, one point above the relegation zone. A big part of avoiding the drop was Galtier guiding the side to three consecutive wins from their last five games.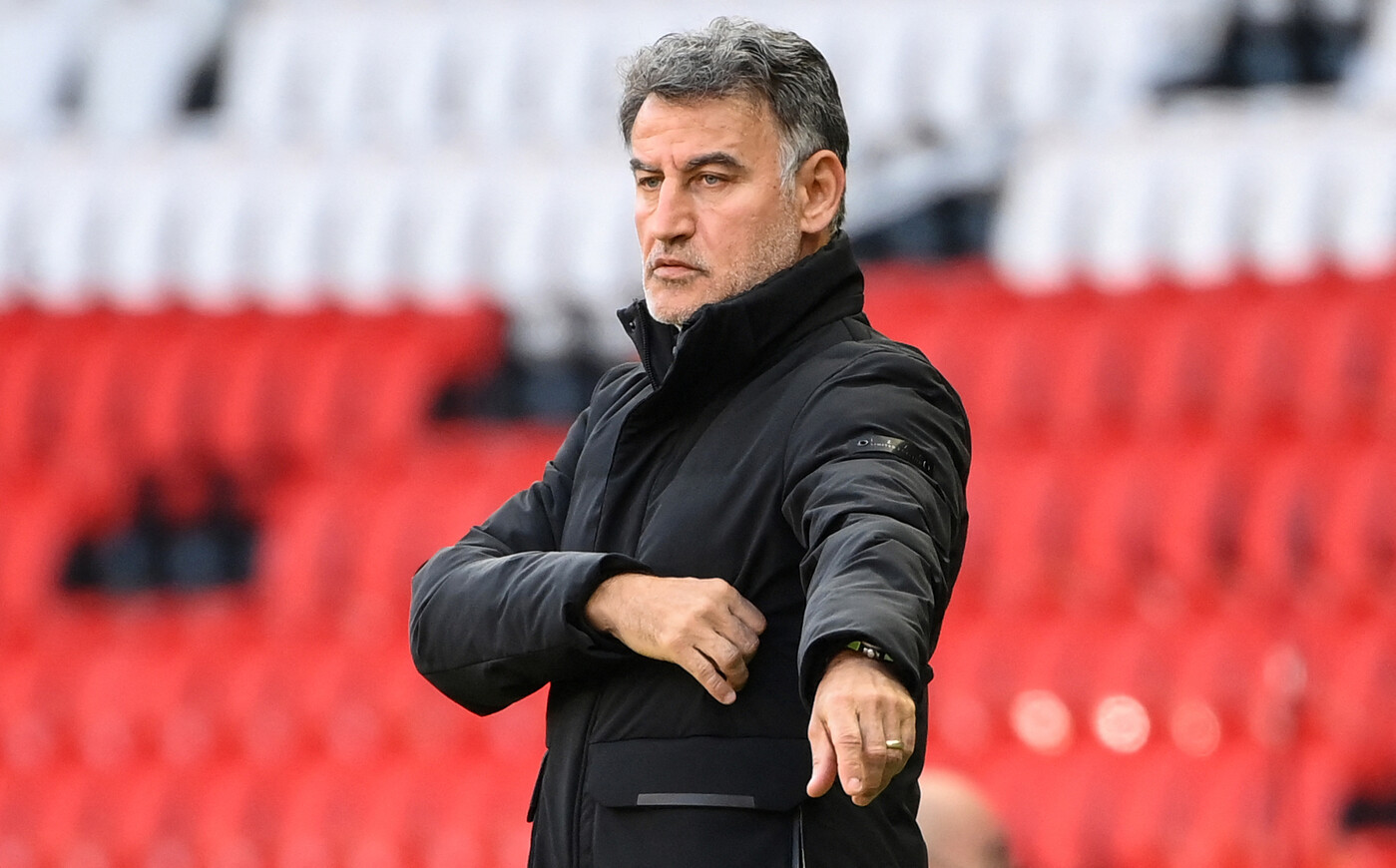 Things took a sharp upward turn in Galtier's first full season in charge, as Lille were runners-up to PSG while suffering 13 defeats less than the last year. Their top scorer of that time, Nicolas Pepe was prised away at the end of the season by Arsenal for a mammoth £72 million, netting them a profit of seven times on the original transfer fee.
16 – Lille have 16 points after 8 games in Ligue 1 2018/19, their highest tally at this stage in the top-flight since 2004/05 (also 16). Ambitious. pic.twitter.com/Rx9Pa9wchc

— OptaJean (@OptaJean) September 30, 2018
The pandemic curtailed the 2019-20 season marked a fourth-place finish for Lille, which was considered an okay campaign after the previous year's lofty heights. However, their main work happened in the offseason transfer market. Campos and the club managed to sell top scorer Victor Osimhen for  €70 million to Napoli and defender Gabriel to Arsenal for €30 million. That money went into funding some of the stars of the championship winning season. 
Transfer fee Lille have agreed with Napoli for Victor Osimhen is €70m plus €10m of performance-related variable.
Rangers forward Alfredo Morelos is an option to replace the Nigeria international. https://t.co/cqf3YZZBi5https://t.co/8YK1QvJFwf pic.twitter.com/7IbAaLcfqT

— Duncan Castles (@DuncanCastles) July 25, 2020
Jonathan David (€30 million from Gent), Sven Botman (€8-9 million from Jong Ajax) and Burak Yilmaz (free) all became part of Galtier's squad for the 2020-21 campaign. They joined a steady group of players who were already first-team regulars, including captain Jose Fonte, right-back Zeki Celik, midfielders Yusuf Yazici and Boubacar Soumary (who will join Leicester upon the end of the current season) along with their forward duo of Jonathans- Bamba and Ikone.
RECORD 🍁 Jonathan David 🔥

Most goals by a Canadian in a top-5 European league#CANMNT ⚽️ https://t.co/ZOaUCv719E pic.twitter.com/WiyE6IFgkc

— Canada Soccer (@CanadaSoccerEN) May 7, 2021
The result has been telling contributions from each of the aforementioned players. Yilmaz has been the front runner with 15 goals while also supplying five assists. The 35-year old has been ably supported by David (12 goals and two assists), Ikone (four goals and five assists), Bamba (six goals and nine assists), and Yazici (seven goals and four assists).
8 – Jonathan Bamba has delivered 8 assists in Ligue 1 in 2020, only Angel Di Maria (10) did better in this period. Unselfish. #LOSCFCL pic.twitter.com/GMTyLxvH95

— OptaJean (@OptaJean) November 22, 2020
The defence has, of course, been the tightest in the league. 37-year-old Fonte's pairing with 21-year-old Botman has been a massive success, while Celik has been a dual-threat on the flank for Galtier's men all season long. Behind them, Mike Maignan, who was Ligue 1 Goalkeeper of the Year in their runners-up campaign, has been in inspired form as evidenced by his league leading clean sheets, which is a full six matches clear of his nearest challenger (Keylor Navas with 14).
Lille are challenging for the title this season, and it surely helps that their players are so strong in duels.

Their midfielder Benjamin André has won the most duels in the division, while their CB duo Sven Botman and José Fonte win the highest portion of duels they contest! 💪 pic.twitter.com/4JAowV9HYH

— SofaScore (@SofaScoreINT) March 29, 2021
Galtier has been using the 4-4-2 extensively, with Yilmaz and David up top while having the rest of the power attackers coming off the bench. This helps in dividing up the goal-scoring responsibility as well as keeping their shape compact when having to defend. Moreover, he has also been benefited from familiarity with his players. 
Lille were 2-0 down against Lyon in a crucial top of the table clash in Ligue 1.

35-year-old Burak Yilmaz produced an absolute masterclass with two goals and an assist to turn the game around.

Four games remain and Lille are top of the league. pic.twitter.com/6JoMPqBhX6

— bet365 (@bet365) April 25, 2021
Most of the first-team and squad have been assembled under the French manager which has led to Galtier being able to deploy them in their best-suited positions on the pitch. The result of all this work has finally paid off in being crowned Ligue 1 champions for Les Dogues.
SUSTENANCE IS UNCERTAIN
In recent weeks, reports have emerged regarding the possibility of Galtier leaving Lille at the end of the season. There has been a supposed contract offer from rivals Nice, while several of their top players will most definitely be in demand once again. Lille's model of operation has been to buy cheap and sell at a much higher value, which will once again be necessary given the long-lasting effects of the pandemic. 
❤️ This #team pic.twitter.com/sxTW8iJKDS

— LOSC (@LOSC_EN) May 8, 2021
Thus, a successful title defence might be too far a stretch for the club. Their best bet might be to remain among the top contenders once again and having also qualified for the Champions League, they will be desperate to provide a good showing of themselves amongst Europe's elite.