Ligue 1 side Lyon were once again involved in the conflict in just four days, as their road match against bottom-ranked Bastia was abandoned following the Bastia fans' attack on Lyon players in Sunday's 33rd action, while sixth-ranked Marseille extended their lead to six points ahead of Saint-Etienne with a 4-0 home win.
In Bastia's Armand Cesari stadium, Lyon players were the target of about 50 home fans' attack during their warm-up, and the game had to be delayed for more than 50 minutes as captains from the two sides and other parties talked about the possibility of moving the game ahead, as the Lyon players remained in the locker room for the decision.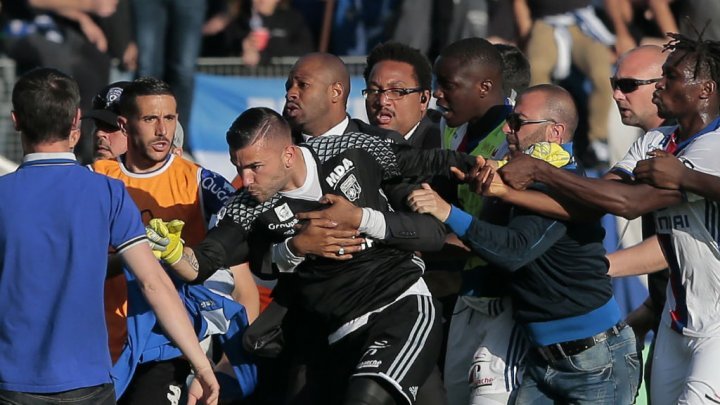 However, after the first half ended in 0-0, fans once again invaded the pitch and attacked Lyon players, seemingly triggered by Lyon goalkeeper Anthony Lopes' confrontation with an official from the Bastia club. The French professional football league (LFP) immediately called an end to the game.
After around 100 Bastia fans at the gates were dispersed by tear gas, Lyon players could leave the stadium on their team bus.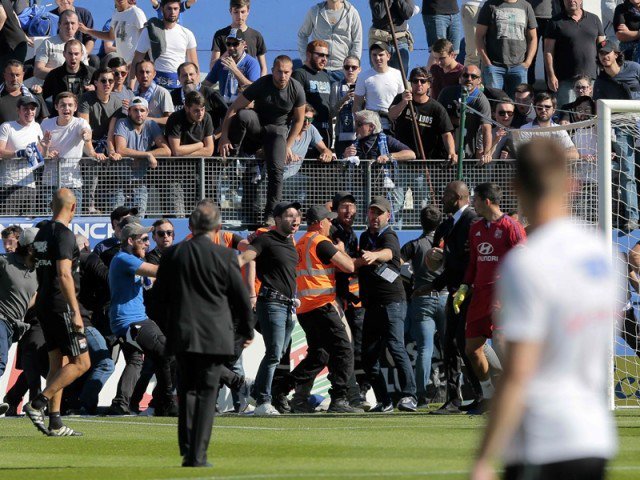 Bastia was expected to face a point deduction for their fans' inappropriate behavior. They saw one point deducted and East Stand closed for three games as their fans used racist abuse targeted at Nice striker Mario Balotelli in February.
"Whatever, it's a shame," tweeted Lyon's top scorer Alexandre Lacazette.
Pfffff honteux !!!
Nimporte quoi !!!! ????

— Alexandre Lacazette (@LacazetteAlex) April 16, 2017
In a statement, the club of Bastia felt it a "regret" that the match was abandoned, but they respected the LFP's decision.
Lyon's Europa League home clash with Besiktas on Thursday was tainted by fans conflict both inside and outside the stadium before Lyon fans fled onto the pitch for fear of being hit by firecrackers and other objects falling down from the stands above. The kick-off had to be delayed for around 50 minutes.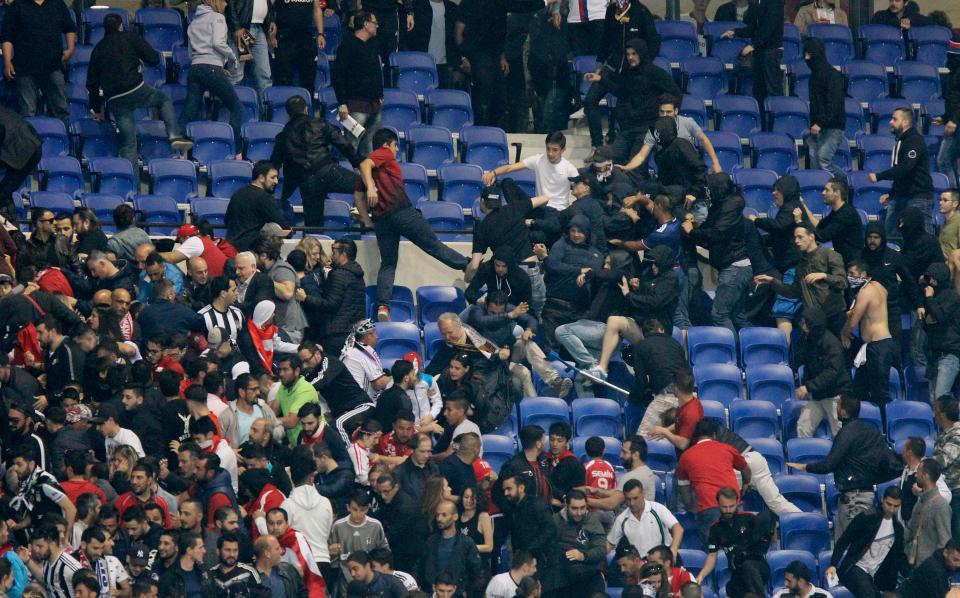 Lyon owned a two-point advantage in hand against Bordeaux, who edged past Nantes 1-0. However, trailing Nice by 19 points with six games to play, Lyon saw no chance of a podium finish for next season's Champions League berth.
Also on Sunday, Marseille took on Florian Thauvin's brace for a 4-0 victory over Saint-Etienne in the sixth place contest. Top scorer Bafetimbi Gomis brought his league tally to 17 goals, and Dimitri Payet added the fourth in stoppage time.
ALSO READ: Europa League Clash Between Lyon And Besiktas Was Delayed By Fan Trouble
(With Inputs From Xinhua)