Manchester City's financial accounts have revealed that the club suffered a £126 million loss after tax in 2019-20. The Covid disrupted season has seen the Citizens go from a £10 million profit before tax to a £125 million loss.
The club has its revenue shrink considerably, by 11% while costs have risen by 14% leading to the substantial loss. Only Everton have so far reported a higher absolute loss than the English champions elect with the Toffees recording a £140 million loss.
#MCFC swung from £10m profit before tax to £125m loss, as the impact of the COVID-19 pandemic resulted in revenue falling £57m (11%) from £535m to £478m, while expenses increased £81m (14%). Profit on player sales was up £1m to £40m. Loss after tax was £126m. pic.twitter.com/RPsXFWaEhB

— Swiss Ramble (@SwissRamble) April 7, 2021
REVENUE LOSS
Clubs across the world have suffered due to the pandemic as matchday revenue has pummelled to zero and Man City are no different. The club's revenue from matchdays shrank by a quarter, falling to £42 million from £55million the year before.
However, their most significant loss of revenue has come due to rebates on account of broadcasting rights. City suffered a decline of £63 million from broadcasting revenue, a fall of 25% from the year before.
126 years after Manchester City were renamed Manchester City, Manchester City lost £126 million in a year. https://t.co/v4gCogOvMU

— Richard Jolly (@RichJolly) April 6, 2021
RISING COSTS
Man City's costs have increased substantially, especially expenditure on wages and other items. Their wage bill has increased from £315 million to £351 million making it the highest in the league. This has been exacerbated by a rise in other expenses of £27 million.
The club has therefore recorded an operating loss of £160 million – the largest in the Premier League for 2019/20.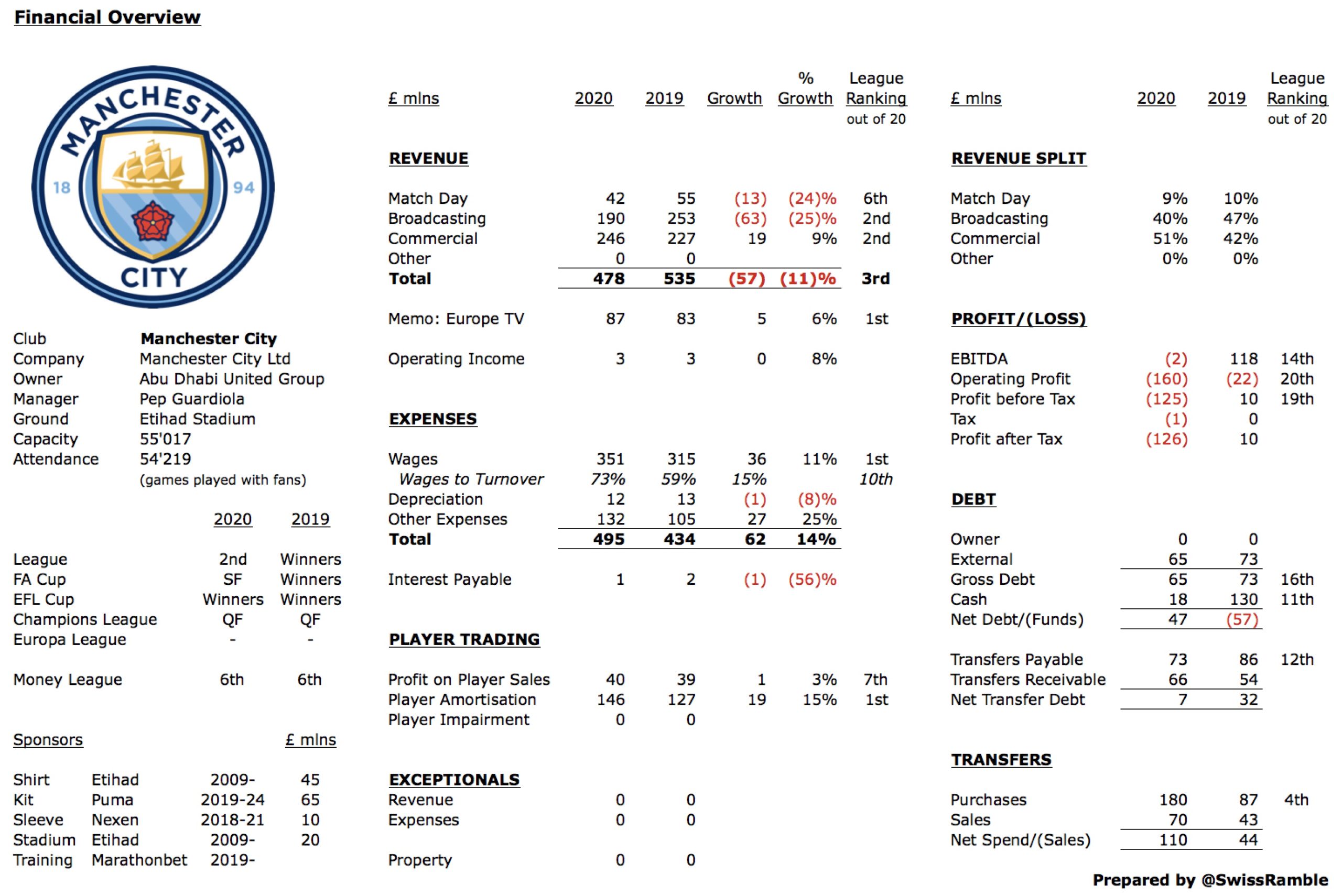 NOT ALL DOOM AND GLOOM
There are positives to be taken out of the club's financial statements as well. Unlike some other sides, City have not included the matches played post June 30 behind closed doors. This means that a part of their revenue from last season has been deferred to this one, making the picture look bleaker than it is.
Further, City have continued their progress on increasing their commercial standing. The club's matchday and broadcasting revenue losses were partially offset by a rise in commercial revenue of £19 million. This has been caused due to a new kitting deal of the City Football Group with Puma.
💰 Biggest kit deals in world Football (per year):

1️⃣ @RealMadrid (Adidas): £110m
2️⃣ @FCBarcelona (Nike): £100m
3️⃣ @ManUtd (Adidas): £75m
4️⃣ @ManCity (Puma): £65m
5️⃣ @ChelseaFC (Nike): £60m

😳 Serious money. pic.twitter.com/H9Ab2Ukm8h

— SPORF (@Sporf) February 28, 2019
This increase took their commercial revenue to £246 million, second highest in the league behind rivals Manchester United. In fact, City have considerably narrowed the gap to their neighbours in terms of commercial income. The gap between the two has fallen to £33 million from £90 million in 2016.
PLAYER SALES
Pep Guardiola's side recorded a profit on player sales of £40 million caused due to the sales of Danilo, Douglas Luiz and Fabian Delph to Juventus, Aston Villa and Everton respectively. City have recorded an average profit of £38 million on player sales over the past four years. This may fluctuate considering the outlay on Ruben Dias, Nathan Ake and Ferran Torres partially offset by the departures of Leroy Sane and Nicolas Otamendi.
IMPACT ON FIELD
Despite the seemingly poor financial performance, City remain more than capable to compete on and off the field. Their squad is the deepest and most well-rounded in the league and the departure of ageing players like Sergio Aguero, and probably Fernandinho as well, will reduce the wage bill.
Guardiola recently said that City will not be spending big in the market because of the impact of the pandemic. The club has been linked with the transfer of Erling Haaland but the manager has played the possibility down. Whether that is genuine or a negotiating ruse, remains to be seen.
The club has the deepest pockets in the league and their rising commercials show that the model is moving towards self-sustainability. Combined with their dominance on field, it can safely be said that the blue moon has risen.