Rob Wilson (Head of Subject; Sport Business Management, Sheffield Hallam University) and Dan Plumley (Senior Lecturer in Sport Business Management, Sheffield Hallam University) are the authors of this article which was originally published in The Conversation, an independent source of news and views from the academic and research community.
---
"Hated, adored, and never ignored" is a slogan well-known to Manchester United fans. They could certainly be forgiven for thinking that the spotlight is shining very brightly on their club this season, too. With well-documented issues on and off the field, problems with playing style and a grumpy manager, it would not be uncommon for you to think that Manchester United had been toppled from their position as one of the world's strongest football brands.
But herein lies the paradox. In the latest issue of the Deloitte Money League, which ranks football clubs by revenue, Manchester United finished top for the tenth time in the last 21 years. In the Forbes list of the world's most valuable sports teams, they finished second behind the Dallas Cowboys and were the highest placed football club. And, in a recent report by media company CSM Sport and Entertainment, they topped the club-by-club list, having generated £272m a year from more than 70 different sponsors.
When it comes to off-field metrics, Manchester United dominates the performance tables – even when it is struggling on the pitch.
Looking forward, glancing back
After releasing some of Manchester United's most recent financial results, the club's executive vice chair, Ed Woodward indicated that playing performance did little to affect the club's commercial might. Indeed, despite a relatively lean period of playing success since the departure of manager Alex Ferguson in 2013 and during the comings and goings of three different managers, Manchester United generated revenues of nearly £600m in 2017-18.
The club's stock price has been more turbulent, but remains high at US$20 per share today compared to US$18 this time last year.
Yet, for all of Ed Woodward's protestations to the contrary, the evidence is fairly clear: financial performance is inextricably linked to playing performance. The club even makes reference to it in its annual reports, saying in the most recent set of accounts that "forward-looking statements may be influenced by … our dependence on the performance and popularity of our first team".
Winning on the pitch absolutely equates to more revenue. Research makes it clear that a team that returns better playing performances will also fare better in the financial statements. Working with Simon Shibli, we devised a formula to measure the holistic performance of professional football clubs. This assessment took into account a range of performance indicators including revenues, profits and cash balances, alongside stadium use data and league points.
We found that Manchester United returned a near perfect score with revenues rising as a result of sustained playing success and finished way in front of their rivals, as the following chart illustrates: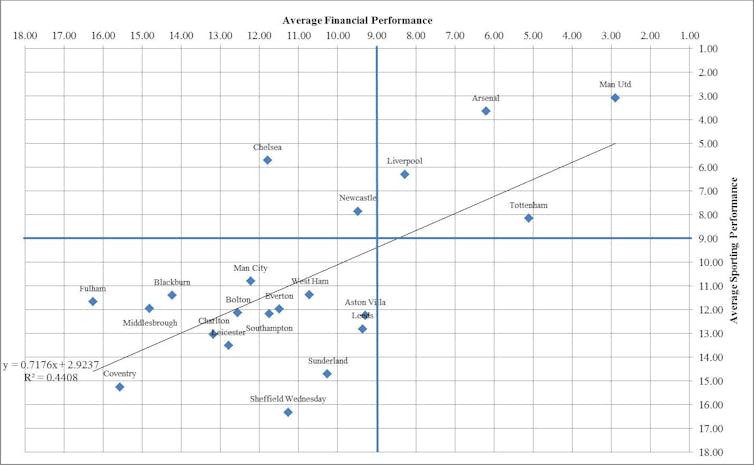 Commercial powerhouse, underachiever
Despite MUFC topping the revenue charts, showing excellent growth since 2000, its growth in commercial value has been non-existent since 2016, increasing by a modest £8m in two years. With broadcasting revenue being distributed fairly equally (and fixed by broadcasters) and ticket revenue determined by stadium capacity, commercial revenue is the only way a club can really pull away from its competitors in monetary terms.
As one of the world's most iconic football brands, it's not always as difficult to attract sponsors. But could United have generated a higher return had its results been more positive?
The recent shirt sleeve sponsorship with American manufacturing company Kohler, worth an estimated £20m, is again the highest value sleeve sponsorship in the league. But what value might it have commanded had MUFC won the premier league title in recent seasons, or had they not left the UEFA Champions League early last season after a dismal performance, before they signed the deal?
United have been smart. They have tied headline sponsors down to long contracts with shirt sponsor Chevrolet paying for a seven season deal worth £53m a year. Adidas makes its kit under licence for £75m per season and is committed to ten years. What would those deals be worth if renegotiated now?
The special one
United have spent heavily on transfers since 2013, with only cross-city rivals Manchester City outspending them. But it is results that keep managers in a job and Jose Mourinho – the self-styled "special one" – is on thin ice. The well-respected 21st Club predicts the end of season finishing positions after every fixture and currently projects MUFC to finish on 67 points in sixth place. They won 64 under David Moyes (manager 2013-14) and 66 under Louis Van Gaal (manager 2014-16, before he was sacked the day after winning the FA Cup in May 2016).
Sixth place would mean missing out on the UEFA Champions League, costing the club at least £35m in unearned revenue – a figure not too far away from the compensation they'd probably have to pay if they sacked Mourinho. The academic evidence would also support a change earlier in the season, to give a new manager time to make a difference. The question is whether Ed Woodward wants to roll the dice.
Goals, rather than profits, tend to get fans out of bed in the morning and despite a recent second-half performance to get them shouting against Newcastle United, United fans have had little to excite them this season. While they may have set the standard that others can only dream of when it comes to revenue generation, it is clear that they need to wake up, smell the coffee and start winning again.