It has been almost 5 months since Lionel Messi had sent that infamous burofax about his decision to leave which caused ripples around the football world.
The Argentinian superstar was speaking to La Sexta in his first interview since telling Blaugrana of his desire to leave in August.
Barcelona were adamant about their decision back then, where they refused Messi to leave on a free which was supposed to happen according to a certain clause in his contract. According to Messi, the clause was still valid but in the end decided not to take the matter any ahead out of his love for the club.
Despite staying put, the Argentinian who recently broke the record for goals scored for a single club, has been a constant topic of debate, whether or not he would continue his legacy at the Camp Nou.
It was a highly anticipated interview which saw Messi vow to the Barcelona fans that he would not leave in January and keep this decision on hold until the end of the season, despite being able to discuss a free transfer with another club outside Spain in less than a week.
Messi also gave a glimpse of how things were functioning behind the curtains at Barcelona, who have had a rough time for the past year both on and off the pitch. Although, he assured the fans that despite a rocky start under Ronald Koeman, things have slowly started clicking in the dressing room under the Dutchman.
❗ 𝐈𝐍𝐓𝐄𝐑𝐕𝐈𝐄𝐖
🗣 @RonaldKoeman discusses his return to the Camp Nou as a coach

— FC Barcelona (@FCBarcelona) December 24, 2020
Speaking on how it was a rough year for him on a personal level, he said, "It was difficult for me, I was not in the place where I wanted to be. It was difficult for me to adapt to the changing room because there are many new people, of those who surrounded me there is no one or few left.
"There are many people from outside, few from home, we are different cultures, we are all different, that makes it more difficult to unite a dressing room that is strong, but little by little we are doing it."
Lionel Messi made his stance regarding his future pretty clear while speaking to La Sexta presenter Jordi Evolve that he would not enter negotiations with any club before the summer.
"I have nothing clear until the end of the year. I will wait for the end of the season," he said.
"If I would not be breaking what I told you now, the important thing is to think about the team. Finish the year, think about trying to get titles and not be distracted by other things."
KOEMAN HAS A VISION?
There are plenty of fans and critics that have been wanting more from the club under Koeman whose team are 5th after 14, but Messi thinks the former Barcelona Centre-Back is doing a decent job at the helm.
"I think that with Ronald Koeman, he has projected a seriousness and an idea of what he wants for his team and what he wants for the club," Messi said.
"I think that it was a great success and that he is doing things very well. At the beginning it was difficult because there were a lot of new people, a lot of young players, but little by little the team is growing."
FINANCIALLY CRIPPLED
While Barcelona look to have steadied the ship under the stewardship of Koeman, Messi has warned the fans that the club is no more a financial powerhouse in Europe and are not capable of pulling off a deal for players like Neymar.
Messi is impressed the way Koeman has started his reign as Barcelona's manager but is worried that the club is so financially crippled that "it will be difficult to get back where it was".
"For this [the club's finances] it is a difficult time for the club, as it is everyone," Messi continued. "But from what we know, the club is really bad [financially] – very bad. It will be difficult to get back where it was.
https://twitter.com/FootTheBall/status/1343509510380511233
"It won't be easy for the new president because they will find a very difficult situation at the club. It won't be easy to turn it around.
"I hope whoever wins [the election] does things well to put this great club where it deserves to be;  and where it isn't at the moment.
"It will also be difficult to bring players because we need money and there is no money. There are several important players to fight again for everything, and those players you have to pay them big money.
"I was laughing because you said Neymar must be very expensive. And how do you pay PSG for that transfer?"
'CRAZY' LUIS SUAREZ DECISION
Messi slammed now ex-Barcelona President Josep Maria Bartomeu's decision to let Luis Suarez leave for Atletico Madrid for free who has since helped their rivals to the top of LaLiga and labelled it as "crazy".
"I had already decided [I wanted to leave] before that," Messi said.
"But it did seem crazy to me what they did with Luis, speaking in the specific case of Luis, because of how things were done, because of how he left, and because he left for free, paying him for the remaining years of his contract and giving him to a team that was going to fight for the same titles as us."
Speaking to Spanish TV channel La Sexta, Messi insisted that he was 'excited' to play under coach Ronald Koeman this season despite trying to leave the club where he has played his entire senior career last summer. @LaLiga @FCBarcelona_eshttps://t.co/UisPmNweQg

— Firstpost Sports (@FirstpostSports) December 28, 2020
BARTOMEU'S A 'CHEAT'
Unsurprisingly, Lionel Messi's most interesting section on the interview with La Sexta was about his strained relationship with now former Barcelona President Josep Maria Bartomeu.
Bartomeu recently resigned from his post as club president amid disharmony in the club on and off the field, which swiftly led to elections being moved forward for the top job.
Messi was never a fan of Bartomeu and had regularly aimed darts at him for much of the year 2020, where the Spaniard blocked his move to another club and that was the final straw for him, as his tenure as club chief came to an end.
"It was difficult for me, I was not in the place where I wanted to be. It was difficult for me to adapt to the changing room because there are many new people, of those who surrounded me there is no one or few left.
Messi replied with a laugh, when asked by interviewer Jordi Evole had Bartomeu cheated him. "In many things, the truth is in many things.
"I prefer not to talk about private things that happened, I am not going to bring up what was said and what was promised, but I can assure you that many, many times in several years."
Messi made it clear that he did not regret sending the burofax transfer request despite his love for the club and fans because such was his desperation for Bartomeu.
"It is a way to formalise it and make it official," the Argentine said. "You are saying that you want to go but you do nothing to do it.
"I have been telling him [Bartomeu] all year, not all year but the last six months many times I told the president that I was leaving, that I wanted to leave, to help me, that I wanted to leave and he no, no, no. It was a way of saying I want to go seriously."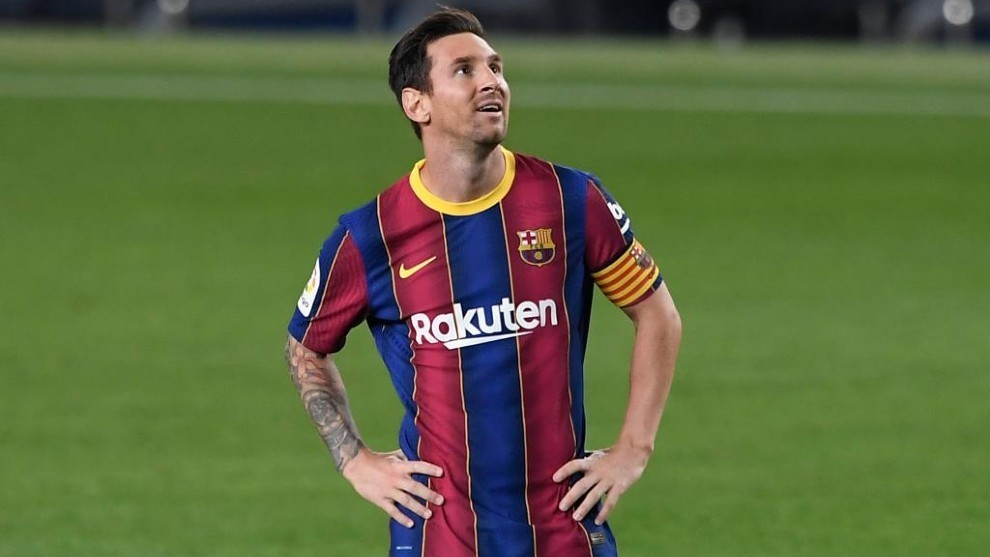 Messi was also asked about the club elections that are being held at January 24.
"I prefer not to position myself with anyone because if they already say that I manage the club, imagine if I say that I want a president," Messi added. "I prefer not to do it and hopefully who it is is best for the club.
"It is not going to be easy to change the situation because of the pandemic issue and it will not be easy to turn all this around, but hopefully whoever wins does well things to put the club back, how great it is, in the position where it deserves, which is not there today. "
NO JANUARY MOVE
Lionel Messi might eventually end up leaving the club for free in the summer, but for now he has given assurances that he would not leave in January and would only take a decision on his future after the end of the current season.
Messi's contract with Barcelona expires at the end of June which means he is allowed to negotiate a pre-contract with any clubs outside of Spain.
With Paris Saint-Germain and Manchester City the front-runners to sign the 33-year old, Messi has vowed that he wont be leaving in January and will only take a decision once the season concludes.
Asked if he was planning on discussing pre-contractual terms with clubs outside of Spain, Messi told La Sexta, "No, far from it. That would go against everything I've been saying.
https://twitter.com/FootTheBall/status/1343452440721580033
"My plan is to give all I can for the club at the moment. Nothing is decided until the end of the season. Now I only think about finishing the season and winning titles.
"I know there are a lot of Barca people who still love me, but I'm going to do what is best for the club and for myself. Besides, I want to live in Barcelona and be in the club in some way when I retire.
"I don't know if I'm going to leave, but if I do, I would like to leave in the best way and be able to return to the club in the future. Barcelona is much bigger than any player.
"It's a love story from a very young age with the club and the city. Either way, everything that my career has meant should not be stained [by this saga]."
Messi also surprisingly revealed his new found desire to play in the MLS.
"I always had the dream of living in the United States, living this experience," he said. "Today I am focused on these six months, on fighting for what I can and not thinking about how the year will end because it wouldn't be good for me to say what I am going to do. I don't know either."