Chelsea's new striker Michy Batshuayi was on the score-sheet as Chelsea demolished Atus Ferlach 8-0 in a pre-season friendly.
Batshuayi made his debut earlier in the week as Chelsea went down 3-0 against local side Wolfsberger FC, but the high-profile Belgian scored twice after coming on as half-time substitute.
Loic Remy also scored a hat-trick and with rumours linking star striker with a move back to Atletico Madrid, the back-up and the new forwards sharpness and fitness will surely bring a smile to new boss Conte's face.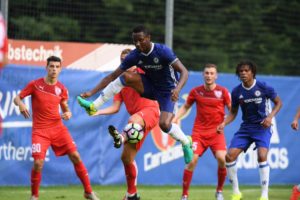 Star winger Pedro was also introduced in the second half and the dynamic forward found the net twice in a bid to impress the new manager.
Pedro had a mixed first season at Chelsea, but the Spanish international has been adamant that he wants to stay at Stamford Bridge and get back to his top game.