In a landmark decision that will have impact on football across England, a joint decision of the FA, Premier League, English Football League, Professional Footballers' Association and the League Managers Association has limited the number of "high-powered" headers in training to 10 per week, bringing heading under close observation.
HEADING | The @FA has issued updated heading guidance for the 2021-22 season, which extends from the professional game through to non-elite/#grassroots #football.

➡️ https://t.co/oPjwVD3r9r pic.twitter.com/qRbGZo9ygm

— Kent FA ⚽ (@KentFA) July 29, 2021
This rule which will apply to all professional footballers in the country is the first of its kind to be recommended by the sport's governing bodies and there are already signs that more are on the way soon. The worry surrounding the deep links between neurodegenerative diseases and heading repeatedly has forced the hand of the organizers after some pretty solid evidence was found through years of research and call for action.
WHAT HAS BEEN STATED
"High powered" headers are typically those which come "after a long pass (more than 35 metres) or from crosses, corners and free-kicks," the statement said. For now there are no restrictions on "low powered" headers while clubs have been tasked with maintaining a database of players, age, position, number of headers in a match and nature of those.
Furthermore, amateur footballers have been handed down the rule of "10 headers per session and only one session a week where heading practice is included". England had already banned heading in children aged 11 and under in February. The competent bodies will continue to assess these recommendations and provide updates as more research is conducted in the field of how heading impacts the brain.
Bullingham @FA says heading measures "developed following studies with coaches/medics and represent a cautious approach while we learn more. Important to remember the overwhelming medical evidence is that football and other sports have positive impacts on mental/physical health".

— Henry Winter (@henrywinter) July 28, 2021
Needless to say, this has been the most forceful statement by the FA and its partners on this issue which has seen calls grown in recent years to be regulated in a safer manner.
LONG TIME COMING
The death that sparked all of this came in 2002 when former West Brom and England striker Jeff Astle died of what was then assumed as dementia. However, after his brain was further re-examined in 2014, it emerged that it was actually "chronic traumatic encephalopathy (CTE)" that was the true cause.
We knew Dad couldn't possibly be the only one.
We knew his death was just the tip of the iceberg.
After just after few months of speaking to former players families we knew there was a huge problem with our former players and dementia.
Don't try and tell me nobody else knew 😡 https://t.co/LDwXGSk8kk

— Dawn Astle (@DawnAstle9) November 21, 2020
This condition is generally seen in boxers who take repeated blows to the head or in rugby players. Doctors concluded that dementia and CTE are often mixed up while diagnosing as they are both head injuries resulting from heading in football. Mr. Astle's family has been at the forefront of the campaign to assess the risk posed to footballers in later years of their lives. Jack Charlton and Nobby Stiles, members of the 1966 World Cup winning squad had been diagnosed with dementia leading to their deaths while Bobby Charlton is also living with it.
We are extremely saddened to learn of the passing of Nobby Stiles MBE.

An integral part of our first-ever European Cup-winning side, Nobby was a titan of the club's history, cherished for his heart and personality on and off the pitch.

He will be sorely missed by us all. pic.twitter.com/aT0Mk47cEl

— Manchester United (@ManUtd) October 30, 2020
Additionally, studies have shown that heading from a very young age can lead to adverse effects. All of the players mentioned here were in the game when heavy leather balls were used further increasing the risks. CTE has been a root cause of deaths amongst players in these sports and in 2019, the FA commissioned a study by Glasgow University to get more knowledge.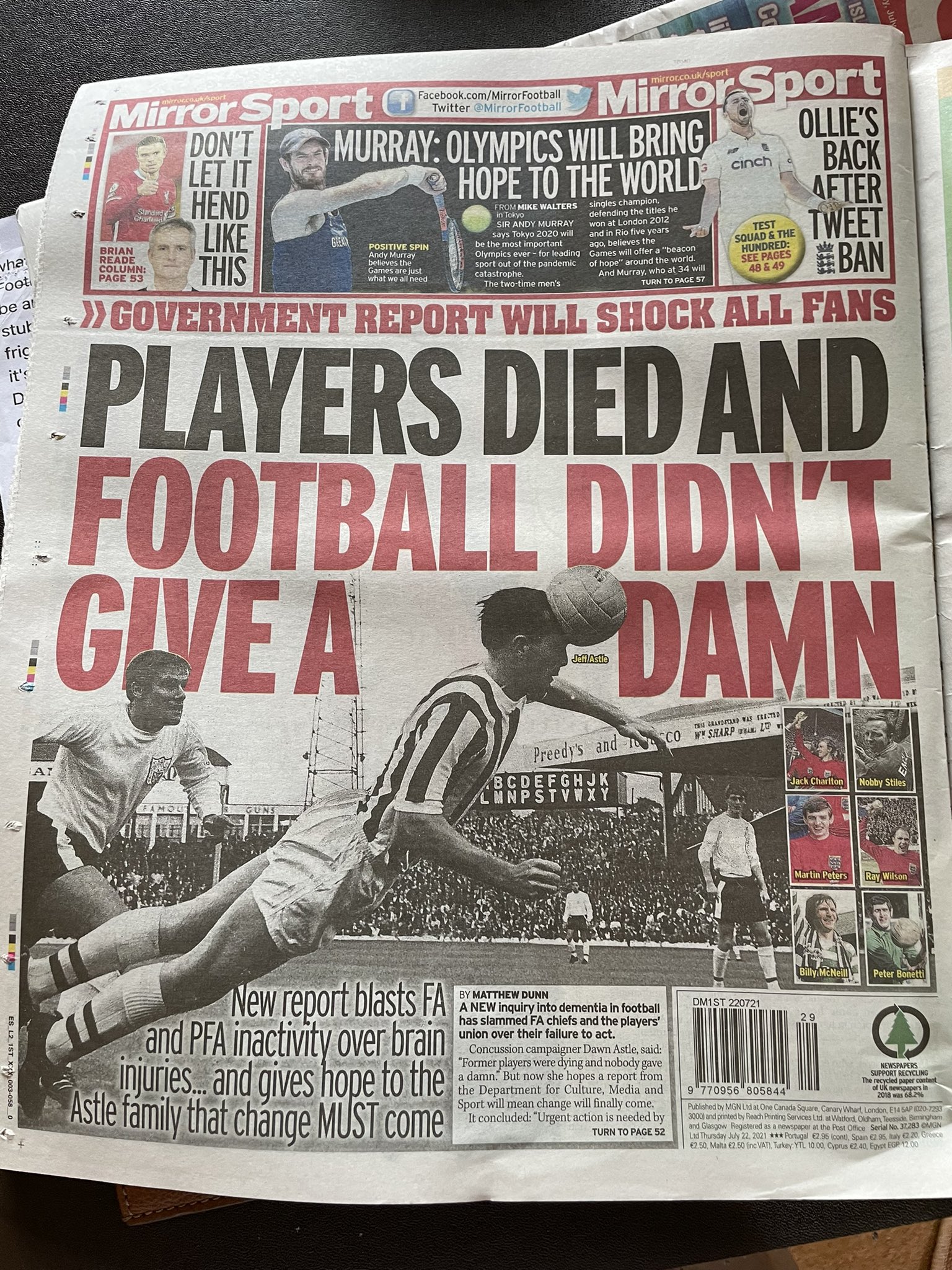 The researchers found that footballers are "three and a half times" more likely to develop dementia and related conditions rather than other physical complications due to football. All of this paints a grim picture of how negligent the appropriate authorities were in recognizing the danger and failing to act on it.
MORE TO LEARN
Though this is just the first major step taken by football authorities, the idea to keep on assessing the changing conditions is more than welcome. Campaigners led by Mr. Astle's daughter, Dawn have regularly criticized the FA for being too lackadaisical with the laws.
"We have a huge problem with former players and dementia."

"Players from today, this ticking time bomb of the future, will be suffering."

"We would like to see a reduction in the amount of heading in training."

Dawn Astle calls for football to do more to tackle dementia. pic.twitter.com/LNoxgh7mBH

— talkSPORT (@talkSPORT) November 3, 2020
More recently, an inquiry conducted by the UK government's MPs of the Digital, Cultural, Media and Sport committee found grave inconsistencies in how governing bodies had failed to sufficiently safeguard the sport from brain injuries. Another important addition has been the trial of the concussion substitutes in football games to safeguard players' well-being.
Neurodegenerative disease mortality among former professional #soccer players is higher than in matched population controls, ranging from a doubling of Parkinson's disease to a 5 fold increase in deaths with Alzhemier's diseasehttps://t.co/T6FqoHXFpg

— Dr Willie Stewart (@WillStewNeuro) November 25, 2020
There has also been considerable urgency to ascertain how these rules now will be implemented by individual clubs. Unless officials are able to accurately monitor the situation and make calls on what is best for players in the long-term, football remains in danger from within.