FC Barcelona on Monday confirmed the 40 million euro signing of Brazilian international midfielder Paulinho Bezerra from Chinese side Guangzhou Evergrande.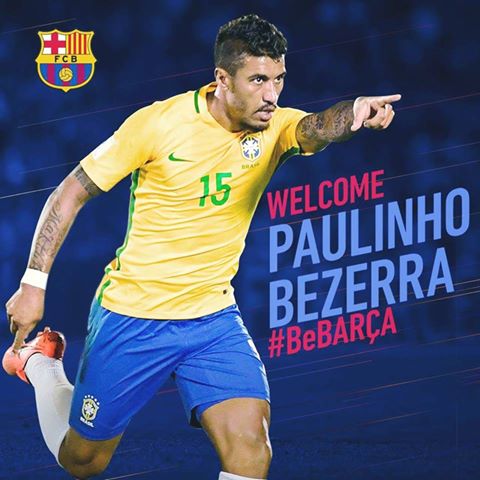 According to the statement of the CSL giant, Guangzhou Evergrande has rejected Barca's bids several times before the Spanish powerhouse triggered the 40 million-euro release clause to sign the marauding midfielder as Neymar's 222 million euros transfer fee has finally been made available in the club's accounts.
Paulinho, 29, joined Guangzhou Evergrande two years ago on a transfer fee of 14 million-euro and had scored 25 goals in 95 appearances.
The 29-year-old, who has represented his country on 41 occasions, has agreed a four-year-deal with Barcelona and becomes their third signing of the summer after Gerard Deulofeu and Nelson Semedo. He will officially be presented to the press and public on Thursday.
The club has now spent a total of 82 million euros this summer, after earning 222 million from the sale of Neymar to Paris Saint Germain.
Paulinho arrives a day after Barca were beaten 3-1 at home to Real Madrid in the first leg of the Spanish Supercup; a game which highlighted the difference in the strength in depth currently between the two squads.
Barcelona are expected this week to step up their persuit of Phillipe Coutinho and Ousemane Dembele as they look to replace Neymar, whose absence was keenly felt during Sunday night's defeat.