There is really no other way to state this: Everton are in crisis. The Toffees suffered the ignominy of being the second club to lose to Norwich City in the Premier League last evening. That means they have won just one of their last 11 matches and Rafa Benitez has unsurprisingly gotten the sack.
Everton Football Club can confirm the departure of Rafael Benitez as first team manager.

— Everton (@Everton) January 16, 2022
The Spaniard's appointment last year was a major surprise in itself given his deep links with Liverpool in the 2000s and the fact that he once called his current employers a "small club." Nevertheless, a decline this steep just past the midway point of the season, especially given the start, would have been impossible to imagine for even the most pessimistic of fans.
🗣"When you play against small clubs it is difficult." 👀

Rafa Benitez calling Everton a small club during a post-match interview in 2007 when he was Liverpool boss pic.twitter.com/nMalyZijP9

— Football Daily (@footballdaily) June 28, 2021
The circumstances that have led the once proud to sit just six points above the relegation zone currently have been varied and endemic.
SUMMER OF UNEASINESS
Last summer was not the greatest for Everton, both in terms of player recruitment and managerial decisions. Carlo Ancelotti's sudden departure after just 18 months caught the board by utter surprise, and cast doubts as to who would be the next best man. The supporters were certainly not ready for that person to be Benitez, a longstanding rival in the annals of Merseyside rivalry.
We will confirm the staff who will join Duncan Ferguson and Alan Kelly as part of Rafael Benitez's backroom team in the coming days. pic.twitter.com/eqcOOl4vxl

— Everton (@Everton) June 30, 2021
Majority owner Farhad Moshiri's may have been looking for another "big name" but this time, the decision was not at all popular with anyone. However, this was just the start of their troubles during that time. Due to Financial Fair Play (FFP) regulations, Everton were hamstrung in the transfer market and could not lavishly spend as they would have wanted in order to support the new manager's vision. Consequently, the new additions were as underwhelming as one would expect with names like Andros Townsend, Asmir Begovic, Salomon Rondon and Demarai Gray the headliners.
⚽️⚽️⚽️🔥

Demarai Gray. Bargain. pic.twitter.com/IWbz9tc19b

— Everton (@Everton) September 13, 2021
Gray was the only one behind whom Everton had to spend £1.7m while the rest came on free transfers.  This was a far cry from the summer of 2020 when the headliners were Abdoulaye Doucoure, Allan, and James Rodriguez. Two of those remain integral parts of the first-team but Rodriguez's case panned out very differently as the season entered its first few weeks. The action on the pitch started in optimistic fashion with a solid 3-1 win over Southampton on opening day.
Rafa Benitez spent a reported £1.7 million in the summer transfer window.

Everton are currently joint-top 👏#EVENOR pic.twitter.com/ynWxpUjg7R

— Amazon Prime Video Sport (@primevideosport) September 25, 2021
Seven points from the next nine available might have eased the queasiness of the supporters regarding the club's future but it did not take long for the facade to fall apart.
THE JAMES RODRIGUEZ SAGA
If there was one player whose playing career turned upside down due to the managerial change, it was the Colombian playmaker. Benitez and Rodriguez have never been the best of friends, dating back to their days together at Real Madrid during the 2015-16 season. Rodriguez was dropped by Benitez on several occasions with the latter questioning the midfielder's fitness and commitment levels.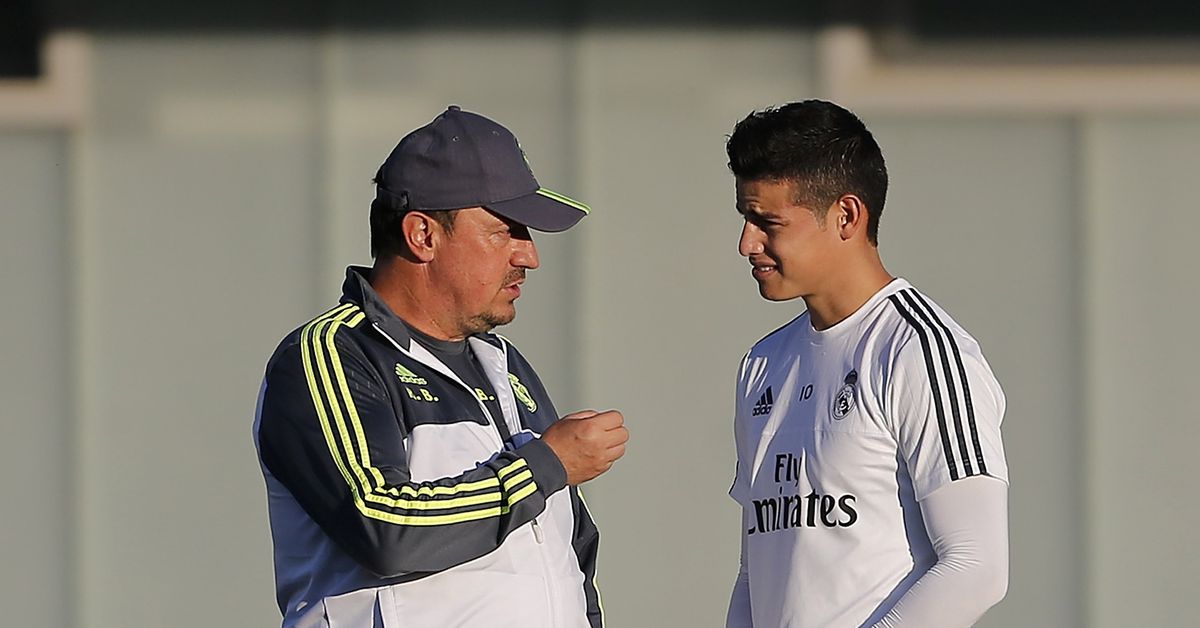 The feud was very public and was not pretty, which ended with the sacking of Benitez halfway through that campaign. So, it is never ideal to see your former boss who hardly played you now once again in charge. It is clear that Rodriguez would not have come to Goodison Park if not for Ancelotti's persuasion, but this new season left things in disarray. As expected, Rodriguez did not feature at all with Benitez stating to the media that he still had much harder work to do if he were to make his way back into the starting lineup.
Rafa Benitez 🗣

"James Rodriguez prefers a comfortable life and money more than competition. He fails to work hard, but expects to be on the lineup. That would be disrespectful to other players who work hard and then be on the bench on gameday." pic.twitter.com/8rIDi5MPkf

— FootballFunnys (@FootballFunnnys) September 30, 2021
Rodriguez was sold to Al-Rayyan in September but the absence of a key creator in the team definitely harmed the club's chances of winning more.
MORE TURMOIL AMID DISAPPOINTING RESULTS
The first jolt of the season came in the 3-0 humbling away to Aston Villa. They immediately bounced back to beat the Canaries, though it was only a false dawn. Two points from their next eight games was the definite sign that the honeymoon period was officially over. A surprise last-minute win over Arsenal proved to be another aberration as it remains their only victory since the first week of December.
Demarai Gray ends Everton's run of 8 Premier League games without a win, following a stunning strike against Arsenal 🌟 pic.twitter.com/FRu7KfpFNF

— Football on BT Sport (@btsportfootball) December 6, 2021
In all of this, the exit of an influential board member cast further doubts as to where the club was heading. Director of football Marcel Brands left in December after a confrontation with angry fans following their 4-1 home defeat to Liverpool. Brands oversaw a transfer spend of more than £300m during his three-plus years in charge. The club also announced the beginning of a "strategic review" of the football structure though they still gave their backing to Benitez back then.
Marcel Brands has left his role as Everton director of football with immediate effect, with the club now set to undertake a strategic review.

By @SachinNakrani and @AHunterGuardianhttps://t.co/rrE3Da4YMe #EFC pic.twitter.com/F1wTleYoRv

— Guardian sport (@guardian_sport) December 6, 2021
The results did not improve of course, and who knows if not for the three postponed fixtures, the Toffees could already have been in the bottom three.
INJURIES AND POOR FORM HAVE NOT HELPED
Benitez has lamented many times about the fact that he has hardly had his first-choice players healthy together. Yerry Mina, Mason Holgate, Tom Davies, Andre Gomes, Dominic Calvert-Lewin, and Richarlison have all missed significant amounts of game time but it is the absence of their forwards that has hurt the most. Calvert-Lewin scored 16 times last season but he had not played since the end of August and made his return against Brighton & Hove Albion in January's first fixture in which he missed a penalty as Everton lost 3-2.
Dominic Calvert-Lewin's penalty against Brighton was his first shot in a competitive game since August 28th…

It showed. 💥 pic.twitter.com/SYDhoS0UHC

— Squawka Football (@Squawka) January 2, 2022
Rondon was not the goal scoring replacement they would have wanted but Gray and Townsend have chipped in with a fair few. Just as they were hoping to sign reinforcements in winter, another bust-up threatened to derail their season further. Left-back Lucas Digne and Benitez had a major falling out which led to the benching of the French international since the defeat against Liverpool.
🗣️ Lucas Digne said goodbye to Everton and pointed out against Rafa Benítez: "Everything has to come to an end. I didn't expect it to be this way. Sometimes it only takes one person to destroy a beautiful love story." pic.twitter.com/K184lcMU6c

— PF | Transfer News.🤝 (@PurelyFootball) January 15, 2022
At a time when they were already struggling to find creativity, the removal of Digne's offensive threat and left-footed balance robbed the team of a vital asset.
TOO LATE TO RIGHT THE SHIP?
Everton have been one of the busier sides in the transfer window already, signing fullbacks on either side in Vitalii Mykolenko and Nathan Patterson. They also bolstered their fledgling attack by bringing in Anwar El-Ghazi on loan. The first game after all of this was the defeat to Norwich, but they do have some winnable ties coming up.
Welcome to Everton, @elghazi1995! ✍️🔵 pic.twitter.com/YuV0iHRmer

— Everton (@Everton) January 13, 2022
Aston Villa, Brentford (FA Cup), Newcastle United, Leeds, and Southampton are all games in which the Toffees will be expected to at least secure some points if not direct wins. The most pressing question now is who comes in next to replace the departed Spaniard and whether that person can get better results.
Feature image: MARCA