Rangers have been crowned Scottish Premiership Champions whilst winning their 55th Scottish top-flight title, ending Celtic's dominance on the trophy at the 10th time of asking.
Steven Gerrard's side secured the crown on Sunday when Celtic were held to a goalless draw by Dundee United at Tannadice Park.
The result ensured that they can't catch their Glasgow rivals, who beat St Mirren 3-0 at Ibrox on Saturday to move 21 points clear of Celtic with only 6 matches to play.
The success is a first as manager for former Liverpool and England captain Steven Gerrard, who took charge at Ibrox in 2018.
Rangers won their 55th top-flight league title on Sunday, meaning they have won more league trophies than any other club in world football.
🏆 We Are Rangers

🏆 We Are Champions#Champion55 pic.twitter.com/UjiBguexfe

— Rangers Football Club (@RangersFC) March 7, 2021
The Ibrox club were level alongside Northern Irish side Linfield, on 54 titles, before moving one clear of the team managed by former Rangers player David Healy.
Rangers have now won 55 league titles, 60 domestic cups and one European Cup Winners' Cup meaning they've secured 116 major trophies, the most by any club in Scotland, with Celtic their nearest challengers on 111 trophies.
A Rangers statement read: "It's title number 55 for the club – the most of any football club in the world – and the first in 10 years following one of the most arduous decades in the club's history."
To compound matters for Celtic, a plane carrying a banner reading "Can you see us now?! #55titles", presumably arranged by Rangers supporters, flew over the stadium just minutes into the match.
This also means that Rangers' first league outing as this season's champions will be at Parkhead on March 21.
REACTION TO THE TITLE WIN
First Minister of Scotland Nicola Sturgeon congratulated Rangers on their title win but urged celebrating fans to observe coronavirus regulations.
She said on Twitter: "I congratulate Rangers on the title win & recognise what a moment this is for fans.
But gathering in crowds just now risks lives, and could delay exit from lockdown for everyone else. If those gathering care at all about the safety of others & the country, they will go home."
@scottyarf 🍁 + 🏆 https://t.co/Itxnb8MttH

— Canada Soccer (@CanadaSoccerEN) March 7, 2021
Sky Sports' Graeme Souness also made his feelings known: "It's been a long time coming. Celtic have had a period of domination which has been uncomfortable for Rangers' supporters.
They've been fantastic all season and they thoroughly deserve it. I just wish I was in Glasgow right now. There's part of me which wishes Celtic had won today so that Rangers could win it at Parkhead next week."
Though times they have been hard. You have followed us near and far. We ran the race and we kept the faith….55 titles and still going strong!! 💙💙🇬🇧 Champions!!! I love you all!!! 💙💙 pic.twitter.com/mhdm8c3mZO

— James Tavernier (@James_Tavernier) March 7, 2021
And finally Rangers captain James Tavernier said, "There are no words that can describe it. I'm absolutely delighted for the club, the players, and especially the fans. To do it this year with everything surrounding this season, it's monumental."
WHAT IT MEANS FOR RANGERS AND CELTIC?
Many Rangers supporters regard this title as the most significant in their history. Not only has Celtic's attempt to break a Scottish record by winning a 10th championship in a row been halted but Rangers have recovered in full from their financial meltdown of 2012.
After that, the club were placed in Scottish football's lowest professional tier. The club's last league title came in 2011 but they spiralled into financial turmoil and were demoted to Scotland's bottom tier in 2012 after entering administration. They returned back to the top-flight five years ago.
💙 Goodnight from the Champions.

🏆 #Champion55 pic.twitter.com/RWlrqSH7HO

— Rangers Football Club (@RangersFC) March 7, 2021
The fans' behaviour was criticised by the Scottish Government, but Gerrard understood why so many were keen to celebrate.
"This club has been to hell and back over the past 10 years," Gerrard said. "I've only been part of it for three, but I can certainly relate and I've got that feeling and that affection with the fans and I know what they have been through."
After a decade of league domination for Celtic, and a recent period where they won 12 major domestic trophies in a row, the Hoops will have to regroup and go again next season, most probably with a much-changed squad.
The BFC family is proud to be associated with the Champions of Scotland. 🔵

Congratulations on a record 5️⃣5️⃣th @spfl title, @RangersFC! 🔵🔥#Champion55 #BlueAcrossBorders pic.twitter.com/S9QwMhoZb6

— Bengaluru FC (@bengalurufc) March 7, 2021
GERRARD ON WHAT LIES AHEAD FOR RANGERS
Manager Steven Gerrard says "there is more to come" after Rangers were crowned champions of Scotland for the first time in 10 years.
"It is very difficult to put into words right now," Gerrard told the club's official website.
"I'm on a real, emotional high and it has been a journey that is not finished. There is more to come and the next thing for me, when you win, it is always about what is next, and I am so proud of the players first and foremost; they are the most important people inside the club.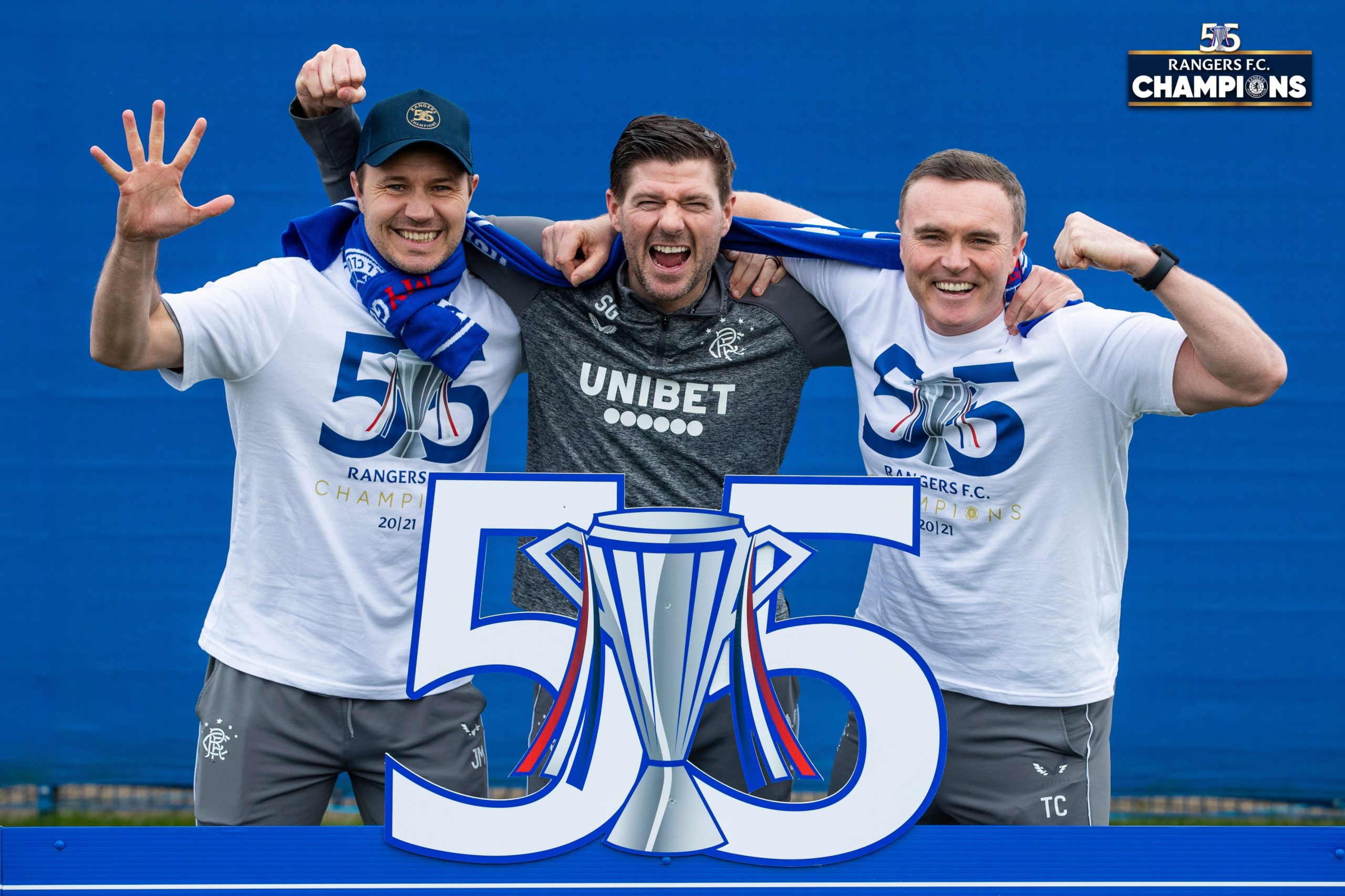 "But they are not as important as the supporters – they are what makes this club and it is for them and we have been down at times, really low at times, but this is an incredible high."
He continued: "We are in March and I need them to keep delivering until the end of the season. We need to enjoy this and get ourselves ready for the next challenge. Glasgow Rangers is about winning and we all live under that pressure, and that responsibility."
"This has been a team effort and a collective effort; it is a monumental achievement and I am just so proud to be the manager of that."