We are pretty sure everyone must have heard the name Deco some time or another. He is one of the greatest footballers of the Golden generation of football and was like the De Bruyne of the early 2000s'. A generation where legends like Iniesta and Xavi were at the peak of their career. He was part of the legendary Champions League winning Porto side and he is also one of the few players who has won a European Competition from 2 different clubs. He has played among the likes of Ronaldinho, Eto'o, Puyol, Iniesta, Xavi, Capucho and many more. We think now you know how great the 5' 8'' Magician was to some extent.
https://www.instagram.com/p/Bw-XnIRBZRY/?utm_source=ig
Born to a family of 8 in Sau Paulo, Brazil, it is obvious that football was in Deco's genes. At the age of 15, Deco signed his first contract committing his allegiance to Brazilian Club Corinthians. Until the age of 19 he was playing in the youth divisions. After playing a few games for the senior team, in 1997, he caught the eye of the Benfica scout, Toni the Portuguese legend. After this point Deco entered into the European scene and his life changed forever.
https://www.instagram.com/p/BcFupazlZl0/?utm_source=ig
Deco was mainly a central attacking midfielder and was a textbook playmaker. He didn't do anything fancy though, just plain and simple passing and dribbling was enough for him to win the game for his team. He had great vision and tactical thinking which helped him in taking charge of the game. He was a great leader of men and used to control the flow of the game effortlessly. Overall he was a footballing genius who has been inspiring the young footballers for many years. If you are aspiring to be a creative midfielder, we recommend you watch a ton of game films of this world-class legend.
DECO – PLAYING CAREER
FC PORTO
https://www.instagram.com/p/CAd1YjnHRmv/?utm_source=ig_web_copy_link
Deco wasn't even given a decent amount of game time in S.L. Benfica and was discarded as a failure. He was sold to their local rivals, FC Porto on a mediocre transfer value. A decision extremely stupid if you look at it with hindsight. Deco did a lot of amazing things during his time in Porto. One of them is scoring a goal in 28.8 seconds against Molde in 1999. Mourinho joined Porto in 2002 and promised the fans the League title by the end of next season and he delivered more than he offered. , Mourinho entrusted Deco with the duty of leading his side to glory and both Mourinho and Deco delivered more than they offered. In the 2003/04 season, not only did they win the League title, but they also went of winning the prestigious Champions League.
He provided 17 assists in the Primeira Liga and 10 whooping assists in the Champions League that season. He was part of Porto's glory days and no wonder why Porto fans throughout the world still love him.
BARCELONA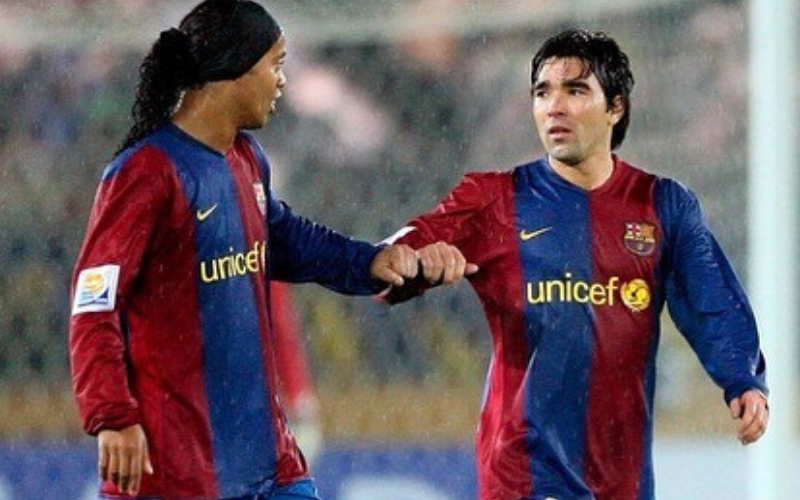 In 2004, Mourinho had joined Chelsea and it seemed like Deco would follow him too. Deco reached his peak potential under Mourinho and it was only natural for him to move to Chelsea. The deal was finalised and the Porto star had even announced the move in public. All of a sudden the deal broke down and Deco decided to join the best club in Europa at that time, FC Barcelona. In his 4 seasons, he played with Ronaldinho, Puyol, Xavi, Iniesta, Victor Valdes, Eto'o and Lionel Messi, just putting it out there.
Deco won the 2004/05 and 2005/06 La Liga titles with the Catalan Club. Barcelona even won the Champions League in 2006. The role of the Central Attacking midfielder was already given to Ronaldinho so Deco became one of the central midfielders of the team and he did wonders in that position. Deco used his tactical knowledge really well and glued the team together. When Deco joined Barcelona, pundits were afraid that he will be in the shadow of Ronaldinho but it started happening the other way around. In 2004, Deco came second in the Ballon d 'Or race, he even beat Ronaldinho by 6 votes. In his 4 years, Deco provided more than 30 assists for his team, that is insane!
CHELSEA
🚴‍♂️ Superb from Deco, 1️⃣0️⃣ years ago today! pic.twitter.com/osrmKDLh2g

— Chelsea FC (@ChelseaFC) December 6, 2018
After Mourinho left Chelsea in 2008, Felipe Scolari took charge of Stamford Bridge and the Barcelona star was the first signing he made for the club. Deco saw some difficult times at Chelsea. He started off well but got injured in the first season. Scolari got sacked and Deco wasn't really a big fan of the new environment. Deco had openly stated that he wanted to leave that club and on the other side of Europe, Mourinho had stated he was looking into getting the player back under his wing.
Seems like the duo of Mourinho and Deco was only destined to be once because the transfer talks didn't amount to anything and Deco decided he would wait till his contract ends. In 2009 Deco's form started to improve gradually but it was nothing like it used to be a few seasons ago. At Chelsea he made his 100th Champions League appearance, only 13 other players have reached this achievement. Chelsea won the Premier League and the FA Cup in the 2009/10 season. Although Deco wasn't the star of the show, he did have a positive impact on the team and his years of experience surely were key to Chelsea's success.
FLUMINENSE
https://www.instagram.com/p/B9IWmYtIDdP
At the age of 34, Deco probably felt he wasn't fit enough for Europe anymore. He moved back to Brazil on a free transfer to Fluminense FC and at the age of 36 in 2013, he happily ended his 17-Year-old footballing career.
DECO – INTERNATIONAL CAREER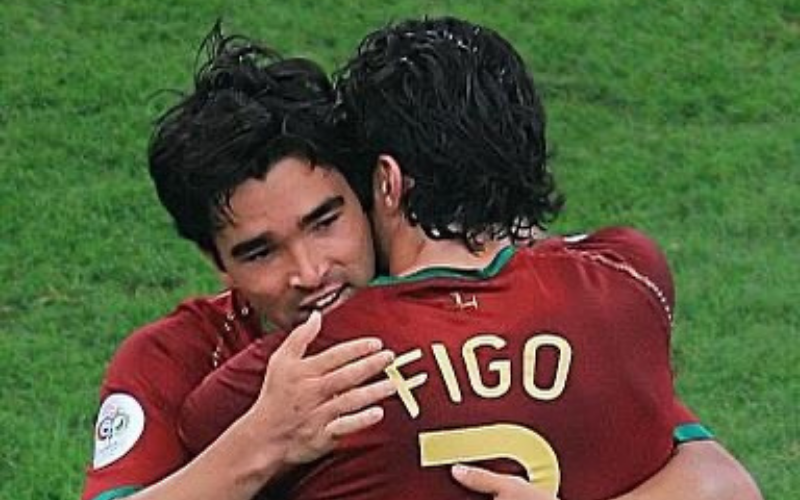 The Brazilian National team never felt the need for Deco so he naturally played for Portugal. After spending 5 years in the country, he got a citizenship and hence he had the choice of playing for Portugal. The irony of it all is that Deco scored his first goal for Portugal against Brazil when he came on as a substitute. Deco faced a lot of criticism from Portuguese fans but he loved Portugal and wasn't ready to back down. In time, Deco silenced everyone and made the haters love him with the beautiful football he played for Portugal. By the end of his career, the Portuguese playmaker had 75 caps and 5 goals for Portugal. Although his international career isn't as colourful as his club career, he had his moments and we can say he was a good team player who worked tirelessly for Portugal.
INDIVIDUAL ACCOLADES
Obrigado #GoldenFoot! Thanks Golden Foot ⚽️⚽️⚽️ pic.twitter.com/ilrTPKy4OI

— Deco 20 (@Deco20oficial) October 11, 2016
Deco received the Ballon d'Or Silver ball in 2004. He was the Uefa Club footballer of the year in 2004 and Uefa Club midfielder in 2004 and 2006. He was the man of the match in the UCL final in 2004. Deco was the Portuguese League footballer of the year in 2004. He won the Fifa Club World Cup Golden Ball in 2006. He even won the Golden Foot award in 2016.
LIFE AFTER FOOTBALL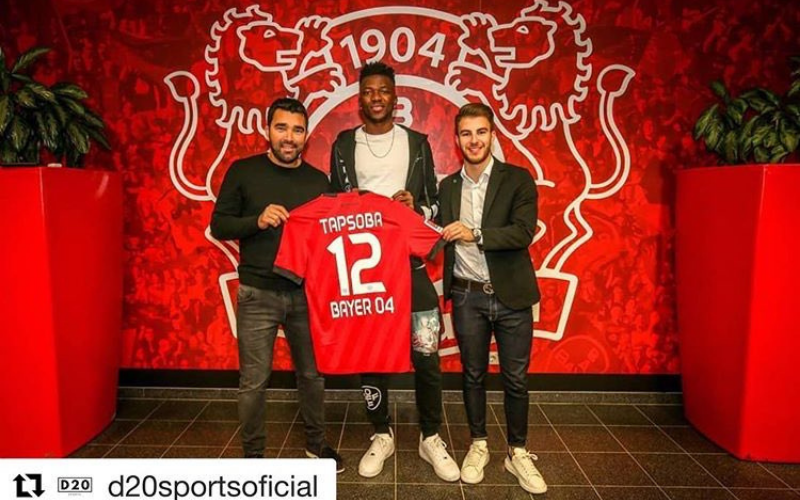 In 2011, He started 'The Deco Institute', a football academy for budding footballers near his hometown in Brazil. He is still actively part of the academy. He is even into Player Management and has founded his own agency D20 Sports. The agency handles players throughout the world and a few of its most famous players are Raphinha in Leeds United, Tapsoba in Bayer Leverkusen, Henrique in Monaco and many more. He even featured in an Indian TV Network during Euro 2016. He isn't planning on getting into coaching as of now but we think he'd be freaking amazing at the job. The amount of experience he has of so many different leagues and his tactical genius would amplify any club's performance.