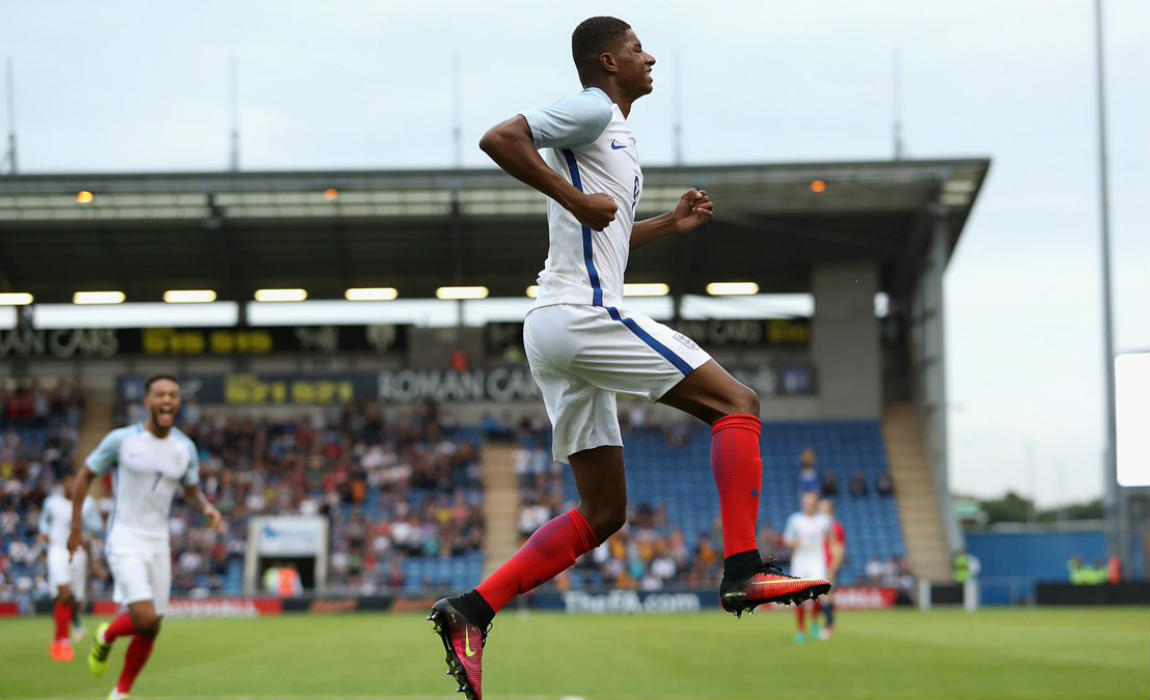 Manchester United prodigy Marcus Rashford proved his class once again and reaffirmed the popular fan opinion that his talent should be used at the senior level after scoring an incredible treble in his U21 debut as England thrashed Norway 6-1 on Tuesday.
The 18-year-old striker, who was earlier dropped from England's senior squad by new Three Lions boss Sam Allardyce, opened the account in the 29th minute.
Marcus Rashford displayed incredible pace to get on the end Chalobah's deflected pass before launching a strike into the bottom corner.
The promising young striker scored his second in the 64th minute from a brilliant curling effort into the top corner before completing his hat-trick from the penalty spot.
Earlier, Rashford had also scored in his debut matches in the Premier League and Europa League for Man Utd and also for England's senior team when Hodgson had included him in the squad.
? Hat-trick hero @MarcusRashford and fellow goalscorer @Chalobah speak to FATV after the U21s' 6-1 win over Norway. https://t.co/PVKxkXSkRU

— England (@England) September 6, 2016
Rashford has earned only 18 minutes of game time for Man Utd before the International break this season but he clinched the last gasp winner against Hull City.
Fans and football pundits now believe that Rashford should definitely start for Man Utd in Saturday's high-octane Manchester derby.
And now let us see how see how Twitter celebrated Rashford's fantastic treble.
Marcus Rashford has taken every every opportunity he has been given at every level. Convinced he is the real deal.

— Graham Ruthven (@grahamruthven) September 6, 2016
Marcus Rashford has scored for @England under-21s. Wonder if our new England boss will ever be brave and veer away from tried and failed.

— Gary Lineker (@GaryLineker) September 6, 2016
This should be the one and only time Marcus Rashford plays for the U21s…

— Mark Ogden (@MarkOgden_) September 6, 2016
Great finish from Rashford. I would start him the weekend ⚽?

— Ray Parlour (@RealRomfordPele) September 6, 2016
I'd sooo start Rashford against City on Saturday

— Andy Goldstein MBE (@andygoldstein05) September 6, 2016
Rashford just has to start for Utd… Something happens every single time he is on a football pitch. Whatever "it" is, he has it

— Enda Higgins (@endahiggins88) September 6, 2016
Rashford is special, has to start the Derby on Saturday, he'll have Stones and Otamendi on toast

— ㅤㅤㅤㅤㅤ (@VintageYanited) September 6, 2016
Marcus Rashford:

– PL debut ⚽️
– England debut ⚽️
– England U21 debut ⚽️
– Europa League debut ⚽️

Ballon D'Or. pic.twitter.com/rXPw6N4PU5

— BBC Sporf (@BBCSporf) September 6, 2016
Europa League Debut, PL Debut, @England Seniors Debut and now a hat-trick on England U21s Debut….. Not Bad Kid @MarcusRashford ??????

— Ashley Young (@youngy18) September 6, 2016
Marcus Rashford:

United debut – 2 goals
PL debut – 2 goals
England debut – 1 goal
England U21 debut – 3 goals pic.twitter.com/RaiblpROKS

— Everything Man Utd (@everything_utd) September 6, 2016
Very clear to see Rashford belongs with senior team but no harm in him being with U21's getting mins & goals #MUFC pic.twitter.com/SiUAxt5h57

— Everything Man Utd (@everything_utd) September 6, 2016
WATCH THE HIGHLIGHTS