Christina Philippou is a Principal Lecturer, Accounting and Financial Management, University of Portsmouth and the author of this article which was originally published in The Conversation, an independent source of news and views from the academic and research community.
---
With the World Cup a distant memory for all but the winners, France, the question of whether to sell the "home of football", London's Wembley stadium, has once more raised its head in the UK. People are weighing in both for and against the current proposal to sell to Fulham (and Jacksonville Jaguars) owner, Shahid Khan.
The argument seems to revolve around the allocation of funds from the sale to development of the game, particularly grassroots facilities, an issue also facing other football associations. This is because grassroots (non-elite) sport needs funds to develop youth so there's a pool of football talent in the future. Without development, talented young people might gravitate towards other sports, or other interests.
But what does Wembley have to do with development? Well, Wembley is currently run by Wembley National Stadium Limited, a subsidiary of the Football Association (FA). And the FA is responsible for all types of football, both elite and grassroots. And the grassroots game needs funding for things from coaching to facilities to equipment, some of which could come from the sale proceeds of Wembley.
The debate rages. Sport England (the body that governs non-elite and grassroots sport) has only consented to the sale conditional on, among other things, reinvestment of the funds "for the benefit of football … at the grassroots or community level". The FA's current proposal is for a £70m increase in grassroots funding per year as a result of the sale. Former England player, Gary Neville, however, has derided this amount, calling it "a pittance … the price of a full-back".
Part of the issue is that the link between the grassroots, development side of the game and elite sport is not direct. In the UK, the two are funded separately by the government. UK Sport allocates funding for elite sport, while grassroots are funded by regional organisations (Sport England, Sport Scotland, Sport Northern Ireland, and Sport Wales).
So where do football development funds come from? And what can we do about the current shortfall? How spending on development compares with other expenses of the funders (in this case the FA) is one way to answer these questions. I've had a look at the FA and its accounts to find out.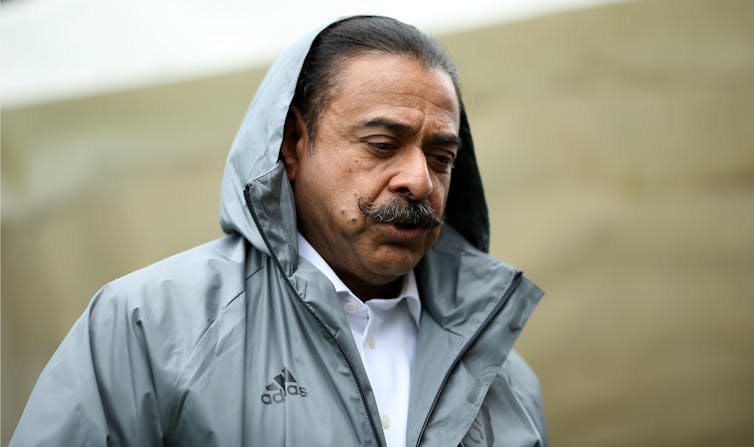 Football finances
Registered organisations and companies have to file accounts and, in the UK, this is with Companies House. Most public companies and non-profit organisations make their accounts (or financial statements) available on their websites, too. For example, the FA, UEFA and FIFA all publish their annual reports on their websites.
These reports consist of financial statements, alongside a lot of other reports from auditors, directors, committees and so on. They always make interesting reading for those of us geeky enough to take a proper look. They can tell you how much money has been spent on executives' and directors' pay, what other connected organisations owe or are owed, and what plans for the future entail both strategically and monetarily.
So where does football revenue come from?
According to the FA's 2017 accounts, the largest chunk (37%) comes from broadcasting (£131m). This also forms the highest earner for UEFA (82%) and second highest (after marketing) for FIFA (31%).
Funds for football's various governing bodies also flow from licensing, tickets, fines (forming just 0.22% of UEFA's revenue) and hospitality. The latter, of course, includes Club Wembley (the hospitality element of Wembley stadium) for the FA, with £58m income (17%) in 2017, which is to be retained under the proposed sale.
Grassroots investment
In 2017, the FA spent £127m on "investments into the game", or 38% of its outgoings (including interest payable, but excluding tax). They also spent money on staff costs (£48m, or 14%), restructuring and reorganisation costs, and interest payable (often on loans related to buying assets such as stadiums).
UEFA, by contrast, spends most of its money on "distribution to participating teams" (74%), with no further information on breakdown included in the accounts. Development money is spent through "solidarity payments", which include non-member and non-club "donations". These donations (which only make up 0.2% of total expenditure) include those made to the UEFA Foundation for Children, and the International Platform for Sport and Development, but also those for "carbon offsetting" and to the WWF (World Wildlife Fund).
FIFA spends 52% of its total outgoings directly on "development and education", although this includes spending on the FIFA World Football Museum (£9.5m, or 1.33% of total outgoings) and personnel expenses (9% of total outgoings). The majority of the "development and education" spend (81% of it) goes on FIFA Forward project costs, including "operational costs member associations" [sic] – costs incurred by country associations (like the FA) that have successfully bid for these funds, which accounts for $105m (approximately £80m or 12% of total outgoings).
In summary, the FA and FIFA both spend a sizeable amount of their outgoings on investment, development and education, although how much of that flows into grassroots sport is unclear from the headline figures. A variety of cultural and educational initiatives appear to benefit.
Funding is complicated, and football is no different from other industries in that respect. So, in theory, removing some of the FA's debt by selling Wembley (money owed for loans to build Wembley) would ease its ability to pay more of its income into development. The accounts currently show bank loans of £140m, as well as other creditors. Similarly, a reassessment of investment strategies by UEFA and FIFA could help this flow by redirecting funds towards development.
But for those of us who coach at grassroots level, in my case on a tiny patch of grass shared among ten teams (that also features as a sled run on snowy days), the wait for that much needed development cash will probably be a little longer.