Alex Fenton, Lecturer in Digital Business, University of Salford and Simon Chadwick, Professor of Sports Enterprise, University of Salford are the authors of this article which was originally published in The Conversation, an independent source of news and views from the academic and research community.
---
A compelling World Cup in Russia has drawn huge numbers of television and social media viewers. Indeed, one estimate suggests that 3.4 billion people across the world will ultimately have watched the tournament at some stage.
Yet something significant is happening inside this number, as people shift their consumption of the World Cup online. For instance, though the US didn't qualify, a record 7.7m Americans streamed the game between Argentina and Iceland. This compares to highs of just 1.5m and 3.2m people during the 2010 and 2014 World Cups, both tournaments the US qualified for.
In Britain, a similar trend has been evident, the BBC identifying peaks of more than 3m people streaming matches through its website at once. During the Brazil World Cup four years ago, the BBC clocked up 32m online match views across the whole tournament. This year, that figure was reached by the end of the group phase.
In turn, further evidence from the US indicates that around half of NBCUniversal's live digital viewers have consistently watched the games on their smartphones. The rest are thought to constantly switch between connected TV and desktop streaming.
Second screen consumers are not just watching matches online, they are also posting on social media at the same time. During the 2014 World Cup, 672m tweets were posted – peaking at 618,725 tweets per minute during the final.
And with social media fast maturing as a medium of sports consumption, these numbers have grown. While we await confirmation of the final numbers for this summer, it is nevertheless worth noting that, for example, during England's last-16 match against Columbia tweets peaked at 127,000 per minute during the penalty shootout.
In this context, we set out to explore the nature and content of social media chat during the World Cup by examining Twitter conversations, who was leading them and who was influencing them. Over the past month we have tracked and analysed the #WorldCup hashtag, as well as relevant Twitter accounts and appropriate message content.
The top headlines are unsurprising: big stars, exciting games, controversial incidents and intense fandom. Whereas people used to sit in bars and living rooms arguing about tough tackles and fantastic goals, they now inevitably seem more likely to share their views on social media. However, in making sense of the millions of tweets we have analysed, we have observed three particularly interesting recurring themes: ambushers and trolls, bots, and gender.
Ambushing is a term used to describe the activities of companies and brands that have no legal right of association with an event, but which seek to capitalise upon the marketing opportunities associated with a tournament such as the World Cup. In recent years, ambushing appears to have been supplemented by social media trolling.
During the World Cup, we observed this numerous times. For example, Iceland (a British-based frozen supermarket chain) actively sought to associate itself with the tournament, even though it was not a sponsor of it or of a team (not even its namesake nation). On Twitter, the supermarket sought to goad one of its competitors (Lidl, a sponsor of the England national team):
Alongside the trolls and ambushers, bots have again been feasting on, and become an endless generator of, World Cup social media content. Bots are web robots, essentially software applications that run automated scripts, enabling simple tasks to be repetitively undertaken. In a previous study we undertook (of the 2018 Super Bowl), we observed a preponderance of alt-right bots. However, during the World Cup the bots have had a much stronger commercial than political purpose.
In one example, Qatar Airways (an official FIFA partner) caught our attention, the same message having been re-tweeted multiple times thus promoting the airline's association with the tournament. Significantly, many of the accounts involved in the re-tweeting appeared to be little more than "shells", or hubs through which content has been shared.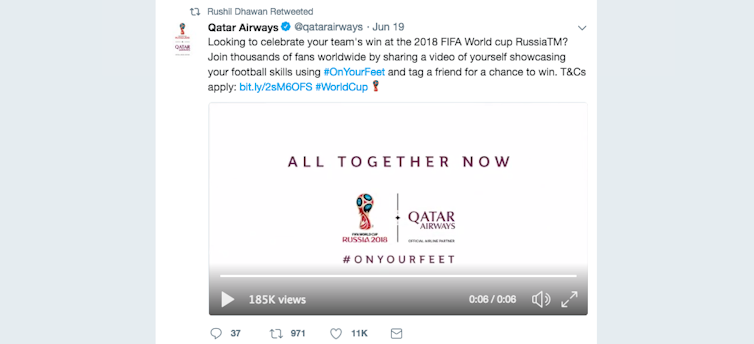 Some might have expected that social media chatter during the men's World Cup would be dominated by males. However, our research suggests otherwise and indicates that females were actively engaged with the tournament in several ways. Not only were female fans just as vocal as their male counterparts in supporting their favourite teams, they also appeared in our analysis as increasingly important influencers – helping to lead and shape opinion.
The tournament also raised some important gender issues, which many women used as the basis for critiquing both the prevailing dominant male narrative around the tournament and for asserting the importance of women's rights.
So, this has been a World Cup characterised by intense battles on the field and buoyant viewing figures for terrestrial television and for streamed games. Yet arguably the most compelling aspect of such mega-events has nowadays become the posturing, positioning and parleying on social media. It's challenging to keep-up with the volume of traffic, though it is proving to be a fruitful source of data about peoples' conversation.