Chelsea Football Club began their new campaign as one of the best teams to have rocked the transfer market amidst a pandemic. Where the big guns of Europe are trying to balance their books, Chelsea spent top dollar to rejuvenate their squad. It has been more than three years since Chelsea got their hands on the Premier League trophy. The reported £230 million worth of signings by Chelsea have a big burden on their shoulders – to bring the Premier League trophy back at the Bridge.
While we are yet to see a fully fit Chelsea lineup bonding with each other, four points in three games have left a sour taste in Frank Lampard's mouth. Brighton displayed how they almost had Chelsea in the first half in the opening weekend of Premier League 2020/21. Liverpool cleared the mist and showed why they are the reigning champions in the following week. West Bromwich Albion, on the other hand, caught everyone's eyes as the scoreboard read three-nil in the hosts' favour after the first 30 minutes at the Hawthorns on Saturday.
It was a wakeup call for Lampard and his Blue army as it also heralded what Chelsea must do to become the best in England.
We revisit the key moments from Saturday's three-all stalemate between West Brom and Chelsea in the second episode of FootTheBall's UNPLUGGED series.
Here are the lineups –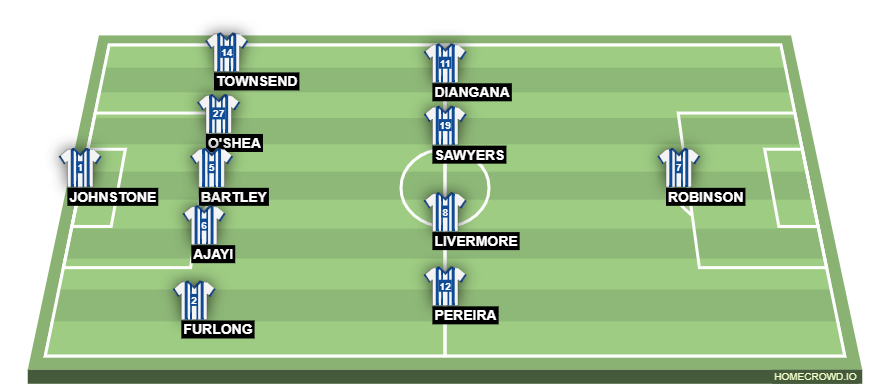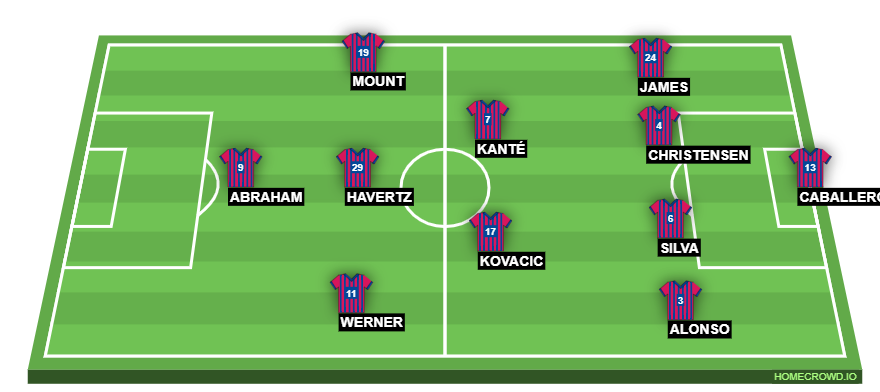 Chelsea's punctured defense
Statistically speaking, Chelsea kept a lion's share of possession as they controlled the ball 75% of the time. They attempted a mammoth 24 shots with 46% accuracy compared with the Baggies' nine shots (three on target). The Blues overpowered West Brom by 1.3 on the xG scale as Frank Lampard's men accumulated 2.3 expected goals. One can find the fault in their stars when scanning Willy Caballero's statistics. West Brom scored from each of their shots on target. That's three aces in tennis lingo.
The problem existed in Chelsea's leaky defense.
Chelsea built the attack with three men at the back. Mateo Kovacic joined Andreas Christensen and Thiago Silva in the last line of defense. Reece James and Marcos Alonso pushed high in their channels to flank N'Golo Kante as Chelsea used a 3-3-2-2 structure to build the attack. Kai Havertz and Mason Mount hovered behind Timo Werner and Tammy Abraham to create link-ups.
This was Chelsea playing with a high line against a West Brom side packed in a 5-4-1 formation. Chelsea were vulnerable in the wide areas behind their makeshift wing-backs. While James was way out of position to trace back on an emergency and stop Grady Diangana, Alonso lacked the pace to stop Matheus Pereira.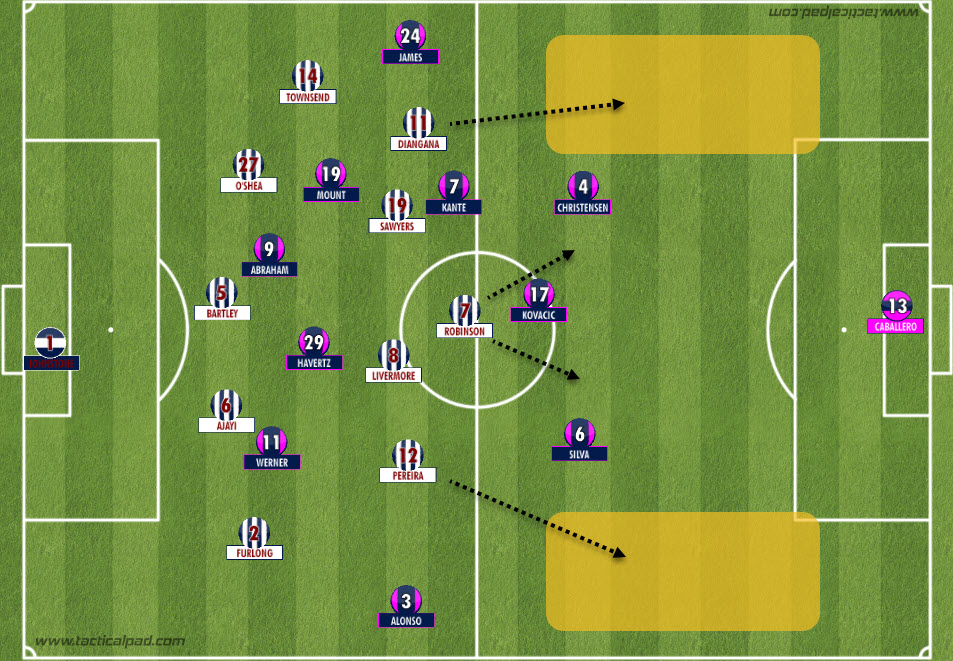 Consequently, West Brom scored their first goal after a poor headed pass from Alonso was intercepted by Pereira in the right-half space near the halfway line. Pereira dribbled through the centre and gave the ball to Robinson in the gap on the left side, outside the box. Reece James arrived in time to help Christensen. There were three markers on Robinson, including Kante but they never really challenged Robinson as the Irish striker found sufficient time to pull the trigger and score his first goal.
𝗦𝗵𝗮𝗿𝗽 𝘀𝗵𝗼𝗼𝘁𝗶𝗻𝗴 ft. CR7 🔥🔥@CallumRobinson7 | #WBA pic.twitter.com/k3gEUyAxkB

— West Bromwich Albion (@WBA) September 27, 2020
Chelsea's second error was horrid. Robinson took advantage of a poor touch from Silva which saw him sprint straight towards their box. Christensen tried his best but could not stop Robinson from scoring his second goal of the night. There were oceans of space for Robinson to cause damage which he exploited with aplomb.
Poor positional play with a nose-bleed high line is a sure-shot formula for failure.
West Brom's third goal which they scored within three minutes of Robinson's brace was, yet again, a defensive error from Chelsea. Kante and Alonso were at fault, marking blank spots. The French midfielder left room for Darnell Furlong who headed at the far post following the corner. Alonso was unaware of the danger lurking behind him as Kyle Bartley slotted the ball home in one touch.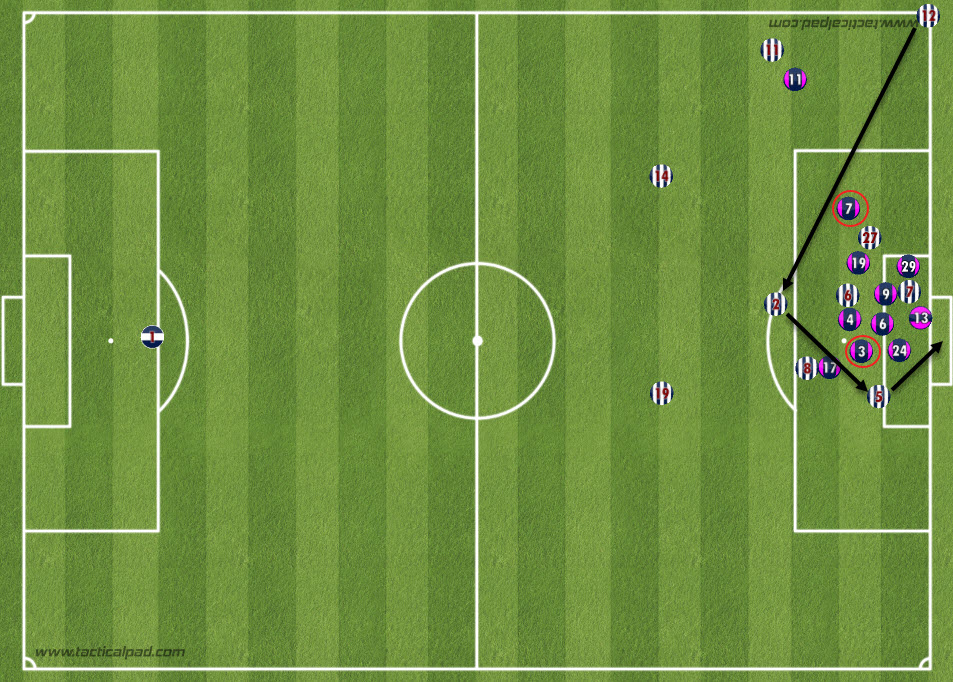 There were big holes in Chelsea's backline that served West Brom three early goals at the Hawthorns. Even though the Blues controlled the ball for the majority of the time, it never kindled their attack. There was something peculiar about Chelsea's passing which was the cause and effect for their poor first-half display.
Wasteful Tiki-Taka
It took Chelsea an average of 24 touches to create a shot against West Brom. This metric compares with 64 touches against Liverpool and 33 touches against Brighton. The number of progressive passes made by Chelsea was approximately 9% of their total passes attempted against the Baggies. While this figure was close to 8% against Brighton in gameweek one, Chelsea could only progress 4% of their total passes against the Reds.
So, if Chelsea had a better penetration against West Brom, why couldn't they score?
One explanation is found in the positioning from where Chelsea played most of their progressive passes towards the final-third during the first 45 minutes. Only one progressive pass was made from their own half into the final-third as Chelsea camped in West Brom's territory for most of the time. This may seem intriguing but it impacted Chelsea's attacking threat.
The Blues were locked in Slaven Bilic's compact 5-4-1 block which also left them vulnerable for a counterattack by the hosts.
On another note, Chelsea shelved line-breaking passes to leverage Timo Werner's speed on opportune moments. Luring West Brom into the mid-thirds should have been followed by a long-pass to Werner making a run in behind West Brom's defense. That is something the fans are used to watching him thrive in those situations.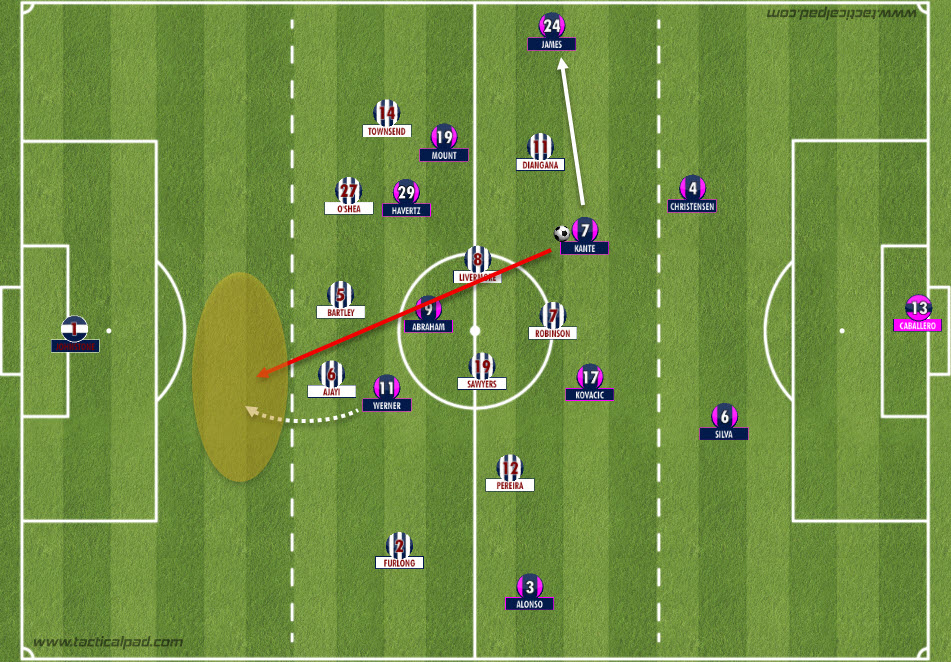 Moreover, Lampard's men preferred horizontal passes to unlock West Brom's compact block. The Blues relied heavily on the right flank to create their attacks. Reece James, as a result, was the target for 110 passes throughout the 90. Mason Mount and James delivered six of Chelsea's eight first-half key passes, cluttered on the right-hand side of West Brom's 18-yard box.
There was certainly an element of magic when Lampard introduced Callum Hudson-Odoi and Cesar Azpilicueta after the break.
Istanbul – was it?
It was at the Hawthorns where Chelsea scored three second-half goals to earn a point against the Baggies. Hudson-Odoi created room for Chelsea to play effectively between the lines. The Bayern Munich target stretched West Brom's structure to open gaps in the centre and half-spaces. Reece James was often found playing in the right-half space in the aftermath. The combination of overlapping and underlapping runs between Hudson-Odoi and James was too hot to handle for West Brom.
Callum Hudson-Odoi vs West Brom (A):

45 minutes
50 touches
1 goal
28 passes in the final third
5 passes in box
5 touches in box
2 shots
2 key passes
1/1 dribble completed

When we needed someone to stand up for us, Callum did. Top-tier talent. pic.twitter.com/WRpx6FcLNQ

— ExpectedChelsea (@ExpectedChelsea) September 26, 2020
Azpilicueta, on the other hand, solidified Chelsea's defense and offered more when making inroads from the left channel of the pitch. Consequently, Chelsea initiated eight key passes from scattered locations across the pitch.
This revamped system gave Chelsea the freedom to play comfortably through West Brom's defense while offering breathing space to their own defensive line. Chelsea conceded most of their possession in the attacking-third during the second half which was skewed towards the mid and defensive-thirds in the first half of the game.
FootTheBall's Man of the Match:  Callum Robinson Mason Mount (xA of 0.3; 5 key passes; 7 shot-creation actions; 8 shots; 1 goal)

FootTheBall UNPLUGGED brings you the action scraped beyond all the drama, controversies, and VAR decisions. This section entails an in-depth match analysis, highlighting the key tactical scenarios – answering the WHYs and the HOWs of every move we witness throughout the 90 minutes on the pitch (and sometimes beyond)
---