The 2018 Russia World Cup stickers have sparked an uproar in Argentina, where football fervor verges on the religion.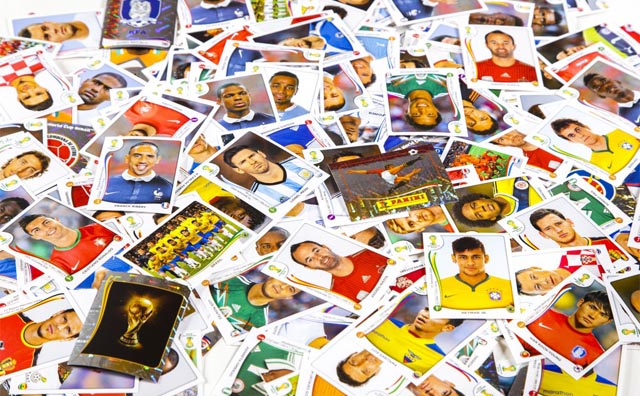 A must on school playgrounds, but increasingly gaining ground in offices, the stickers have also invaded squares and parks where people swap their doubles.
One group of fans in Buenos Aires has launched an idea in a bar in the neighborhood of Palermo, known for its appeal to tourists, to receive collectors who trade furiously alongside beer and live music.
Once a week, at 6 p.m., locals and foreigners meet in El Textil, a bar on Guatemala Street, where conversations revolve around the rarest stickers, the cost of a pack and the fastest way to complete an album.
The organizer of the event, Juan Agosto, spoke with Xinhua about his curious idea. "In every World Cup, I think I won't buy the album but I end up doing it. But as one grows up, we lose space to swap. I can't go to the gate of a school," he explained.
"You end up calling up friends and family, but the truth is I don't have any young nephews or cousins, I don't have much choice. But my friends and I here in El Textil, where I have been coming a long time, had the idea of bringing grown-ups together to swap stickers. That way, none of us has the shame of having to wait outside a school and swap with kids of 7 or 8 years old," said Agosto.
When the work day ends, sticker junkies, often with their children in tow, enter El Textil with the same emotion as when they were kids themselves.
"We do this from 6 in the evening. People become super enthusiastic and we are full of people every time," explained the founder.
Speaking about the difference between children and adult collectors, Agosto said "there is no difference in terms of fun, we enjoy it the same. But there is an economic difference."
"What I have most noticed is adults will go to the shop and buy 10, 15, 20 packs at a time, even if it implies spending a good chunk of their salary. When I was a kid, my dad would come home and bring two, three, five packs. When he brought 10, it was huge. That's the difference," he added.
The traditional sticker album costs 50 pesos (2 U.S. dollars) while a pack of five stickers costs 15 pesos (0.60 U.S. dollars).
Besides the photos of the 32 teams that will go to Russia, the album has special stickers, such as the emblems of each team, the cities and stadiums where the matches will be held, and special images of the likes of Diego Maradona and Pele to make a total of 680 stickers, spread across 80 pages.
The most sought after ones are of Argentina's native son, Lionel Messi, Brazilian superstar Neymar and Portugal's talisman, Cristiano Ronaldo.
Agosto, who is only missing 15 stickers to complete his 2018 set, quipped that "perhaps one loses passion. I get bored sticking them in. I like to swap them, count them, sort them, but I get bored sticking them in. I leave that to the children who come here."