Newcastle. Cold, often rainy, tough crowd, nasty ultras, ultra-rich owners. So the usually dull winter transfer window was lit up when the Magpies signed Bruno Guimaraes from French side Lyon. €42million plus €10million for one of English Premier League's best buys this 2022 January window is a straight-up intent deal.
And the story not just lies in Guimaraes trolling Arsenal with Newcastle announcement video!
I can't believe we are getting trolled by Newcastle over this team

Get rid of Arteta and edu tomorrow #ArtetaOut #EduOut https://t.co/eBFlsRrfjo

— OrganisedMessFC (@BrutallyGooner) January 30, 2022
But the real story lies in the numbers! The 2nd most fouled player in Ligue 1 this season, the highest for final third completed passes (342) and the highest passes completed in the opposition half (663) – Bruno Guimaraes is a Brazilian mix of former Chelsea star Willian and Manchester City's hard tackling Fernandinho.
Stats
The Brazilian stats show that he has the physicality to succeed in the Premier League and has a wide range of passing to help the team launch attacks and build-up plays.
The Brazilain in the current season has played 1174 minutes at the defensive midfield position and has performed admirably. Smarterscout rates players between 0-99 based on various attributes, has given him a score of 91 when it comes to disruption. And at the same time, he has been rated as 94 for dibbling and a respectable 78 and 70 for attacking output and ball retention.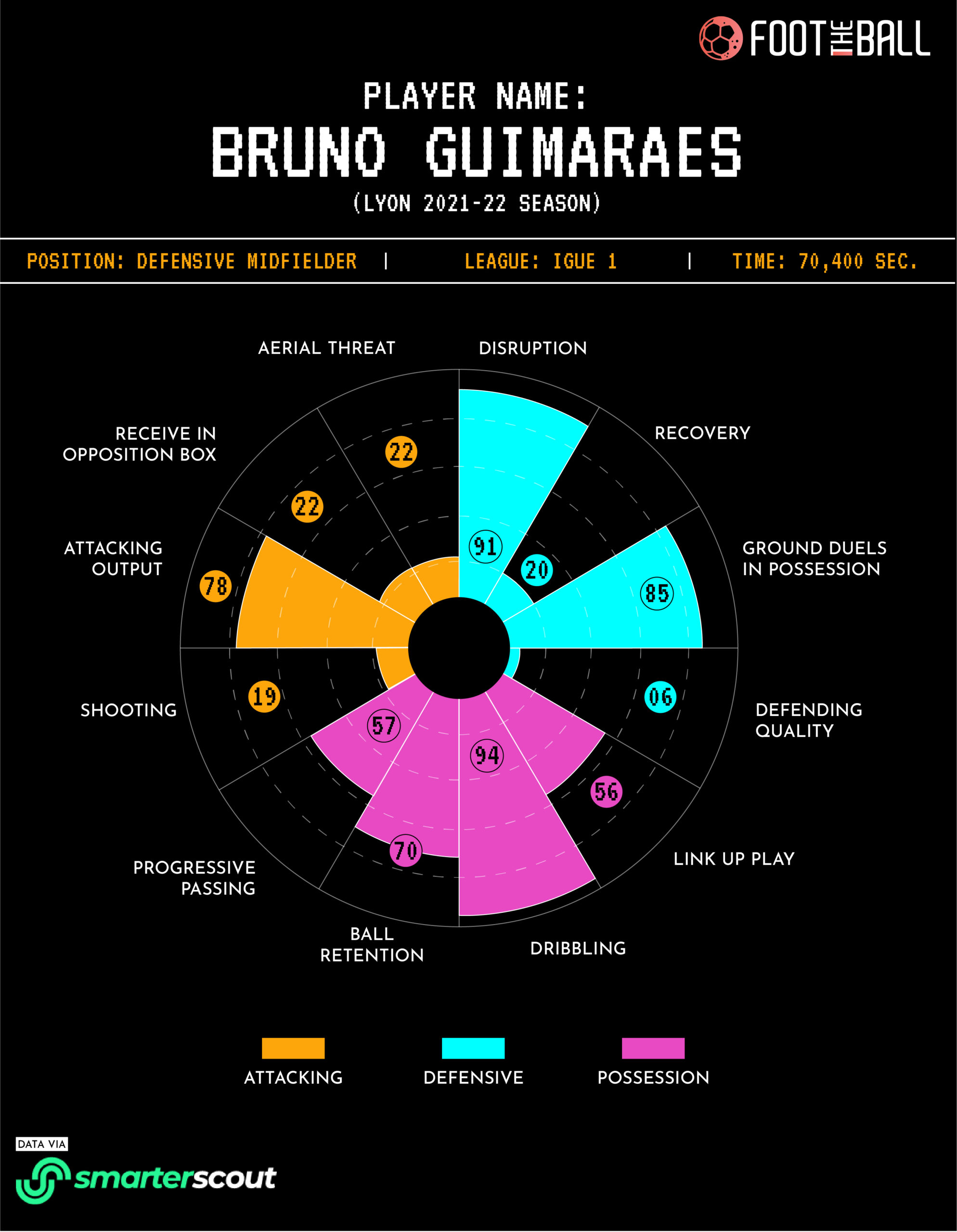 However, he takes the cake when it comes to progressive passing. Despite being a defensive midfielder, he averages 7.69 passes per 90 minutes in the final third of the pitch, which puts him in the top four percentile according to fbref when compared to all midfielders (except attacking midfielders). In addition, he also makes 1.57 key passes (top eight percentile), 7.45 progressive passes (top two percentile ), 8.04 progressive carries (top two percentile), and 13.71 passes under pressure (top one percentile).
While these stats are impressive on their own, they look even more phenomenal when we look at his defensive stats.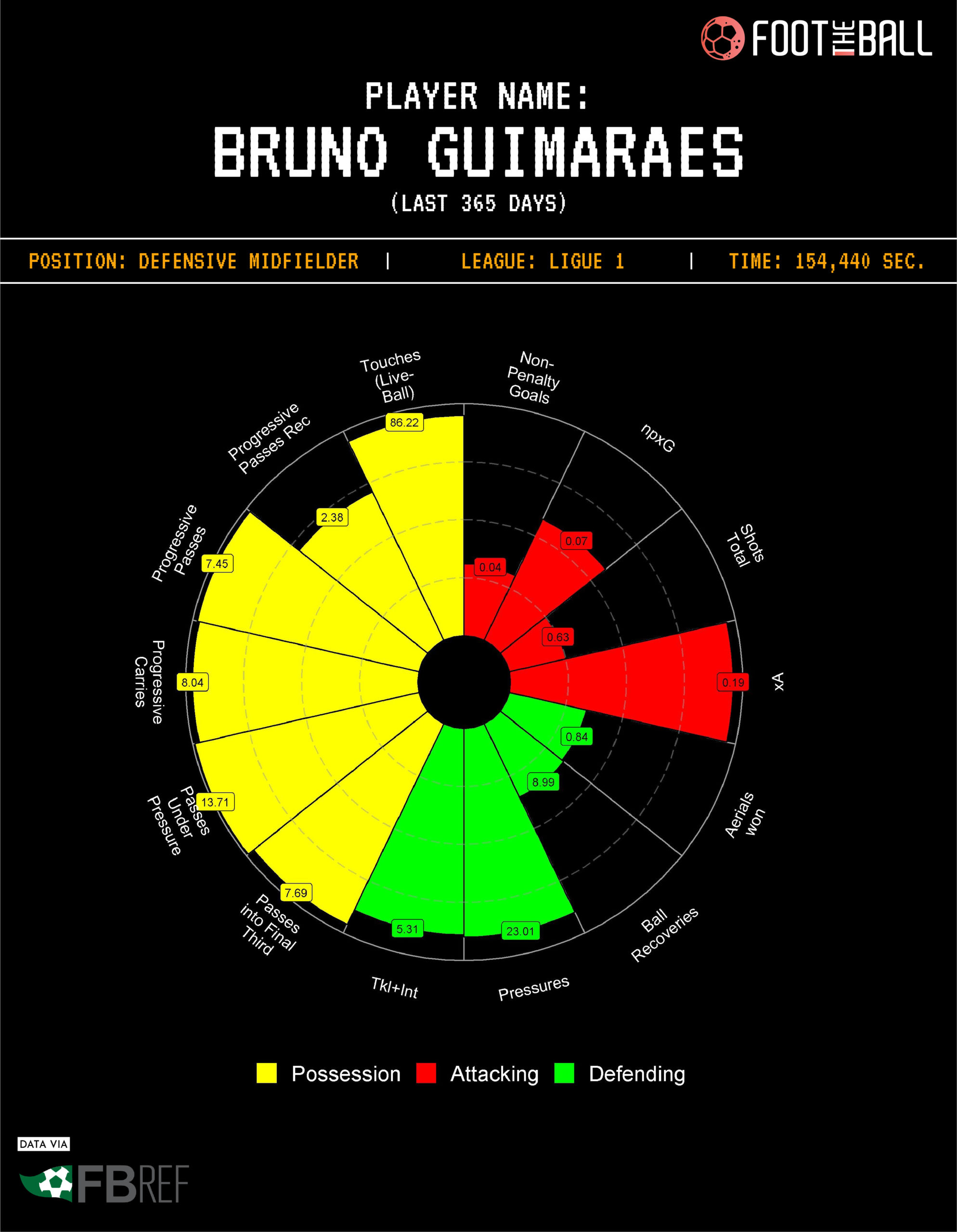 Bruno Guimaraes averages 5.31 tackles and interruptions per 90 minutes, thus booking his place in the top 11 percentile of midfielders. In addition, he initiates 23.10 pressures (top ten percentile) and 7.62 successful pressures (top two percentile).
This makes him a rare player. Furthermore, he spent lots of his early years playing Futsal, which is why he is so quick-footed and accurate with his passing.
We can also gauge his immense skill set if we compare his stats with another player of the same calibre, i.e. Jorginho from Chelsea.
Stats from Soccerment show that Guimaraes has a better success or completion rate than Jorginho when it comes to aerial duels (55% vs 36 %), crosses (29 % to 0 %), dribbles (76 % vs 70%), and tackles (89 % vs 88%). The only stat where he trails Jorginho is passing by just a per cent.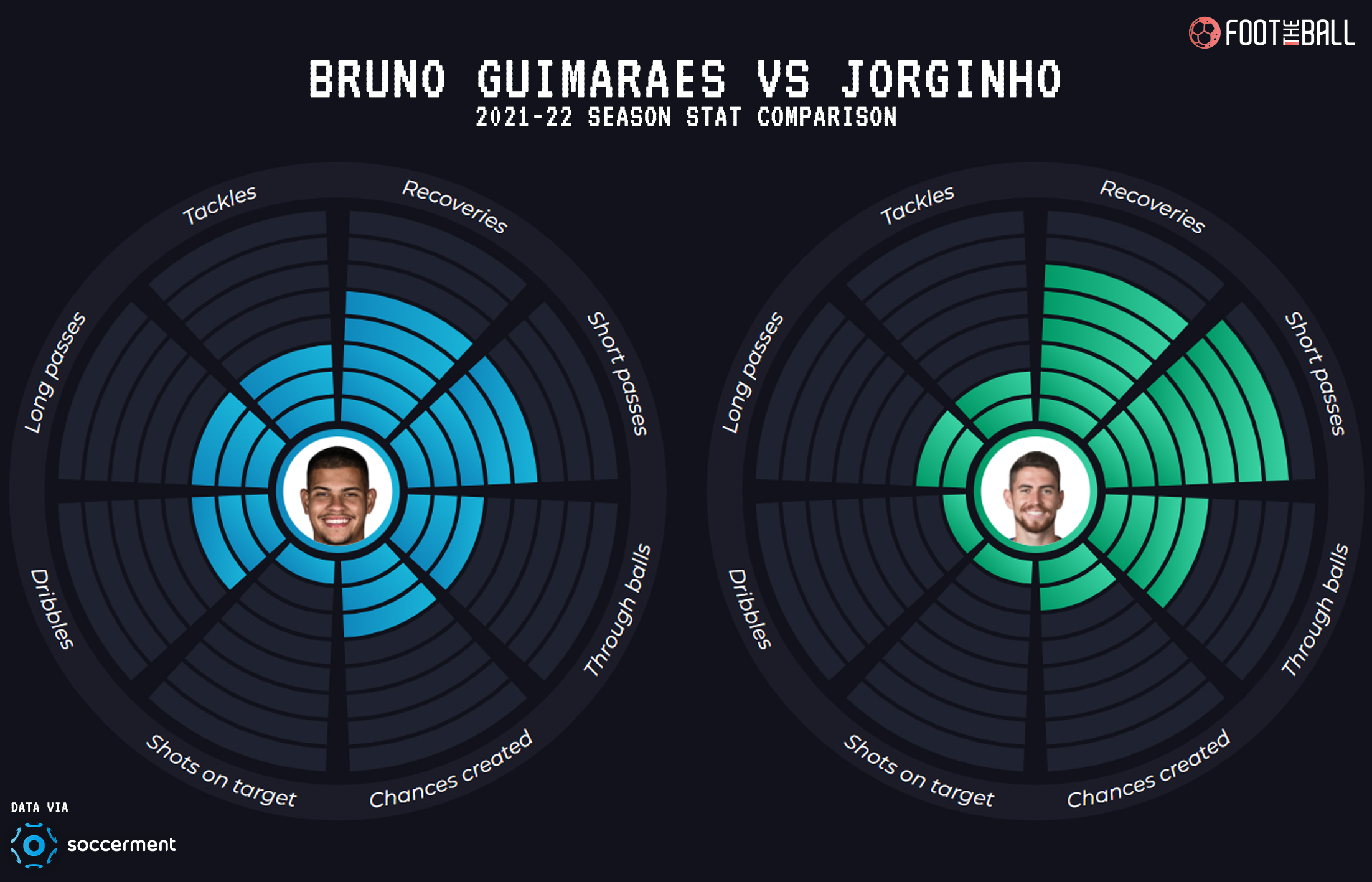 The master of two arts
Due to his futsal background, Guimaraes has developed a keen sense of getting the ball into forwards areas. Soccerment's data shows that he makes 15 per cent of his passes backwards and 29 per cent of his passes forward. This means that he makes roughly two forward passes for one backward pass, which shows his willingness to make the team's play move forward.
And at the same time, he has also developed vital physical attributes to his game. He is primarily a beast in the middle third of the pitch. According to fbref, he averages 1.92 tackles per 90 minutes in the middle third, elevating him to the top one percentile of all midfielders. Furthermore, he also initiates 11.85 pressures per 90 minutes (top 11 percentile).
This is perhaps why he is ranked as the third-best performing defensive midfielder in Europe by Soccerment ahead of Sergio Busquets, Jorginho, Casemiro and Declan Rice.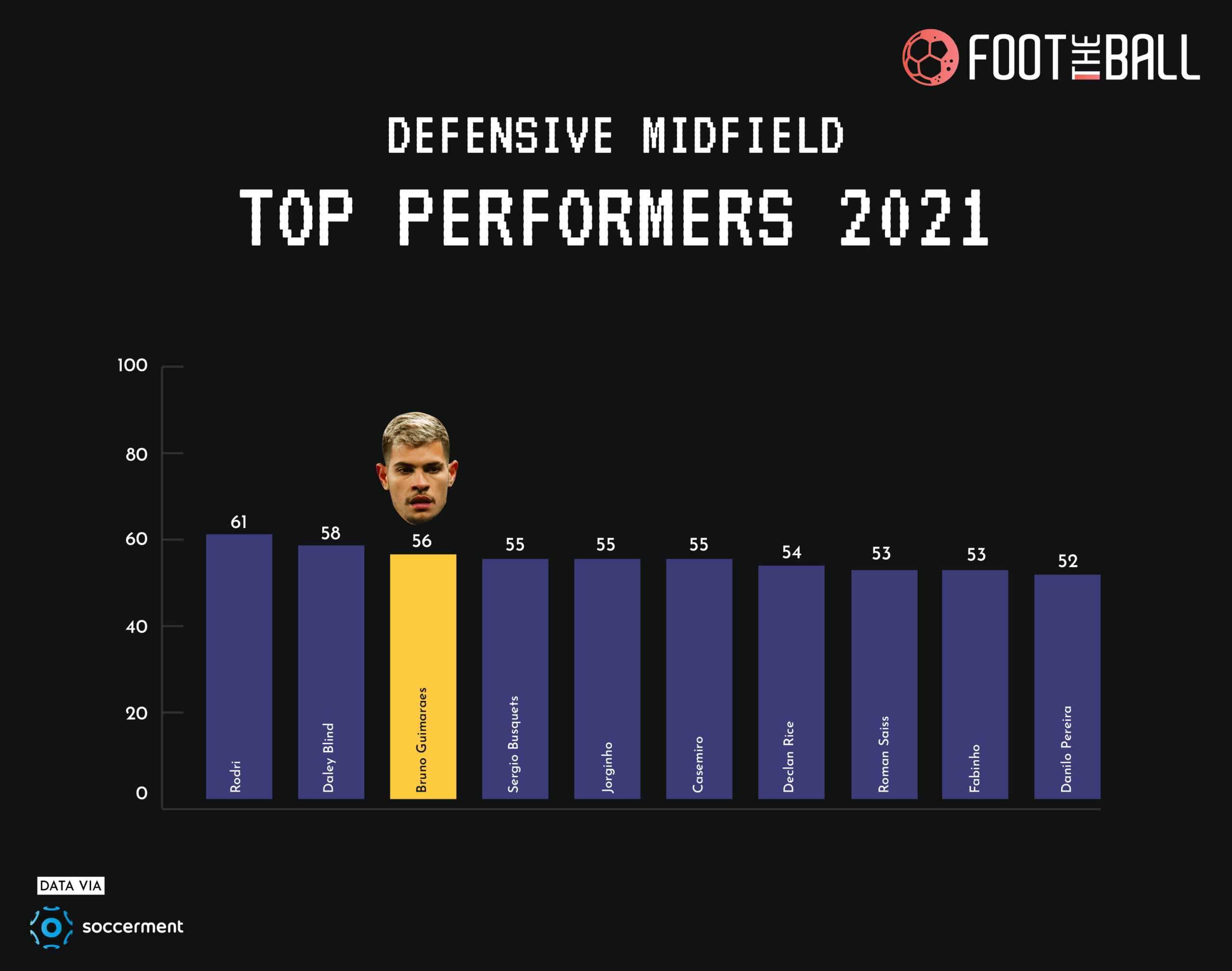 Why Newcastle signed him?
The form of Newcastle has been such this season that any of their new signings can be easily shown as an amazing one that will help the side immensely. However, in Brazilian, the Magpies have a player that can boost their performances across multiple areas.
The extent of Newcastle's woeful form can be gauged by comparing it to the EPL average.
For instance, comparing the team's performance on eight metrics (four on defending and build-up) shows us that they lag far behind their competitors.
They fare far worse than the EPL's average (per 90 minutes) on goals against, shot against, shots on target against, save percentage, ball possession percentage, successful passes in own half, successful passes in opposition's half, and passing accuracy.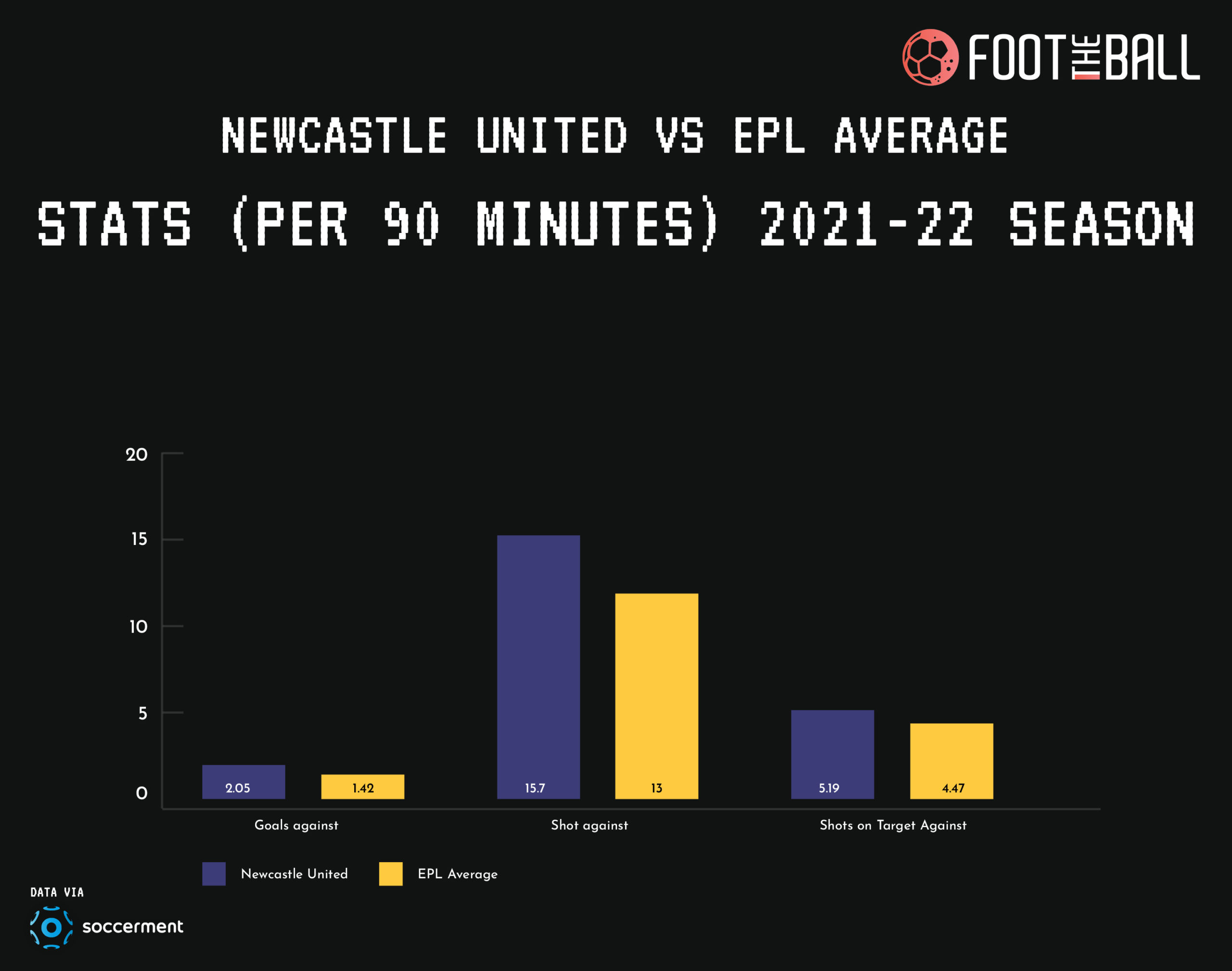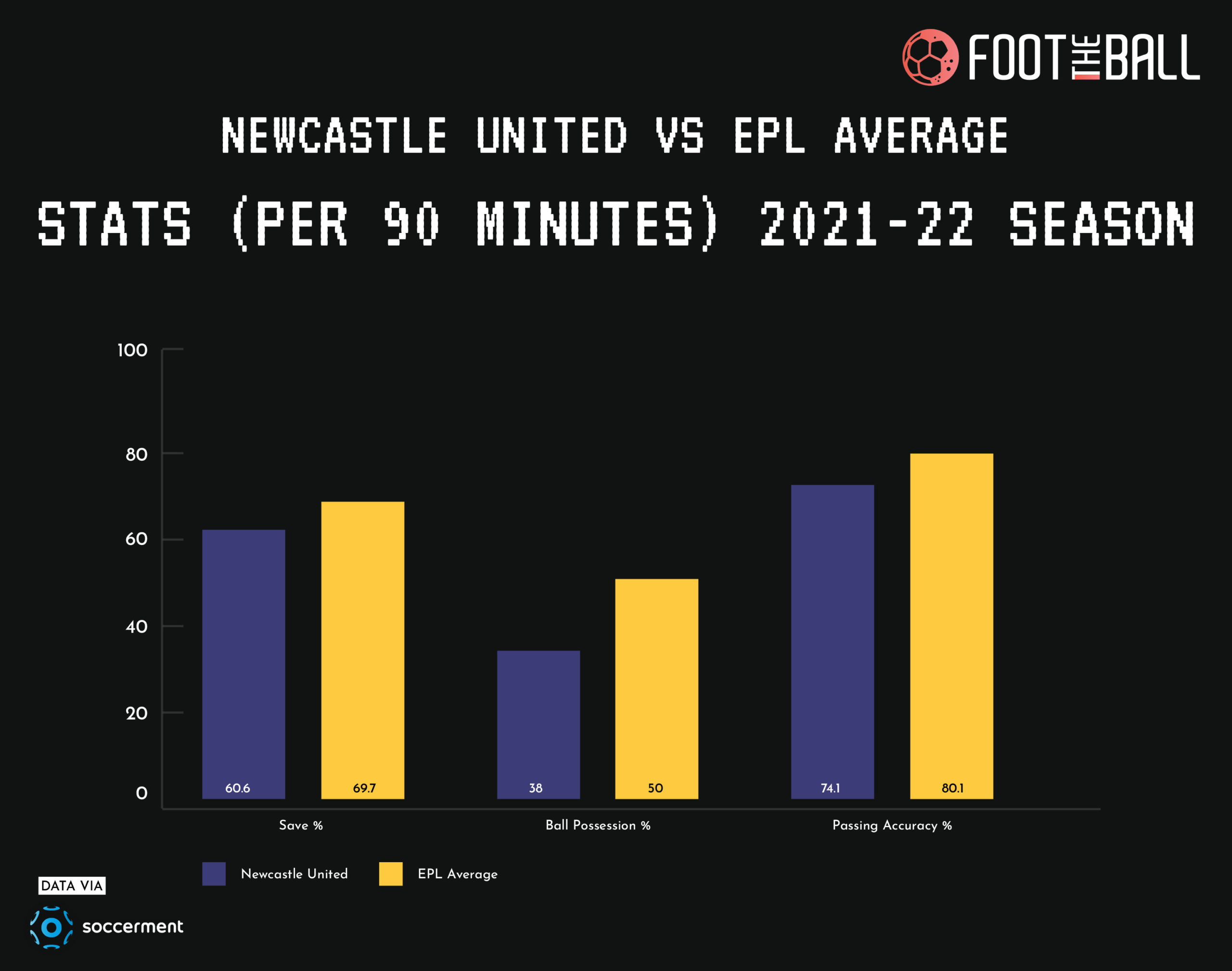 '
Another alarming stat for the team is the Passes Allowed Per Defensive Action (PPDA)(PPDA), which measures the number of passes a team makes for every defensive action. The lower the PPDA, the higher the number of pre3ssures initiated by the team, thus signifying an attacking and dominating play.
Taking stats from the top five leagues, Newcastle have the third-worst PPDA behind Salernitana (Serie A) and Union Berlin (Bundesliga).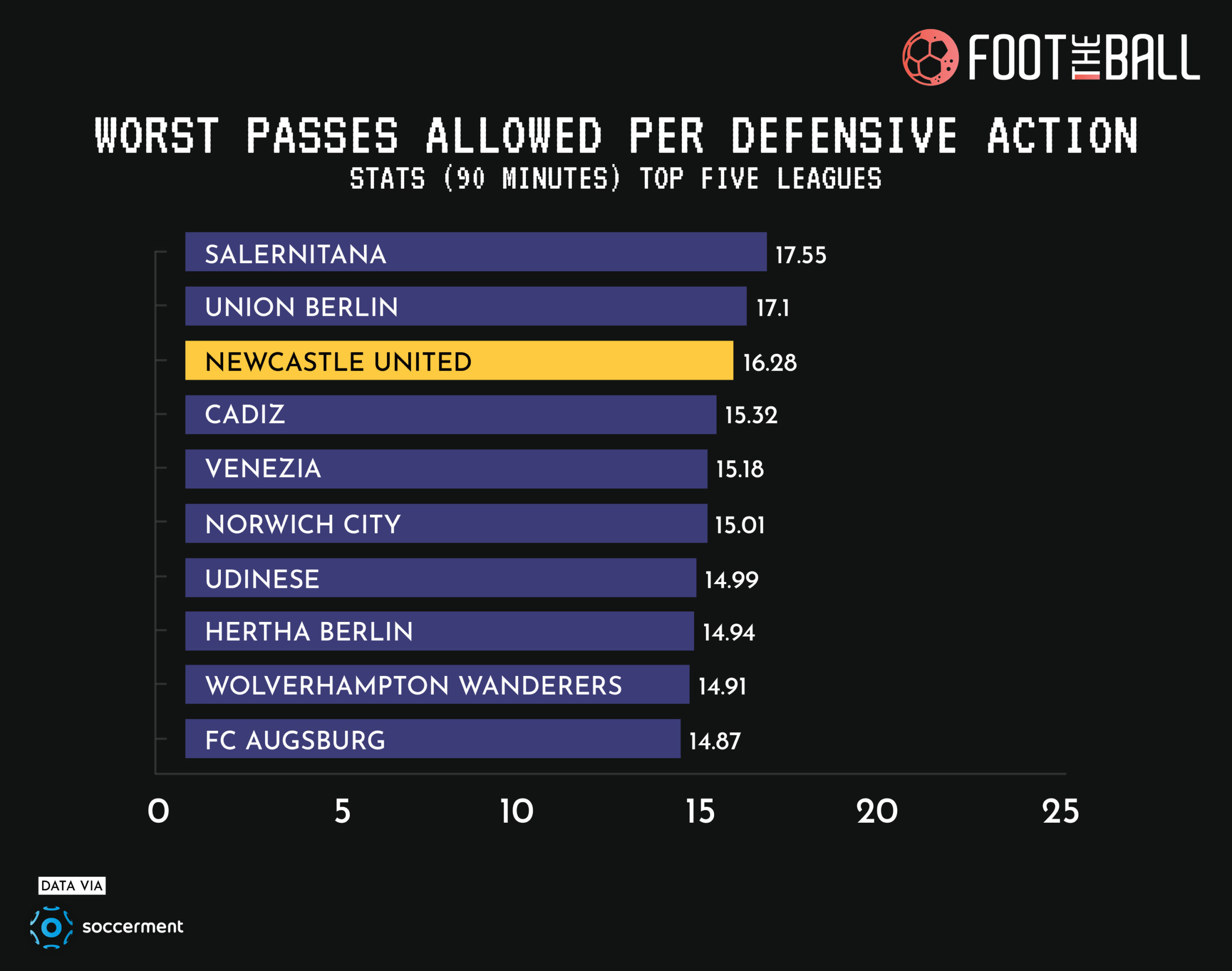 The 24-year-old's stats make him the best chance creator and the best passer in the team while he ranks second in dribbling.
Newcastle have always had brilliant signings from Ligue 1 like Yohan Cabaye and Moussa Sissoko. However, with Bruno Guimaraes, they will hope that the rise is much higher.