The 2022-23 season saw players breaking scoring records across the top leagues. There was the duo of Erling Haaland and Harry Kane in the Premier League, Kylian Mbappe, Alexander Lacazette, and the new rising star Folarin Balogun in Ligue 1, Robert Lewandowski in La Liga, and Victor Osimhen in Serie A. However, this trend was absent in the Bundesliga, where Niclas Fullkrug was the top scorer with only 16 strikes. This year, though, Harry Kane and a certain Serhou Guirassy have entirely changed the narrative.
Guirassy, in particular, has been on fire, scoring ten goals, the most by any player across the top five leagues. With his €100 million price tag and talent, Kane's tally of seven goals in five games wasn't entirely surprising. However, no one would have expected Guirassy to start the season in such a strong manner.
The striker is the perfect example of a late bloomer. In fact, despite being 27 years old, he has only made seven appearances for Guinea, with his first capped appearance only coming in March 2022. His rise has been swift, and we look behind the incredible numbers he posted.
Serhou Guirassy stats 
Serhou Guirassy has scored 11 goals and provided two assists in just six games, five of which have come in the league. In fact, his last three games have seen him score seven goals. While this is impressive, Guirassy's talent looks more remarkable when we analyse his shot accuracy.
Here, we need to keep in mind that as a striker, one will have a lot of shots. However, the key is how many of those shots are on target. Even a shot on target doesn't guarantee goals, as this metric does not take into account the placement and the quality of the shot. This is why even top strikers have a conversion rate of 30-40 per cent conversion rate from shots on target. Guirassy is far ahead of the pack with an accuracy of 83.33 per cent.
Analysing his shot's xG brings to a very interesting conclusion. Out of his ten goals, six had an xG rating of 0.33 or higher, which can be categorised as more than a half chance. Also, these goals came in and around the penalty spot, proving that he was at the right place at the right time, a skill few possess.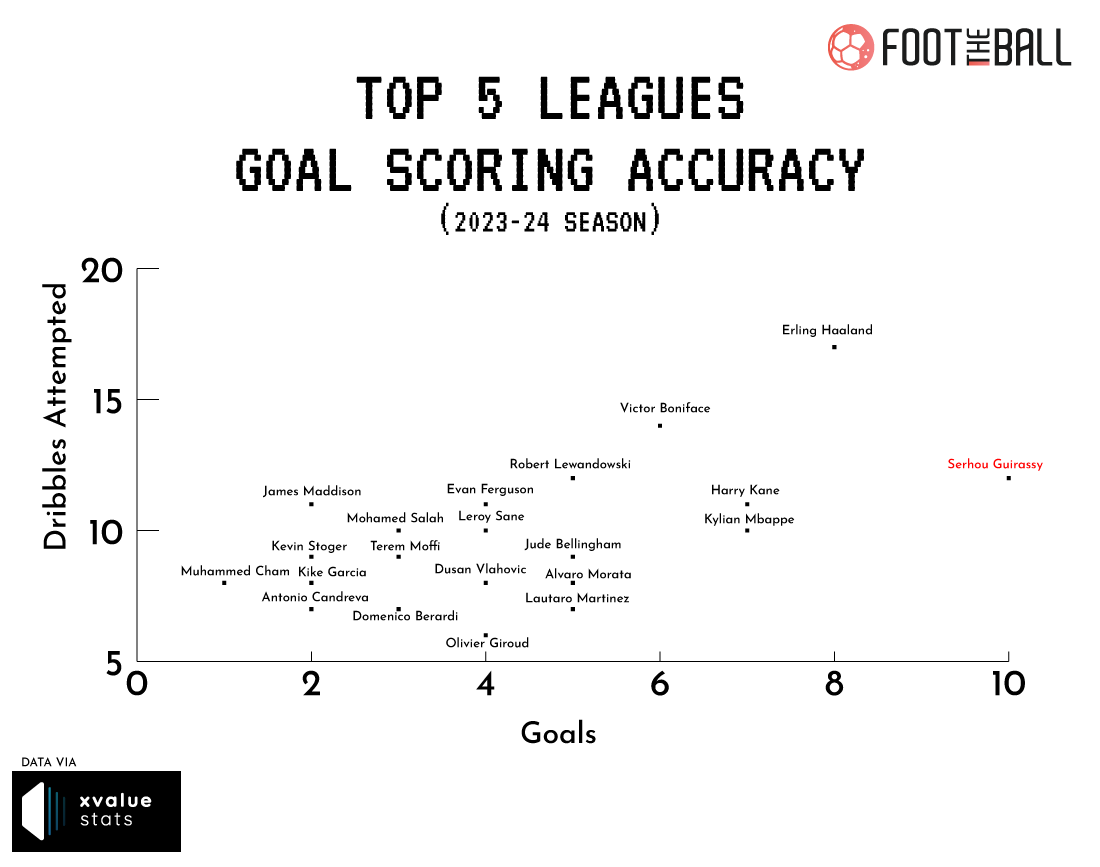 While this alone would have made him an elite striker, Guirassy has also added qualities to his game this season. His ball-holding and dribbling have improved massively this season. In fact, he has a rating of 0.44 from Expected Threats (xT) from carries, the second-best in the league. This has allowed him to record two assists as well.
Stats from Smarterscout also acknowledge his improvement in ball retention. The data analytics site rated him 80 for ball retention in the 2022-23 season, which has reason to 96 this season. Likewise, his attacking output has also increased to 78 from 55.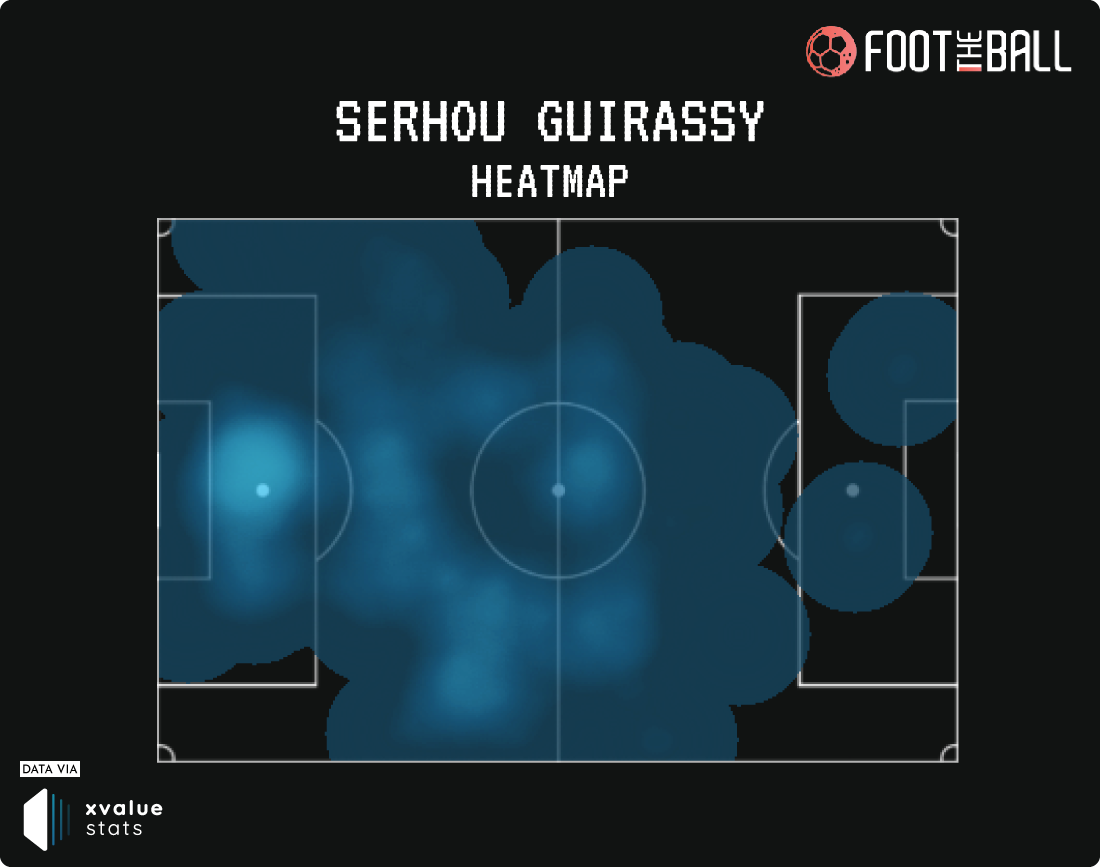 Another aspect of his game that has improved is his ability to track back to help his team defensively. Smarterscout has thus bumped his recovery skills from 9 in the previous season to a mind-blowing 97.
Playing as the lone centre forward, Guirassy is expected to play most of his game in the opposition's half. And this is where his brilliant short-passing skills come to the fore. According to fbref, he has an 86 per cent completion of short passes, most of which come in and around the penalty area. Guirassy then uses his vision to find his teammates with immaculate passes, which is why he has managed to create four big chances (according to FotMob), the second-most in the league.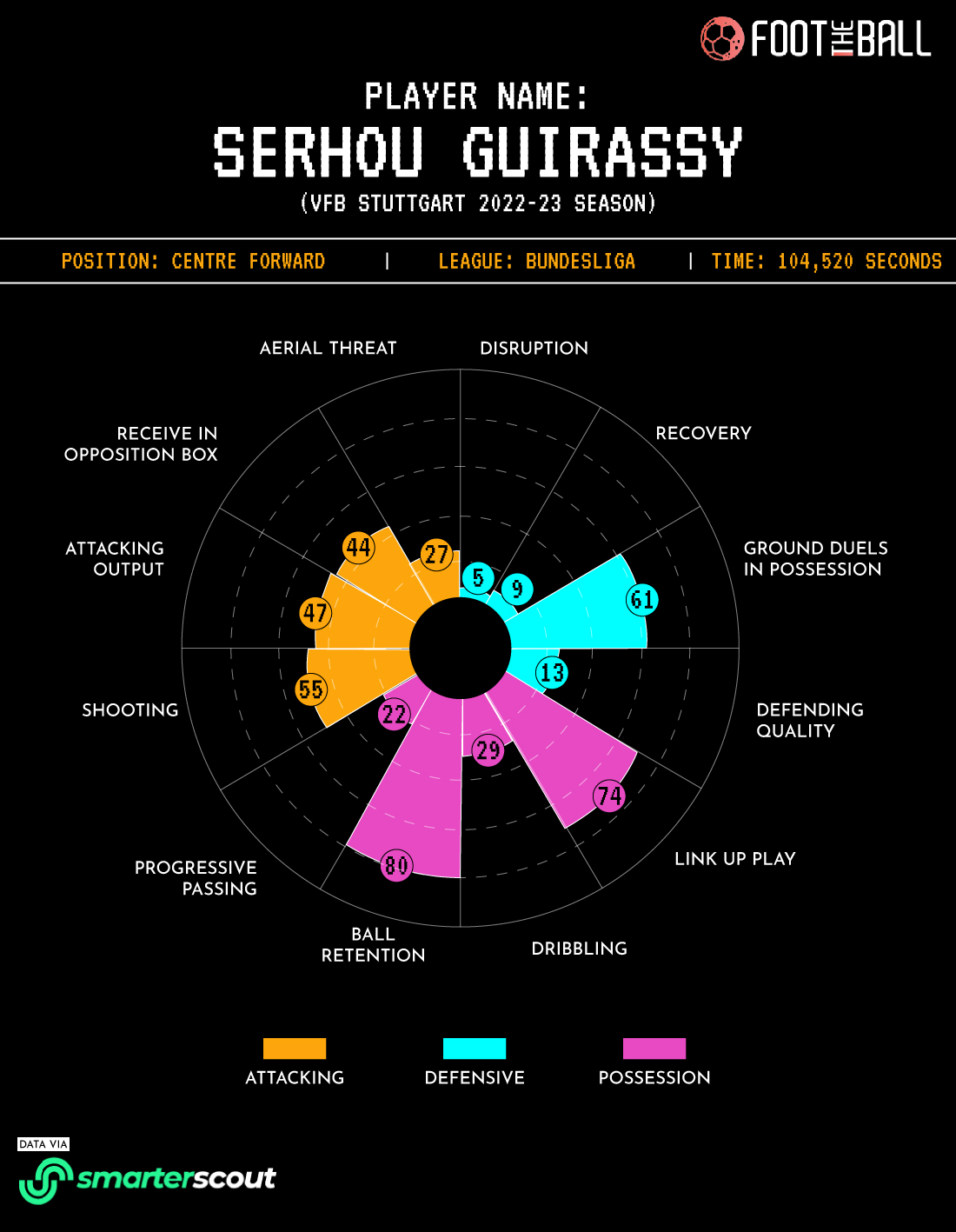 Serhou Guirassy's strengths and weaknesses 
Serhou Guirassy had shown glimpses of his talent at the end of the last season when he scored four goals in the previous five games. However, what Guirassy has done this season is to be more involved in the buildup phase. This has massively helped Stuttgart because he is a player who is well-equipped to ensure that the play moves forward swiftly.
Guirassy is also blessed with pace, which makes him very dangerous during counterattacks, a trait of his that has repeatedly left the opposition chasing shadows. All the skills mentioned earlier and stats have already established his supremacy in the league, but the 27-year-old has one final bow in his quiver: long-range shooting.
Three of the goals Guirassy has scored have come from outside the box, of which two had an xG rating of 0.03 (Darmstadt) and 0.04 (against Freiburg).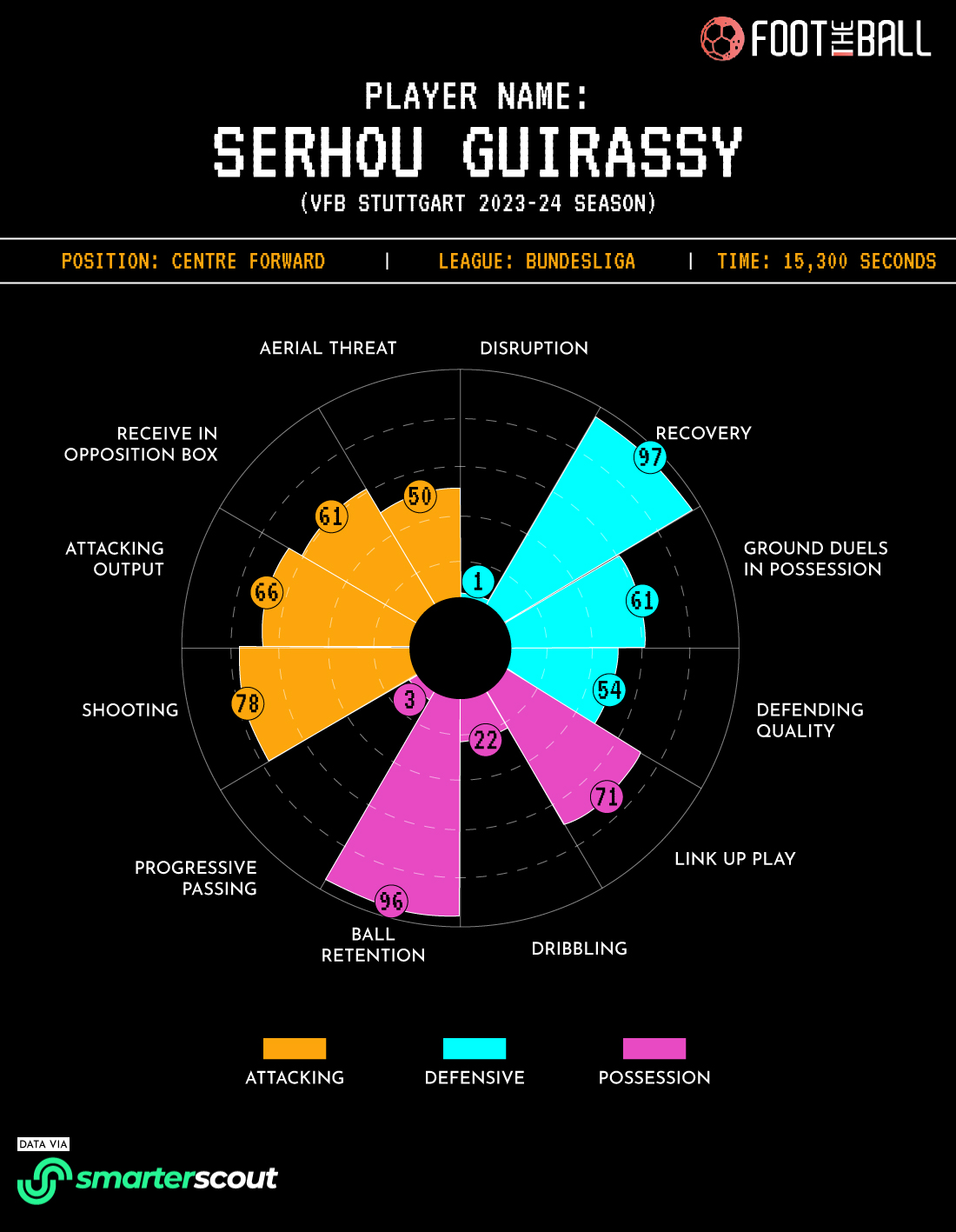 One of his major weaknesses is his tendency to hit the back of the goal or miss the target altogether. Data from Understat shows that Guirassy had only two shots that were either blocked or saved, with the rest ending in goal or missing the target.
This is an area where he could improve, as his incredible accuracy is bound to come down as the law of averages catches up to him. In this scenario, hitting the target as often as possible will ensure that Stuttgart have a steady supply of goals from him.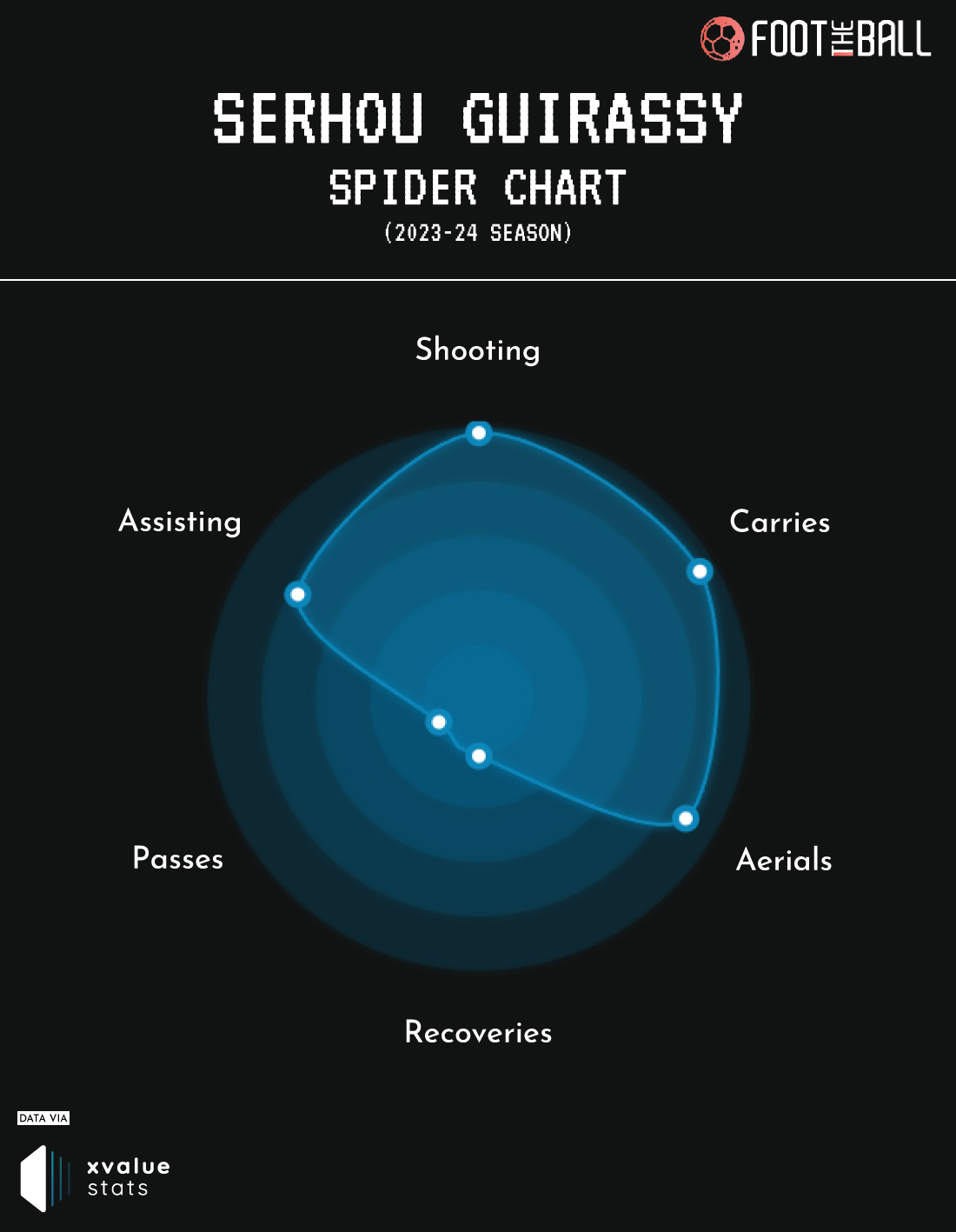 Serhou Guirassy transfer news 
What Serhou Guirassy has shown this season is bound to attract a lot of top clubs for one straightforward reason: the lack of elite centre forwards in the market. There is a reason why Bayern Munich splurged €100 million on a 30-year-old Harry Kane, and Real Madrid are playing without one waiting to sign Kylian Mbappe next season.
There are already reports linking him to Everton, Fulham among other clubs. However, the way he plays, the two clubs will face stiff competition from the big boys of European football or even the Saudi Pro League.
However, one thing that will be music to potential buyers is that he has a release clause in his new contract worth between €15-20 million, as reported by Kicker. However, till an offer comes, the fans of Stuttgart can enjoy his exploits.