La Liga, for the last several years, has been dominated by Barcelona, Real Madrid and Atletico Madrid, who are financially the strongest clubs in Spain. However, the other teams have tried to bridge the monetary gap by developing young players who can impact the senior squad and save the team from spending large amounts of money in the transfer market. The youth academies of Villarreal, Valencia, and Athletic Bilbao are perfect examples of it, and in recent years, several other clubs have also joined the list. Celta de Vigo is one of those clubs, and their latest product is the 20-year-old central midfielder Gabri Veiga.
Hailing from the O Porrino municipality in the Galicia province of Spain, Veiga has been with the reserve side since 2019 and the senior side since 2020 but has only shown his true potential this season. Veiga has been brilliant in both creating and scoring goals which is the reason why Celta have had a strong season.
Veiga's rise to the top has alerted several clubs who know they could get a gem of a player in the talented Spaniard.
Gabri Veiga stats
Gabri Veiga made his La Liga debut on September 19, 2020, but it is only in the current season that he has managed to become an integral part of the team. In the 2022-23 season, Veiga has played a total of 1828 minutes and has managed to score nine goals and provide four assists giving him a goal contribution every 140 minutes.
Due to the limited minutes, he has played, Veiga doesn't feature among the top players on stat metric. However, when we take the same stats per 90 minutes, Veiga becomes one of the best midfielders in the league.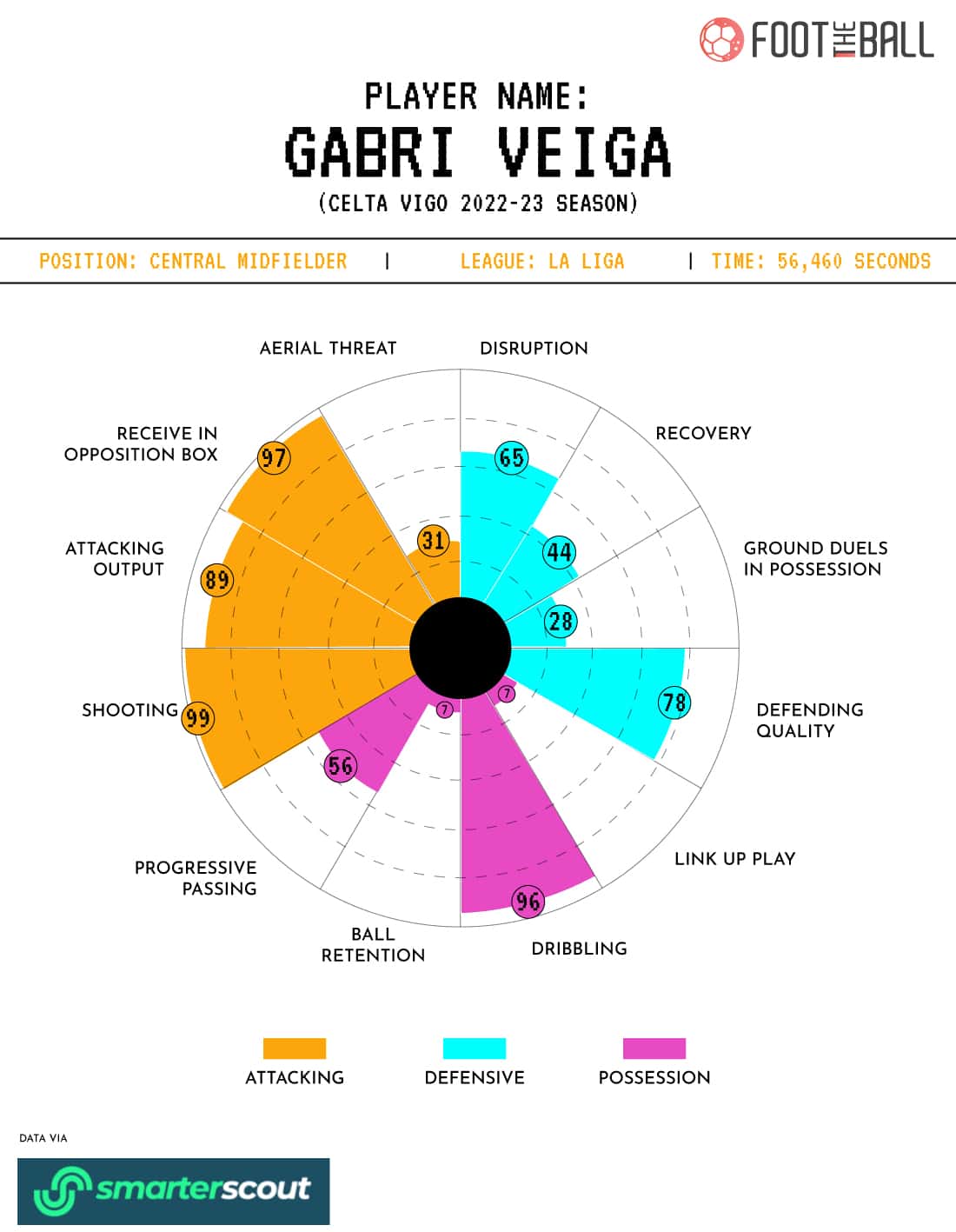 Stats from Soccerment show that he ranks second in terms of Expected Threat (xT) from carries, fourth in xT from passes, first in Expected Offensive Value Added (xOVA), third in Expected Assists (xA) from open play, and second in non-penalty Expected Goals when comparing midfielders.
Veiga also possesses a brilliant ability to shoot perfectly despite being a central midfielder. Data from Understat show that the player was only expected to score 5.72 goals which mean he has overperformed his xG by 57.34 per cent.
In fact, four of his goals this season have had an xG of 0.06 or lower which shows his knack for scoring challenging goals.
His performance in the 3-0 win over Real Valladolid deserves special mention as it represents the finest of Veiga's efficiency. In the match, Veiga played for 74 minutes but only played 24 passes. However, even with those limited passes, he created two chances, one ending in the back of the net.
And this consistency is not limited to a match. Veiga's nine goals this season have come in seven matches. And all those games had one thing in common; accuracy. In those games, Veiga had nine shots on target, all ending in the back of the next. This is a rare trait in a central midfielder and is what makes him such a menace to the opposition.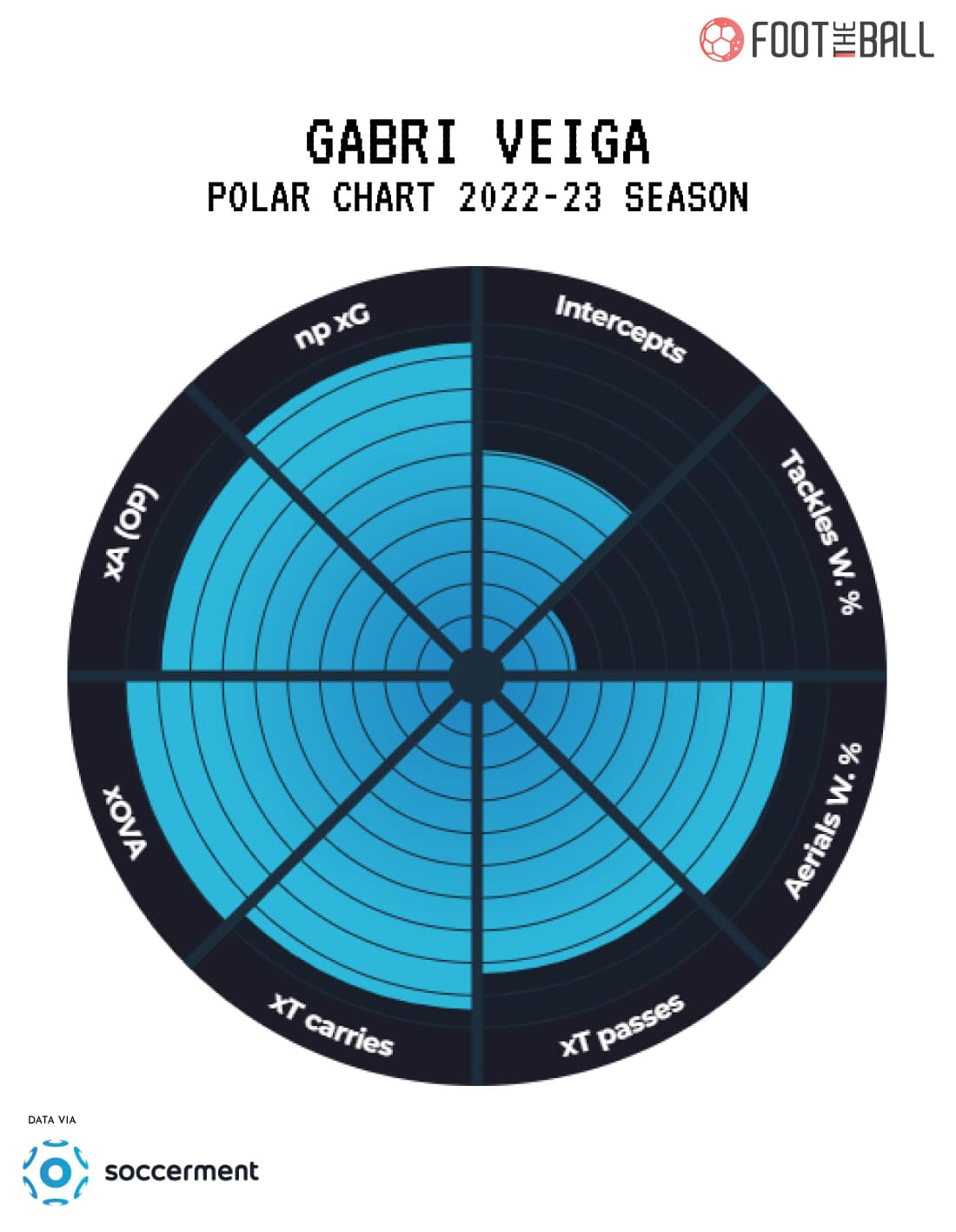 Gabri Veiga's strengths and weaknesses 
Gabri Veiga's playing style can be perfectly described as a 'roaming playmaker'. Rather than being in a position and controlling the game through his passing, Veiga loves to make clever runs behind the defence and get on the end of a ball by their teammate. However, his thinking remains the same while passing the ball as he actively looks to create a situation where his teams are in a 1 on 1 or 2 on 2 situation near the opposition's goal.
While his obsession with always moving the ball forward does mean that many times the opposition wins the ball back when it does come off, it usually creates a big chance for the team. Veiga. The Spaniard is also quite adept at making intelligent off-the-ball movements, allowing him to leave his marker and be in advantageous situations in and around the opposition's goal. Even with the ball, he is not shy from taking on the opposition and is one of the most successful players with his 1.75 successful take-ons per 90 minutes.
Another major strength of Veiga is his impressive work in the defence, especially in the middle half of the pitch. Fbref data shows that Veiga wins 1.28 tackles per 90 minutes in the middle half of the pitch and challenges 2.61 dribblers simultaneously, which are impressive numbers for a young central midfielder.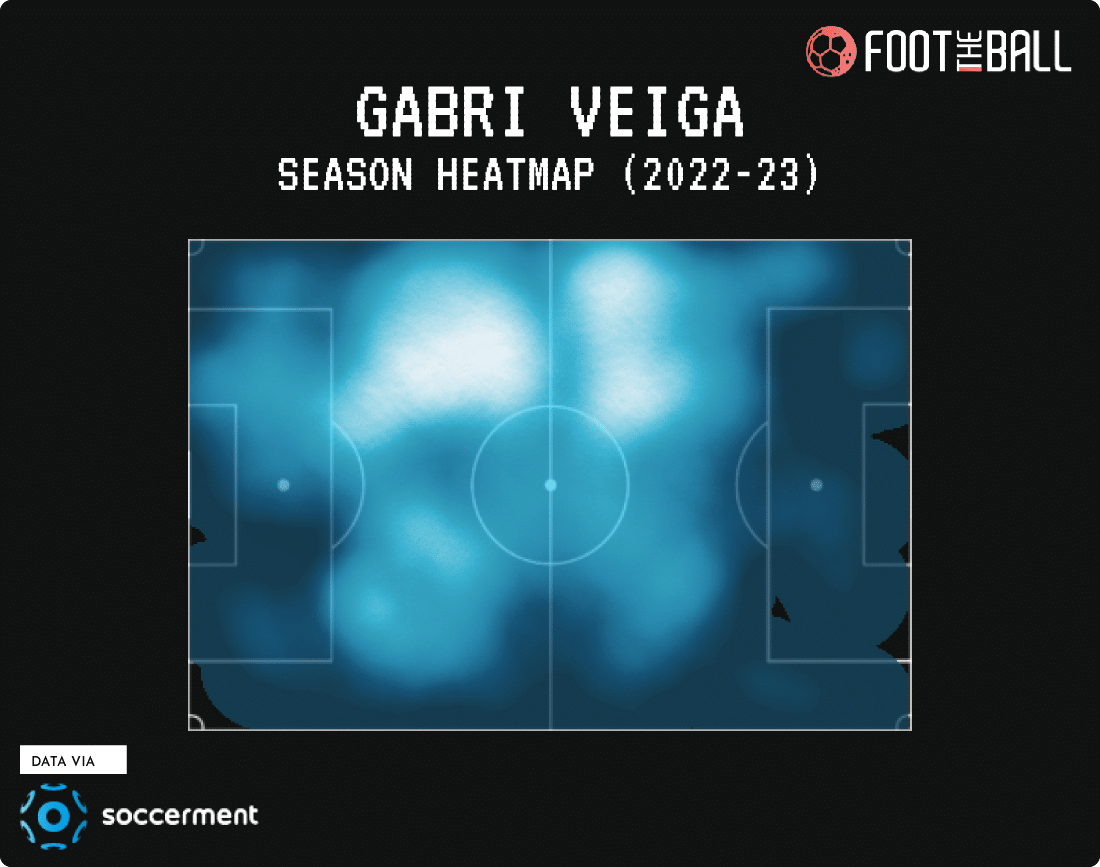 Veiga is also blessed with a pace that allows him to outrun his opponents and, simultaneously, will enable him to run back when his team is facing a counterattack from the opposition.
His 1.85-metre frame also allows him to hold the ball and win duels, whether it be on the ground or aerial. However, there are weaknesses to his game that he must iron out quickly. The first is his tendency to release the ball forward as quickly as possible without waiting for the best moment. Usually, this means the opposition cuts out the pass because they are ahead of Veiga's teammate, who is the target of the pass.
Read more:

Gabri Veiga transfer news 
Gabri Veiga is a rare talent, a player blessed with all the good traits of a midfielder and striker. And with his impressive season, he is bound to attract interest from other clubs. And according to recent reports, as many as four clubs. These clubs are Barcelona, Real Madrid, Liverpool and Manchester United.
However, Celta de Vigo are adamant that they will not be coaxed into selling the star midfielder. And any club looking to sign him will have to activate his release clause of €40 million. However, Veiga has taken a significant step just days before by signing Pini Zahavi as his agent. Zahavi is the agent of top players such as Robert Lewandowski, Christopher Nkunku, and Pierre-Emile Hojbjerg and will surely get him the best deal possible.
For now, though, Veiga will like to add to his tally of goals and assists before the season ends and improve his chance of being brought by a top club.