Among the many changes we have seen in modem football is the rise of attacking fullbacks. Dani Alves can be called the first player who was the first legendary out-and-out attacking fullback. His rise inspired many others who followed in his footsteps, such as Trent Alexander Arnold, Recce James, Dani Carvajal, and Joshua Kimmich (before he was permanently made a midfielder). And Bayer Leverkusen's Jeremie Frimpong is the next man on this list and will eclipse several of them by the end of his career.
The Dutch right-back, signed by the German club in 2021, has come to his own in the third season and has been one of the few positives for his team in an underwhelming season. Leverkusen are a club that the top clubs have regularly raided for their talented young players. And it is highly likely that Jeremie Frimpong will depart for a top club this summer.
At 22 years, Frimpong is having the best season of his career. However, given his talent, these performances are nowhere close to what he can produce when he does hit his prime in a few years, which means that clubs will have to fork out top dollar if they want the flying Dutchman in their ranks.
Jeremie Frimpong stats 
A product of the Manchester City youth academy, Frimpong left the English club in 2019 to join the Scottish club Celtic. He would spend two years before joining Leverkusen in the 2021 winter transfer window. Despite coming into the team mid-seas, Frimpong made his debut ten days after his signing in the Bundesliga against Stuttgart on February 6, 2021. Frimpong ended the season with ten appearances to his name.
However, in the following season, he would become an integral part of the team playing 25 matches, scoring one goal and providing six assists (among the top five fullbacks in the league). He also got two assists in Leverkusen's Europa League campaign.
With performances like these, Frimpong had set a high standard for the 2022-23 season. And he didn't just reach those standards; he went well beyond that, becoming one of the most in-form fullbacks in world football.
As mentioned earlier, Frimpong is a flying fullback, and the Expected Threat (xT) metric proves it. The xT metric measures the entire attacking impact of a player in different parts of the pitch. And Frimpong is the ninth-best player on xT across the top five leagues. Moreover, his xT from carries is even better, where he ranks sixth ahead of players such as his teammate Moussa Diaby, Rodrygo, and Napoli sensation Khvicha Kvaratskhelia.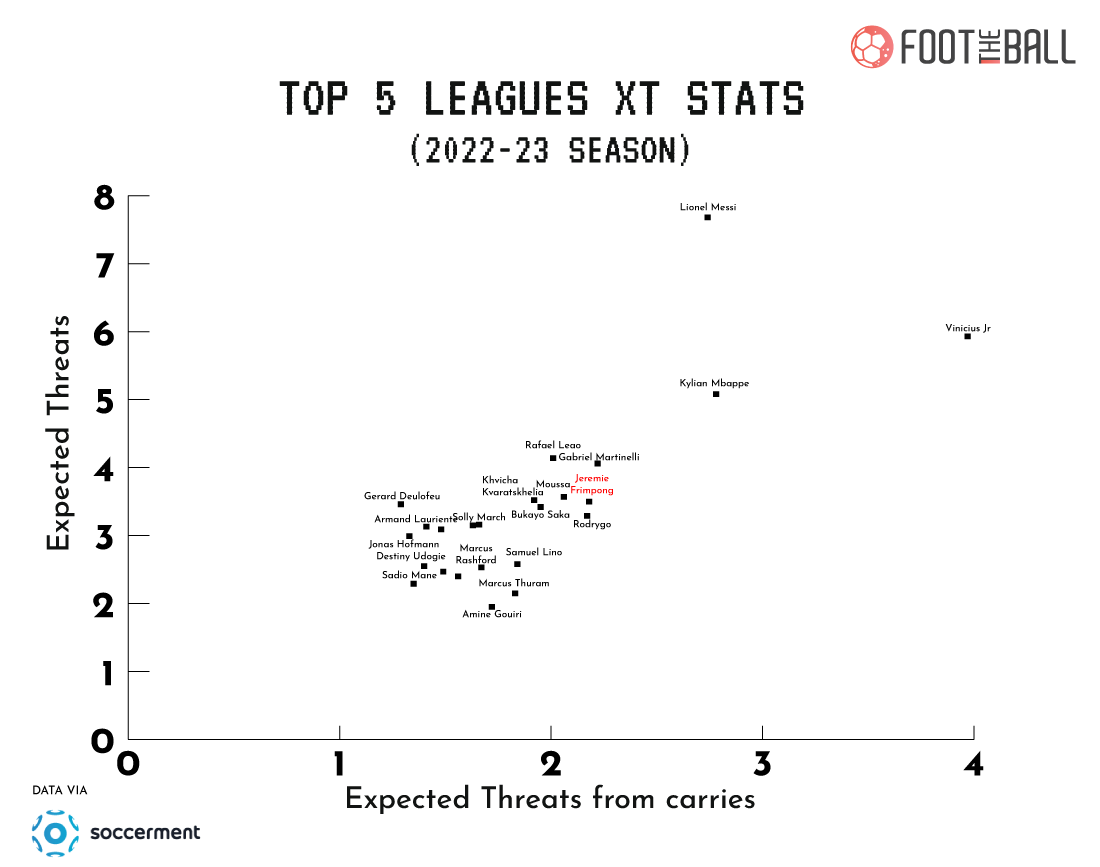 This high xT rating is down to his impressive dribbling, pace and intelligent off-the-ball movements. Stats from Soccerment show that Frimponh has completed 72 successful dribbles, with only Vinicius Jr and Lionel Messi completing more in the top five leagues.
Frimpong's offensive brilliance does not stop there. The Dutchman is also a dominant force in the Expected Offensive Value Added (xOVA), where he ranks as the best player in the Bundesliga. 
We have other sources, too, to verify his divine attacking skills, especially when it comes to moving the ball forward quickly. According to data from fbref, Frimpong ranks among the top one percentile of fullbacks in successful take-ons, touches in attacking penalty areas, progressive carries, carries into the attacking third, and carries into the penalty area.
Another data analytics site Smarterscout also backs up this claim, rating him 99 for dribbling, 91 for ball retention and 95 for attacking output.
Jeremie Frimpong's strengths and weaknesses 
The aforementioned stats undoubtedly prove that he is one of the best-attacking fullbacks in the game. However, this means that the defender acts more like a winger than a fullback when in attack. Furthermore, his heatmap shows that he spends more time near the opposition's goal than his own.
However, what differentiates and makes Frimpong better than his fullback peers is that he is not only adept at creating chances but also at finishing them. In the entire season, Frimpong has scored eight goals and provided ten assists. And there is a similar pattern in the goals that he scores. All his goals have come from inside the box, but seven came from the right half of the opposition's goal.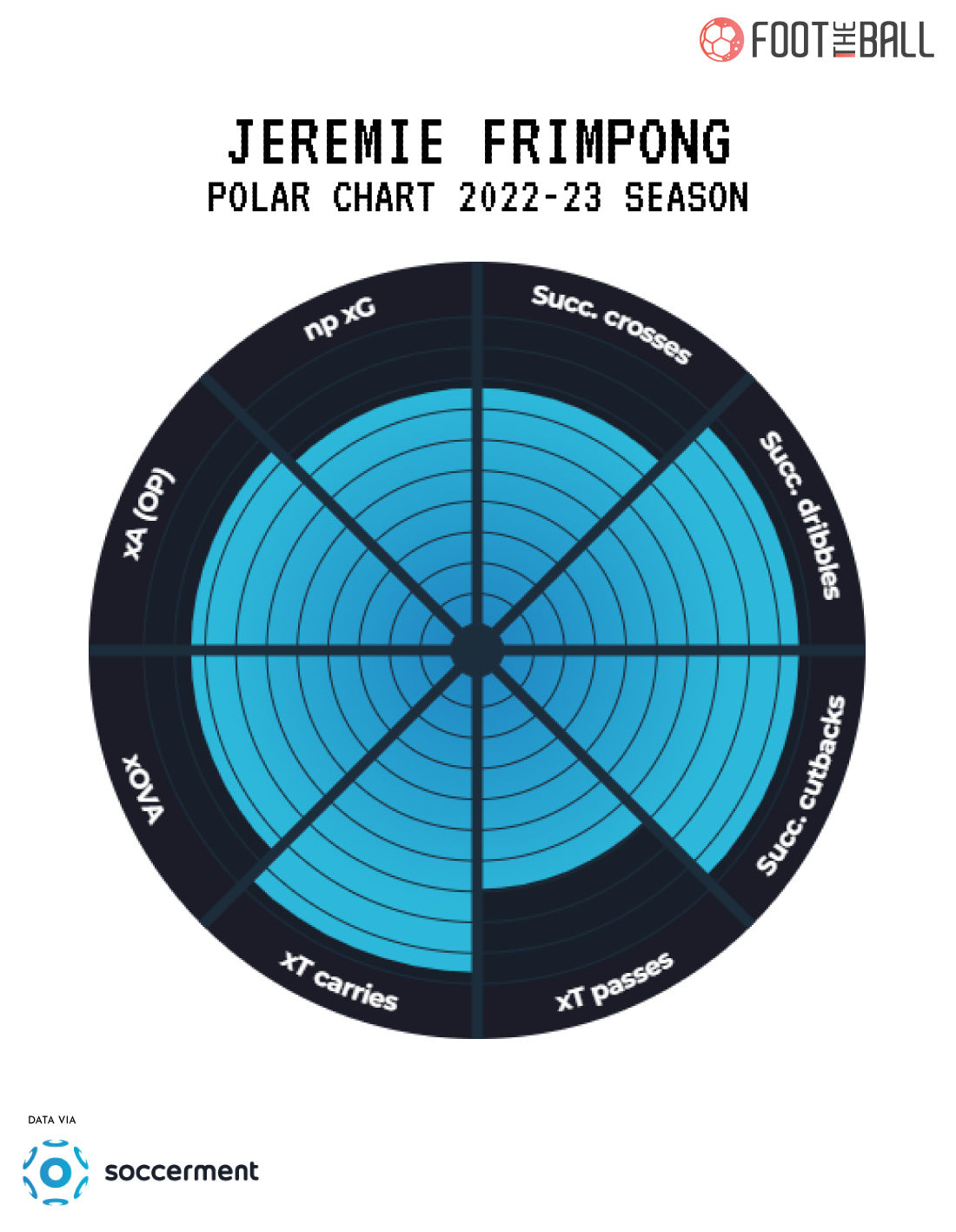 It is because, without the ball, Frimong can make intelligent runs into the box and get into advantageous situations to get a shooting opportunity. And when he gets the ball, Frimpong also shows a rare quality, even as an attacker. More often than not, he is ready to sacrifice power for accuracy, thus following the mantra of at least hitting the target, which is the reason behind his deadly accuracy in front of the goal.
All that attacking impetus does come at a cost, though, as he is highly susceptible to getting caught out of position when his team suffer a counter-attack which has caused troubles for Leverkusen. In addition, while Frimpong can shoot with both feet, he relies heavily on his right foot while passing and putting in crosses which sometimes makes it easy for the opposition to predict his movements and stop him.
However, the attacking merits he brings more than compensate for his defensive frailties. On top of that, Frimpong is only 22 and, with time, will improve both offensively and defensively, making him a more potent and complete fullback.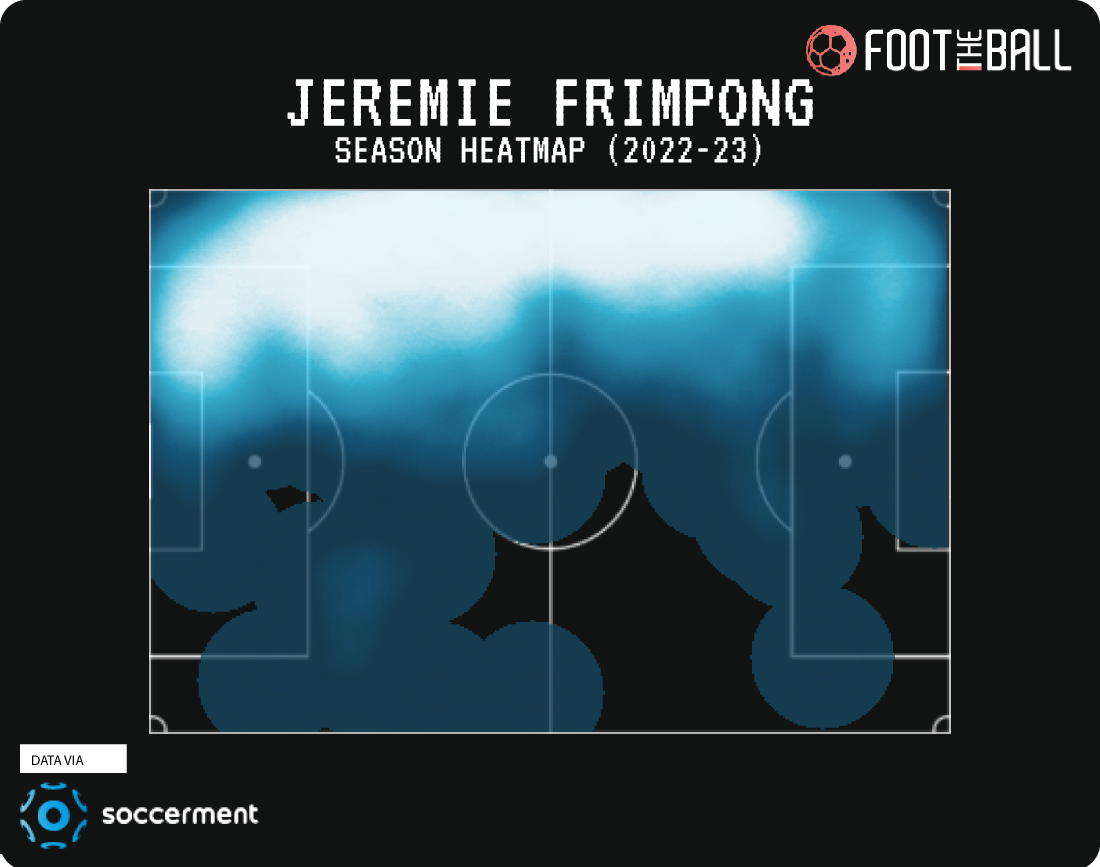 Jeremie Frimpong transfer news

On paper, only two to three clubs may have a more in-form right back than Jeremie Firmpong in their ranks. This means that the Dutchman is a transfer target for every club that wants to improve their position massively.
However, Manchester United is one club that is going all in to sign him. The Red Devils have been looking for a player who could make the right spot his for years. They have tried multiple players in that position, such as Aaron Wan-Bissaka, Diogo Dalot and many more.
Now they have the chance to plug that gap with Frimpong finally. The club are confident that the player will sign for the club given the opportunity to play under his countryman Erik Ten Hag. However, Manchester United know that the main stumbling block is a massive transfer fee they will have to part with to sign him. But given his talent, it will surely be money well spent.