In football, transfers are differentiated into several categories. And one of the categories that every club wants to be a part of is a 'transfer coup'. Signing a player, whether known or unknown, at the biggest stage at a low fee before he goes on to justify that price many times over is a sight to behold. Think of a free Robert Lewandowski signed by Bayern Munich or the €7.5 million Real Madrid spent signing Casemiro, who won 18 titles. For this season, Napoli's Khvicha Kvaratskhelia has definitely been the 'transfer coup' signing.
Signed for only €10 million, Kvaratskhelia has become one of the best European attackers, showcasing his talent in both Serie A and UEFA Champions League. Within six months, his transfer value has shot up from €10 million to €60 million, according to Transfermarkt. However, it is safe to say that Napoli will not even listen to an offer of less than €100 million. 
The Georgian was signed to replace club legend Lorenzo Insigne who scored 149 goals and provided 95 assists across 434 games. And judging by his initial performances, he has proved to be more than a capable successor for Il Magnifico.
Khvicha Kvaratskhelia career stats
Before this season, Khvicha Kvaratskhelia was considered one of the most talented players that come out every year in football. However, his career hit a bump as he had to leave Rubin Kazan after Russia invaded Ukraine. He returned to Georgia playing four months with Dinamo Batumi before Napoli snapped him up.
And the youngster took no time in adapting to the team's demand scoring one and providing one assist in his debut for the club in Serie A against Hellas Verona before scoring a brace against Monza in the next match. 
Currently, he has scored eight goals and provided nine assists in Serie A, along with two goals and three assists in UEFA Champions League. Kvaratskhelia's nine assists stats are impressive when he was only expected to provide only 4.35 assists according to the xA model.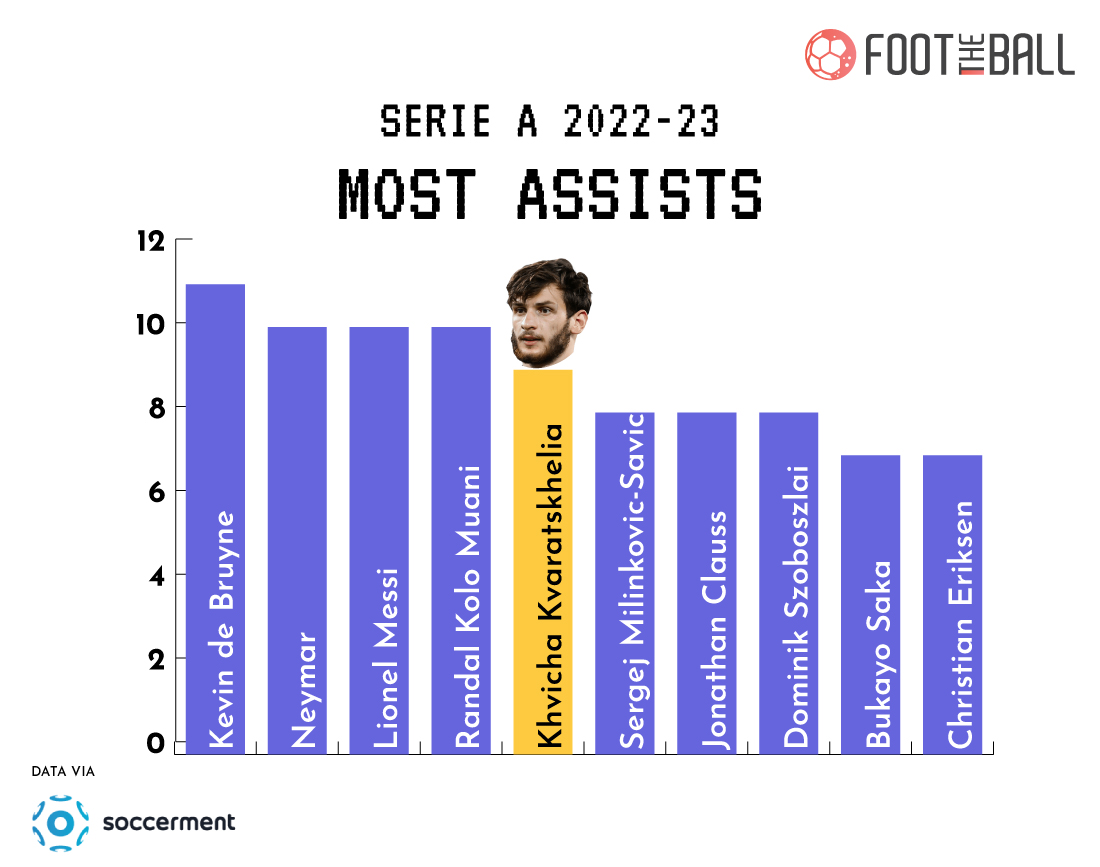 The Georgian excels both at passing and making chances through dribbling. This is backed by the fact that he is the third most dangerous player on the pitch in Expected Threats (xT) from carries. In addition, he has also made the fourth-most successful dribbles in the league. 
What makes him special is that he is an equally good goal-scorer and creator in the attacking third. According to fbref, he is among the top one percentile of attackers in scoring and creating goals. He also averages 7.55 touches in the attacking third and 3.49 carries into the penalty areas per 90 minutes, putting them in the top one percentile of attackers. 
If the already aforementioned qualities were not enough, Kvaratskhelia is also deadly accurate with his shooting. Till now, he has scored eight goals from 20 shots on target, giving him a deadly accuracy of 40 per cent. Only his teammate Victor Osimhen has been more accurate. 
10 – Among the Big-5 European Leagues players, Khvicha #Kvaratskhelia is one of five with at least 10+ goals scored and 10+ assists (10 and 11); among those players, he is the youngest (the others: Messi, Neymar, Kolo Muani and Gnabry). Special.#SpeziaNapoli pic.twitter.com/lwDMKCBNTr

— OptaPaolo (@OptaPaolo) February 5, 2023
He also doesn't shy away from attempting the tough passes or carries in the attacking third and is not fazed by failure. He is also an integral part of Napoli's high press and attempts 0.84 tackles in the attacking third, one of the most among his peers in Europe.
Returning to his shooting accuracy, we find an exciting trend that makes him an even more potent attacking threat. According to fbref, he manages 0.68 shot-creating actions and 0.17 goals-creating actions from his shooting, among the top European attackers. This means that his shots are so powerful, accurate and well-placed that more often than not, even if the goalkeeper manages to save, he can only parry it to a teammate of Kvaratskhelia. In fact, Napoli have scored several goals this way.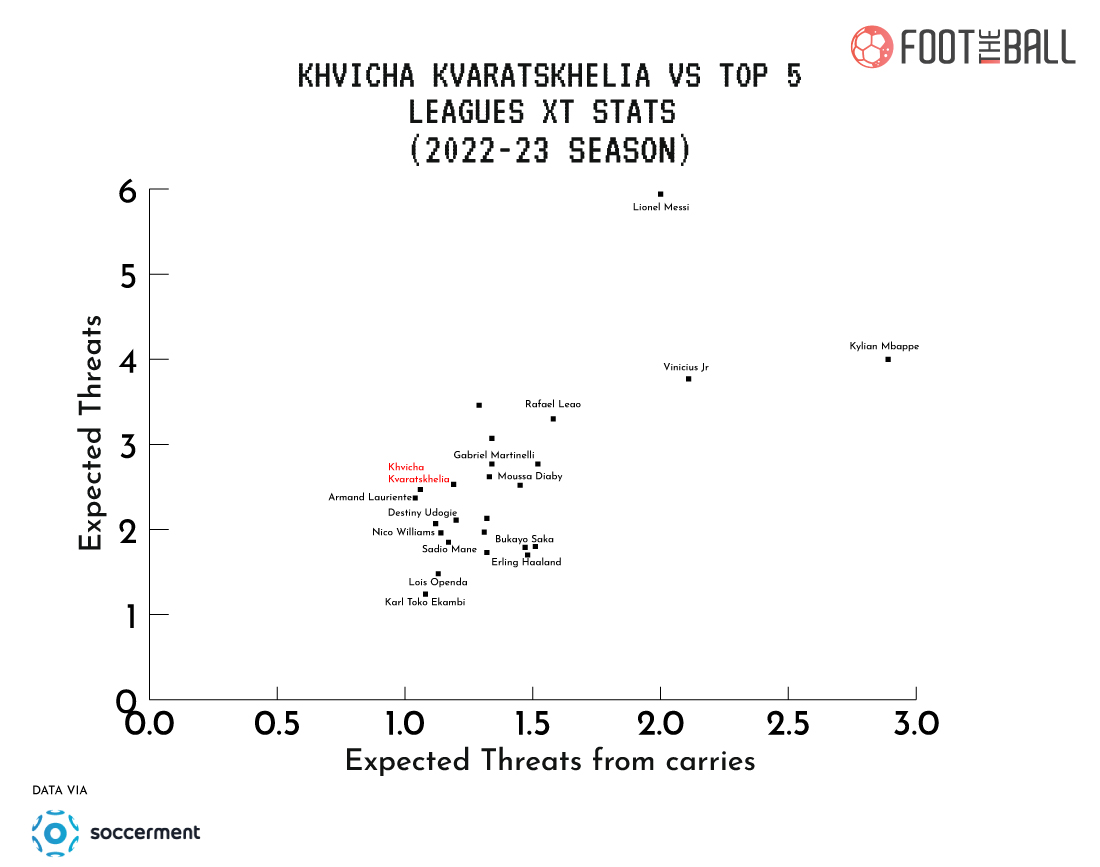 Khvicha Kvaratskhelia strengths and weaknesses
Data analytics site Soccerment has described Khvicha Kvaratskhelia as 'a one-on-one explorer, which describes him the best. He is an explorer who wanders all around the pitch looking for unexplored gaps in defence; he is an explorer of the goal-scoring chances where even the best of attackers fail.
Because he is equally good at scoring and creating, the opposition are always unsure whether to leave him one-on-one, which gives him an advantage in goal scoring or crowd him out, which will leave one of his teammates free and allow the Georgian to find him with an easy pass. 
Read More:
He ranks among the top seven percentile of attackers in Non-penalty Expected Goals P90 while at the time being one of the best creators. This was best evident in Napoli's 4-1 home win against Liverpool, where he ran rings around Virgil Van Dijk and Co. 
While he is equally good with both of his feet, Kvaratskhelia prefers to be on his right foot. It is why he is among the players with the highest cutbacks and the lowest crosses. The cutback also allows him to enter the box from the inside-left channel, from where he can score and create for his team. His cutback skill reminds me of a certain Arjen Robber, who used to do it regularly but on the other flank.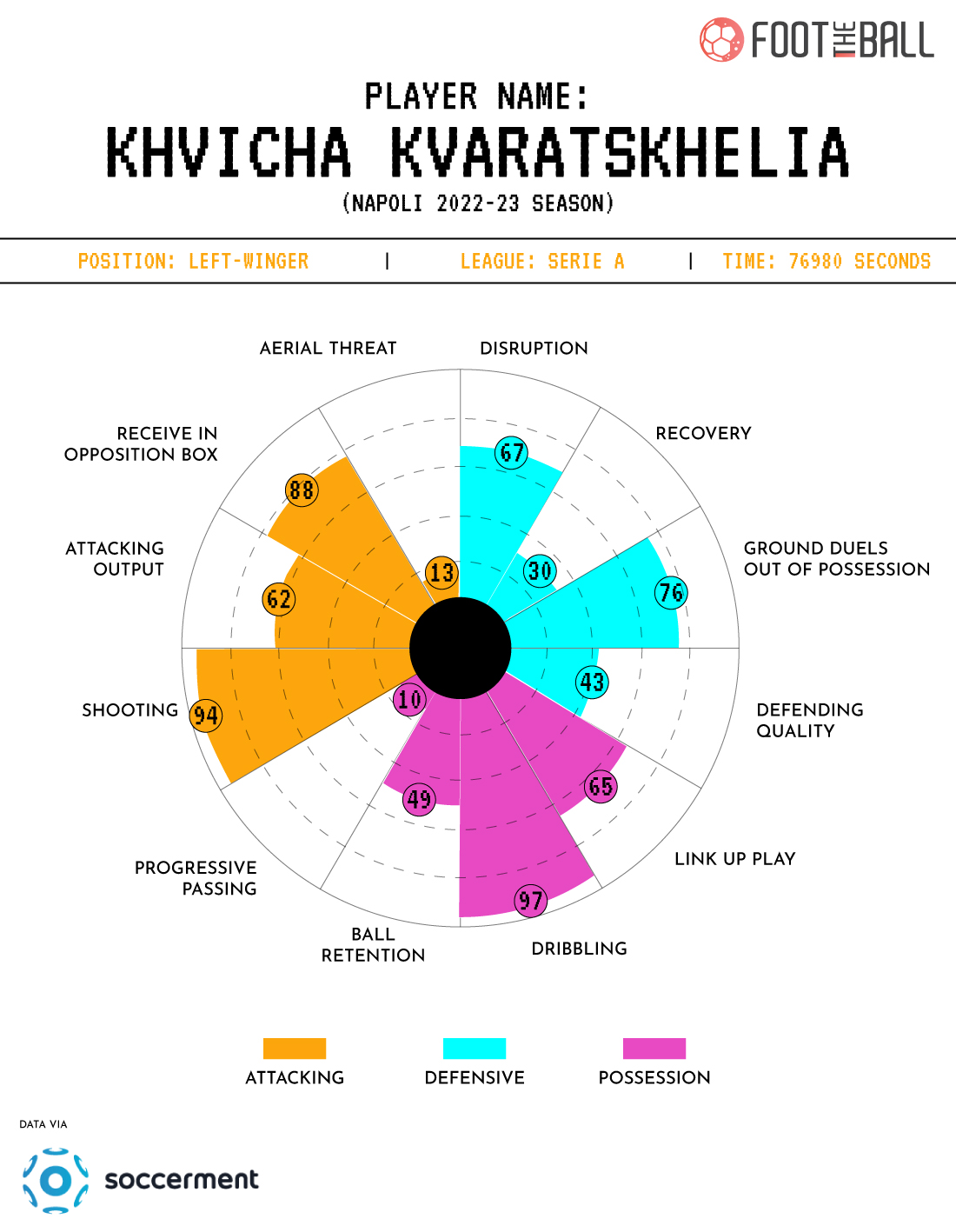 And as a player who is playing against him, the last thing you'd want on top of all that wizardry is speed. Too bad because Kvaratskhelia has that in spades, which is why he has been able to make those perfectly timed runs behind the defence and score a truckload of goals.
His game has weaknesses, such as his aerial ability and lack of tracking back. Since Napoli are in the Champions League, they will play top teams who will not shy away from attacking them, especially by creating 'overload' on the flank. During this time, the Georgian will have to track back and help out his full-back. However, it is his first season in a top league, and he will only get better from here.
Khvicha Kvaratskhelia transfer news
Based on his current form, there is no team in the world for which Khvicha Kvaratskhelia does not start. He has gone well beyond what is expected from a talented winger in his debut season for a club. And even if he is staying at Napoli for now, every top club will be keeping tabs on him, given his incredible rise.
One of the significant hurdles for the player will be to keep consistency in the level of his performance. Napoli's initial deal included no release clause and kept him at the club till 2027. However, according to La Gazzetta dello Sport, the club are already working on a new deal that will double his current €1.2 million salary and will keep him at the club till 2028 with a massive release clause.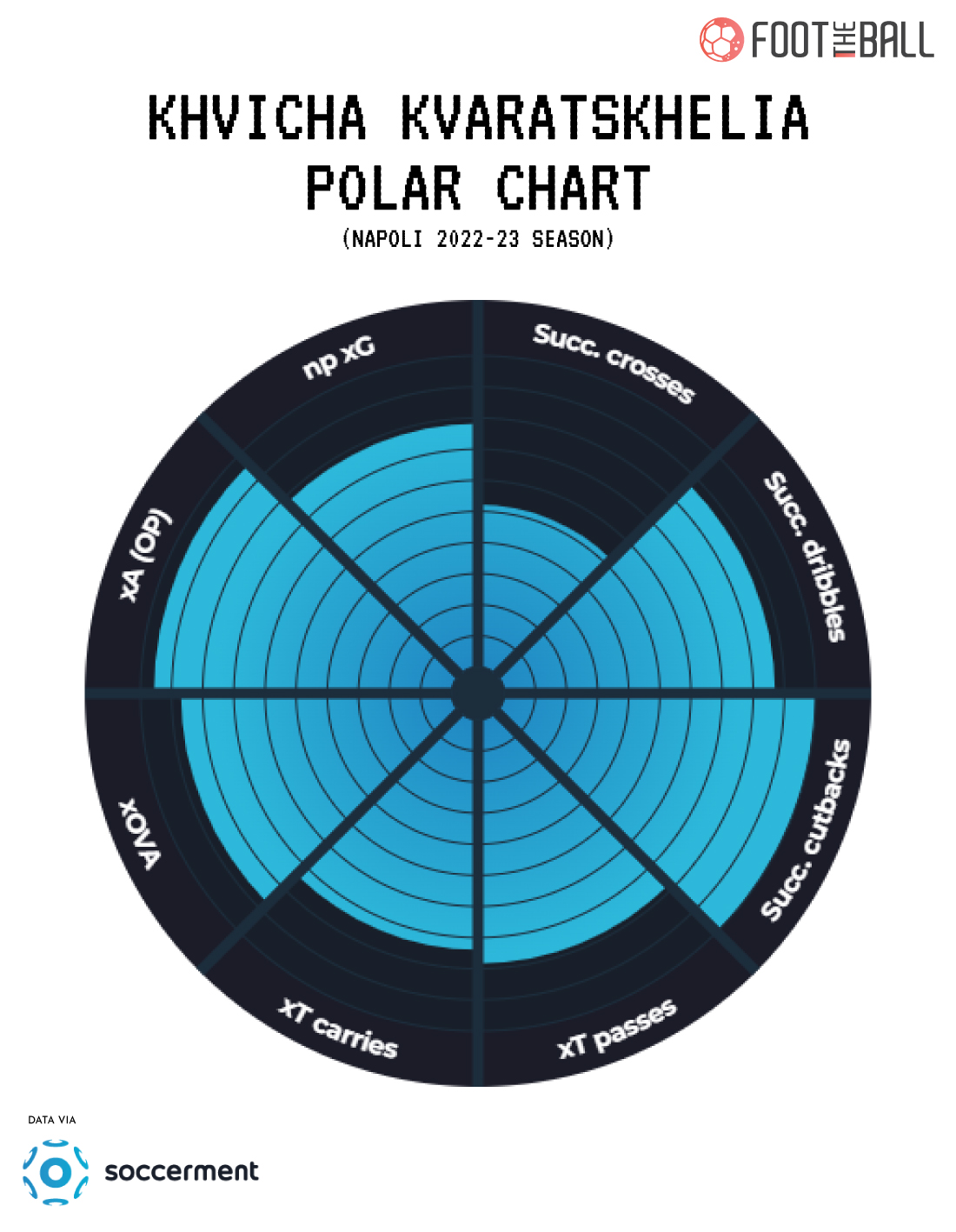 In summer, Napoli wanted to sign a player who, in the future, could be a successor to Insigne, but in Khvicha Kvaratskhelia, they have found one that is on his way to becoming an even better player.