There is something beautiful about watching an immensely talented player in a side struggling to perform. While one would love to watch the wizardry of the top teams with top players, watching a player doing it all on his own for a team in despair shows us the limit of a player's capabilities. A perfect example of this in the current season is Ivan Fresneda Corraliza, the man currently helping Real Valladolid avoid relegation by just one point.
In a season where the Pucelanos have massively struggled, the 18-year-old has been like a fresh breath of air, playing with fearlessness and maturity far beyond his age. And this now invoked interest from Europe's top clubs in which Arsenal are believed to be the front-runner. The Gunners are looking to bolster their midfield and defence, which is why they are chasing Fresneda and the talented Moises Caicedo from Brighton & Hove Albion.
Acquiring a talent like Fresneda will be a significant coup for any club and will ensure they have a world-class presence on the right flank for years to come. 
Ivan Fresneda career stats 
Ivan Fresneda's youth career was spent at several clubs, including Real Madrid, Leganes and his current club, Real Valladolid. However, he only came to notice at Valladolid. In the 2021-22 season, he played eight times for the reserved team in the Primera Federación- Grupo I, the fourth-tier of Spanish football.
He also played one game in La Liga 2. His performances were so impressive that it caught the eyes of manager Jose Rojo Martín famously known as Pacheta. The head coach called him to train with the main square in December 2021, which showed how highly the club rated him. And his senior team debut came just a month later in the Copa Del Rey in a 3-0 loss to Real Betis.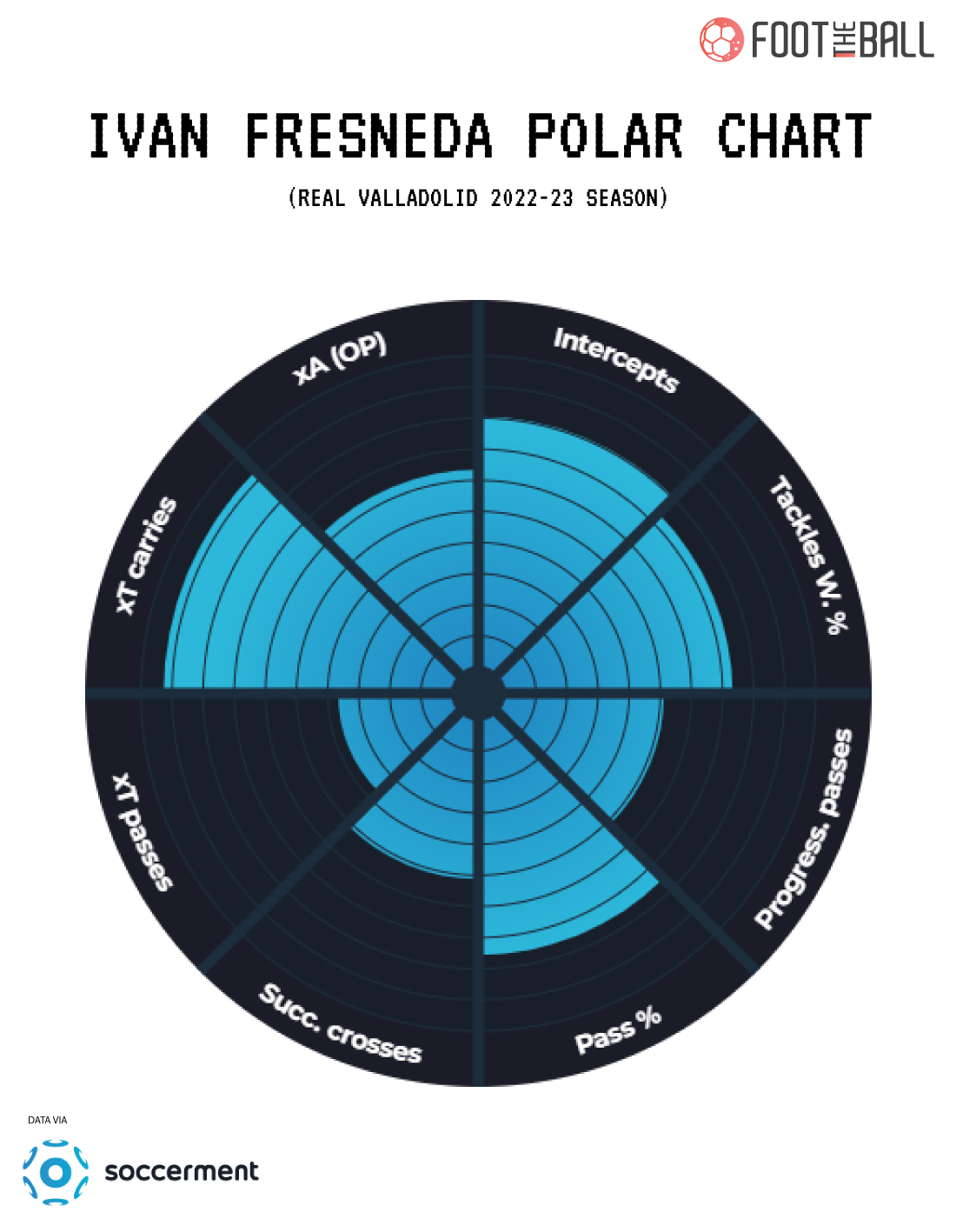 In the same season, he was also called up to Spain's under-20 national squad, where he played two matches against Morocco, helping his team win 2-0 in the first and a 1-1 draw in the second.
By the time the current season started, it was clear that Frsneda was more than ready for the first time. His league debut came on September 5, 2022, against Girona. Fresneda did not start the match and only played after starting right-back Luis Perez Maqueda got injured. 
From then on, he has got regular minutes, making ten appearances total. In addition, he has also played two matches in the Copa Del Rey. 
And his stats have been nothing short of impressive in his debut season. According to fbref, Ivan Fresneda makes 3.39 tackles per 90 minutes, winning 2.22, putting him in the top one percentile of fullbacks. 
He is also quite adept at stopping dribblers. He also averages 3.16 clearances per 90 minutes, putting him in the top four percentile of fullbacks. 
According to data from Soccerment, third in terms of recoveries (6.81) per 90 minutes and fifth in terms of passes per 90 minutes (42.7) and passing accuracy (83 per cent). His recoveries also help his team, as fbref data shows that he is among the top four percentile of fullbacks when it comes to his team taking a shot due to his defensive actions.
While his attacking game is far from the high standards of La Liga, it is because his team play a very defensive style in which Fresneda is forced to curb his attacking instincts.
Ivan Fresneda strengths and weaknesses 
Ivan Fresneda, in his first season, has shown that he is one of the best young fullbacks in La Liga and Europe. However, due to him playing in a team which is in a battle to survive relegation, attacking flair and brilliance takes a back seat and tenacity and defensive prowess are preferred.
However, even then, Fresneda has shown that even at such a young age, he can easily transition according to his side's demands and still be as good. In the current season, he has won more than 90 per cent of his duels, several being one-on-one.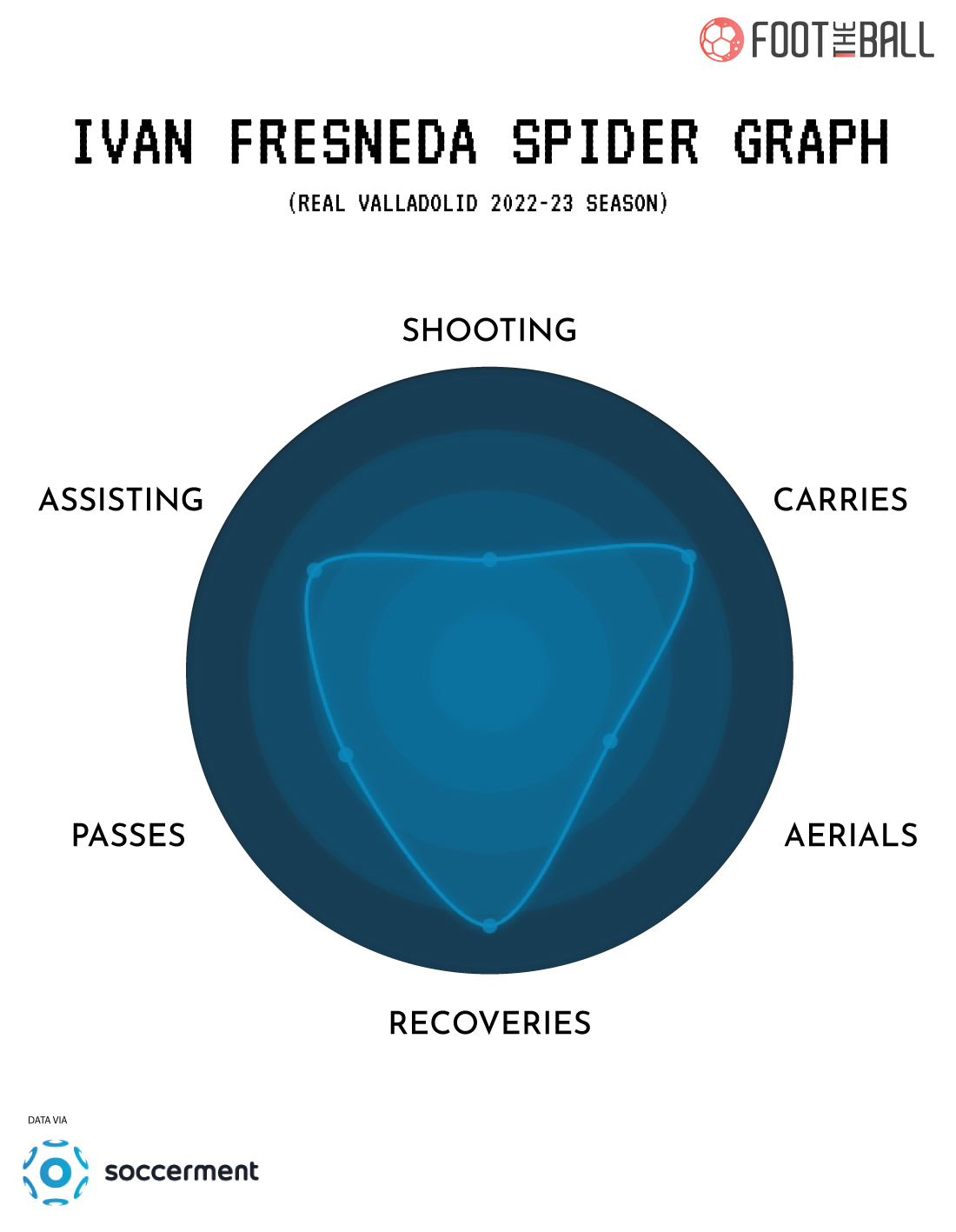 He is also quite adventurous, never shying away from playing a long ball which he is getting better at with time. However, when asked to move forward and play a passing game, Fresneda struggles because Valladolid does not have a system that encourages structured passing.
In addition, the team does not encourage its fullbacks to go high on the pitch, which has also not shown us how brilliant he can be when given the license to roam forward. 
Read More:
Ivan Fresneda transfer news 
A player like Fresneda doesn't stay long at a team like Real Valladolid for a long time. But, eventually, top clubs will start to sniff around, and in the case of Fresneda, they already have. Arsenal have already expressed a desire to sign the prodigy and made an inquiry in the winter transfer window. 
They were not the only ones, as German giants Borussia Dortmund have an excellent track record for developing youngsters. However, the Spanish club managed to fend off interest and has managed to keep hold of the player for now.
But all that could change in the summer as clubs will be back, and with the season finished, Fresneda would be more appreciative of a move, especially if it were one of the top clubs where he could take the next step of becoming a star.