Twenty-one matches, 51 points, and six points lead at the top of the table. Arsenal are having the time of their life as they have been by far the best team at the top of the Premier League. One of the areas where they made a massive improvement is the defence. In the current season, the team has conceded 18 goals, the second-best in the league. One of the primary reasons for such an improvement has been the addition of William Saliba, who rose to fame during his spell in Ligue 1 in 2021-22. And this season, Folarin Balogun is exactly repeating Saliba's antics in Ligue 1.
Whenever a player is sent on loan to a club, the expectation of the parent club is that the player gets adequate minutes and improves as a player. However, Balogun has gone beyond that and become one of the best players for Reims and the entire Ligue 1. 
His performances are of the level that he is expected from a player who is the best player on his team and has been acquired for a hefty fee. However, Balogun has been a loan signing, making his rise one of the best stories in football this season. 
Folarin Balogun career stats 
Folarin Jerry Balogun is a product of the Arsenal academy that, in recent years, has produced brilliant talents such as Bukayo Saka and Emile Smith Rowe. He first came to notice in the 2017-18 season, where he scored 25 goals and provided four assists in 19 games for the under-18s. The following season he scored ten goals and provided four assists in 15 games and was handed his senior team debut a year later in the Europa League against Molde. 
However, it has been the current season where he has shown that he belongs to the top level. With 15 goals to his name, Balogun is the top scorer in Ligue 1, ahead of players such as Kylian Mbappe, Neymar and Lionel Messi.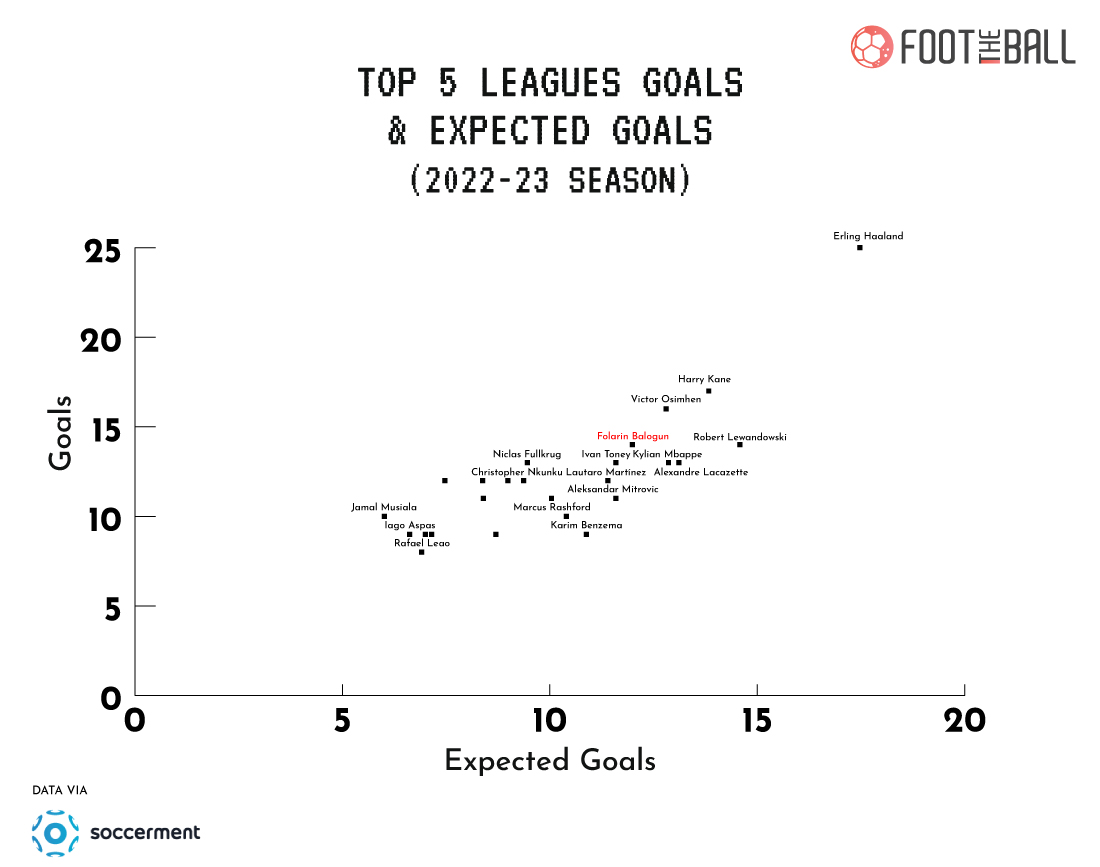 What has been more impressive is that these numbers have come for a Reims side, who are currently in 10th. In fact, the team has scored a total of 26 goals, of which 15 have been scored by Balogun, emphasising how important he has been to his team's chances.
Analysing his stats from fbref, it's easy to see that Falogun is a beast around the attacking third and penalty area. He ranks among the top five percentile of strikers across various attacking metrics. This includes goals, shots, shots on target, and non-penalty expected goals.
According to Soccerment, Balogun has had 32 shots on target, of which 15 have gone in the net, giving a deadly accuracy of 57.69 per cent, one of the best across Europe. More importantly, his goals have rescued Reims several times from a losing position and has won them an extra 15 points till now, which is why they are not in a relegation battle. 
He is also a menace for the opposition, which is why he has won many fouls for his team in the attacking third. According to fbref, Balogun helps create one shot on target every two matches by winning fouls in advantageous positions.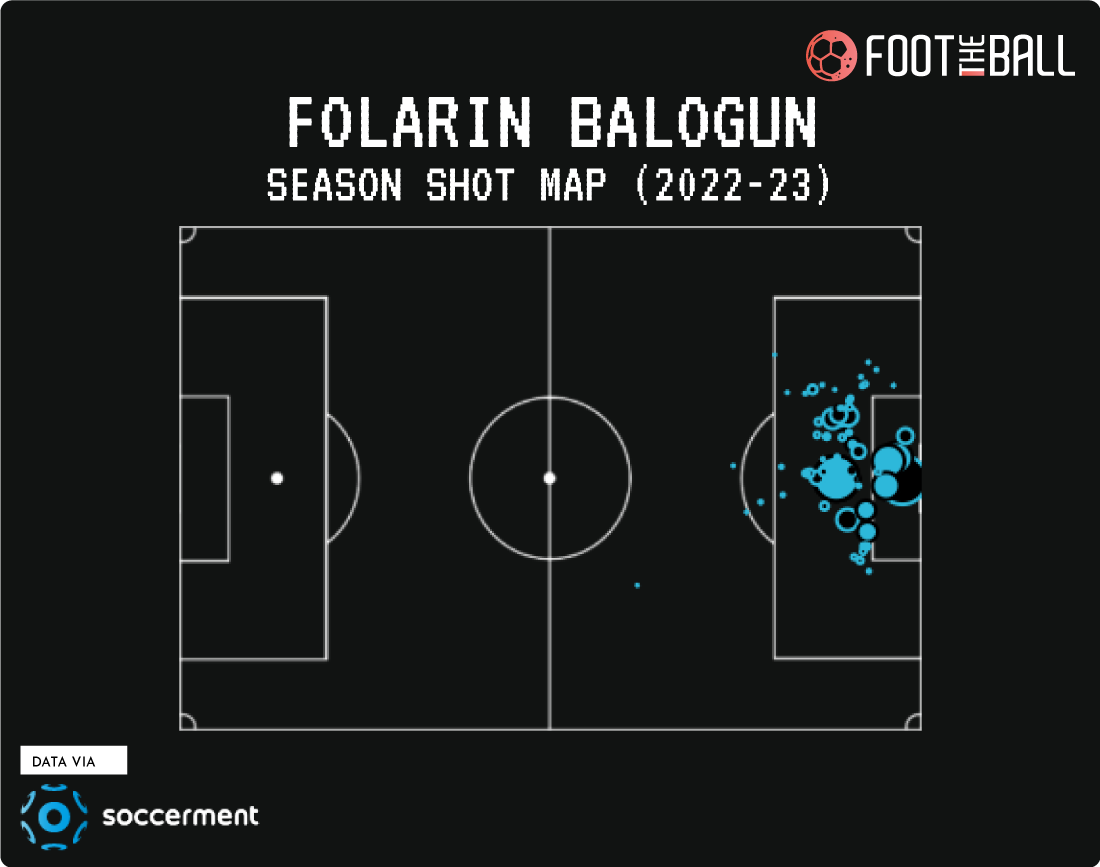 Folarin Balogun strengths and weaknesses 
Analysing his heatmap in Ligue 1 this season clearly shows that Balogun loves to occupy the inside left channel. This is because he loves to cut back while doing take-ons which allows him to get the ball on his strong right foot. He also does almost all of his shooting inside the box, which is the key reason behind his high accuracy.
This doesn't mean that Balogun does not get involved in build-up play. However, he usually gets rid of the ball quickly, passing to a teammate in a better position before getting into the box to receive the ball. 
In fact, the most threatening skill he possesses is his well-timed runs into the box. He is a fast runner, but instead of using his raw pace, he usually decides the perfect time to start his run, which not only gets him to a ball in such an area where he has the time to apply the finishing touches to the ball. And 14 goals from open-play scenarios this season suggest that he is an expert in this craft.
He also uses his physicality to significantly shield the ball, which means that, more often than not, the opposition has no other alternative but to foul him. 
However, Balogun is still a work in progress despite all his shooting prowess. His passing games and link-up play are far from perfect. At Reims, he is the leading man, which means he is the target man receiving all the services from his teammates. However, if he dreams of playing for Arsenal in the future, he will not be the leading man and will need to step up in other areas as well. Gabriel Jesus, who has scored five goals and provided five assists before getting injured this season, is a perfect example of what Mikel Arteta wants from his number nine.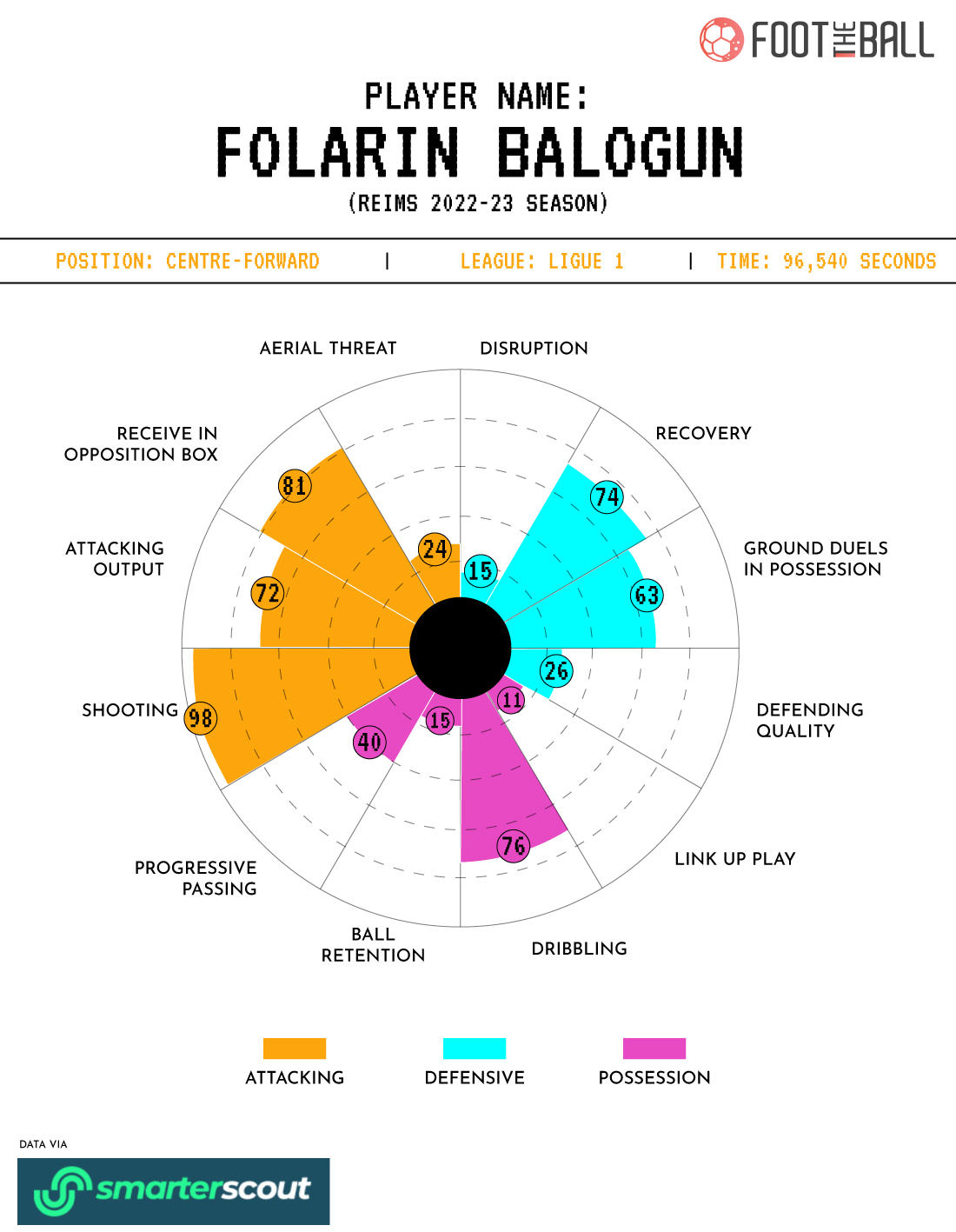 Read More:
Folarin Balogun transfer news 
With his performances in Ligue 1, Folarin Balogun has put his name up for a role in the Arsenal side. And this couldn't have come at a better time for the Gunners. The Premier League leaders have lost out on top talents such as Mykhaylo Mudryk and Moises Caicedo. While Mudryk went to Chelsea, Caicedo is still available but only for a hefty fee. 
Arsenal also need to add players to raise the quality and depth of their squad as they battle for trophies on multiple fronts. And having a player of Falogun's calibre in the team will not only make them an even more lethal side but also will free up money to invest in other areas.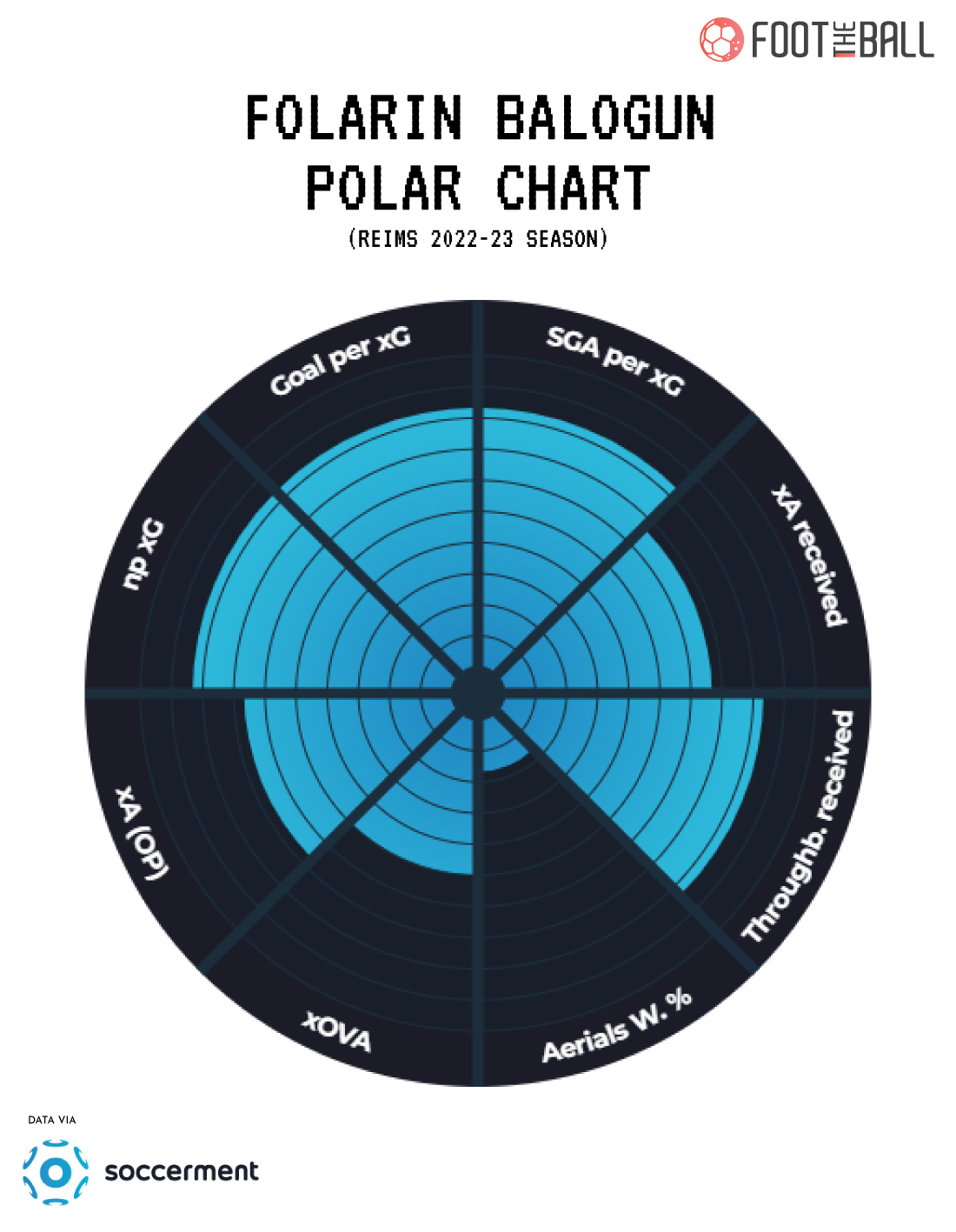 They have already bought Leandro Trossard, and having Balogun will further bolster their attack. Arsenal will definitely be aiming for a deep run in the Premier League and Champions League which requires quality additions to the squad.
The Gunners have already reaped the benefits of having a player who prospered in Ligue 1 in William Saliba. It is time for them to repeat the same trick with Folarin Balogun.