In modern football, there are only two ways for a mid to lower-side club to break into the top ranks. The first is a large investment from a new owner, examples of which are the impressive Manchester City, Paris Saint Germain, and recently Newcastle United. The other way, which is obviously more difficult, is to plan smartly by signing top young talents and making a system that helps the clubs rise through the ranks over the years. Real Sociedad are a perfect example of that. 
Ever since the 2019-20 season, the Erreala have been on a steady rise and are currently third in the La Liga table. Their rise is not a one-season wonder but has been built carefully over the years, brick by brick, giving them a solid foundation. This has now paid rich dividends, with Real Sociedad among the top-performing teams in Europe. 
What has made their rise even more spectacular is the lack of any star players in the team. Instead, their style is based on teamwork and defensive stability, which gives them a solid platform to build their season on. 
Real Sociedad stats and playing style
Real Sociedad's rise this season has been impressive, but the stats behind this tell an even more exciting story. In the current season, Sociedad have scored only 290 goals from 30 matches which is quite abysmal by their standards, and yet they find themselves in the third spot. Their goal difference is also only a +9, which doesn't scream a top-tier team.
However, despite that, Sociedad are four points above fourth-placed Atletico Madrid. So what explains their rise? First of all, even after scoring so few goals, the team has managed to win close encounters, with seven of their fixtures won by a single goal difference. 
This has been possible because of their impressive defence, which has helped close out several matches. And just because they scored fewer goals doesn't mean they play negative football. In fact, Socieadas ranks among the top teams when it comes to Buildup Disruption Percentage (BDP) and Gegenpressing Intensity (GPI), two metrics which determine how attacking a team plays. 
This is because they always try to ensure that the ball does;t come towards their goals, and thus players without the ball are always looking to block passing lanes. On top of that, they are also the second-best team in the league regarding Passes per Defensive Actions (PPDA) which measures how intense a press is.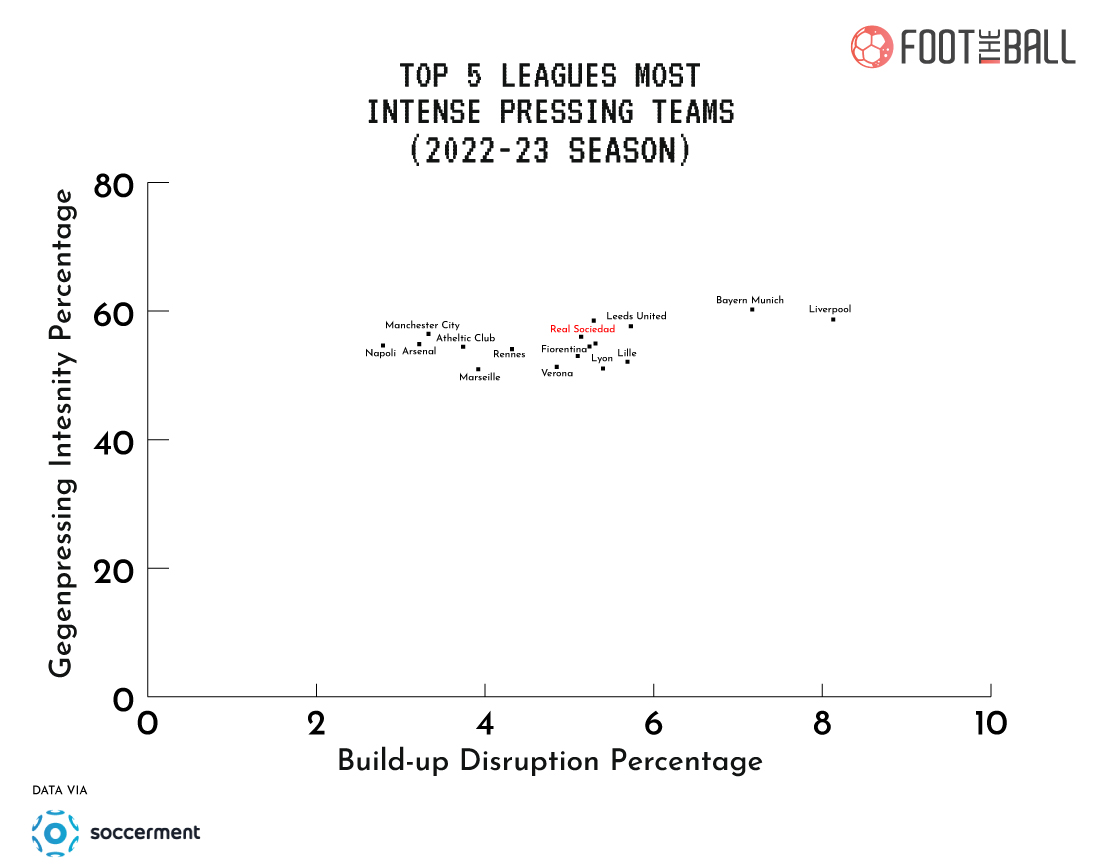 So, despite all that pressing, why have Sociedad struggled? There are two major reasons for this; the first is that PPDA only reflects the intensity of the press, not the quality, which means that a team on top of the metric chart might be an intense presser but not an efficient one. Secondly, the quality of Socieada's squad, which does not possess the world-class attack needed to exploit the opportunities that arise from such high pressing. 
Analysing Real Sociedad's attacking tactics
Being the fifth-best defensive team in the league has undoubtedly helped Socieadad's cause. The team has been far more brilliant than La Liga's average for defensive metrics such as goals allowed per 90 minutes ( =0.95 vs 1.3), shots allowed per 90 minutes (10.9 vs 12.2), and shots on target allowed (3.6 vs 4.18). They have also not shied away from tactical fouling, making 330 of them, the most by any team in the top five leagues. At the same time, they have also won the third-most aerial duels 'in the league.
After losing to Barcelona 4-1 on matchday 2, Real Sociedad have been brilliant at the back, conceding more than one goal on only two occasions since then. Their Expected Goals Conceded rating is also an impressive 17.69, bettered only by Barcelona and Atletico Madrid in the league.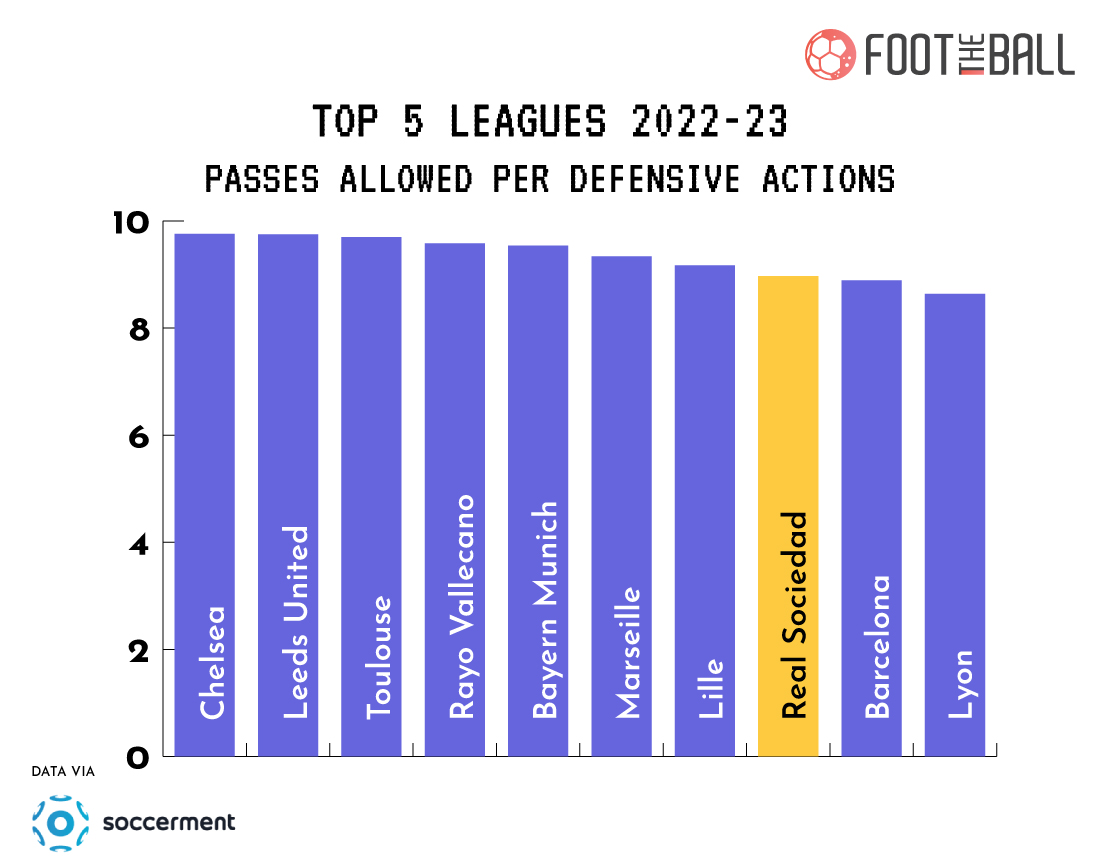 However, something interesting happened on the other end of the pitch. Till now, Real Sociedad have taken 247 shots in the league, out of which 106 have found their target. This gives them an accuracy of 42.9 per cent, the best in La Liga and only bettered by Paris Saint Germain, AS Monaco and Borussia Monchengladbach across Europe. 
So, despite not having a quality goal scorer, the team has taken so many shots on target that the sheer law of probability have helped them win several matches, as shown by their goals conversion percentage of 10.93, the fourth-best in the league.
Read More:
Real Sociedad key players in squad: Goals & assists 
While Real Sociedad lies in their teamwork, some players have been the chief star of the team. The first name on the list is Mikel Merino, the man with seven assists to his name, the most in the league. He has been their best player by far this season and has helped keep things ticking in the middle of the pitch.
Elsewhere, Alexander Sorloth has been their top scorer with eight goals, with midfielder Brais Mendez scoring seven goals and providing three assists. In defence, Robin Le Normand has emerged as a defensive force with the ever-reliable Alex Remiro in goal, who has kept eight clean sheets.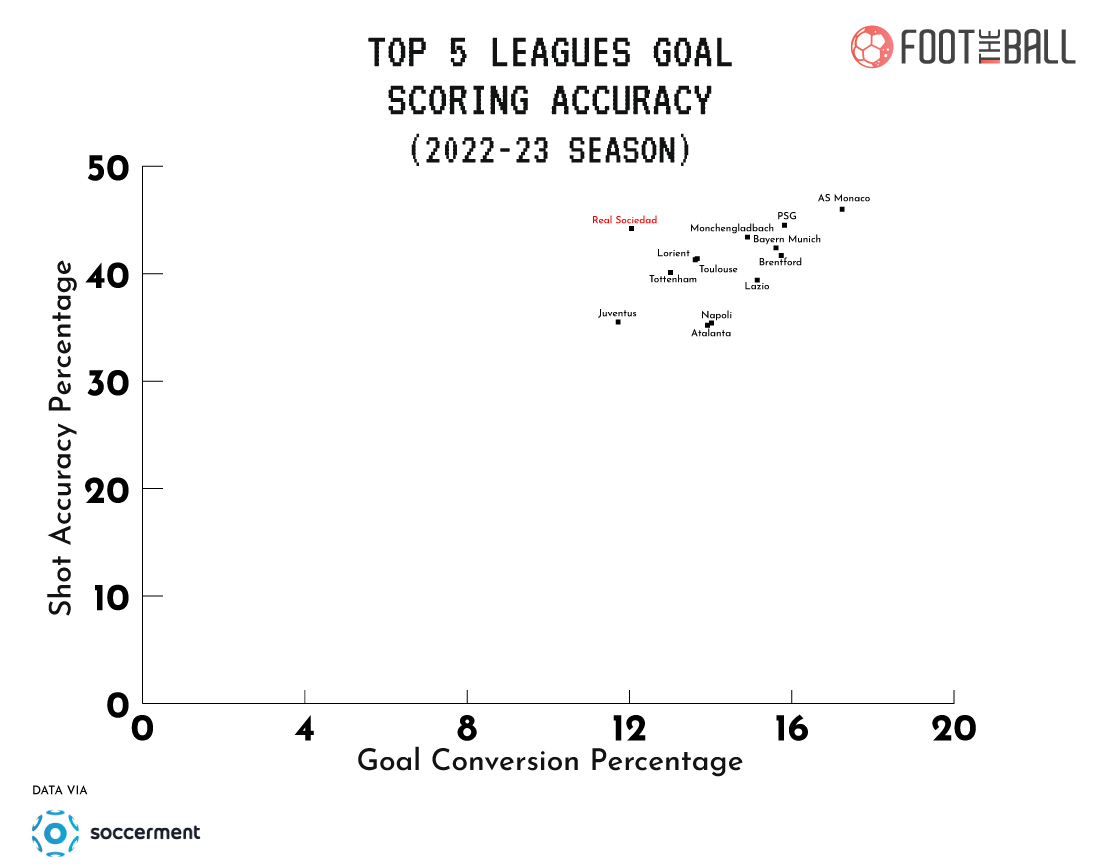 Captain Mikel Oyarzabal has only made six appearances as he ruptured his anterior cruciate (ACL) ligament, keeping him out for nine months. However, his absence has been negated by the presence of the experienced David Silva.
Other players to step up are Martin Zubimendi and Igor Zubeldia, who have been tireless workers in the middle of the park.