In football, there is always a risk of whether a talented youngster can take the final step to become the next star. And this thought has merits, as several players thrive at the youth levels before faltering when facing top-level football. However, there are some players who become even better as the level of football goes. Bayern Munich's Jamal Musiala is a perfect example of a player who was touted to become a star from a young age and then also went and fulfilled their talent. 
Musiala joined Bayern Munich when he was 16 and, in just three years, has gone from a prodigy to Bayern and Germany's creative talents. And Musiala plays the game with a grace that is both effective and leaves the opposition bamboozled. His brilliant dribbles, eye-catching through passes and world-class intelligence have made him a man who is as good a goalscorer as he is a creator.
Jamal Musiala has managed to become a star of the game in just 20 years, and he will be among the next generation of top footballers who will dominate the game in this decade.
Jamal Musiala is the next gen star at Bayern Munich
Grab the famous jersey for the six time European champions
click here

Jamal Musiala career stats 
After joining Bayern Munich in 2019, Musiala played for the youth teams initially. He was so impressed with his performances that he caught the eyes of manager Hansi Flick. However, all football ground to a halt due to the Covid-19 pandemic. But what worked in Musiala's favour was that the German league was the first to restart, and he finally got his Bundesliga debut on June 20 against Freiburg. Musiala was also part of the Champions League squad that won their fifth title. 
And from the following season, he would become an integral part of the squad, being slowly given more minutes season by season. And the current season is the first where Musiala has finally become one of the first names on the team sheets. The youngster has 11 goals (the most by a Bayern Munich player) and has provided seven assists in the Bundesliga.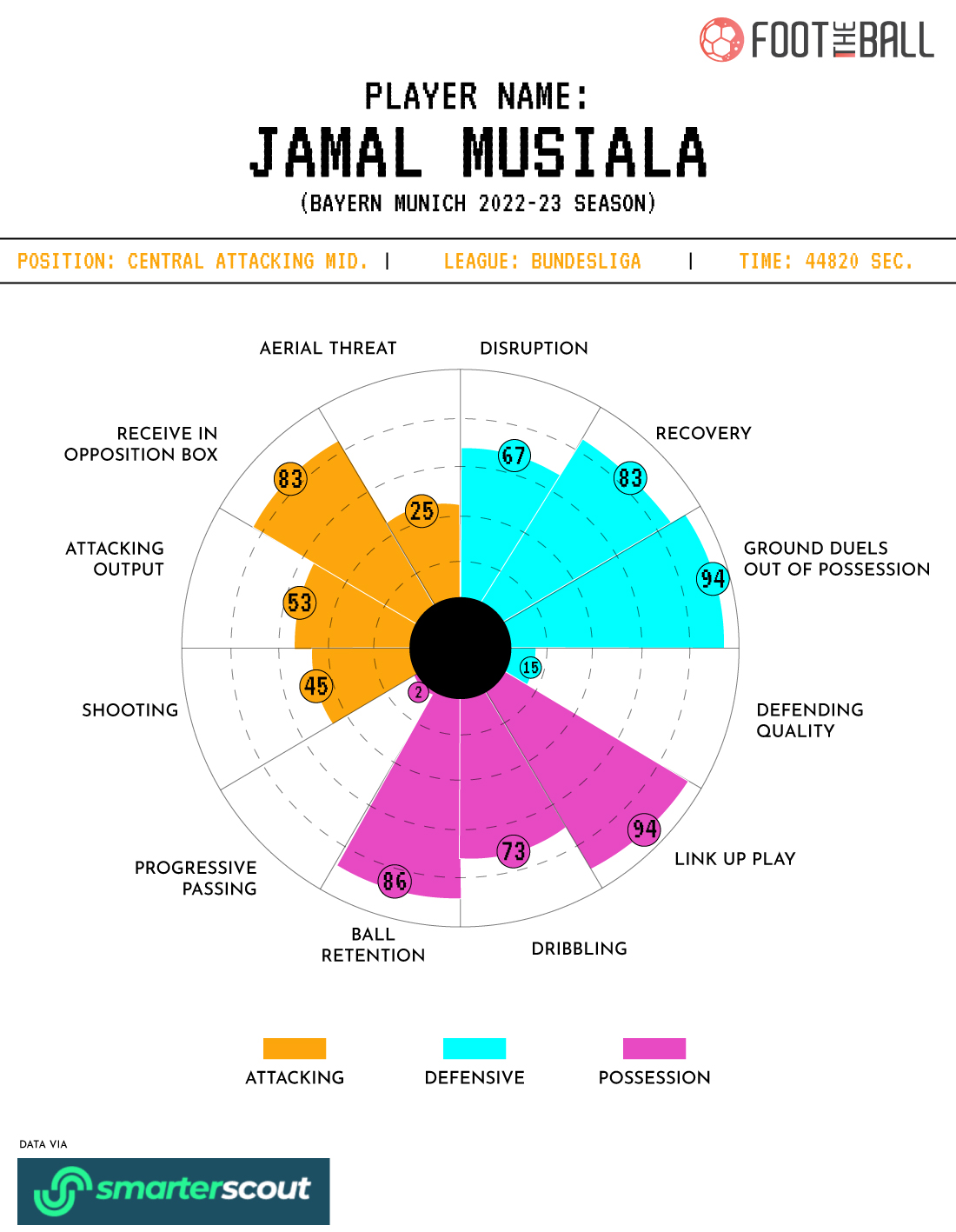 However, a deeper look at the stats tells us an exciting story. According to fbref, Musiala ranks among the top 10 percentile of attaining midfielders and wingers in over 20 metrics ranging from goals, assists, interceptions, touches, successful take-ons, and shot-creating actions, among others. There's a stark difference, though; while other players have two or three metrics where they are among the top five players, Musiala is like a jack of all trades, extremely good at multiple things while not being the best in certain areas. This makes him a versatile player who can play anywhere across the front line.
Musiala is also brilliant at defending, making 0.99 interceptions, among the eighth percentile of attacking midfielders and wingers. However, Musiala has also been an overperformer in front of the goal. Data from Understat shows that the German was only expected to score 16 goals across all competitions but has managed to score 22 goals, an overperformance of 37.5 per cent.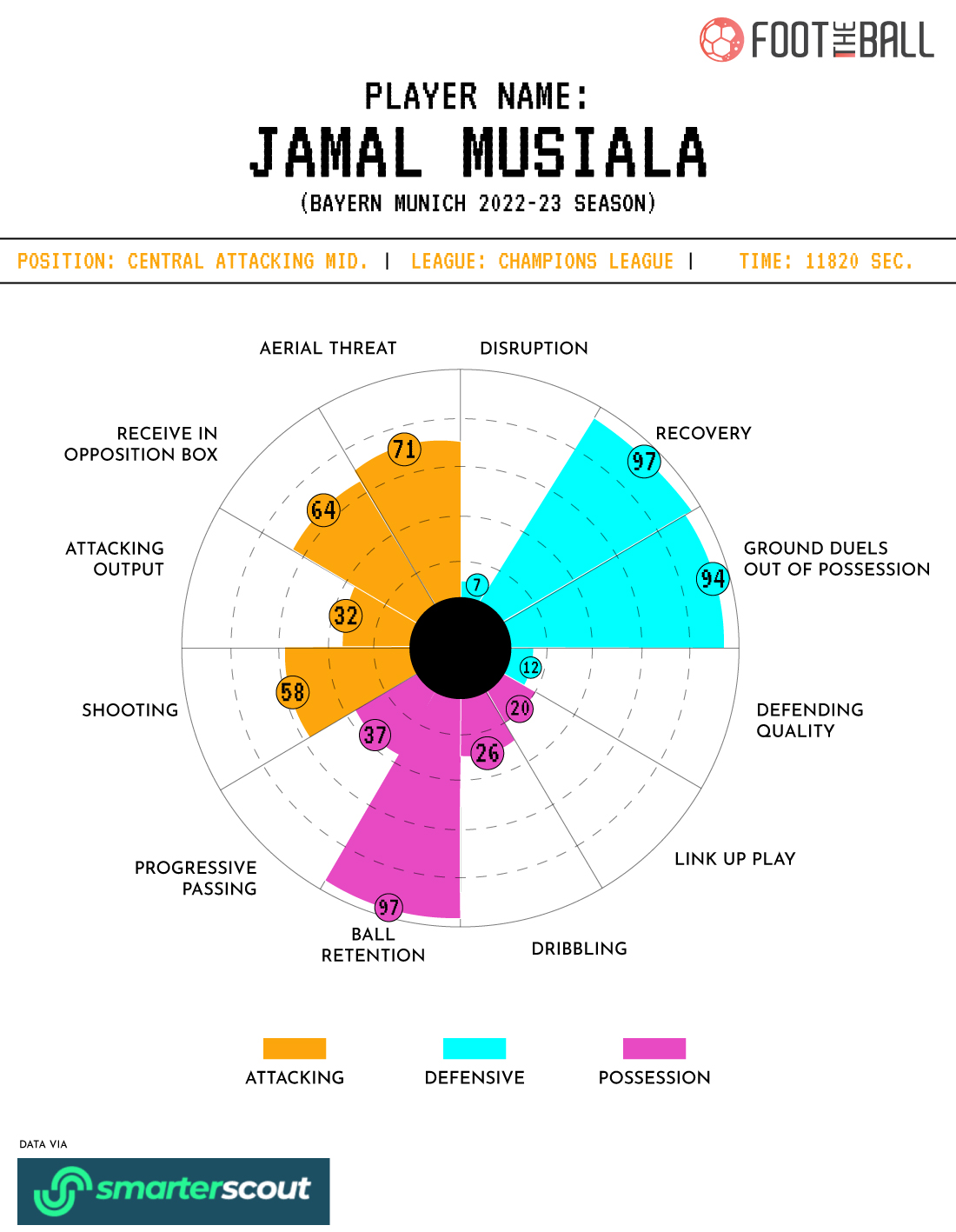 His performance in the Bundesliga is even better. According to Soccerment, he was only expected to have an expected assist of 3.23 but has managed to double the tally in an actual number of assists. On top of that, he has a goal involvement every 84 minutes, with a shot success rate of 44.7 per cent and a goal-scoring accuracy of 23.4 per cent. 
Read more: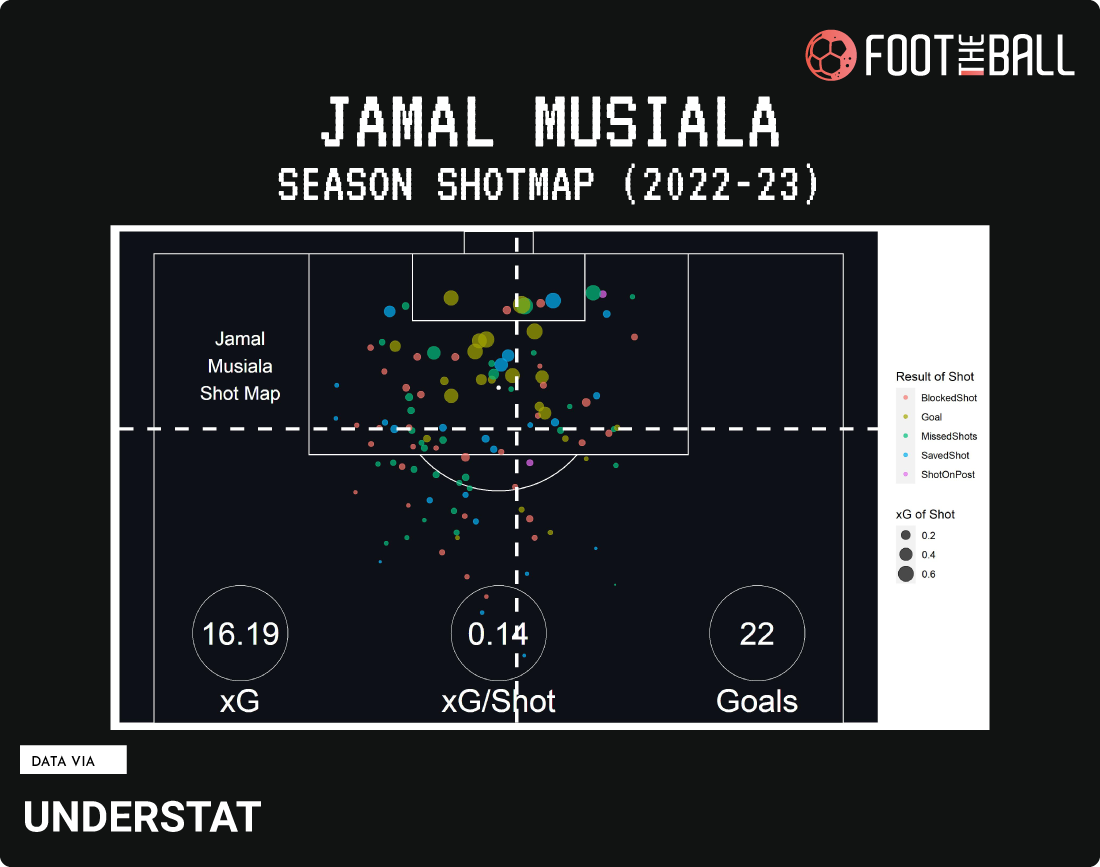 Jamal Musiala's strengths and weaknesses 
Bayern Munich play a three-man midfield, meaning there is no position for a number 10, a role at which Musiala excels. However, Musiala has brilliant ball control and pace, which makes him a brilliant candidate to play as a left winger. Since his strong foot is right, he can cut back the ball on his right foot. This allows him to unleash a shot or play the perfect ball for his teammates, who can exploit the gaps in the opposition's defence.
Musiala is also brilliant at one-on-one, which makes him more threatening at counter-attacks. However, even facing a low block defence, Musiala has been Bayern Munich's best option, creating 35 chances. Despite Germany's group-stage exit at the 2022 FIFA World Cup, he was the third-best player in terms of the Expected Threat metric.
All said and done, though, his greatest strength remains his versatility which allows him to play across a variety of positions. In addition, this diverse skill set allows him to bring his best against various opponents, tactics systems and defenders.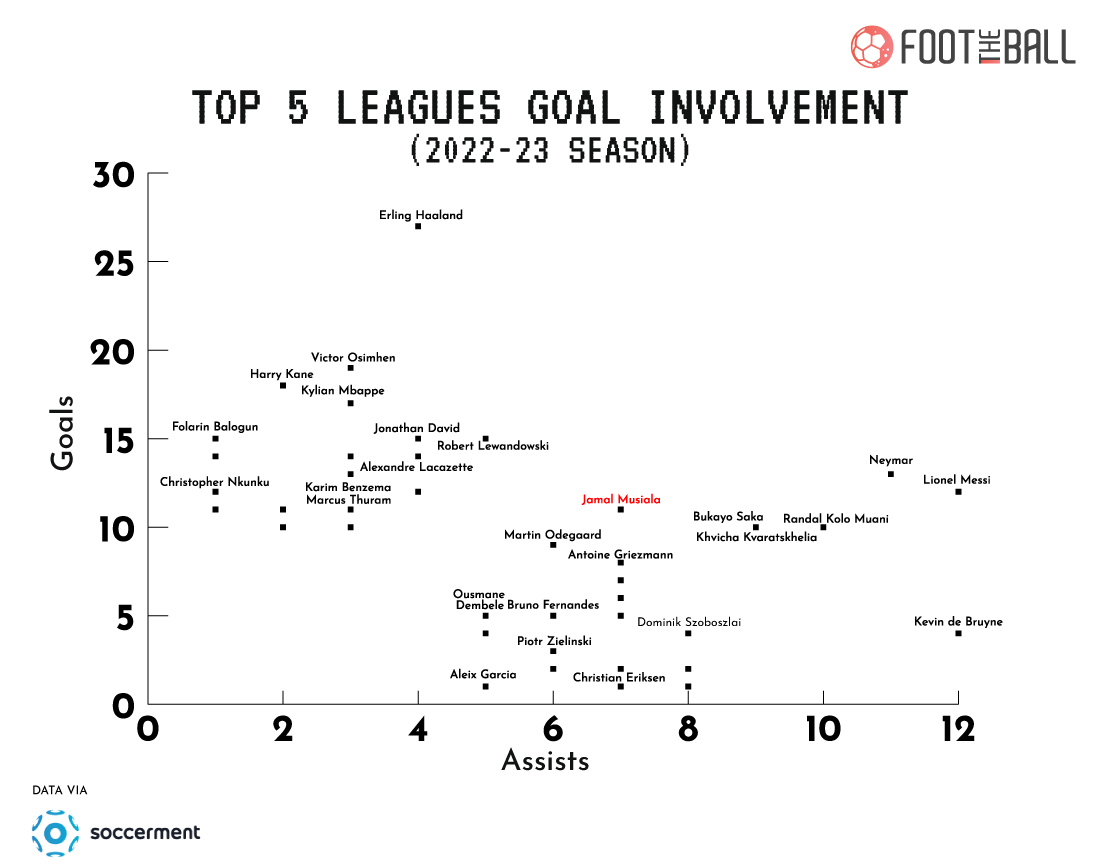 Playing as a left winger has also allowed Musiala to add other skills to his game. During his younger days, when he played a number 10 role, Musiala used his game intelligence to play pinpoint passes and crosses for his teammates. 
Now though, Musiala has also added well-timed runs to his armour which, with his pace, makes him an even bigger menace for the opposition's defenders. This is one of the reasons why he has scored the most goals for his team. 
And all this has come in Musiala's first season, where he is finally seen as a full-time starter. If he manages to keep up his progress, expect him to become probably the best winger in world football in the coming years.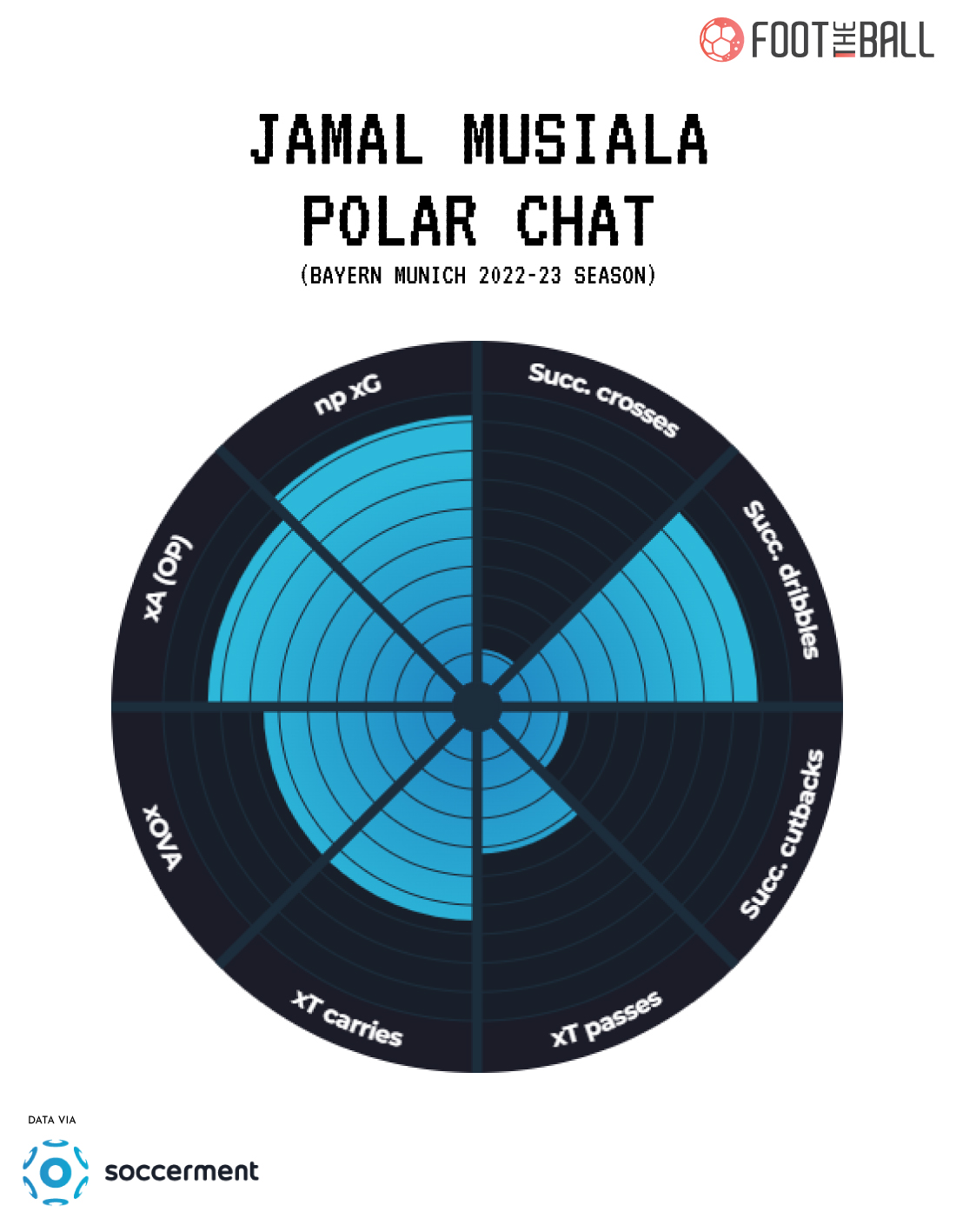 Jamal Musiała transfer news 
One of the clubs that will be kicking themselves over the incredible rise of Jamal Musiala will be Chelsea, a club that developed the German for eight years before allowing him to leave for Bavaria. And for any club looking to add him to their ranks will have to come with a record-breaking offer.
And with Thomas Muller not getting any younger, Jamal Musiala is the next superstar who will ensure Bayern have a quality player for the next ten years. And though we have seen top players leave clubs, in the current football world, players of Musiala's calibre are rarely allowed to leave the club.
However, whether he stays or leaves Bayern Munich, Musiala is the real deal.