When we talk about the top performing teams at the 2016 European Championships, one squad that immediately springs to mind is Wales' national football team, dubbed "The Dragons", led by their marquee players in Gareth Bale and Aaron Ramsey.
Under Chris Coleman, this squad made it to the semifinals and defied all odds by hustling like an underdog and exhibiting the passion of a champion. The question now is whether we will witness a re-enactment of Wales' 2016 tournament in Euro 2020.
All sights will be set on Aaron Ramsey, who will be trying to replicate his exploits from the 2016 tournament with Wales and put his miserable and injury-plagued season with Juventus behind him.
ROAD TO NORTH LONDON
Born in Caerphilly, Wales, Aaron Ramsey began his career at Cardiff City where he spent eight years at the youth level. 
Ramsey, who was 16 at the time, became the youngest player to feature for Cardiff when he came on as a substitute in the club's last home game of the Championship season in April 2007.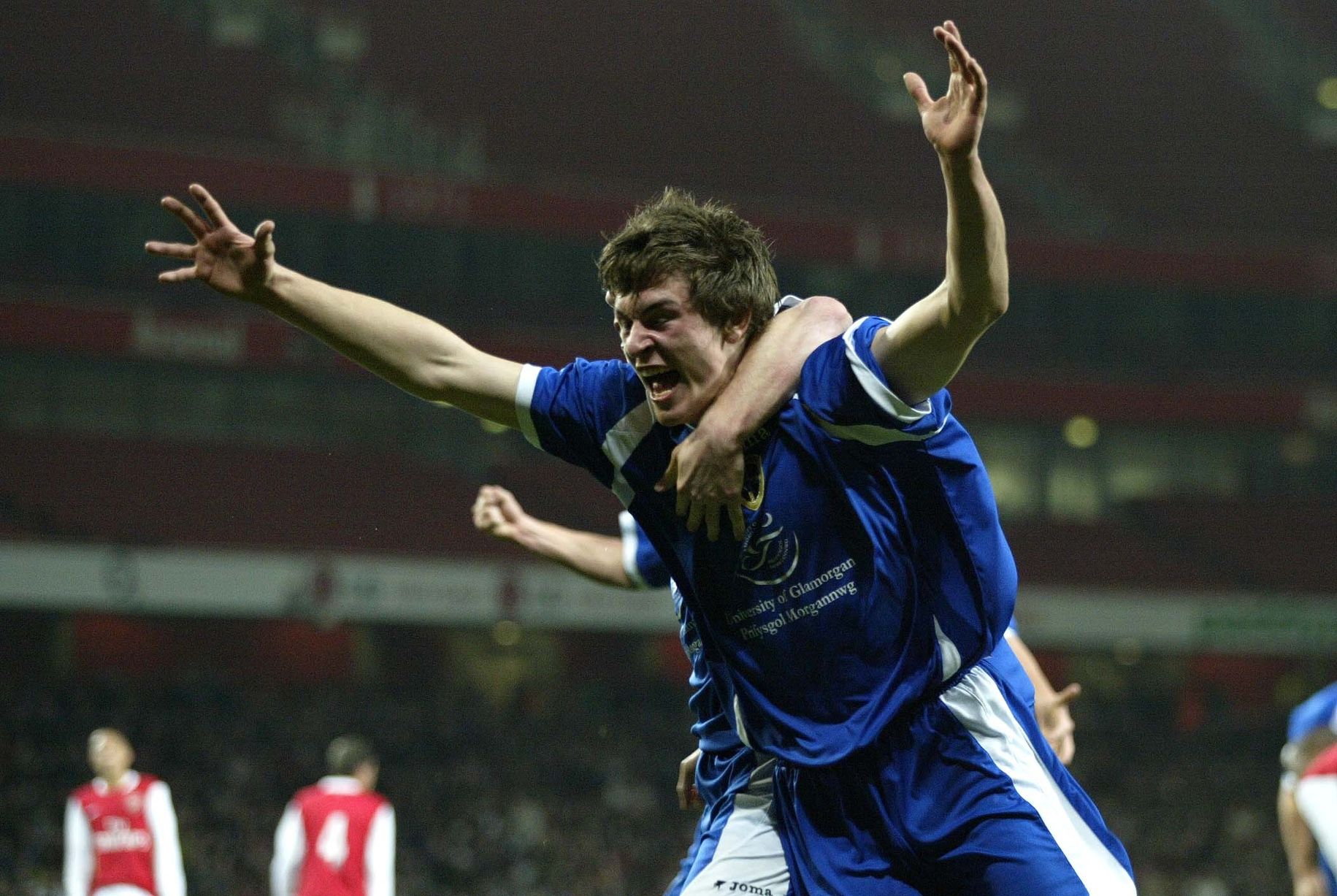 He eventually made 22 senior appearances for his local club, and also helped them to reach the 2008 FA Cup final. 
At Cardiff, he was only a prodigy with tremendous potential, which eventually earned him a £5 million transfer from his boyhood club to Arsenal. Arsene Wenger was the major factor for Aaron Ramsey to sign for the North London club.
🏴󠁧󠁢󠁷󠁬󠁳󠁿 10 years ago to the day, Arsenal signed an 18-year-old Aaron Ramsey from Cardiff City for £4.8 million. pic.twitter.com/zdMZMht9TJ

— AFTV (@AFTVMedia) June 13, 2018
This was the commencement of a crucial son-father bond in Ramsey's journey, as well as the beginning of a turbulent decade at Arsenal.
BOY TO MAN
Wenger's trust and conviction in Ramsey was evident from the outset, and it was confirmed through one of the worst periods of his career. Ramsey's leg was crushed in a strong challenge by Stoke's Ryan Shawcross, when he was only 19 years old. With a broken tibia and fibula keeping him sidelined for nine months, he  had a lengthy journey back, but Wenger stuck by him, committing him to a new long-term deal amid his absence.
He was loaned out to Nottingham Forest and also Cardiff City for a short time, appearing in 11 Championship games in total and scoring once before being recalled in March 2011.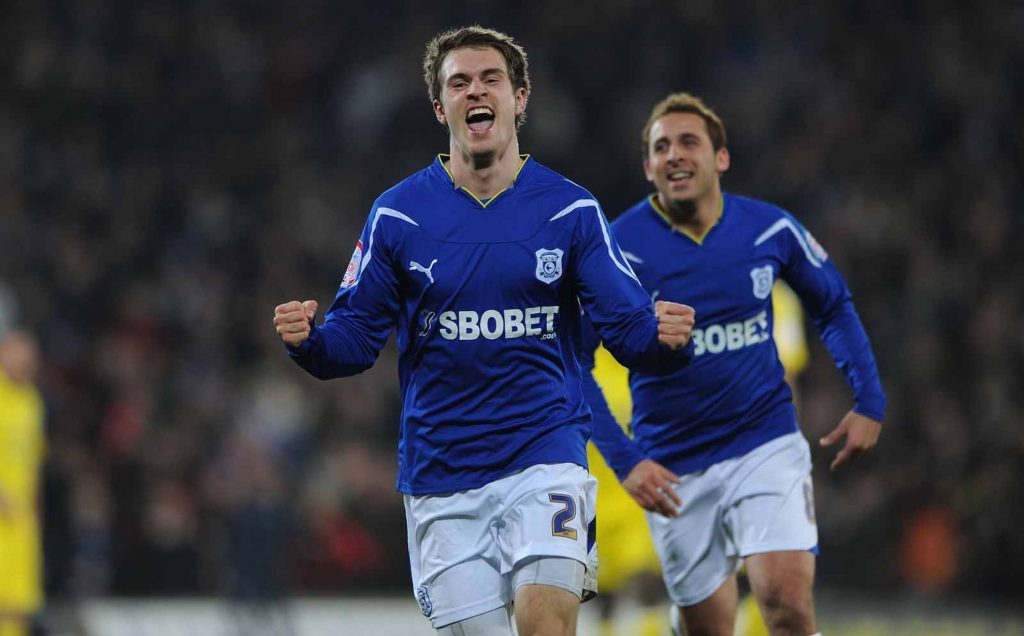 He made his return for Arsenal against West Brom on March 19, and little over a month later, on May 1, he had an emotional, memorable event. Ramsey played the whole 90 minutes and scored the solitary goal of the contest in front of a raucous, enthusiastic Emirates Stadium crowd in his first Arsenal start in thirteen months against none other than the Red Devils.  
The midfielder was chastised upon his return to action, but his efforts and dedication paid off in the form of a stunning 2013-14 campaign in which he netted 16 goals in all competitions, including an extra-time winner in the FA Cup final over Hull City, ending a nine year trophy drought for the Gunners.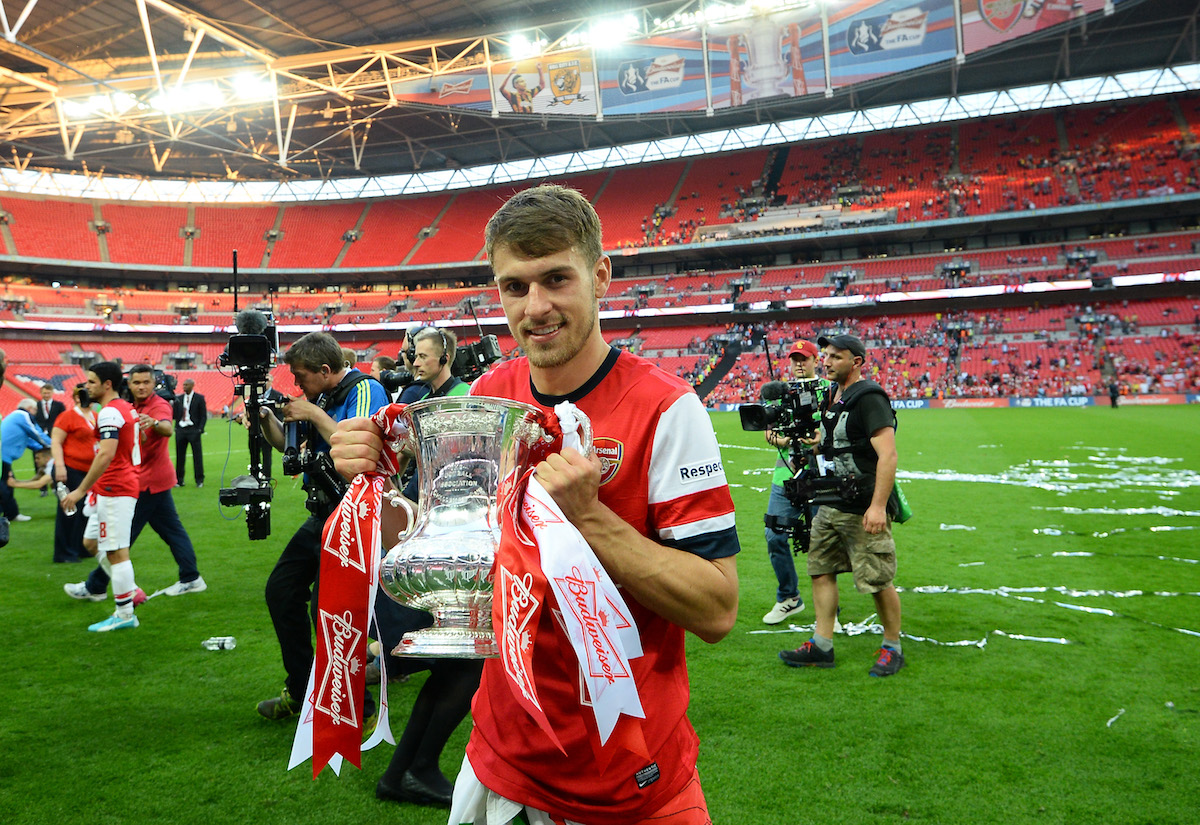 Ramsey helped Arsenal win another FA Cup the next season and scored 10 goals, including a spectacular long-range shot, a side volley met at ground level from roughly 35 yards out in the Champions League against Galatasaray. 
⚪⚫ Coming soon to Juventus …

🗣 "The best goal I've ever scored."

Aaron Ramsey's 2014 stunner 😱😱😱#UCL @juventusfc pic.twitter.com/Vp2AwYyfur

— UEFA Champions League (@ChampionsLeague) February 11, 2019
Fast forward 2016-17, after an injury rattled season and missing over half of the season, Ramsey ultimately scored his first goal of the season on the closing day against Everton, a highlight in an otherwise miserable season. This gave him the confidence to strike another FA Cup Final-winning goal against champions Chelsea a week later. He was accustomed to being the man of the hour.
But despite a plethora of match-winning heroics and 369 appearances and 64 goals, he was never fully embraced by certain Arsenal fans, and he slid from the team's clutches when his contract expired. Nevertheless, the Welshman arrived as a boy, and left London as a man. 
TALENTS TO TURIN
With Ramsey eligible for free transfer in 2019, many big name clubs expressed interest until Juventus secured him to a four-year deal for £400,000 per week. Juve saw him as a strong match for their midfield, a creative facilitator with a goal-scoring eye, a player whose elegance would suit Serie A after flourishing in the English top flight.  
Ufficiale ⚪️⚫️ @juventusfc #finoallafine pic.twitter.com/NXtsmAxT80

— Aaron Ramsey (@aaronramsey) July 1, 2019
But since he brought his talents to Turin, things have gone south for the Welshman. Ramsey has been largely regarded among the club's worst purchases in recent seasons, owing to his poor performances, injuries and massive monthly wage. 
Aaron Ramsey has admitted to enduring a 'frustrating period' at Juventus, but he insists he will return to the club after Euro 2020, amid concerns over his future at Juventus. 
Former manager Andrea Pirlo, who was sacked and replaced by Massimiliano Allegri seldom called on Ramsey when he needed some spark from the dugout, especially near the conclusion of the season.
As a result, Ramsey only had 30 outings for the Old Lady in all competitions this campaign, and he didn't play in any of their last six Serie A games, despite the fact that a Champions League berth was at stake. Despite signing a four-year contract with the club amid thunderous welcome in 2019, Ramsey has only appeared 65 times in all competitions for the club, scoring just six goals.
Of course, his brilliance and elegance are undeniable, but a string of setbacks has hindered the Welshman's progression. 
STYLE OF PLAY
Aaron Ramsey or Rambo, as he is affectionately known, is a typical box-to-box player. He is a player who combines skill with a distinct and strong running style. His offensive qualities in the middle of the field, along with his unwavering work ethic and intensity, frequently see him make runs into the box and score goals. However, one of his most notable characteristics is his ability to pass with precision. 
When healthy, Ramsey has been a difference maker with his technical repertoire, with his passes, his dribbles, his shots and his forward drives. And also his defensive commitment and intelligence. He likes to go to the ground when needed to, to roll up his sleeves and do the dirty work. And this makes him extremely complete, both in offence and defence. He can be a winger or mediapunta, but he is a pure interior. 
A BOUNCE BACK AT EURO 2020?
Ramsey will now be hoping that this summer is a sharp contrast to his faltering campaign in Turin, which saw him ruled out via injury, left on the bench, or brutally criticised by fans.
Ramsey has been an integral part of any success that Wales have had in the recent years. But, since that magnificent summer in France, when he was named to the Euro 2016 team of the tournament along with his midfield comrade Joe Allen, he has struggled to replicate that form for the Welsh on a consistent basis. 
🤩 Pick 1 playmaker!

🏴󠁧󠁢󠁷󠁬󠁳󠁿 Aaron Ramsey scored 𝙩𝙝𝙞𝙨 goal at EURO 2016 #OTD in Wales' 3-1 win over Russia!

⏪ @Cymru | @aaronramsey pic.twitter.com/2qvXBhDUn3

— UEFA Nations League (@EURO2024) June 20, 2020
Due to injuries, the midfielder has only started four of Wales' last 24 games, but he has claimed that he believes he is poised to thrive at Euro 2020.
Wales midfielder Aaron Ramsey hopes for another successful Euros campaign to "inspire another generation" 🏴󠁧󠁢󠁷󠁬󠁳󠁿 pic.twitter.com/ZvLH37e7R4

— BBC Sport Wales (@BBCSportWales) June 1, 2021
Aaron Ramsey has only appeared in 19 of Wales' 44 matches since Euro 2016, and injury setbacks have hampered his progression at Juventus, just as they did during his 11 years at Arsenal. 
He'll want to impress his new boss at Juventus and will hope to do so by guiding Wales to a successful performance at the Euros, which might set him up well for his third season in Turin, only if his body backs him up.