Ralf Rangnick's work permit has been granted, meaning he is set to take charge of his first match over the weekend. The new Manchester United manager has been met with a lot of fanfare and some criticism, but the bottomline is he will be overseeing the next six months, and then the upcoming two years as a consultant.
BREAKING: Manchester United manager Ralf Rangnick obtains work permit https://t.co/qO9rF45Y4u

— Man United News (@ManUtdMEN) December 2, 2021
That has invariably meant transfer talks, given the January window is just around the corner. Given Rangnick's famed gegenpressing and his insistence on moving the ball quickly, potential future players are already being identified in the press. One of the most linked has been midfielder Amadou Haidara of RB Leipzig.
Proud to achieve this symbolic number of 1️⃣0️⃣0️⃣ matches with RB Leipzig.
Many more to come I hope ♥️🤍🙏🏿@RBLeipzig pic.twitter.com/OpLaqyACCs

— Amadou Haidara (@doudouhaidara04) November 29, 2021
He has played under Rangnick in the past and does have the qualities to shine under the manager. But will he be an upgrade on the current pivot of Fred/Scott McTominay?
FLUENCY IN VERSATILITY
Haidara has played a 100 games for Leipzig since joining in 2019, and quickly established himself as a regular of the lineup. He can play a variety of roles in the centre of the park, whether it be in an attacking or defensive sense. Under Jesse Marsch, he has been used at the base of a double pivot in a 3-4-2-1.
Best way to start this season💪🏿⚽️

La meilleure façon de débuter cette saison 💪🏿⚽️ pic.twitter.com/20x6b6U5IE

— Amadou Haidara (@doudouhaidara04) August 7, 2021
Manchester United with Ole Gunnar Solskjaer operated with a 4-2-3-1 for a long time, before moving into a back three for a few games. Fred and McTominay have occupied that role at the base of the midfield, though the Scot moves forward continually as well. An understanding of the stats from FBref makes clear how the three perform in their defensive duties.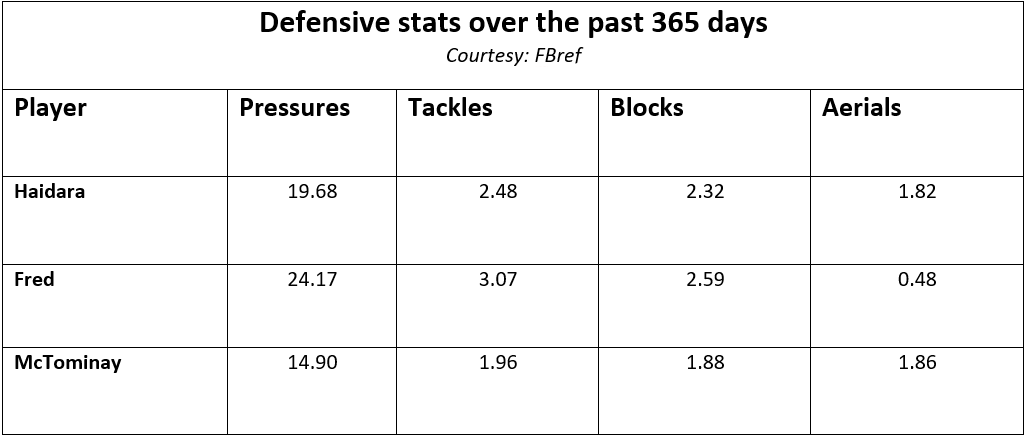 As is evident from the table, Haidara is lagging a bit when one considers these criteria. That is due to the fact that Fred for United is not expected to join up with attacks considerably, which gives him the licence to remain back more. The disparity becomes clearer when McTominay comes into focus, given he is the player who pushes forward.
🗣️ Jamie Carragher on McFred & Solskjær:

'I'm not comfortable saying someone should be sacked – but we are comfortable saying Fred is not good enough or Scott McTominay is not good enough, so I do not feel too bad saying Ole Gunnar Solskjaer is not good enough." 🤷‍♂️ #MUFC pic.twitter.com/zsggmNvvhU

— Man United News (@ManUtdMEN) October 29, 2021
Haidara is comfortably better in defending than him, which gives him the edge here. Furthermore, what should also be kept in mind is Haidara has played around 700 minutes less than the two Red Devils.
Kings of the counter 🏎 @RBLeipzig_EN analysed 📑 #RBLBVB pic.twitter.com/ZGR5Kd0oVT

— Bundesliga English (@Bundesliga_EN) March 3, 2018
But only focusing on this aspect of Haidara's game falls short of the point. Leipzig under all of their recent managers play a supremely attack-minded style, which means he is a vital cog when the team moves up. His versatility and utility has seen him roam around the pitch, the areas where he soars ahead of Fred and McTominay. Rangnick knows he cannot only make do with players who are only focused too much on one area so the move for Haidara makes further sense.
ATTACKING OUTLET
There is no doubt that Fred is the weakest finisher on foot for United, apart from the back four and David De Gea. That is not without reason as under Solskjaer, he was not expected to link up play in and around the opponent's penalty area or even take shots at goal. McTominay does score and shoot often, but Haidara is a definite upgrade on the pair of them as stats show.

As evidenced from the above table, Haidara is far ahead of the two incumbents at Old Trafford when it comes to being an offensive threat. Having been part of Leipzig for more than three years now, he knows his game cannot only depend on sitting back and breaking the opposition's attacks.
Great afternoon 🔴⚪️➕3️⃣
Happy to have scored again today 💪🏿 pic.twitter.com/whnoRpr0d1

— Amadou Haidara (@doudouhaidara04) September 25, 2021
He regularly joins himself along with carrying the ball over long distances too. Fred, as mentioned, does not do that but is happy to move it upwards and even McTominay is more of a snap shooter who can also win a few aerial balls.
.@daniolmo7 ➡🅰 @doudouhaidara04 ⚽🤩 pic.twitter.com/ktp63ymWk1

— RB Leipzig (@RBLeipzig) May 4, 2021
Moreover, Haidara has already scored two goals in the Bundesliga that is one more than the pair of Fred and McTominay combined. Last season, the Mali international also had a shot on-target success of 32%, once again higher than the pair present. Alongside Bruno Fernandes and Donny Van de Beek, he can provide another body to overload defences.
MOVING SOON?
Haidara has a release clause of £33m and in 2019, stated his desire to play for Manchester United one day. So, a move should not be too difficult to engineer next month. The more pertinent question is will be a good fit in the side. Rangnick knows him well, and combining all of the stats that have been discussed so far clearly gives him the upper hand.
About £33m release clause, would definitely improve our midfield and wants to play for the club. CFbayern says Haidara to Man Utd in January is possible. pic.twitter.com/CuXIUjBKUv

— UtdFaithfuls (@UtdFaithfuls) December 1, 2021
Yes, Haidara may not provide the extreme defensive protection like Fred but what he offers in other departments more than make up for it. Moreover, he is used to playing in teams that press well and relentlessly, something that the Red Devils have not done in quite some time which will only help in adjusting quickly. If United can get the attacking output from Haidara while not sacrificing too greatly on defence, this buy makes a lot of sense as it will provide a definite upgrade.