Last night's Carabao Cup final had almost everything barring a red card. Jaw-dropping saves, disallowed goals, brilliant pieces of play, angry confrontation between players, a debatable substitution and a marathon penalty shootout. Though the Chelsea goalkeepers will garner most of the headlines for good and bad reasons, one must not forget the impact of the Liverpool goalie.
🗣 "I forgot I scored the winning one." 😅

Caoimhin Kelleher on scoring the winning penalty for Liverpool in the League Cup final pic.twitter.com/xeUNesNUXv

— Football Daily (@footballdaily) February 27, 2022
Caiomhim Kelleher, the "best number two in the world," as Jurgen Klopp claimed after the victory, is a common sight during domestic cup competitions. It was his brilliant save in the opening minutes that helped keep the scores level, and he was alert towards the end of the game as well to react sharply at his near post. In between, Kelleher was a dominant force inside his penalty box- coming out for high catches, sweeping the ball as necessary, and putting attackers off.
🔎 | FOCUS

Caoimhin Kelleher was impressive when called upon in the #CarabaoCupFinal at Wembley today:

🧤 4 saves
📥 4 saved shots from inside the box
🥊 1 punch
🏃 1/1 successful run out
🚀 2 clearances
🔫 1 penalty shootout goal
🧼 1 clean sheet
📈 8.5 SofaScore rating

— SofaScore (@SofaScoreINT) February 27, 2022
Though Alisson is comfortably the number one chance and recently signed a contract extension, Kelleher has been making the strong case of playing in more matches for some time now. 
Joining Liverpool young
Kelleher joined the Liverpool academy in 2015 from Irish club Ringmahon Rangers for €35,000, just a few months before Klopp himself. The German had always been a keen follower of the youth players at Liverpool with Curtis Jones, Harvey Elliott, Neco Williams, Rhys Williams and more having all featured under him.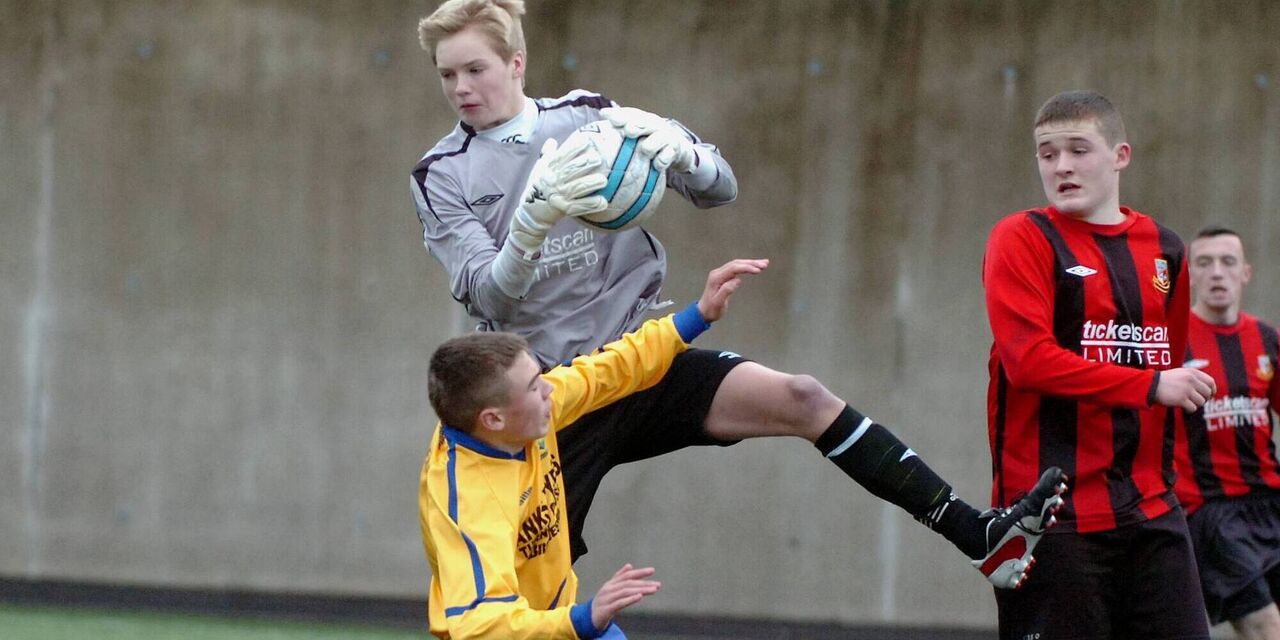 Kelleher progressed through the ranks quickly, catching the eye of everyone who saw him play during his ascent to the first-team picture. He signed a new contract in 2018 after impressing Klopp in the pre-season tour of the USA, making appearances against Manchester City and United. Kelleher's first taste of silverware came in 2019 and it was a big one as the Reds won the UEFA Champions League.
Kelleher vs MK Dons 👏pic.twitter.com/WsZtx0SBcT

📱 Subscribe for all of our buildup and reaction as the young Reds look to reach the Carabao Cup quarter-final 👉 https://t.co/XZAK9veWt7

— The Anfield Wrap (@TheAnfieldWrap) October 30, 2019
Though he was an unused substitute, Kelleher became the 12th Irish player to win the competition and his career was only set to go upwards. Kelleher won the UEFA Super Cup, again without playing in the final, but his debut was on the horizon. In a Third Round match of the Carabao Cup against MK Dons, the 21-year-old custodian finally made his long awaited first appearance. It was to be a happy outing as Kelleher kept a clean sheet in a 2-0 victory. 
Record setter and being the deputy
Kelleher's second-ever senior appearance was in the Champions League, a competition that he had already won. Facing an Ajax side that had just made the semi-finals last season, Liverpool came out with a 1-0 win, thanks in no small part to Kelleher. He made four saves on the night, including a critical one towards the end with Ajax racking up an xG of 0.99.
🔎 | FOCUS

Caoimhin Kelleher was the most important man for Liverpool as they beat Ajax 1:0 to secure a spot in the Last 16:

⏱️ 90' played
👌 56 touches
🧤 4 saves
📥 3 saves from inside the box
✈️ 2 high claims
🧼 1 clean sheet
📈 8.1 SofaScore rating#LIVAJA #UCL pic.twitter.com/EhL0IDPJkd

— SofaScore (@SofaScoreINT) December 1, 2020
Kelleher's first Premier League start came less than a week after against Wolverhampton Wanderers, with the 22-year-old keeping yet another clean sheet. He became the youngest goalkeeper in the club's history to achieve that feat on his first start and the third-youngest overall. Kelleher would go on to make one more appearance each in the league and Europe while becoming a regular in the cup competitions.
Kelleher & Alisson at full-time 🧤❤️ pic.twitter.com/yAdKZzFLT1

— Football Daily (@footballdaily) February 27, 2022
He featured three times in the 2019-20 Carabao Cup, making seven saves at 41.2%. Kelleher's performances were appreciated by everyone associated with the club and onlookers alike with Klopp confirming in 2021 that he will be the number two after Alisson at the club, taking over the veteran Adrian while also signing a new long-term deal till 2026.
Another fine season unfolding
The sample size for comparing Kelleher to other young goalkeepers of his age is small given he has only played four times in the Premier League so far. Two of them have come this season, with Kelleher facing eight shots, making five saves with a 75%. His post-shot expected goals (PSxG) is currently 2.6, meaning he has been performing better than expected.
Caoimhin Kelleher has won all three of his penalty shoot-outs for Liverpool in the League Cup.

◉ 1 save vs Arsenal
◉ 2 saves vs Leicester
◉ 1 winning goal vs Chelsea

The shootout hero. 🦸‍♂️ pic.twitter.com/LWhLgMrq40

— Squawka Football (@Squawka) February 27, 2022
Coming to how good Kelleher is with his feet, he has completed 81/90 passes (90% accuracy) which rises to 100% over short and medium distances. Kelleher's competition was once again the Carabao Cup, playing four matches and keeping three clean sheets while making 15 saves at 82.4%. The penalty shootout for Kelleher was nothing new, as he has already faced the same situation twice before against Arsenal and Leicester City, winning both of them.
What a day. Loved this moment after. Henderson gave the trophy to Kelleher and encouraged him to lift it in front of the photographers as the captain stood applauding the young keeper. #LFC pic.twitter.com/PG56VTGCNK

— James Pearce (@JamesPearceLFC) February 27, 2022
What was new was how emphatically he scored his own spot-kick in the shootout, and it was no surprise that Jordan Henderson pointed the camera crew towards Kelleher as a sign of who was a true hero in the triumph.