Cristiano Ronaldo is often regarded as one of the best players to have played football. The five-time Ballon d'Or winner have always surprised us with his magical skills on the field and his ability to annihilate the opposition defence is known to all sundry.
Ronaldo has conquered the footballing world – breaking all goalscoring records since making a then world record move from Manchester United to Real Madrid in 2009.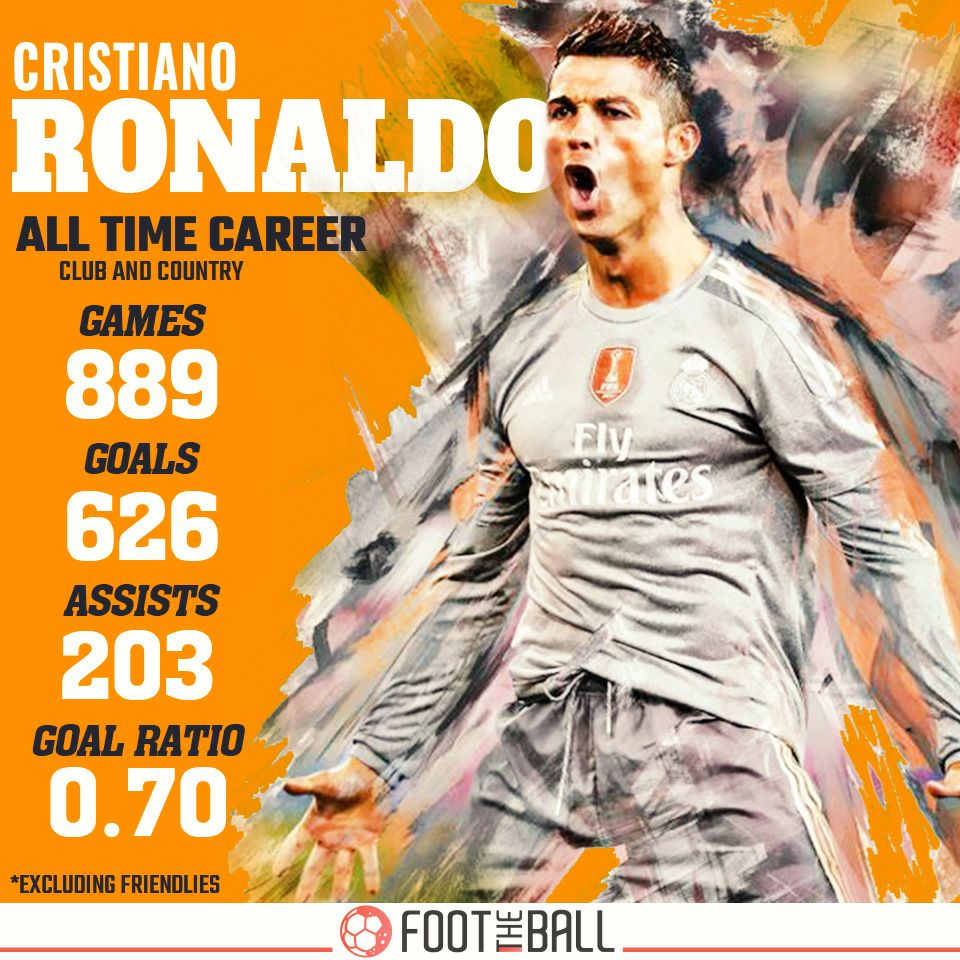 And now FootTheBall takes a look at the ever-growing list of European records that Ronaldo has broken so far in his illustrious footballing career.
[espl_box title="Ronaldo European Records " box_color="#ee6123″ title_color="#1b1515″ radius="10″]
❚ Only player to score in all group stage matches in a single Champions League season
❚ Only player to have scored 15+ goals in the Champions League in a calendar year (did it 3 times: 2013, 2015, 2017)
❚ Most UEFA Best Player Awards: 3
❚ Most Champions League top scorer awards: 6
❚ Only player to finish Champions League top scorer in 5 consecutive seasons (2012/13 – 2016/17)
❚ Most league goals in history across Europe's top 5 leagues: 375 league goals
❚ Only player in history to score 10+ goals in 6 UEFA Champions League seasons
❚ Most goals scored against a single opponent in the Champions League 9 goals against Bayern Munich (shared with Lionel Messi (against Arsenal))
❚ Only player to score back-to-back hat-tricks in the knockout stages of the UEFA Champions League (Bayern Munich and Atletico Madrid in 2017)
❚ First player to score 50+ goals in the UEFA Champions League knockout stage
❚ First player to score 40+ goals in the UEFA Champions League knockout stage
❚ First player to score 100 goals in the UEFA Champions League
❚ First player to score 100 goals in European competition (97 UCL goals, 1 UCL qualifier goal, 2 UEFA Super Cup goals when record was achieved)
❚ Most quarter-final goals in the UEFA Champions League: 20 goals
❚ The first player in history to surpass 30+ league goals in six consecutive seasons in a major European league
❚ Most hat-tricks in UEFA Champions League: 7 hat-tricks (shared with Lionel Messi)
❚ Most hat-tricks in a single Champions League season: 3 hat-tricks in 2015/16
❚ Most free kicks scored in UEFA Champions League: 12 free kick goals
❚ Fastest player to score 350 goals for a single club in Europe's top 5 leagues (335 games)
❚ Most UEFA Team of the Year appearances: 11 times
❚ Most consecutive appearances in the UEFA Team of the Year: 10 consecutive times (2007-2016)
❚ Most goals scored in the UEFA Champions League group stage in a single season: 11 goals
❚Most UEFA Champions League goals scored in a calendar year: 19 goals in 2017
❚ First player to ever score at least 10 goals in five Champions League seasons (did it consecutively)
❚ First player to ever score at least 10 goals in six Champions League seasons (did it consecutively)
❚ Most hat-tricks in the group stage in a single Champions League season: 2 hat-tricks (shared with Luiz Adriano and Lionel Messi)
❚ Most braces in Champions League history: 25 braces
❚ Most goals scored in Champions League history: 114 goals
❚Most penalties scored in Champions League history: 13 penalties
❚ Most European Golden Shoe awards: 4 (shared with Lionel Messi)
❚ Most goals scored in a European Cup season: 17 goals (2013/14)
❚ Most consecutive UEFA Champions League matches scored in: 8 matches
❚ First and only player to have won the European Golden Shoe in 2 different leagues (EPL with Man Utd and La Liga with Real Madrid)
❚ First footballer in the history of the European Cup to score for two different winning teams
❚ Most goals scored in UEFA Champions League knockout phase: 54 goals
❚ Most headed goals scored in the UEFA Champions League: 19 goals
❚ Most consecutive wins in the UEFA Champions League: 14 wins
❚ Most goals scored in the Uefa European Championships for Portugal: 29 goals
❚ Most consecutive UEFA Champions League away matches scored in: 12
❚ Only player to be among the finalists for all the editions of the UEFA Best Player in Europe (2010-2016)
❚ All time top scorer in European competitions (including Uefa Super Cup and Champions League qualifiers): 117 goals
❚ The first player in history to surpass 30 goals in five consecutive seasons in a major European league
❚ Fastest player to score 200 goals in one of Europe's top 5 leagues (La Liga)
❚ Fastest player to score 250 goals in one of Europe's top 5 leagues (La Liga)
❚Most goals scored in the UEFA Champions League semi-finals: 13 goals[/espl_box]