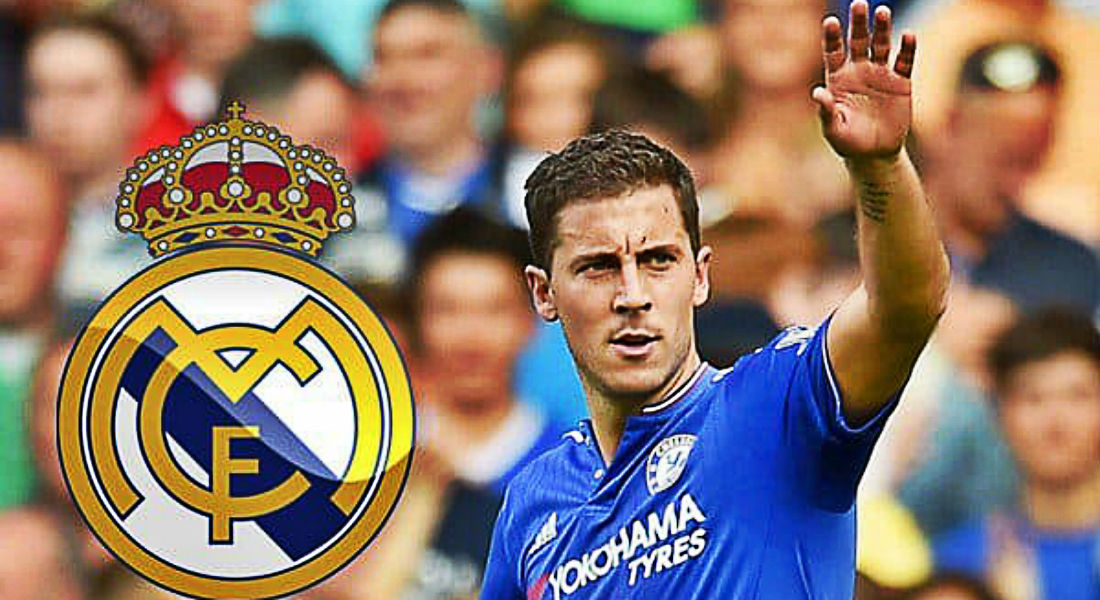 Eden Hazard Fuels Talk Of Real Madrid Move As Chelsea Star Admits "Dream" Of Working With Zinedine Zidane
Chelsea star Eden Hazard has added spark to transfer speculation over a move to Real Madrid by revealing his "dream" to play under Zinedine Zidane.
Eden Hazard is in top form at just the right timeHazard has been heavily linked with a move to Real Madrid ever since joining Chelsea back in 2012.
The Belgian forward has emerged as one of the best footballers in the world, having guided Chelsea to Premier League triumphs twice in the last three seasons.
Real Madrid have always looked to rope in the best talents and now a move to the Bernabeu looks possible next summer.
"Everyone knows the respect I have for the man" Hazard told RTL when asked about the Madrid boss.
"For the player he was and for the coach he is, he was my idol.
"Of course I don't know what will happen in my career in the future, but to play under him would be a dream.
"At this time, though, I'm happy at Chelsea. I still have a lot of things to do at Chelsea, and I'm focused on Chelsea."
Chelsea superstar Eden Hazard has reportedly informed Real Madrid bosses that he will join them on one condition.
Spanish website Don Balon claims that Hazard has made it clear to Real Madrid that he will only join them if he is guaranteed an 'Untouchable' status at the Spanish club.
Real Madrid have a plethora of attacking options at their disposal.
Cristiano Roanldo is their main man up front, despite making a poor start to the season – with only one La Liga goal to his name in seven games.
The Spanish giants have Gareth Bale – although a series of serious injuries have dented his La Liga career.
While talking about other attacking options they have Karim Benzema, Lucas Vazquez and Marco Asensio.
Speculations suggest that the Los Blancos are also monitoring the availability of Tottenham superstar Harry Kane and could launch a bid for the English striker next summer.
But Don Balon claims Zinedine Zidane has identified Hazard as his top transfer target.
However, it is believed that the Los Balncos bosses will face a tough task persuading Hazard to quit Chelsea for Real Madrid.
Real Madrid have several attacking options and Hazard will only make a switch to the Bernabeu only if he guaranteed a permanent place in Zidane's line-up.
Hazard's move to Real Madrid would definitely mark an end of Bale's time at the La Liga club.
Bale has been heavily linked with moves to Manchester United, Tottenham and Chelsea.
But a series of injuries has dented his footballing career at the Bernabu and this might put off any potential suitors.