A move that has been in the works for the past 2 years is finally taking shape as Jadon Sancho has joined Manchester United this summer. After countless talks between all the parties involved, Dortmund ultimately agreed to let their star man go.
This is his home.
This is where he belongs.

Jadon Sancho is 𝗨𝗡𝗜𝗧𝗘𝗗.#MUFC x @Sanchooo10 pic.twitter.com/LAIBn7ie7V

— Manchester United (@ManUtd) July 23, 2021
Manchester United believe they have finally signed an attacker who compliments their team perfectly and slots in straight at the problematic right hand side. FootTheBall grades this big-money move and analyses the quality Sancho can bring to Manchester United
PLAYER QUALITY
Jadon Sancho is one of the most talented youngsters from England and has the potential to be one of the best in the world in the next few seasons. He joined Borussia Dortmund in 2017 and has taken Bundesliga by the storm ever since.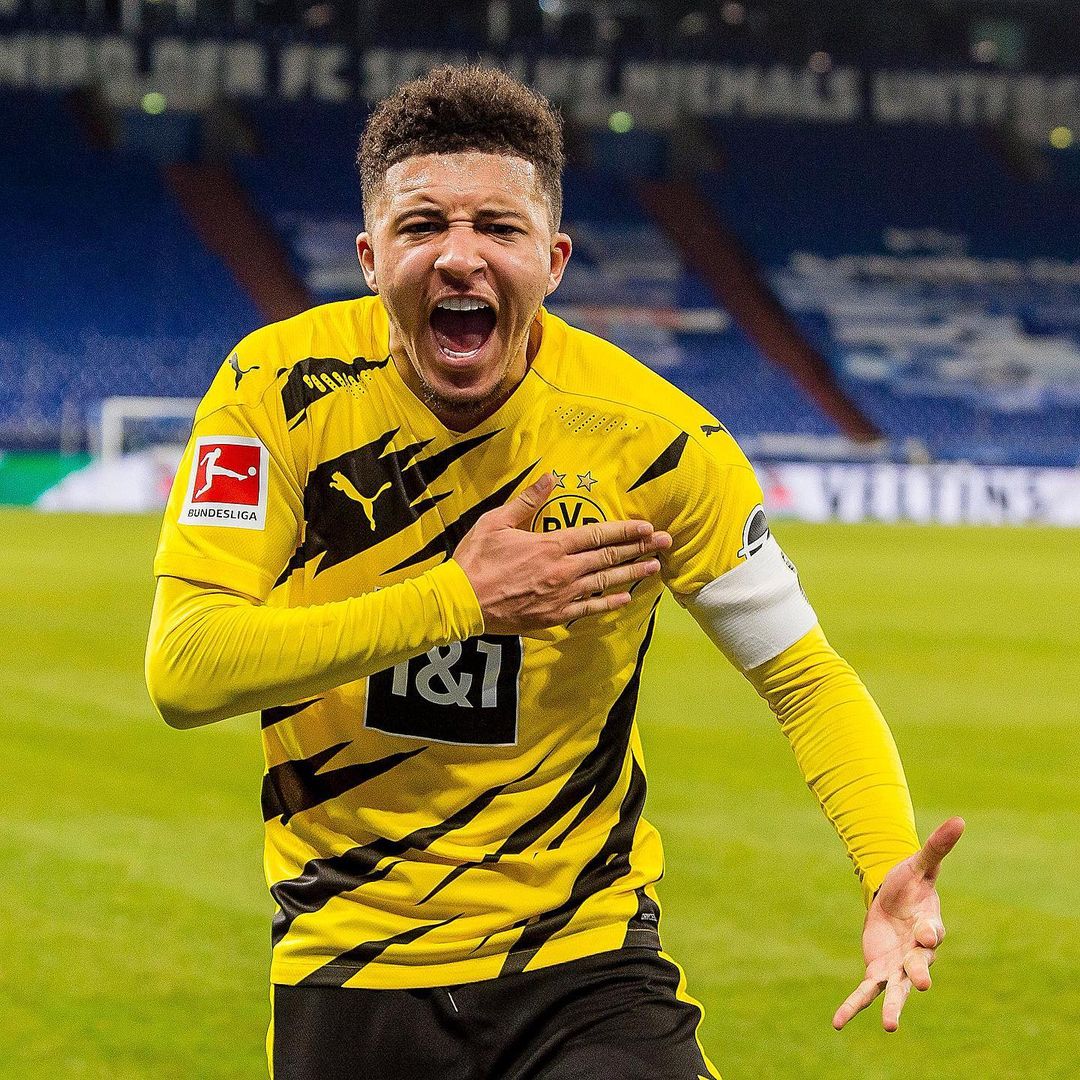 Although Dortmund had a horrible start to their last season, they managed to finish 3rd in the league courtesy of the brilliance of their young right-winger. Sancho scored 8 goals and provided 13 assists last season.
Statistically, it was been a fruitful last season for Sancho. He averages a direct goal involvement of 0.83 per game and created at least 3 goals scoring chances per 90. His passing accuracy was about 82.4% and he also won more than half of the duels he attempted.
79 – Jadon Sancho has been involved in 79 league goals before turning 21 today. No English player's been involved in as many before their 21st birthday within the top 5 Euro leagues since 1992. Special.
@OptaAnalyst is now live! The new website for data-driven storytelling.

— OptaJoe (@OptaJoe) March 25, 2021
Jadon Sancho is a class act with his attacking ability, but he could improve upon his contribution when out of possession. Modern-day football has made high pressing a necessity and if there is any area Sancho has to put a lot of work in, it is his ability to win the ball high up the pitch. This will even help his side to be quick in transition and increase the tempo of their game.
VALUE FOR MONEY
In the last 4 seasons, no player in the top 5 leagues in Europe has had more direct goal involvement than Jadon Sancho. He is a player who is at the heart of all the attacking plays made by his team and that is why the youngster is such an important asset to have on your side.
The transfer fee is around £73 million and the contract lasts for 5 years. Sancho is only 21 and still has a tremendous amount of quality. It is pretty much certain that he will grow more and mature into one of the world's best when he hits his prime.
In March 2020, Sancho's market value had hit £117 million which would have completely drained United's pockets for the whole year. It took a lot of negotiating to convince Dortmund but eventually Manchester United got away with a good deal for Sancho.
Manchester United have had a history of spending hefty fees on wrong players. They bought Fred for £52 million which looked like overspending even at the time and has been proven to be exactly that. Even spending £80 million for Harry Maguire was a bold move to make and they surely could have gotten him for a little cheaper. Compared to their previous blunders, Manchester United have got a great deal for Jadon Sancho.
FIT AT THE CLUB
Although Jadon Sancho is a great player, it is debatable that United made him their top priority. Jadon Sancho is highly versatile and can play anywhere up front, especially the ever absent right-side, but Manchester United already have a pretty good attacking lineup. With Rashford, Martial, Greenwood and Dan James already playing on the flanks, the arrival of Jadon Sancho will turbocharge an already great attacking force.
Still, Manchester United conceded the highest amount of goals among the top-4 teams in the Premier League last season which is why they should focus more on adding good players in their backline. They even need to bring in replacements for Matic and potentially Pogba since they aren't going to stick around for long. They should have addressed the problems they had at hand before since they can do well even without the services of Jadon Sancho.
Since both Rashford and Jadon Sancho can play on either side, the youngsters will keep switching wings until Solskjaer finds what is perfect for his system. Ole has the habit of constantly changing his side's formation which is why we might see Sancho play in a central role as well. The fluidity in Sancho's game enables him to be a threat from a wide range of angles.
EXPECTATIONS
Jadon Sancho started off as a left-winger in his youth days at Manchester City but in Dortmund, he was majorly seen on the left flank. He is a left-footed player but can even play on the right-wing since it gives him the option of cutting inside and taking a shot in the final third. He even has enough pace to outrun the pacy fullbacks in England.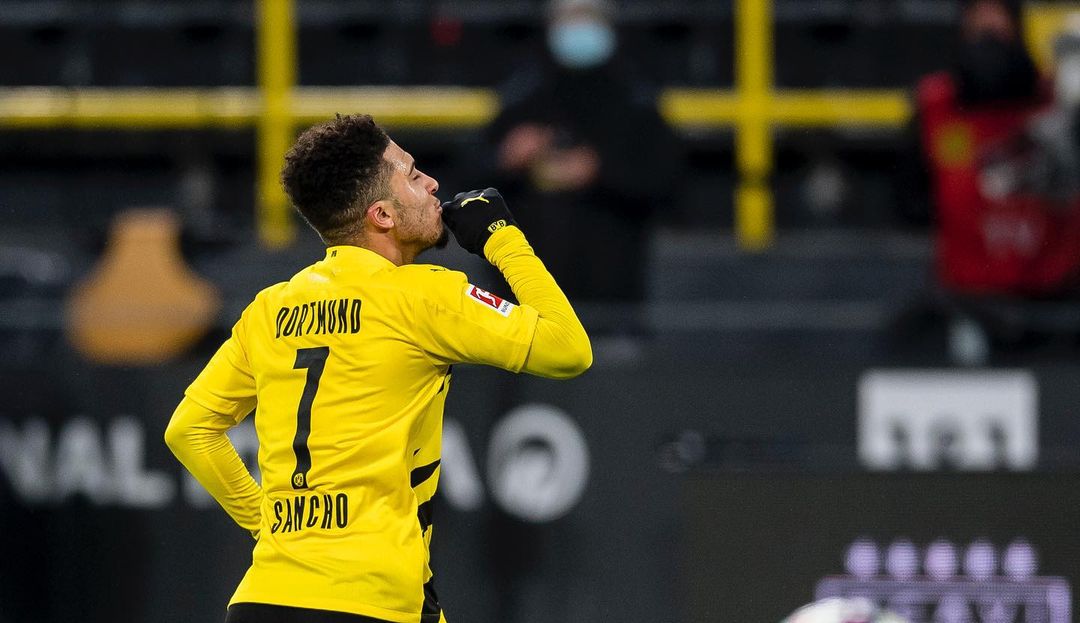 The only issue Sancho might face initially is the physicality in the Premier League. Premier League players are a lot rougher compared to Bundesliga which is why the youngster might face some problems in his early days at the club. Although he will get used to it eventually and get back in his stride in no time.
Manchester United have landed on a Championship League spot for the past 3 seasons but haven't done well in Europe. They couldn't even make it past the group stages last season which surrounded them with question marks over their ability and mentality. Jadon Sancho might just be the bright young spark United is looking for and the extra firepower up front might help United make inroads in the Champions League.
Manchester United haven't been part of a close title race ever since they won EPL in 2013. With Sancho in, United have also boosted their chances of getting closer to domestic glory as a title win is surely on top of their to-do list ahead of the season.
FINAL GRADE: A