Marceloa Bielsa's Leeds United secured a famous 2-1 win over champions elect Manchester City at the weekend. The win took them 10th in the Premier League table, an impressive feat in their first season back in the top-flight. One of the stars of their win season, and of the win at the Etihad, has been young goalkeeper Illan Meslier.
🥶 Our number 1! #TheIceman pic.twitter.com/lo75WsC1st

— Leeds United (@LUFC) April 11, 2021
The 21-year-old has been a revelation. Meslier has been touted as a future great but his age often undermines just how good he is already. The fact that Leeds do not keep many clean sheets, just nine this season (fourth lowest in the league), makes people overlook the Frenchman's individual brilliance.
TEAM CONTEXT
It is a function of being a side managed by Bielsa that Leeds concede a high number of high-quality chances. Understanding that is important to analysing Meslier's performances. In the graph below, one can see that only three regular goalkeepers in the league have faced a higher Post Shot xG per 90 (PSxG/90). The stat measures the probability of a goal being scored after a shot has been taken.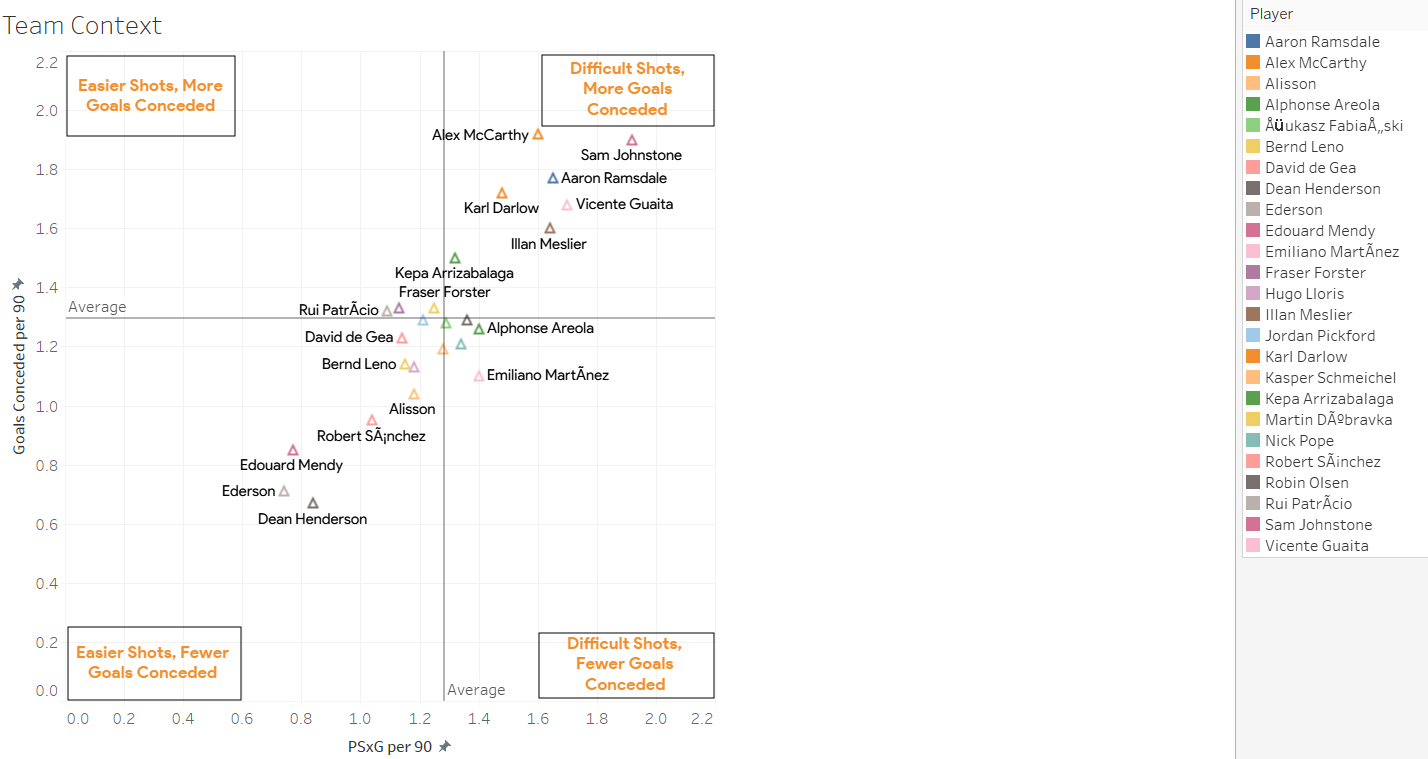 Thus, it is visible that Leeds concedes some of the most difficult chances in the league. The general upward trend along shows a direct relationship between PSxG/90 and goals conceded/90. This however says nothing about the quality of goalkeeping.
SHOT STOPPING
The below graph shows just how good Meslier has been with his shot stopping this season. No player to have faced more difficult shots per 90 has a better save percentage than the youngster. He lies well in the upper right quadrant with Emiliano Martinez, arguably the best goalkeeper this season.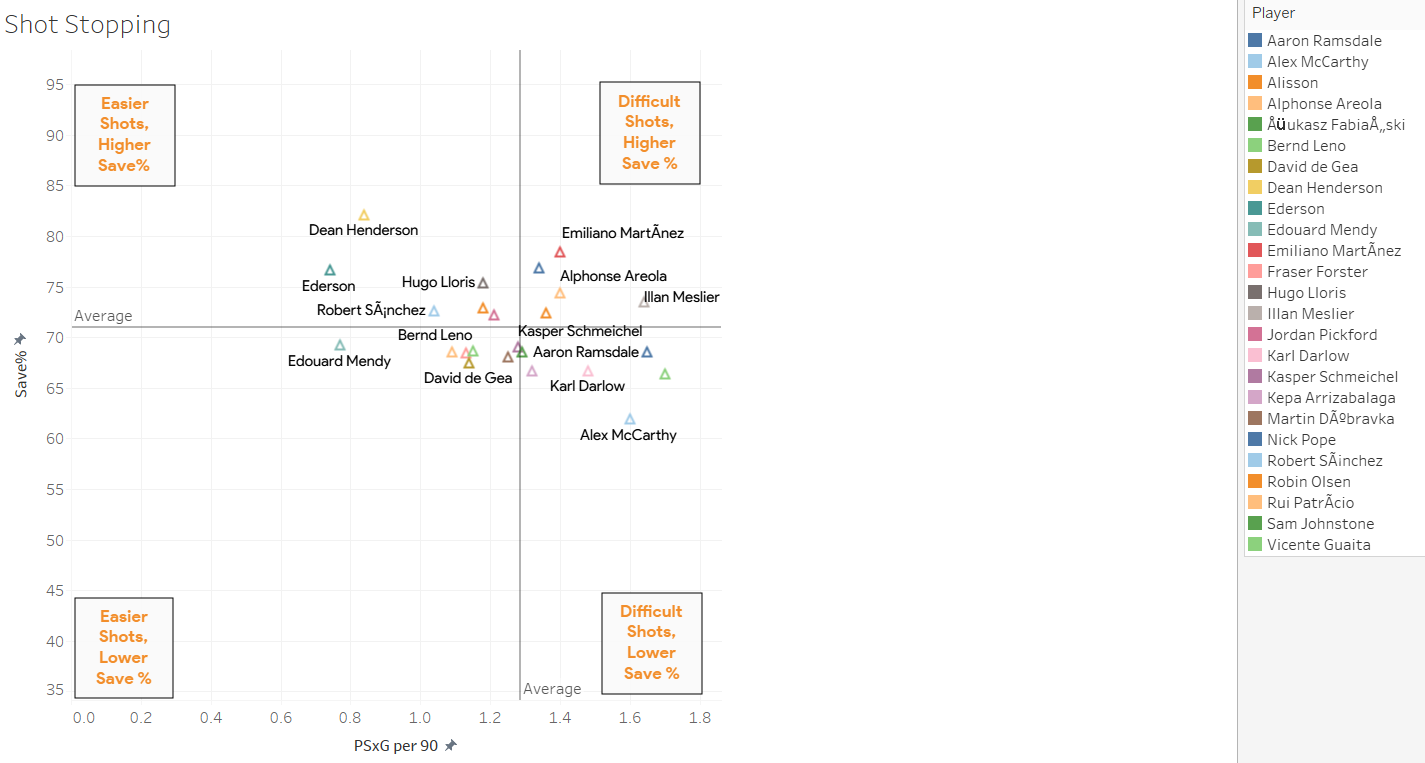 DOMINATING AREA
As goalkeepers, a lot of emphasis has been given on dominating the penalty area. Meslier has received some criticism over not dealing with crosses well but those doubts are largely unfounded. He ranks well above average for percentage of crosses stopped, ahead of the more physically endowed goalkeepers.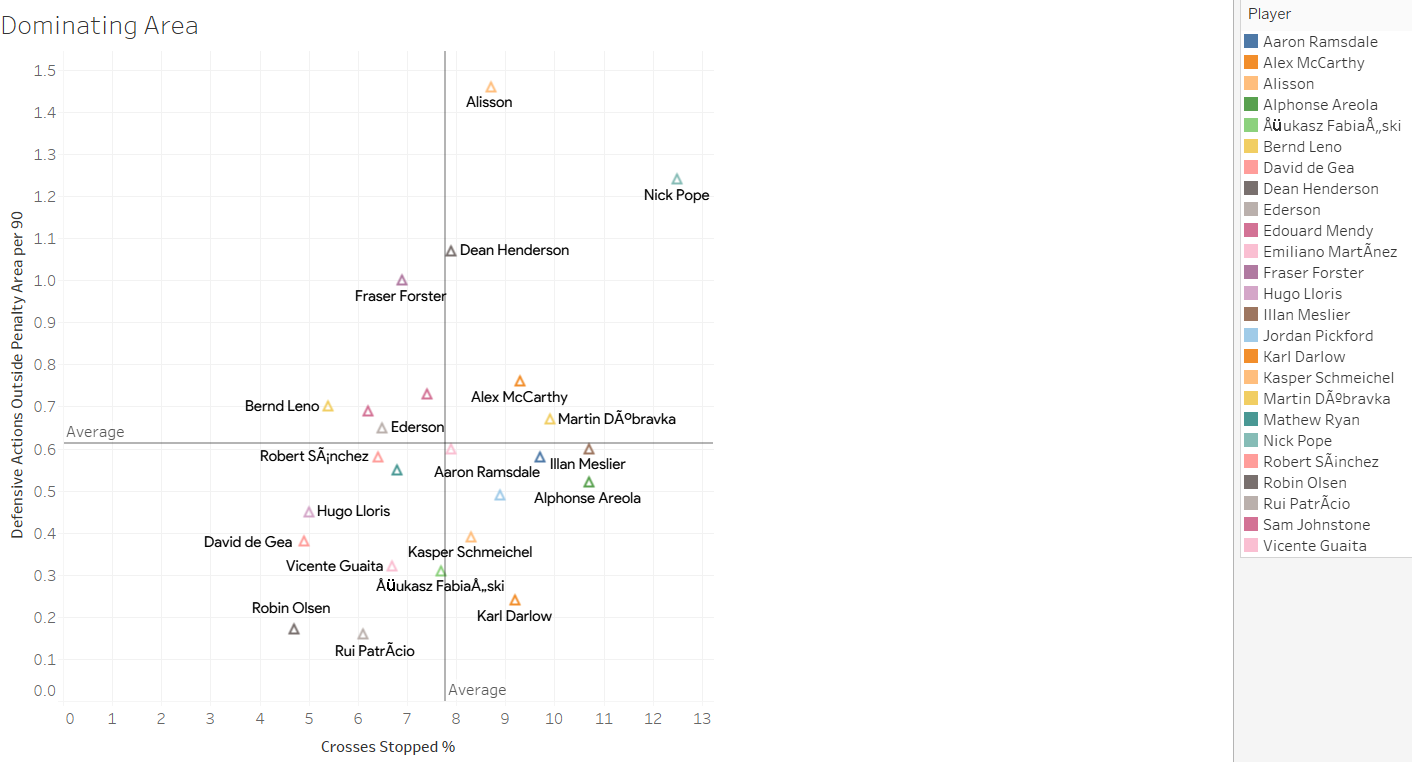 Meslier also ranks just below the average for defensive actions outside the penalty area per 90 minutes. The stat is a basic measure of sweeping, an integral part of being a modern-day goalkeeper. This aspect is surprisingly where he can improve. Leeds play an aggressive high-line and Meslier can perhaps be more proactive in preventing some chances.
DISTRIBUTION PROFILE
Being in a Bielsa team means that the goalkeeper has to be comfortable with the ball at his feet. This is manifest in the below graph showing that no goalkeeper attempts more passes per 90 minutes than Illan Meslier.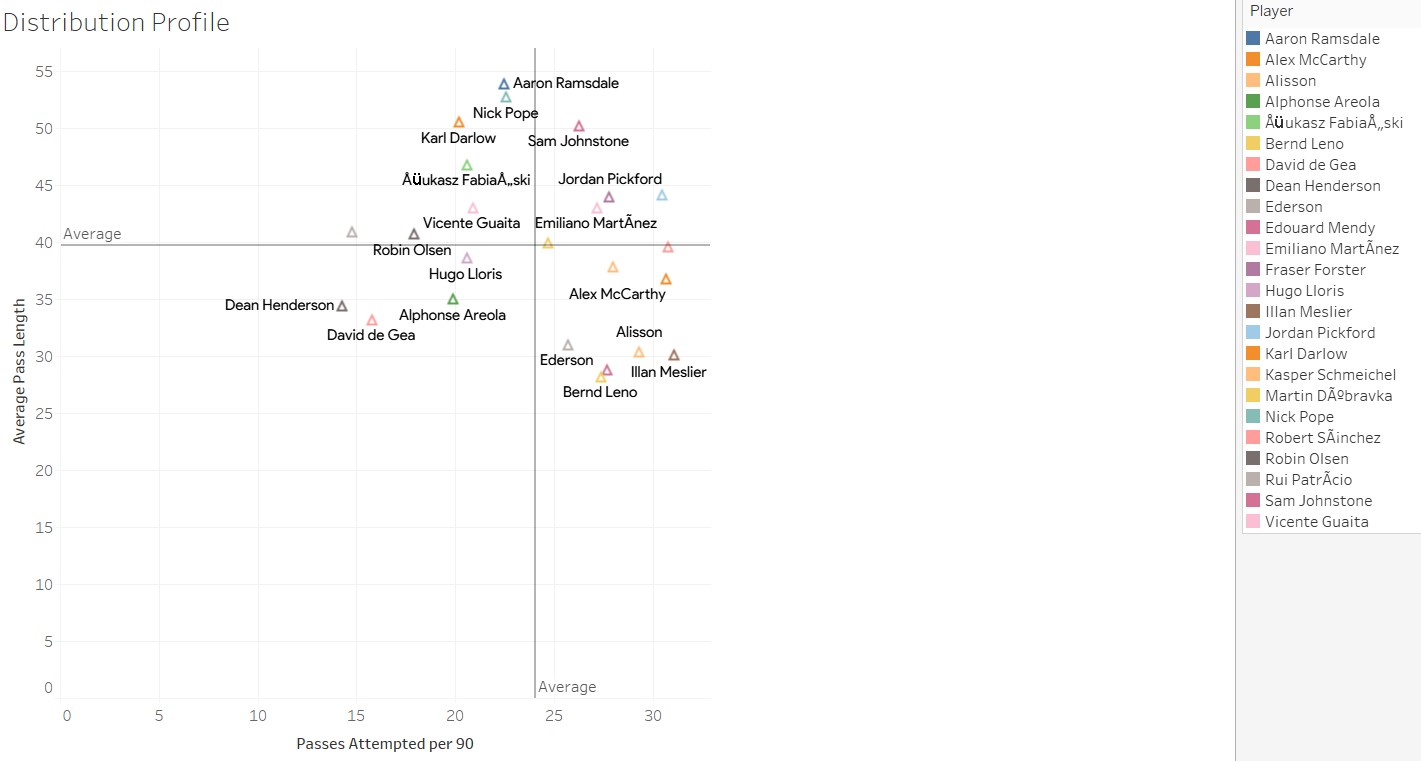 Leeds play out from the back which shows in the fact that Meslier's average pass distance is among the lowest in the league. His distribution profile is very similar to that of Ederson and Alisson, two of the best goalkeepers in the world.
ALL ROUNDER
It is clear that Meslier has been exceptional in all aspects of goalkeeping this season. He competes with Martinez, Areola and Schmeichel in shot stopping while giving Ederson and Alisson a good run for their money in distribution.
The Frenchman will expectedly fill out more and become more physical in coming years which will help him improve upon his sweeping and penalty box domination, an aspect where he already is above average. All this while playing in the league's most attack-oriented side.
EURO 2020?
Hugo Lloris is 34, Steve Mandanda 36. The duo has dominated the French jersey for years but this year's Euros should be their last major tournament. Illan Meslier is yet to make his senior international debut but his performances this season have done more than enough to get him a spot on the plane this summer.
Meslier has been touted as a future great but that is not true. He is already great. He will be a future legend.