The word generational gets thrown around very easily when it comes to young players. We've seen many wonderkids burst on to the scene and then fizzle away after a good year or two. However, sometimes you just know that things are different. That this player is the real deal. Jadon Sancho is one of those players.
Still just 21, Sancho is one of the best attacking players in Europe and has established himself as a coveted talent. However, he is yet to play a single minute of football at Euro 2020 despite England's 180 minutes on the field being uninspiring, to put it politely.
Jadon Sancho has 114 goals/assists in 137 games for Borussia Dortmund. 💛

He hasn't played a minute so far at #EURO2020

— 90min (@90min_Football) June 18, 2021
England manager Gareth Southgate recently claimed that expectations around the youngster need to be managed given that it is his (and others') first major tournament. This seems like an over-justification of a poor decision on his behalf. Jadon Sancho should be starting for England for a very simple reason – he is the best they've got.
SANCHO'S CREATIVE OUTPUT
The 2020-21 was an injury-hit one for Sancho but despite that, he managed 0.8 goals plus assists per 90 minutes. The preceding season, his breakthrough, he recorded 1.3 goals plus assists per 90 – the fourth highest behind Lionel Messi, Kylian Mbappe and Luis Muriel in Europe's top five leagues.
England, though, have an exceptional squad. Sancho is one of many young stars on a roster that includes Mason Mount, Phil Foden, Marcus Rashford, and more. How does the Dortmund winger compare to those competing with him for the winger role?
We compare his performances over the last two seasons with those of Raheem Sterling, Phil Foden, Jack Grealish and Marcus Rashford – the four people ahead of him in the current pecking order. All data has been taken from fbref.com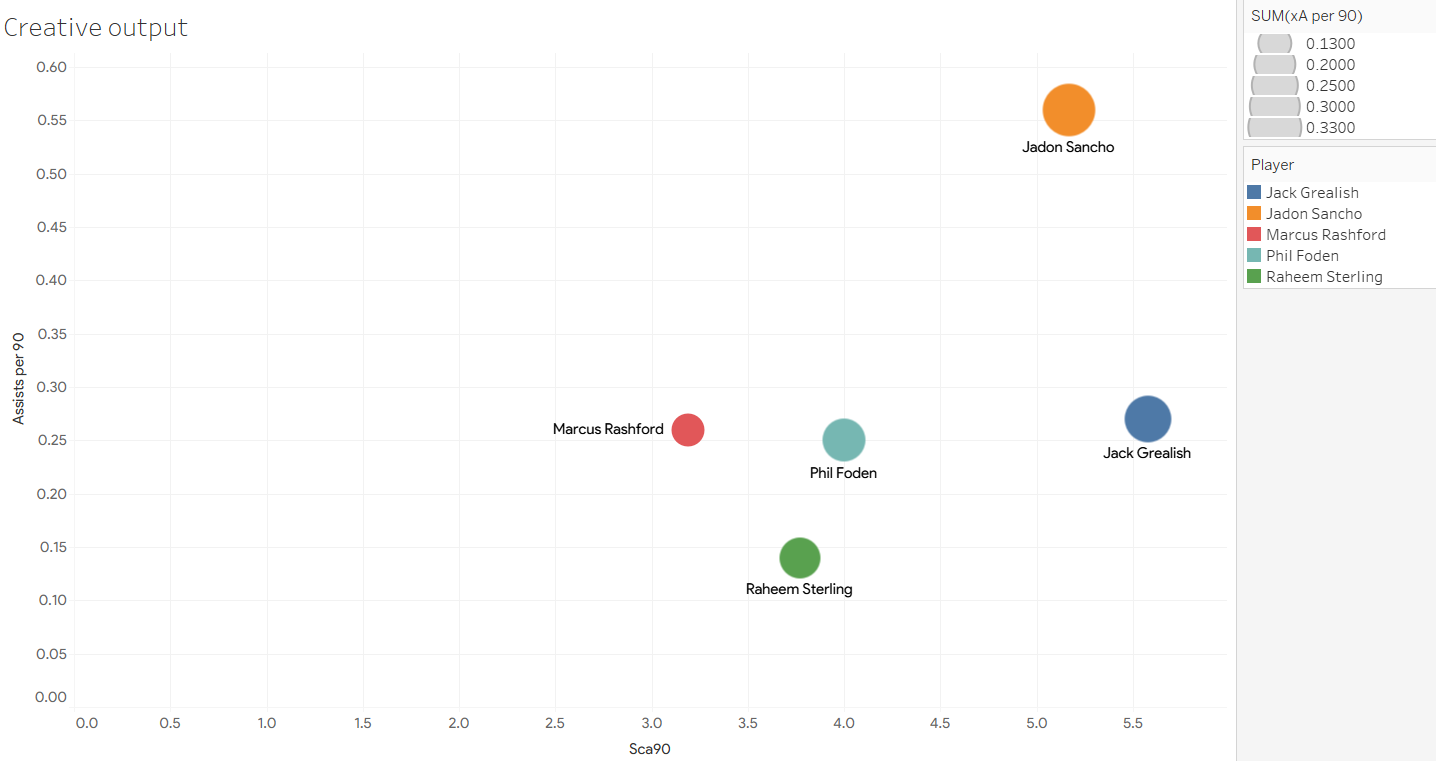 First let's see the outright creative output. As visible in the graph above, Sancho records assists per 90 far ahead of his national teammates. The size of the mark represents the expected assists per 90 metric. Sancho exceeds his expected assists by a considerable mark (0.33 expected vs 0.56 actual) which is perhaps down to playing alongside one of Europe's elite finishers in Erling Haaland.
What's fascinating is that even his expected assist is higher than the actual assists of any of the other four. Further, only Jack Grealish undertakes more shot-creating actions than Sancho and he enjoys the benefit of everything at Aston Villa flowing through him.
SANCHO, THE COMPLETE ATTACKER
Wingers usually fall into clear categories based on their strongest asset. Either you're a traditional winger who likes to go down the line and cross, or you are an inverted winger, coming inside and playing cute through balls, or you may be a dribbler who likes to play 1v1. Sancho is all of those.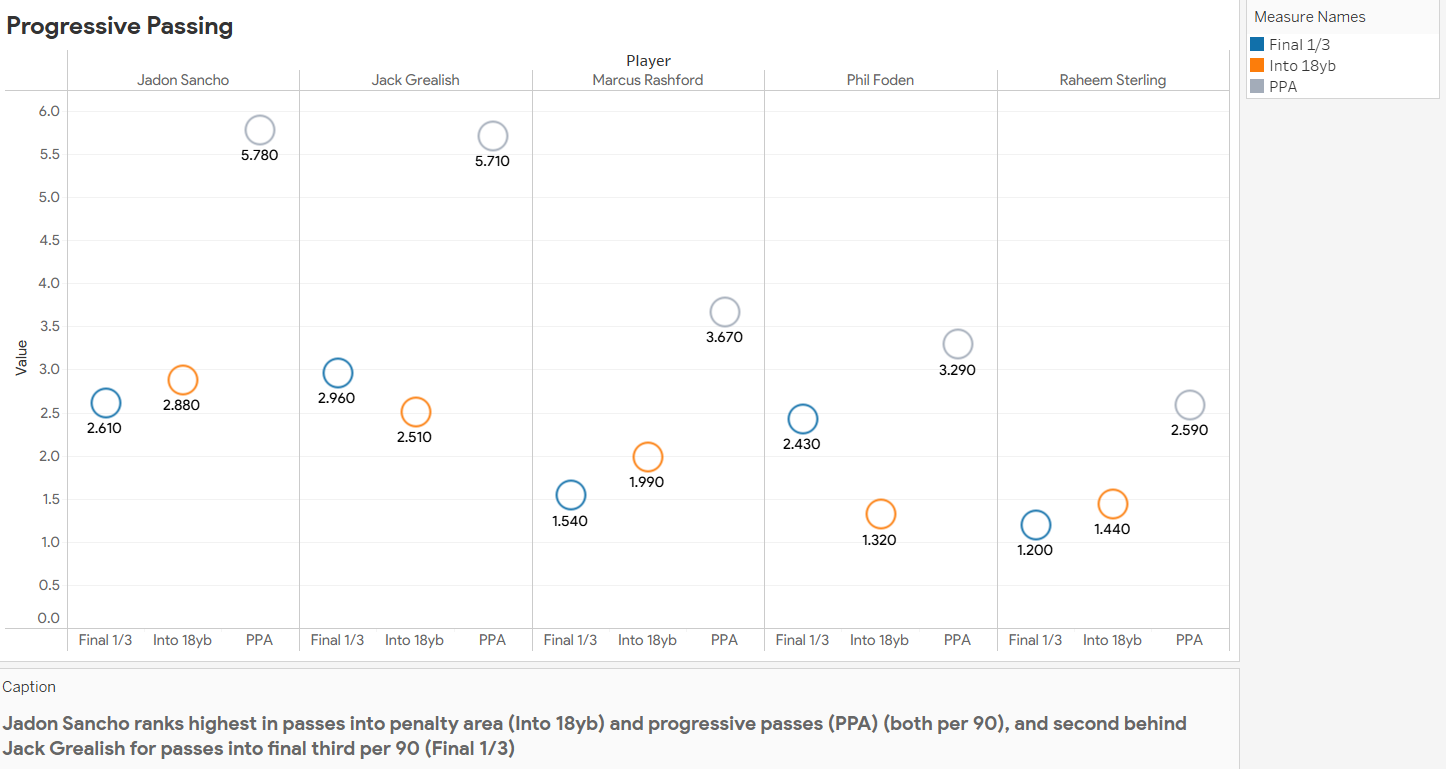 Looking at a comparison of attacking passing of the five options, it is clear that only Grealish comes remotely anywhere close to matching Sancho's stats. The 21-year-old plays more passes into the penalty box and progressive passes overall per 90 than the rest, while Grealish passes more into the final third which is a function of him having to play a bit deeper at Villa. Rashford, Foden and Sterling are considerably behind in this aspect.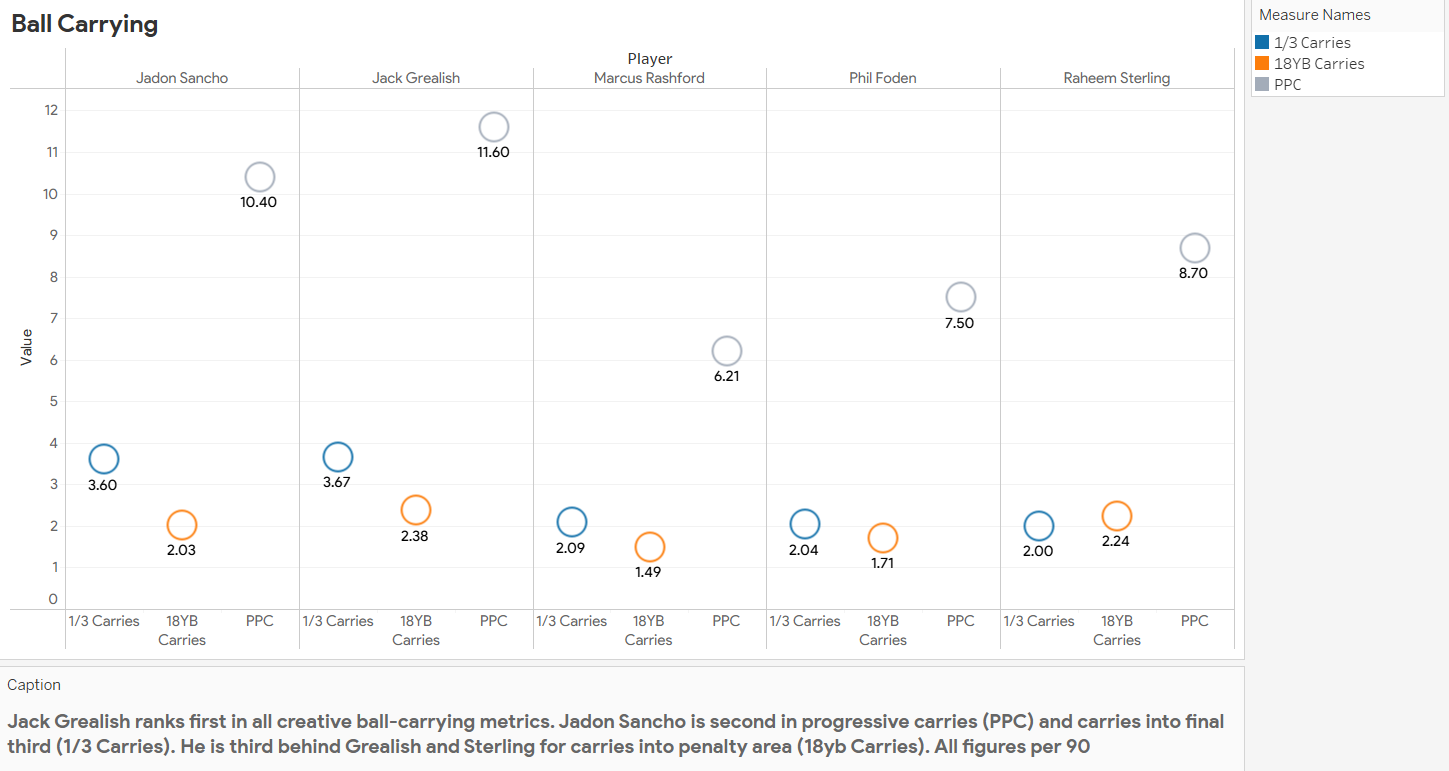 Moving to ball carrying abilities, it is apparent that Grealish shines out in this aspect. He ranks top for all three carries – progressive, into final third and into the penalty box. Grealish is slightly older than the rest, is stockier and has the advantage of being the fulcrum receiving the ball more than his teammates. Sancho is not far behind Grealish in attacking ball carrying abilities – a true testament to his all-round play.
WHY IS SANCHO NOT STARTING
One possible reason that has been hypothesized for Sancho's lack of game time for the Three Lions despite his attacking prowess is an apparent lack of defensive discipline. Does this hold true?
On closer inspection, not really. Sancho makes more interceptions per 90 minutes than the rest, only Jack Grealish makes more blocks and Sancho's tackling is also middle of the road. Foden and Sterling's numbers are high given that they play in a high-intensity, defend from the front system but Southgate's England don't really necessitate that skill-set.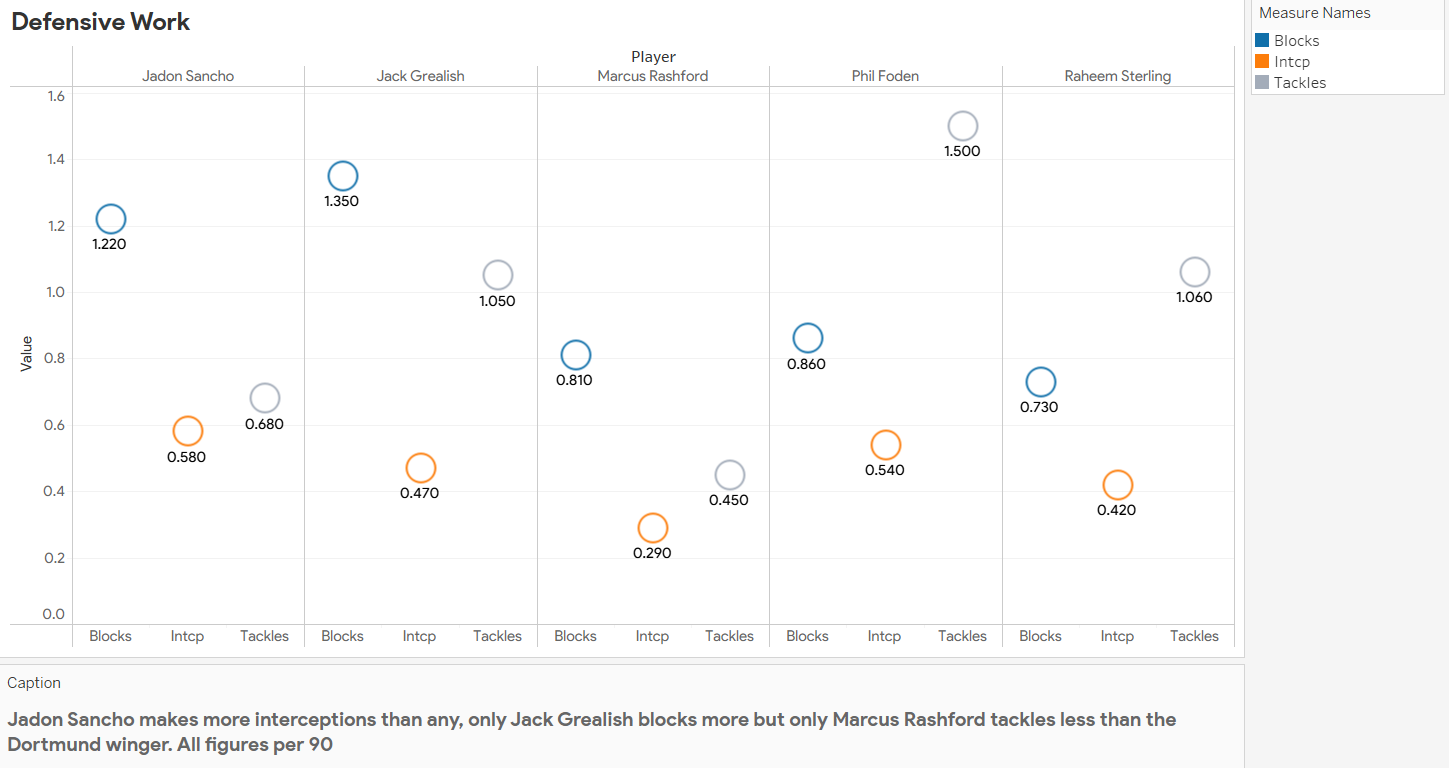 Sancho has spent the past couple of years in the Bundesliga – a league that is more tactically proficient than any other. It would be unreasonable to claim that he cannot adapt his game style to what is needed by Southgate. The decision to not involve him then seems to not be grounded in any statistical or logical analysis and is perhaps one of personal preference. Not ideal from a manager in world football's most critiqued job.
WILL SANCHO START AGAINST CZECH REPUBLIC?
Southgate's statements about Sancho do not offer much insight and the manager has a tendency to stick to his guns. England are already through to the next round even though they may finish anywhere in the top three spots. It would not hurt Southgate to perhaps give players (Sancho included), who haven't had a chance yet, some game time against Czech Republic to make a case before the knockouts.
Gareth Southgate insists he is being realistic about the expectations he can put on Jadon Sancho and the other inexperienced members of the England squad.

— Sky Sports (@SkySports) June 20, 2021
Given an opportunity, it would be very hard to keep Sancho quiet. England have looked timid in their opening fixtures, in dire need of some creativity. Who better to come in than one of Europe's best?
Sancho might have suffered from the 'out of sight, out of mind' syndrome that most English players abroad do but he may yet become the star of the show, given the chance. Sancho is a Ferrari in Southgate's garage, and the English boss need only turn the key to smoke the opponents away.