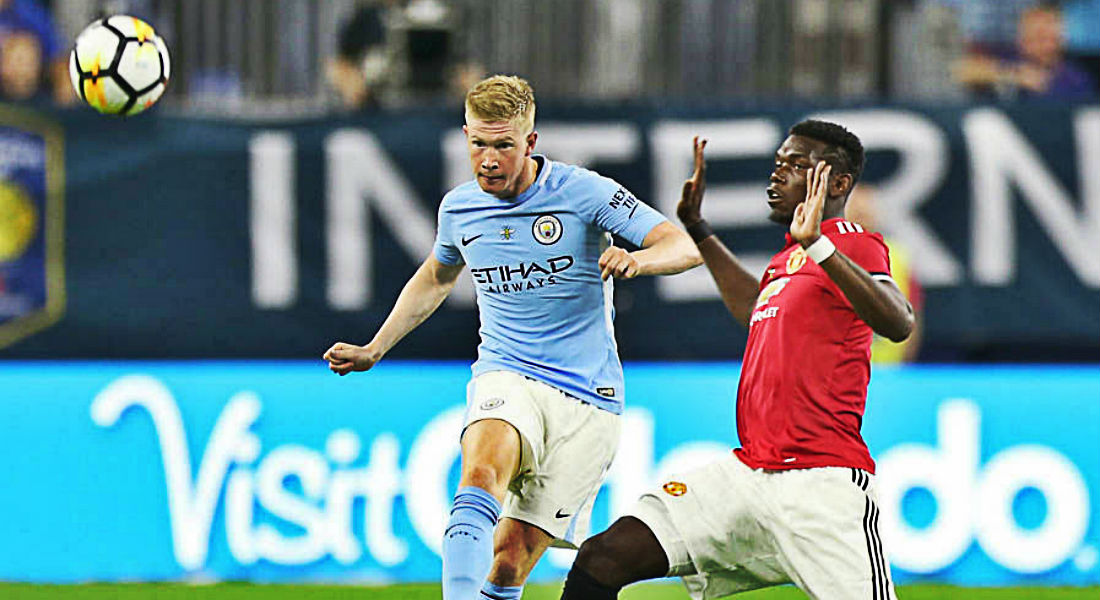 Kevin De Bruyne Gives Paul Pogba Verdict As Man City Prepare For Man Utd Showdown
Kevin De Bruyne does not see Paul Pogba's absence from this weekend's Manchester derby as some sort of "karma" for the Frenchman's controversial comments about Man City's key stars suffering injuries.
Ahead of Man Utd's 3-1 win over Arsenal , Pogba said in an interview with the BBC that he would like to see Pep Guardiola's Man City suffer from the kind of injury crisis he thinks have dented Red Devils' campaign so far this season.
Such comments had not gone down well with the City fans, who were quick to celebrate after Pogba picked up a suspension for being shown a straight red card for stamping on Arsenal's Hector Bellerin, which will now keep him out of Sunday's high-octane Manchester derby at Old Trafford.
Man City are in red-hot form this season and they continued their winning run after beating West Ham 2-1 on Sunday afternoon. Guardiola's side are still at the top of the Premier League table – eight points ahead of arch rivals Man Utd. And speaking after their win over the Hammers, De Bruyne rubbished the notion of karma playing a part behind Pogba's suspemsion and also made it clear that he would never wish an injury on a fellow player.
"I don't believe in that s***," he said bluntly. "I'm a very straight forward guy. If someone believes it is karma then OK, everyone has their right to their opinion.
"I don't want anyone to get injured. It's a competition, you want to play against the best teams and the best players."
The Belgian playmaker is not sure about Mourinho's game plan for the derby clash in Pogba's absence. De Bruyne is unsure which way the Red Devils will approach the game.
"It depends what they want to do," he added. "Pogba's a massive player. I know him a little bit. He's unbelievable. He took a red card and that's the way it goes: you have injuries and suspensions.
"We'll play the same there. We never change. We try to do the things that we are good at. That gives us the best chance to win.
"United are one of the biggest clubs in the country. They're a massive team, they want to win the title. They spent a lot of money, like a lot of the big teams. They will be up for it and we will be up for it. Hopefully it'll be a good game."