Every football fan in today's time and date knows about Lionel Messi. In fact probably every person on this Earth knows about Messi and his magic. Majority of them have seen him play and witnessed his genius on the television or in the stadium. People who have not seen him play ever have heard tales of the genius of Messi. 
But the question is can you quantify his genius? Can anyone prove it? There is actually no proof of his genius, maybe except the millions of youtube compilations his ardent fans have created in appreciation of La Pulga, their idol. 
However we have seemingly found a statistical anomaly that might just be able to prove that Messi is a true genius.
THE OVER PERFORMANCES!
Lionel Messi has always been a statistical outlier for a number of years. Ranking highest in almost all stats related to the attacking aspect of the game. According to the numbers he has been one of the best creators and goalscorers the game has ever seen.
🤯 Lionel Messi's 2020/21 in numbers:

👤 Apps – 33(2)
⚽ Goals – 30
🅰️ Assists – 9
🔐 Key Passes p90 – 2.3
🏹 Shots p90 – 5.8
🤤 Dribbles p90 – 4.7
🌡️ WS Rating – 8.52

👋 Messi will miss Barcelona's last game. His season is over pic.twitter.com/rHMaBPS1yO

— WhoScored.com (@WhoScored) May 21, 2021
But these stats are mere trackers that can not quantify the quality Messi possesses. Just numbers that act like cold hard facts for football analysts. In recent years however a new stat has emerged that has everyone buzzing. A modern football fan is obsessed with this stat in fact. The stat is Expected goals or xG.
Expected goals in the simplest of terms quantifies quality. It refers to the quality of each shot based on various variables depending on the on-field situation.  Essentially a high xG signifies that the player is getting into great positions to score the goals and outperforming one's xG signifies genuine quality of the player, which means they are able to put away chances that are extremely hard or are not expected to go in.
Since the emergence and collection of the xG stats there is no player in Europe that has consistently been able to overperform their xG more than Messi. In domestic league play alone over the last 8 seasons Leo has overperformed his xG by a ludacris 36.83 goals!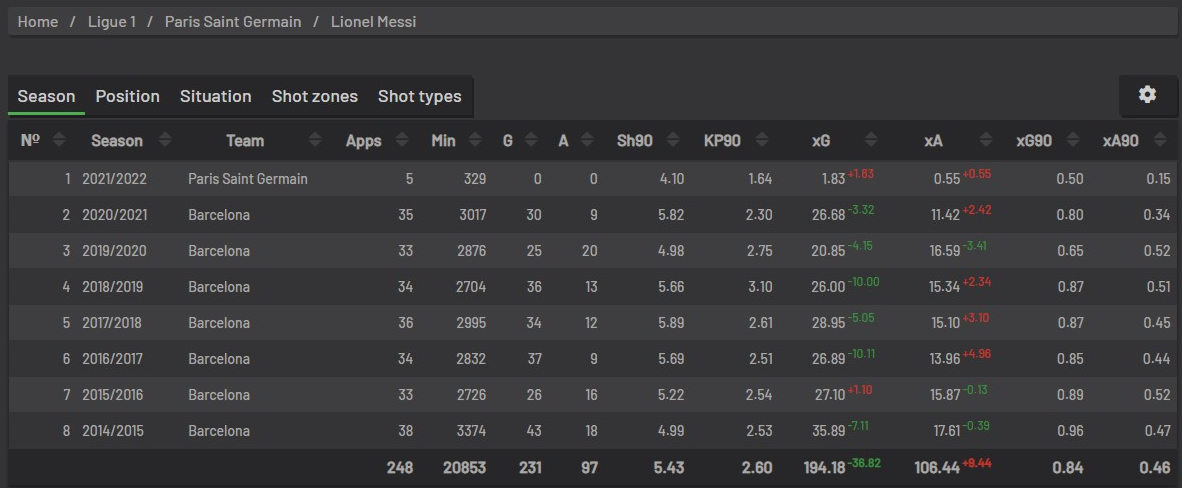 No one really comes close. Harry Kane and Heung Min Son are the two closest to La Pulga in terms of overperformance, they both have overperformed their total xG by a staggering 23 goals over the last 8 years.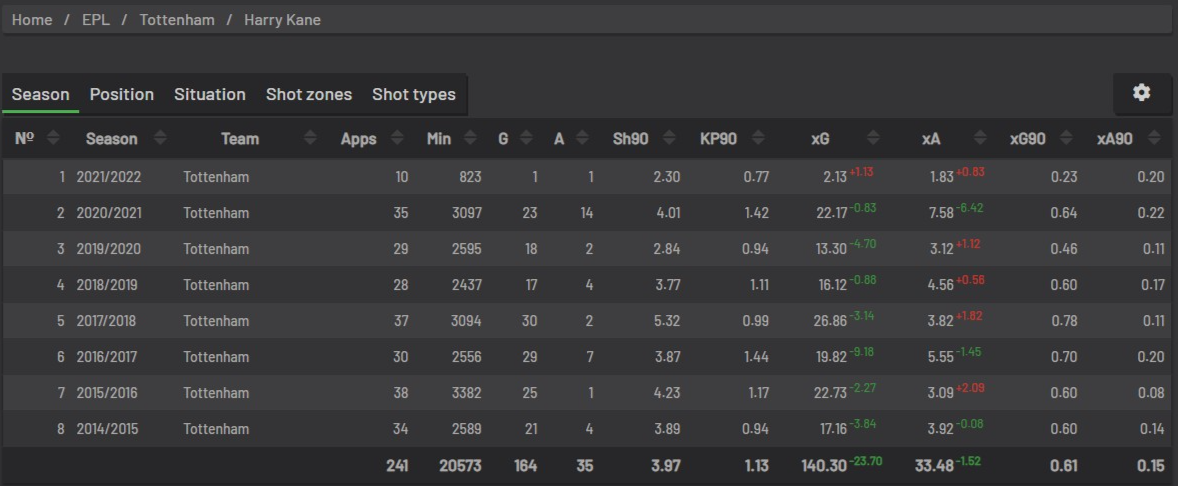 This is due to their ability to score from range in Kane's case and in Son's case it is his prolific and lethal nature to put away chances with both feet with ease.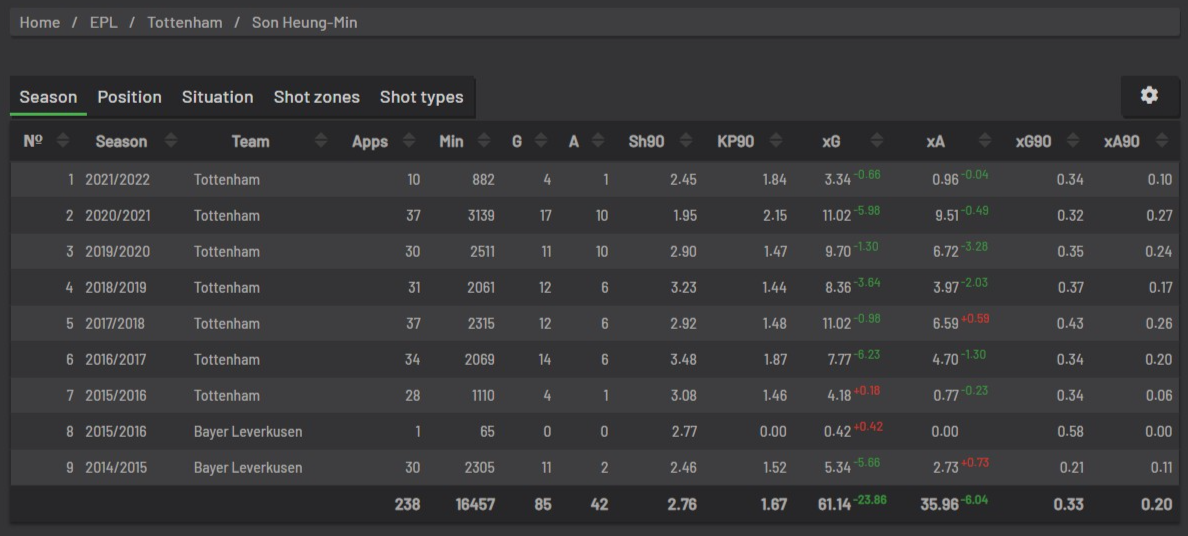 This overperformance in turn tells us that Messi actually defies the logic of physics itself as he is effortlessly able to score from impossible angles, range and situations. Not only that he has been doing this throughout his illustrious career.
THE ANOMALY- ACTUAL PROOF
The overperformance is actually not the anomaly that proves Messi's genius. It is the very nature of expected stats that is an anomaly while looking at his expected stats.
Since expected stats signify the ACTUAL quality of play and chances, it is believed that over time stats like xG and Expected points(xPTS)  tend to even out as reality catches up with the expected stats.
For example in the 2018/19 season Robert Lewandowski underperformed his xG by 11 goals as he ended the domestic campaign with 22 goals from an expected return of 33 goals, but over the next two seasons Lewandoski went on to over perform his xG by 11 goals! He had scored a total of 75 goals from an expected return of 64. It evened out.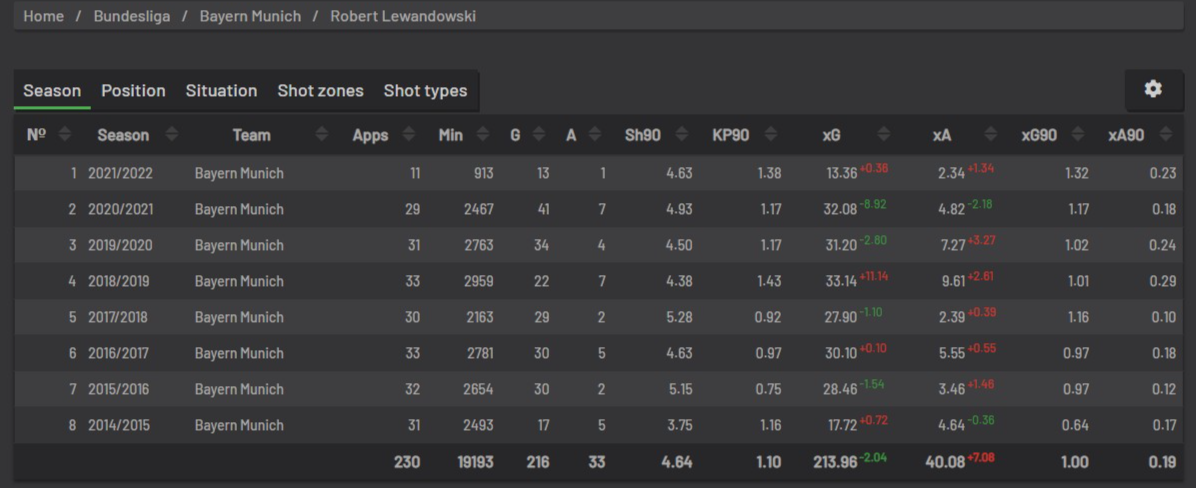 A more recent case to understand this tendency of expected stats are the performances of Brighton. Potter's side, who according to expected points, should have finished in the top 6 of the Premier League last season actually ended up finishing 16th, but they drastically underperformed. But this season the xPTS seem to be evening out. The quality of their play and chances they create is shining through and Brighton currently sit 7th in the league and rightly so.
6.4 – Brighton's expected goals difference of +6.4 is the fifth best of any Premier League side this season, yet they sit in 17th position. Underachieving.@J_P_Manuel explores why the Seagulls are performing below expectations in 2020-21.

— OptaJoe (@OptaJoe) January 13, 2021
Messi's overperformances have become an anomaly for this very reason. His ability to consistently overperform his xG means that it may never even out!  
50 – Lionel Messi 🇦🇷 has scored his 50th direct free kick goal in all competitions for @FCBarcelona, the first one vs Valencia. Specialist#valenciabarca #LionelMessi pic.twitter.com/QqVKEgkI0I

— OptaJose (@OptaJose) May 2, 2021
Although the way he has started his new professional life at PSG in Ligue 1 suggests that finally reality is catching up to Leo and the fantasy he weaved with his skills for so many years is slowly diminishing but we bet on him to defy the odds again this season, eventually!

So not only does expected stats prove that Messi has the ability to defy the laws of physics he also seemingly is defying the very nature of expected stats. A true genius indeed!
HEAD-TO-HEAD: Kylian Mbappe vs Erling Haaland

Only Robert Lewandowski has had a direct hand in more #UCL goals this season than Haaland (11) and Mbappe (9)

The combined age of the two strikers (40) is younger than that of the oldest #UCL player this season (Buffon – 42) pic.twitter.com/qn63qv4xTW

— WhoScored.com (@WhoScored) March 11, 2020
It is almost certain that we will not see another player who'd defy expected stats to such an extent but Erling Haaland and Kylian Mbappe might have something to say about that, as the two prodigious talents have already overperformed their total xG by 10 goals and more, and it is rising each year.