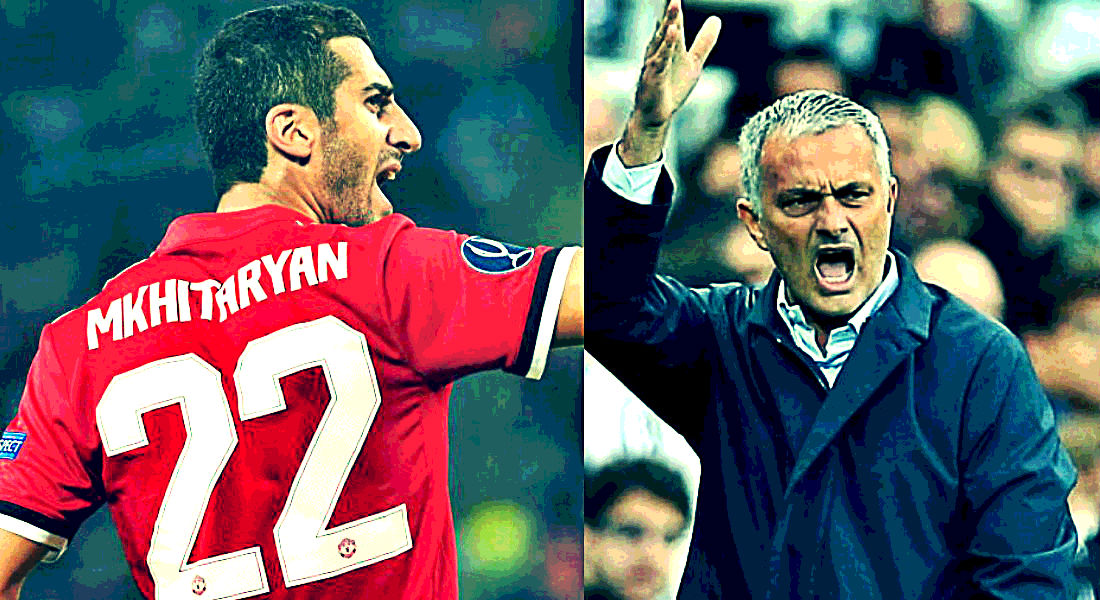 Man Utd Star Henrikh Mkhitaryan Involved In Huge Bust-Up With Jose Mourinho
Manchester United star Henrikh Mkhitaryan has been reportedly involved in a training ground bust-up with Jose Mourinho.
Mkhitaryan made a good start to the season – with five assists to his name in the opening three Premier League games- but since then he has seen a dip in his form and failed to make an impact.
The former Borussia Dortmund, who joined the Red Devils last summer, has now gone down the pecking order and Mourinho has made it clear that there is no place for him in the United squad.
And according to the Mirror, the former Chelsea boss wants to sell Mkhitaryan in order to make room for Gunners contract rebel Ozil, who previously played under him at Real Madrid.
The Armenian winger, who has fallen out with Jose Mourinho at Old Trafford, has been dropped from seven of the last eight matchday squads.
This has not gone down well with Mkhitaryan, who joined the Red Devils last summer.
And according to ESPN, Mkhitaryan had a heated argument with Murinho at the club's training ground.
The report says that Mkhitaryan is furious at Mourihno who criticised his performance following a substitute cameo against Brighton.
Speaking after the 1-0 win, Mourinho said: "That was enough [to drop him] because the others worked to have a chance.
"Everybody works to have a chance. It's as simple as that."
However, Mourinho revealed nothing about the confrontation when asked about the player's future at Man Utd.
Earlier this week, Mourinho had explained why Mkhitaryan has been axed in the recent weeks.
"I can only have six [outfield] players on the bench and I try to have some balance on the bench — I had two defenders and [Daley] Blind who can play in different areas," he said.
"I had Ashley Young to cover me all of the wing and the wing-back position.
"I had [Ander] Herrera as a midfield player, Zlatan [Ibrahimovic] as a striker and Marcus [Rashford] as a second striker and winger.
"I played [Anthony] Martial, [Juan] Mata and [Jesse] Lingard in the team.
"To have Micki means that I don't have one of them and, in this moment, I believe the other ones they deserve [the chance to play]."