Mexico captain Rafa Marquez took to twitter to take a sly dig at newly sworn United States President Donald Trump, the former Barcelona man was joined by Borussia Dortmund as the German side joined the trolling wagon.
Marquez sent a tweet on the same day when President Trump signed the executive order for the construction of a complete border wall.
"There's no wall capable of stopping us if we believe in ourselves," Marquez tweeted – the tweet also had his jersey number 4 blended into the Spanish word for attitude.
The former Barcelona goalkeeper also added a video of him scoring a goal from over the top of a defensive wall with a free-kick from during his Blaugrana days.
Marquez and the entire Mexican national football team were in US when Donald Trump was elected president.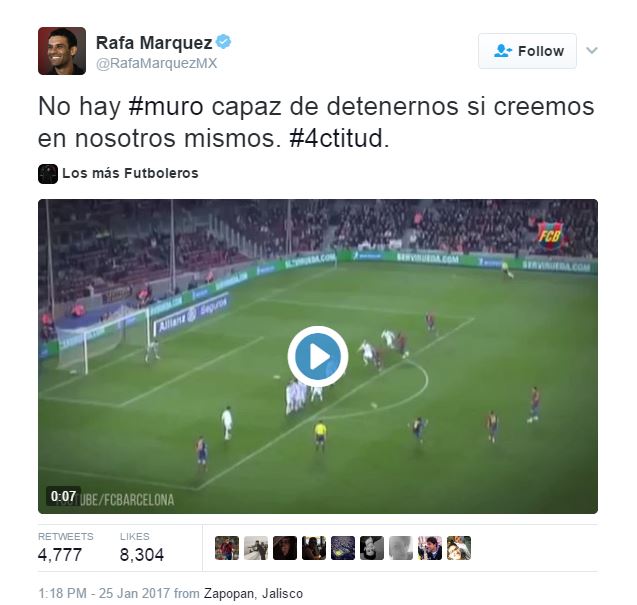 Trump has received huge criticism from elected leaders as-well as people of Mexico about his border wall, immigration and tax plans.
The two teams had posed together before the match in a show of solidarity.
No hay #muro capaz de detenernos si creemos en nosotros mismos. #4ctitud. pic.twitter.com/gMZPMj1m1G

— Rafa Marquez (@RafaMarquezMX) January 25, 2017
The former Barca star was joined by German giants Borussia Dortmund, who also took a dig at the wall being constructed by the US government, BVB wrote a caption "The only #wall we believe in."