Juventus won 4 goals to 1 in the Serie A game against Udinese Calcio on Sunday. Cristiano Ronaldo scored twice in the game making him the second-highest goalscorer of all time as he overtakes Pele's record. Pele has scored 757 goals in total out of which 680 were for his club and 77 for his Country. Cristiano Ronaldo scored his 757th and 758th goal last night and is now just one goal behind the highest goal scorer in history, Josef Bican.
THE RECORD-BREAKING GOALS
FT | ⏱ | BEGINNING THE YEAR WITH A 𝐁𝐀𝐍𝐆! 💥💥💥💥#JuveUdinese #FinoAllaFine #ForzaJuve pic.twitter.com/CX49DStt4r

— JuventusFC (@juventusfcen) January 3, 2021
Juventus were playing their 14th Series A match this season against Udinese at their home ground. Udinese started strong and smashed the ball into the home team's goal, however, the goal was ruled out by the VAR due to handball. After getting their spirits crushed, Udinese couldn't play with the same valor. Juventus dominated the possession for most of the first half and soon at the 31st minute, Ronaldo scored his 757th goal, equalling Pele's Record. Due to a sloppy mistake by the visiting team's defense, Ramsey managed to provide Cristiano a simple pass in front of the goal and Ronaldo buried the ball in the bottom corner.
Just after the Second half began, Juventus started pushing forward. On the 49th, Ronaldo flicked the ball beautifully, providing an assist for the new youngster Federico Chiesa who has recently been loaned from Florentina. Later in the second half, VAR ruled another goal out, this time it was Juventus who were disappointed. Aaron Ramsey had struck the ball with his arm before scoring and hence the goal wasn't counted.
And then the moment everyone was waiting for finally arrived at the 70th minute. Aaron Ramsey intercepted a pass near the penalty box and gave a through ball to Ronaldo who after taking a couple of strides placed it in the bottom right corner. Ronaldo couldn't have asked for an easier 758th goal which has got him just two goals behind The Highest Goal Scorer of all time, the Czech Republic legend Joseph Bican. Ronaldo can overtake Bican in the next game against AC Milan happening on Wednesday.
https://www.instagram.com/p/CJnVe3YoayV/?utm_source=ig_web_copy_link
CR7 PROVING AGE IS JUST A NUMBER
Couldn't be happier with tonight's award! As I'm about to celebrate my 20th year as a professional footballer, Globe Soccer Player Of The Century is a recognition that I receive with so much joy and pride!@Globe_Soccer #globesoccer pic.twitter.com/sAIl3V8ezz

— Cristiano Ronaldo (@Cristiano) December 27, 2020
Cristiano Ronaldo is 35 now and is still breaking records and is playing well for his club. It is believed that he might even hit the 800 goals mark before finishing his career. He is extremely fit for his age and is one of the top guys in Serie A this season. He has scored 14 goals in 11 appearances in Series A and is the Leading Top Scorer. He even won the 'Player Of The Century Award' in the Global Soccer Awards last week. Messi is also not that far behind Ronaldo statistically. Lionel Messi is 16 goals behind Ronaldo but the Argentine is two years younger than Ronaldo and has also played 200 games less than him so it is safe to say that Messi can easily overtake Ronaldo by the end of their careers. However, instead of mulling over the same boring debate of who's better than who, we should just sit back and enjoy seeing their careers and bow down as they move to their next phase.
So @Cristiano has beaten @Pele's record for career goals with his 758th strike. That's about 42 goals a season for 18 years. Mind-blowing. 👏🏻👏🏻

— Gary Lineker (@GaryLineker) January 3, 2021
THINGS MIGHT CHANGE FOR JUVE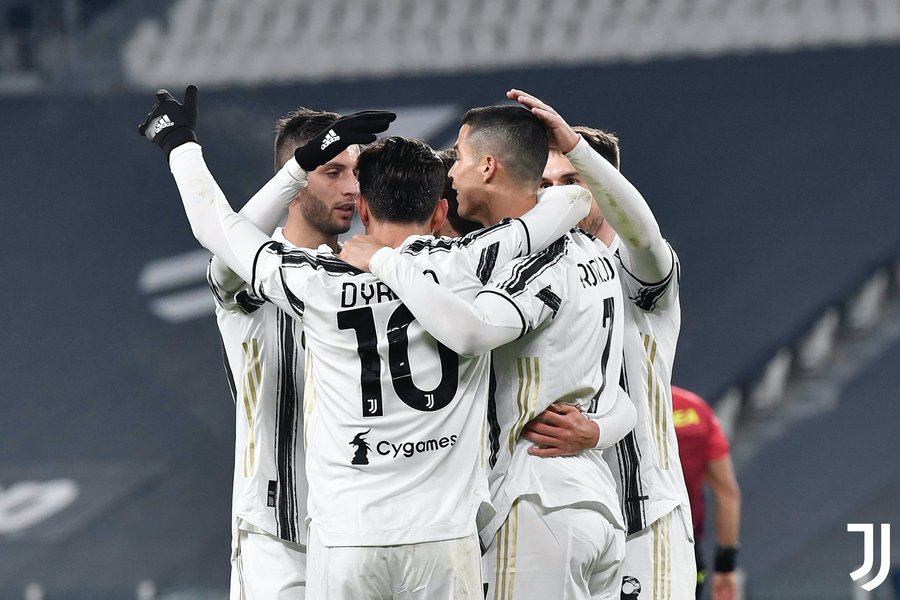 With half of the season gone, Juventus's position isn't looking promising. They are currently 5th in the table, 10 points behind the leaders AC Milan and haven't been consistent so far. Before the winter break, Juventus had a horrible game and lost 3 goals to 0 against Florentina who are way below in the lower mid-table. After that embarrassing defeat in their last game of 2020, the team was surely frustrated, especially their Coach Pirlo. Pirlo admitted that he was worried about the team's state and said, " We started frightened after the match against Fiorentina, we were afraid of the depth of the opponents."
Juventus need to bounce back if they want to win the league as they did last year and last night's victory could boost the morale of everyone and we might see a new side of the Champions from here on. Juventus are playing FC Porto in the knockout stages of the Champions League and the performances they show in the coming days will determine if they will go to the Quater Finals easily or are they going to struggle against the underdogs of the tournament.