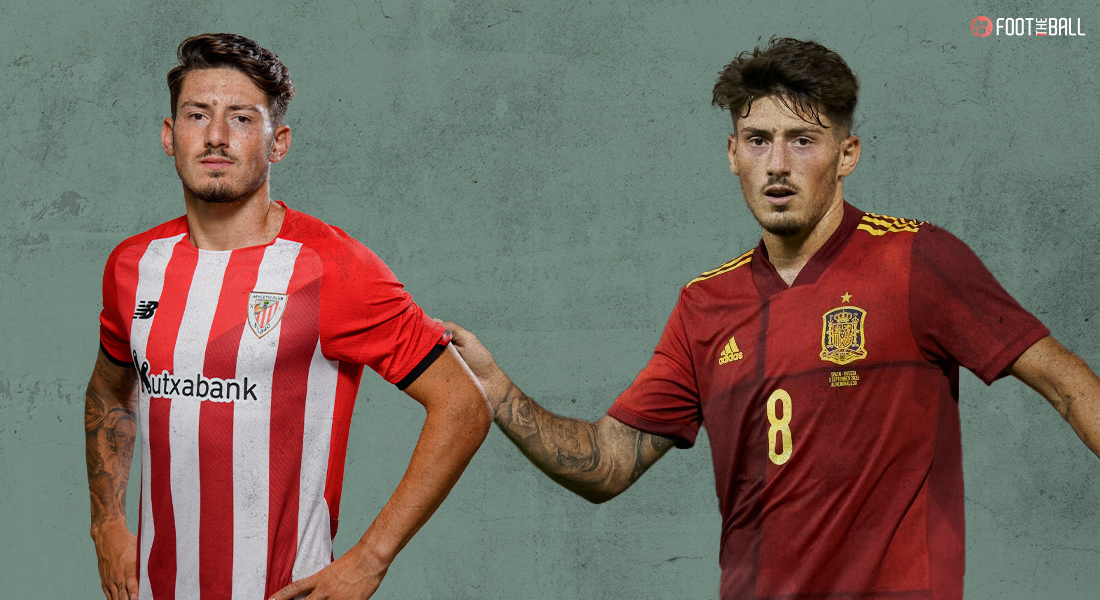 EVERYTHING YOU NEED TO KNOW ABOUT UNAI VENCEDOR, HEART OF ATHLETIC BILBAO AND SPAIN'S FUTURE IN MIDFIELD
Athletic Bilbao are absolutely flying off late in La Liga being unbeaten in their first 4 opening games and standing 5th in the table well above the expectations. They drew against giants like Barcelona and dominated their last game against Mallorca.
Much of their recent success is due to the recent performances of Unia Vencedor, their bright young central midfielder who is in a league of his own. FootTheBall brings you everything you need to know about Unai Vencedor, Athletic Bilbao's golden boy who has the potential to be the future of Spanish football.
WHO IS UNAI VENCEDOR
The youngster was born and bred in Bilbao itself which is naturally why he has been an integral part of the club over the years. In 2017, he was picked up by Bilbao's academy after seeing the potential in him while he was playing for a local Bilbao based club called Santutxu FC.
Aupa @SantutxuFC ! 😀🔴🔵 pic.twitter.com/102z9ZpCnH

— IBAI GÓMEZ (@ibaigomez) January 18, 2021
Since then he quickly rose through the ranks and made it into the reserves squad in the same year. In February 2020, he made his first senior team debut but couldn't impress anyone with his performance. He had to wait till November of the same year to get his 2nd appearance but from there on he was a regular name in the team sheet.
𝗕𝗶𝗹𝗯𝗮𝗼 𝗯𝗼𝗿𝗻 𝗮𝗻𝗱 𝗯𝗿𝗲𝗱 🔴⚪

📸 @unaai_06 🔝#BiziAmetsa 🏆 #AthleticClub 🦁 pic.twitter.com/9WQhfjbtoZ

— Athletic Club (@Athletic_en) March 29, 2021
Last season Athletic Bilbao won the Supercopa de Espana after beating Real Madrid and Barcelona in the semis and finals respectively and Vencedor had a huge role to play in their glory. The 20-year-old Spanish national has agreed upon a long-term contract with his boyhood club which means he is loyal to Bilbao and has the potential to be their best one-club player of all time.
AN UNORTHODOX MIDFIELDER
Unai Vencedor's style of play is an unusual but effective one that is perfect for a player of his abilities. Bilbao plays in a 4-4-2 formation with 2 central midfielders. Since they don't have any attacking or defensive midfielders, their responsibilities fall on the shoulders of young Vencedor who is carrying out his duties quite well.
Bilbao has grown Vincedor to fit into their system and that is why he has transformed into a player with playmaking ability along with a certain level of defensive prowess.
He makes 1.92 successful tackles and 1.65 successful blocks per 90. Out of his 38 tackles last season, he won possession 29 times and even after winning the ball, he usually constructs the link-up play from his deepish position.
Vencedor plays as their pivotal man in the middle that acts like the man to pass to relieve some pressure and switch tactics. He is known to start things from the middle of the pitch rather than just participating in their attacking gameplay.
He makes nearly 5 successful progressive passes a game which is a solid figure at his age. He doesn't take shots on goal that often but he is involved in almost all of their good goal scoring chances.
PEDRI'S COUNTERPART IN MAKING
Although Vencedor hasn't made it into the senior team of his National squad yet, he has already been part of Spain's U19 squad and is part of their U21 squad this year and a potential cap is still on the cards.
📋 Unai Vencedor makes his debut for @SeFutbol Under-21s in tonight's #U21EURO qualifier against Russia.#AthleticClub 🦁 pic.twitter.com/ubnNypACDL

— Athletic Club (@Athletic_en) September 3, 2021
Pedri was one of the best players for Spain in the Euros and the Olympics and has cemented his position in their squad for years to come. Now it is time to look for his counterpart in the midfield who can take Spain to great heights on the international stage. Sergio Busquets has been the heart of their midfield for a long time and Vencedor is his perfect successor.
They need an authoritative figure at the centre of the pitch to hold ground for them when needed and Unai Vencedor has the abilities and potential to be that player. We are witnessing a surge of young talent emerging from Spain and Unia Vencedor is a prominent name among those.
Looking at the recent way Athletic Bilbao and the player are playing their football, it will be exciting to watch how they fare in the long run and will they be able to finish in the Europa League spot or higher this time around.