England has produced world-class players in the past due to their efficient youth system that provides professional resources. Promising talents are trained and nurtured at a really young age which is why we see so much competition in English football.
Fabio Carvalho, the 19-year-old prodigy is a product of such an academy as well who was a prominent name in the summer transfer market among Premier League giants. Here's everything you need to know about Fabio Carvalho and why he can make it big in the Premier League in the coming years.
PLAYING CAREER SO FAR
Fabio Carvalho was born in Lisbon, Portugal and only moved to England when he was 11. Having already been a part of Benfica's youth academy, he was targeted by various clubs but he decided to play for Balham, a small club based in London.
'
In 2014, the player was picked up by Fulham's youth team and since then he has been showing exponential growth in his game. In 2018 he got into the U-18 squad at the age of 15 and has made his way into the senior squad ever since.
Carvalho has been playing in PL2 in their U23 squad for the last couple of seasons but he got his well-deserved break into the senior team in 2020 against Sheffield Wednesday in an EFL Cup fixture.
Fabio has also made headway into England's u16,17 and 18 squads but a spot in the senior squad is still quite out of reach. Fabio Carvalho made 4 Premier League appearances last season and even scored in his debut game against Southampton. His recent boost in the pecking order inside the Fulham camp has grabbed the attention of First-tier clubs all over Europe.
STATS
Fabio Carvalho was one of the biggest names in PL2 back in the day and in the 2020/21 season, he scored 11 goals and 5 assists in just 13 appearances. His amazing showings in the lower division earned him a place in the senior team last year. In the 5 Championship games Fulham have played this season, Fabio has scored 3 goals and provided 1 assist for his team.
Fabio Carvalho plays the number 10 position which means his passing and dribbling should give him the extra edge to be creative on the pitch. In his spell in the first team, Fabio has had a passing accuracy of 79.4% and he creates 2.44 goal scoring chances per 90.
He is also good with the ball on his feet and attempts 2.22 dribbles per game out of which he succeeds over 70% of the time. He has 1.77 shots on target per 90 which portrays his knack for getting into good goal-scoring positions.
WHAT STATS DON'T TELL
Fabio Carvalho has pace and agility on the ball which enables him to be all over the pitch, a quality needed in a number 10 in modern-day football. The playmaking position is no longer just mastering the art of passing but the player has to be solid in every aspect of the game. His skill and ball control complements well with his pace and enables him to operate far wide as well.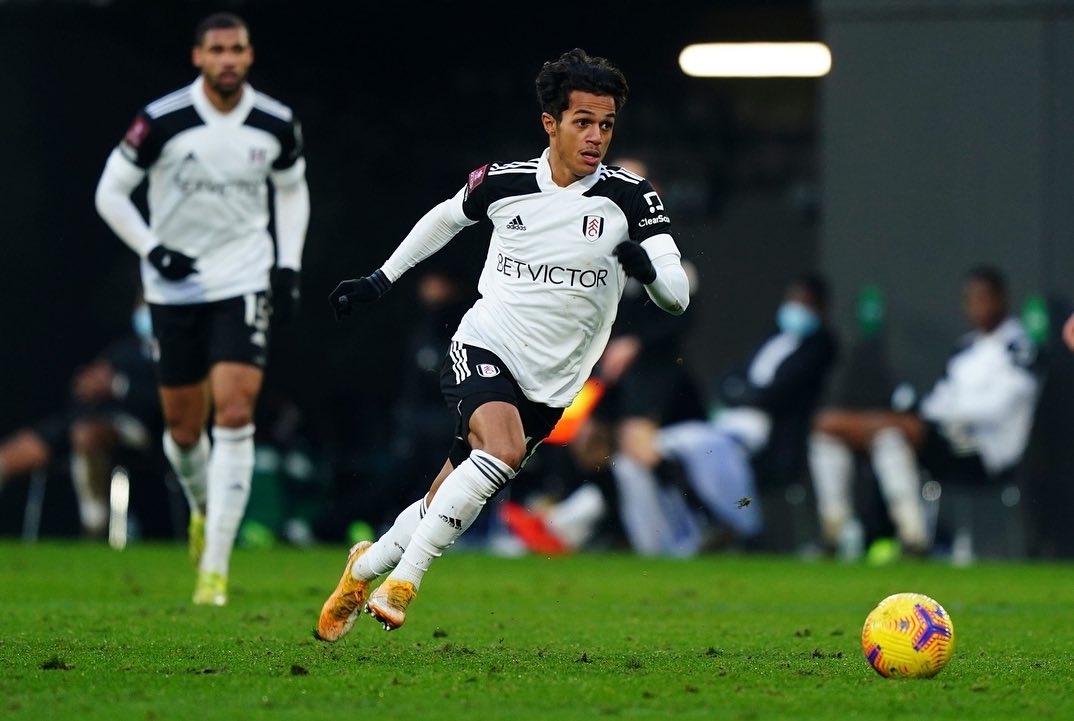 Fabio is even determined enough to press aggressively upfront which has won them the ball on multiple occasions. His passing and shooting prowess makes him an attacking midfielder and his physicality makes him an ideal winger.
Fabio Carvalho is a manager's dream addition to the attacking lineup. Fabio still needs to improve upon his crossing since it is an effective tool to get out of hairy situations without losing the attacking potential of the move.
WHAT MAKES HIM SPECIAL
Fabio Carvalho's vision and ability to think quick on his feet makes him a gem among stones. At 19, Fabio's understanding of the game in the final third makes him a lethal threat to the opposing goal. His unpredictable passes have often left defenders dumbfounded and his game's spontaneous nature will come to light in time.
If the youngster continues to improve his overall game, he will turn out to be one of the best in the business when he hits his prime.
POTENTIAL
Fabio Carvalho has shown enough promise over the years that Premier League clubs have started sniffing around the attacking midfielder. His contract with Fulham expires at the end of this season and the player has reportedly refused to sign a contract extension.
Leeds United were the frontrunner for his signature last summer but no deal was completed. Even West Ham, Chelsea and Porto are interested in the 19 years old.
However, Jurgen Klopp seems to have taken a liking for the precocious attacker. Liverpool were really close to agreeing on a deal for the forward near the winter transfer window deadline, only for the move to fall through in dramatic circumstances late on. It seems like they've finally got their man. It is being reported that Liverpool have agreed a deal worth £5 million for the prodigy.
On the international scene, it seems like Fabio Carvalho is representing England but he also has the option to play for Portugal. England have too many players contending for a spot in the senior squad and Fabio might end up without any caps.
Jamal Musiala is another player who spent his childhood and youth in England but is currently representing Germany, the country he was born in. Carvalho has a better chance at playing for major international tournaments if he opts to play for Portugal and his home country will surely accept the promising talent with open arms.