When German club Borussia Dortmund signed a 16-year-old from a youth travel soccer club located in Hershey, Pennsylvania, US in 2015, it was big news as this was the first time that a big European club had snapped up an American youngster. Fast forward five years and Christian Pulisic is starring for Chelsea in the Premier League and is already a Champions League winner. His transfer also led to lots of new talent emerging from the MLS and the newest person in the list was Ricardo Pepi. The striker has emerged as one of the brightest talents in the league.
The 18-year-old has broken many records and thus attracted the interest of several clubs across the Atlantic. And just like Pulisic, a Bundesliga club snapped up Pepi. Augsburg had a horrendous 2021-22 season where they survived relegation by the skin of their teeth.
The Germans struggled to score goals and added Pepi in the January transfer window. However, the youngster was given limited minutes due to the high competition in the squad. Nevertheless, the German club still believe in him, and thus they sent him on loan to Eredivisie club Groningen.
PLAYING CAREER SO FAR
Pepi's dad, Daniel was a football coach and it is where his footballing journey started.
Ricardo joined the FC Dallas youth academy at the age of 13 and would spend the next three years there.
In those three years, he was promoted to the U-15 and then the U-17 side.
He was then signed by the North Texas SC and scored nine goals in 12 matches in the third tier of the US league.
@USMNT ❤️🇺🇸 pic.twitter.com/hmxghy5Itx

— Ricardo Pepi (@Ricardo_Pepi9) October 8, 2021
In between the season, he was also loaned to FC Dallas, the parent club of North Texas SC.
His displays were crucial as his club won the US League One season.
His encouraging performance made Dallas sign him as a homegrown player and he would score three goals across 19 appearances.
However, the 2020-21 season was his breakthrough season as he scored 13 goals and provided two assists in 28 matches.
This included a hattrick against A Galaxy 4-0 and a string of other good performances that led him to be named in the 2021 MLS All-Star-Game against Liga MX-All-Stars.
In the match, Pepi scored the winning penalty after the match was tied 1-1 in regulation time.
18-YEAR-OLD RICARDO PEPI FOR THE WIN 🎯#MLSAllStar Game pres. by @Target pic.twitter.com/iAeES7qAyU

— Major League Soccer (@MLS) August 26, 2021
On the international stage, Pepi has been part of the U-17 side for both the United States and Mexico.
His brilliant record caught the eye of US national team head coach Gregg Berhalter who called him up.
And the 18-year-old has not disappointed as he scored on his debut against Honduras and followed it up with a brace against Jamaica.
STATS
Although he is a brilliant goal scorer one of his best stats have come up while initiating pressures on the opposition team.
According to stats from fbref, Pepi has initiated 22.75 pressures per 90 minutes in the last year which puts him in the top ten per cent category when compared to other forwards.
Out of this, 10.30 pressures were initiated in the attacking third of the pitch and 9.74 pressures were initiated in the midfield third of the pitch 
2 – Ricardo Pepi is the second 17-year-old to score in the 2020 #MLSCupPlayoffs (@iamcadenclark). No player under 18 had scored in an @MLS postseason match since @JozyAltidore in 2006. Kids.

— OptaJack⚽️ (@OptaJack) November 23, 2020
Although his pressure success rate is only 25.3 per cent, he is still young and has a lot of time to refine his skills.
In spite of his low pressure success rate, Pepi has intercepted 0.60 passes per 90 minutes which puts him in the top 15 per cent category.
Pepi's Shot Creating Actions (SCA) and Goal Creating Actions (GCA) may be on the low but a more detailed analysis of the stats shows a different picture.
According to fbref, the forward averages 0.39 shots that led to another shot attempt at goal which puts him in the top nine per cent category when compared to other forwards.
In addition, he averaged 0..09 dribbles that led to a goal in the last year putting him in the top 10 per cent category.
Ricardo Pepi has again scored for the USMNT in a World Cup Qualifier. Hard to exaggerate what Ricardo Pepi has done for profile of men's football in the United States. pic.twitter.com/Q430tGlheX

— FC Dallas (@FCDallas) October 8, 2021
His goal average is 0.56 per 90 minutes which only puts him in the 79th percentile but that stat takes a massive jump when we compared it to non penalty goals which puts him in the top ten per cent category.
US head coach Berhalter has lamented praise on the 18-year-old.
"We're just observing everything that's happening. It's amazing. I mean, an 18-year-old gets an opportunity and takes advantage of it. What you see, and what I really like, is that he has this instinct and it's really hard to teach that to players. He has an instinct to score," he told Goal.
WHAT THE STATS DON'T TELL YOU
One of the major reasons that he is such an elite goal scorer is because he has the ability of arriving in the box at the right time.
His two strikes against Jamaica are a prime example of that.
The first was when he headed off a Sergiño Dest's cross to put the ball into the net after he held up his run to create space for himself.
For the second he just made a simple run into the box to put the ball into the net.
Combine that with his brilliant dribbling ability and there is a player in the mould of Robert Lewandowski.
And it might be one of the reasons that Bayern Munich are one of the teams that are interested in him.
The German club became interested in him when he made two trips to Germany to train.
WHAT MAKES HIM SPECIAL
'Pepi is the perfect embodiment of a modern day forward as he is equally adept at being a poacher and also thrives when it comes to dribbling.
His coach at Dallas FC Luchi Gonzalez has spoken highly of him and believes that he has the ability to shine in high pressure situations.
It is also to be noted he is just 18-year-old and under proper coaching can become a brilliant player.
🔥 Ricardo Pepi is 18 and has scored seven goals in nine starts for FC Dallas this season, including a hat-trick against LA Galaxy last night

💎 Another diamond coming through for USA? pic.twitter.com/mDXIHs3HQ3

— WhoScored.com (@WhoScored) July 27, 2021
"Pepi's at that age where he can debut, he can score on anybody at any given moment if given the opportunity, whether it's created for him or he creates it himself," Gonzalez told MLS Soccer.com.
"I do believe he can make an impact at that level if given the opportunity. Whether he's got five minutes or 90 minutes, he's very efficient. He's very efficient with the chances he can get," he added.
POTENTIAL
Even with the emergence of so many talented youngsters from the MLS in recent years, the US still lacked an elite level goal scorer in their ranks. Ricardo Pepi has also linked well with Jesus Ferreira this season who himself has a bright future ahead.

Pepi seems to fill that void but still has a long way to go.
With major interest coming in from Bundesliga clubs Pepi should definitely take the chance as the German league has forged so many talented youngster into stars for their respective teams.
So Ricardo Pepi has the talent, the opportunity to make it big for club and country.
How he manages to shape himself to fulfill his dream remains to be seen.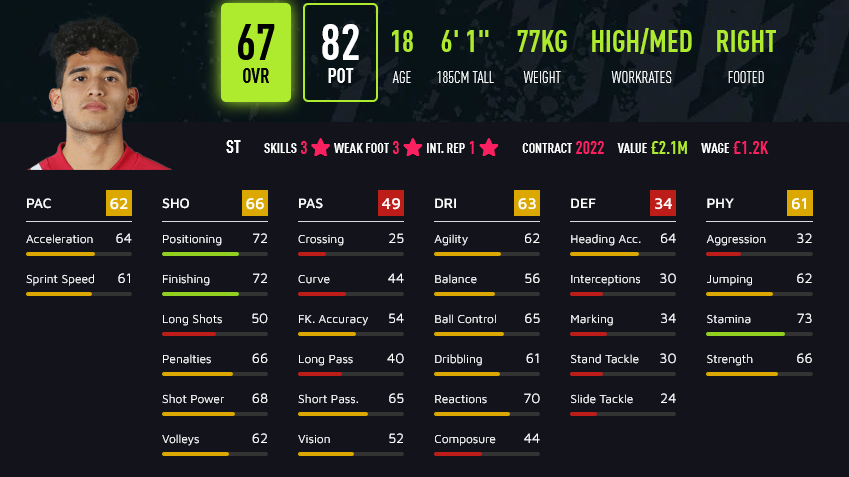 FIFA's latest edition of career mode suggests he has a high ceiling too. Furthermore, the Eredivisie is known for developing youngsters into stars, and with Pepi's talent, there is increased optimism that he will make it to the big leagues as well.