Valencia are having a terrible season by their own lofty standards, having seemingly put the whole squad up for sale after the 2019/20 season, the start of the 2020/21 season saw them sell vital and talismanic players for peanuts to La Liga rivals. The departures of Dani Parejo, Konodogbia, Ferran Torres and Coquelin resulted in outbursts from their ultras, who called for the head of Valencia's owner Peter Lim.
The departure of such important players for less than half their values, meant that Valencia could not recoup any money leaving their coffers depleted, forcing them to give extended runs to their youth players from the academy and reserve sides.
Yunus Musah is one such talent that has emerged from the Valencia reserve side who has captured a lot of fans imagination and given hope to many Valencia fans. 
https://www.instagram.com/p/CLO_VSuF6Dn/
Born in New York, on the 29th of november 2002, Yunus Dimoara Musah, who is of Ghanian descent rejected a scholarship deal at Arsenal in 2018 to go join Valencia in Spain in the hope of getting first team minutes for a Champions League level club. Although Valencia's crisis has left them way off the pace in La Liga this season the former U-18 England starlet has become one of the hottest and versatile talents in the Spanish top-flight.
A versatile midfielder who can play  various positions and roles within a team,Musah's dynamic running and excellent ball progressing ability has allowed him to play as number 8 or 10 or even on the wings where he has mostly featured for Valencia this season.
Although he has only scored the 1 goal for Valencia's senior side in La Liga, his dynamism and ability to beat a man has quickly made him a fan favourite at the Mastella. His versatility has made him one of the most reliable players for Javi Garcia's Valencia. Surely Yunus Musah is well on his way to becoming a world class midfielder in years to come.
PLAYING CAREER SO FAR
Yunus Muash spent the first nine years of his young life in a northern town of Italy called, Castelfranco Veneto. It was there where his talent was first noticed when he joined Giorgione Calcio 2000, where kids his age failed to compete with him and he turned out to be a phenomenon for their youth sides.
Due to some family issues Yunus Musah was forced to shift to London from Italy, where it did not take him long to catch the eye of Arsenal who signed the young midfielder at the first chance they got. At Arsenal it became immediately apparent that Yunus Musah had the technical and physical attributes to dominate players even in age groups higher than his own.Which meant he started turning out for Arsenal's U-18 side when he was just 16. When Musah was let go by Arsenal's youth side in early 2019, then Arsenal manager Unai Emery was left flummoxed by this decision. Emery preferred the prodigious talents over Emile Smith-Rowe and Joe Willock, who were blocking his pathway to the first team, which was a major factor as to why Yunus Musah chose to leave Arsenal for the continent.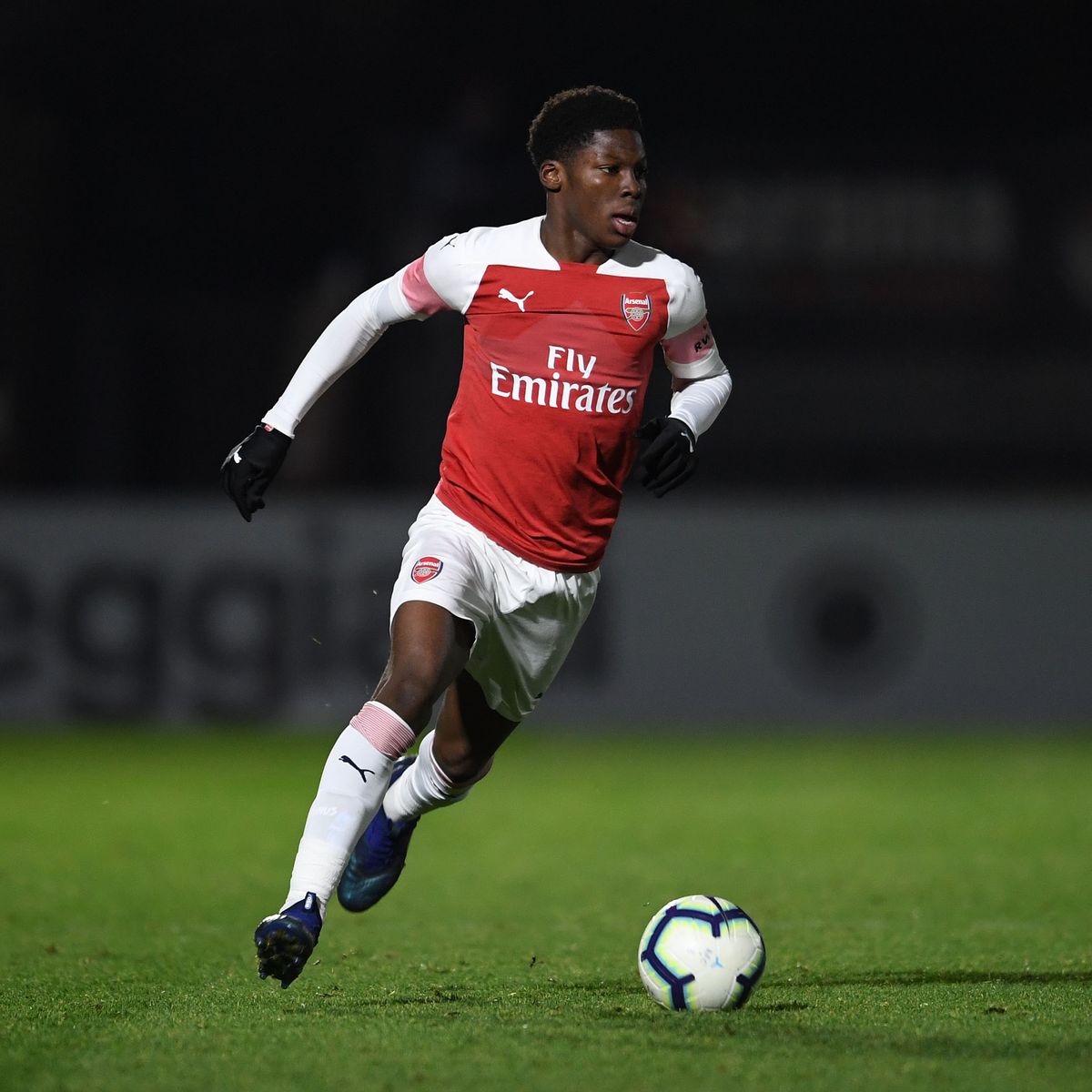 (Coursey:Football.london)
After joining Valencia's reserve side Yunus Musah's capacity for a crunching tackle and his vision for a defence splitting pass,  got him fast tracked to the first team at the age of 17, when he became the youngest foreign player to turn out for the Spanish giants. He also scored his first senior goal in Los Che's 2-2 draw in november 2020, making him the youngest non-spanish player to score for Valencia.
Yunus Musah also impressed for the England U-18s side, but since he was born in the USA, he is eligible to play for USMNT, who called up the 17-year old for the national camp in November 2020 just before his 18th birthday. Now the young midfielder can turn out for USMNT in the coming future, something USMNT fans can rejoice about. Although he has already played a couple of friendlies for USMNT against Wales and Panama, he is still free to choose who he represents at the international level. 
STATS
This season Musah has mainly featured out of position on the right wing for Javi Gracia's Valencia because of the midfield depth of this Valencia squad, but Musah has still shone.A prototypical number 8 who loves diving into tackles and never shies away from the physical nature of the senior game at the top level. He has made 21 appearances this season for Valencia in the league this season. 
His shooting and attacking stats don't indicate elite output,however his other stats such as dribbling and defensive stats do showcase his elite potential. He attempts about 30 passes a game with a 77% pass accuracy, which is bound to improve in a possession heavy side and with age as he matures and his positional play comes of age. He attempts a cross game which will also improve with age. The stat that really stands out with Yunus Musah is his dribble stats. He attempts about 3 dribbles a game with a 68% success rate, meaning he successfully dribbles past his marker at least 2 times a game, which is a very promising figure specially for strong tall young lad like him, he has very nimble footwork for a kid who is 6foot.
His aerial duel percentage is surprisingly high for an 18 year old too. Yunus Muash wins about 2 aerial duels a game, which can be supremely useful if he starts playing in the center. His defensive actions for a winger are also very consistent and high, as Musah is successful with about 1.2 tackles a game and he intercepts the ball at least once a game.
Yunus Musah's numbers do not exactly make for pretty reading, but despite playing out of position he has still become a vital part of this Valencia side and if he shifts to his most comfortable position as a 8 who is a  box to box midfielder, surely we will see an uptick in his numbers.
WHAT THE STATS DON'T TELL YOU
A young player's desire and aspirations are often called into question when they are getting ready to take the next step up into senior elite level football.
In an interview with the Economic Times Gabriel Paulista was caught saying  "Yunus is very shy. When I have to push him, I push him. And when I have to make jokes, I do that. When I push Yunus, it's because he has a lot of quality, and he can take it. I'm always on him: "you can." And I see that, on the pitch".
In the interview Paulista, who was Arsenal too was praising Yunus Musah constantly as he further went on to add, "Sometimes I tell him that he doesn't look like he's 18 but a lot more experienced. He has a lot of room for growth and he'll grow day by day. He's helping us a lot and I want him to keep doing so. He has the potential to go really far.He further added "He is a very strong player physically. Technically, he is very good on the ball. He knows how to defend, he knows how to attack, look at the goal he scored against Getafe, taking the ball from defence up to the opposition box… He has potential and strength". When asked about the young Musah's mentality and drive, Paulista replied "He knows he has a lot of quality, he has to loosen up more, put less pressure on himself and enjoy things. Sometimes you have to play as if it were a final, enjoy yourself and try to improve. He tries to do this every day. He loosens up more and surely he will be a great footballer."
❎ @yunusmusah8 ❎ @pumafootball #VCF 🤝 #PUMAUltra pic.twitter.com/eQdjVv0ELH

— Valencia CF (@valenciacf_en) February 12, 2021
In the same interview Musah was also asked to review his move from Arsenal to Valencia and the young midfielder replied "Well, it's a great thing obviously to be playing so many matches at my age and I just want to say thank you to everyone," Musah said. "Valencia has shown trust in (me) and I think I want to carry on being at this club which has helped me start my career."
This shows a certain eagerness and drive in the young midfielder, who has found a home at Valencia despite their struggles and will be hoping his resolute mentality and physique will be an invaluable asset for them in the process of reviving Los Che's fortunes.
WHAT MAKES HIM SPECIAL 
Musah played almost the eternity of his youth career at Arsenal in the center of the park, which did not allow him to showcase his blistering pace, something that has been on display at Valencia while he has been playing on the right wing. His blistering pace coupled with his strength and excellent close control has made him a lethal weapon on the counter as he just blows past players.
The fact that he is till 18 and has time to grow more physically quite frankly makes him a very dangerous prospect  who is almost impossible to dispossess, it is in fact a futile venture for whoever tries to. Yunus Musah's greatest strength is perhaps his ball progression actually, as he can effortlessly pick up the ball in his own defensive third and can drive into the opposition's defensive third with ease and guile, which he does as well as any world class midfielder.
His strength, speed, power and technical elegance has forced people to compare him to great box to box midfielders from other generations specially Patrick Viera and Paul Pogba, which is no joke at all as the former was regarded as the greatest box to box midfielder of his generation and went on to have a supremely successful and prodigious career.
POTENTIAL  
Yunus Musah's ability has acted as reprieve for many Valencia fans who are watching their team's fall from grace. This season is surely going to be his breakout season and it would not shock anybody if the likes of  PSG, Barcelona and either of the Manchester clubs come calling next season. His ability and mental toughness will surely make him successful at any elite European club.
If Valencia are able to save their season and somehow manage to secure a European spot this season a lot of credit would be given to Yunus Musah and rightly so.
We at FootTheBall cannot wait to see the Musah in the Champions League , something that will happen very soon. 
Even the latest edition of FIFA acknowledges that Musah has a bright future ahead of him in the game as he has been given a base stat of 67 and a potential of 82, something that will surely rise after the winter update of the game due at the nbd of this month.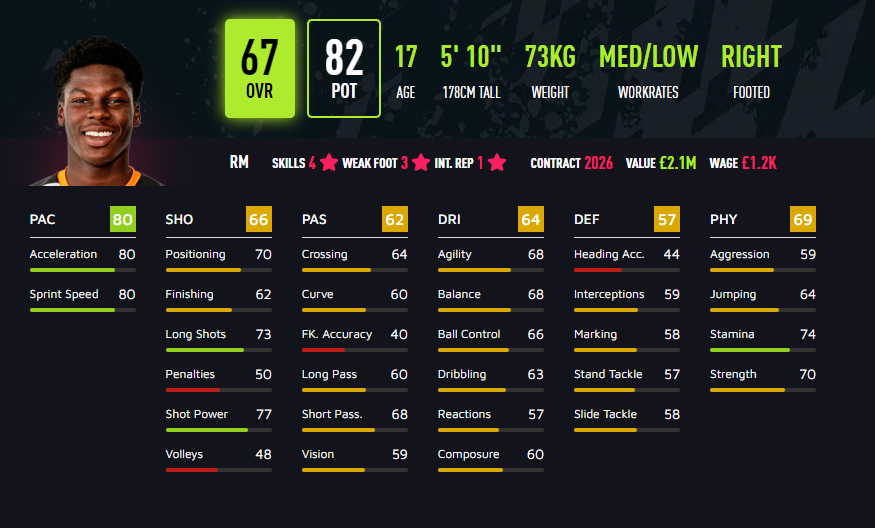 (Courtsey:Futwiz.com)