Adil Aouchiche made a grand career-altering decision earlier last summer when he decided to leave Paris Saint-Germain after his contract expired in June. The French talent had several offers from other clubs but he ultimately decided to sign with Ligue 1 side AS Saint-Etienne.
On July 20th, 2020, having turned 18 years old, Adil Aouchiche signed for AS Saint-Etienne on a free transfer from Paris Saint-Germain.
Adil Aouchiche is a product of the PSG youth academy who plays as an attacking midfielder and the 18-year-old signed on a free contract – his first as a professional footballer – who is also dubbed as the next 'Kevin De Bruyne'.
Adil Aouchiche is a something between an advanced number 8 and a number. 10. A simpler description would be to characterise him as a playmaker operating 'in the hole'. Aouchiche has an uncanny ability to be able to make those gaps seem much larger than they are in actuality; his positioning and awareness of where spaces will open up is first class, particularly for a player so young.
PLAYING CAREER SO FAR
Adil Aouchiche played three games with PSG during the 2019-20 season. A starter at Metz at the beginning of the season, he then took part in two Coupe de France matches at the beginning of 2020. Against Linas-Montlhery, in the Round of 32 of the competition, he scored his first professional goal.
Aouchiche had grown up in the PSG academy and impressed so much at youth level that he was introduced to the first-team squad for the 2019-20 season. He had made three appearances for Les Parisians, but it was with his performances for the French U17 team in 2019 that he really began to garner international attention.
Adil Aouchiche was named 2nd best player of the World U17 Championship in November 2019 and is now a French U18 international.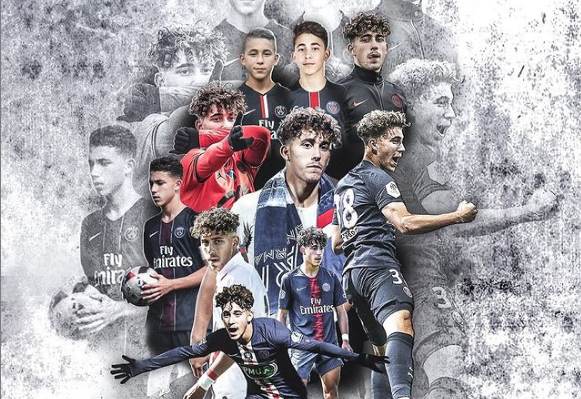 He shone at the U17 European Championships, scoring a tournament record nine goals in five games, including four in France's quarter-final against the Czech Republic.
Later, Aouchiche was once more France's most influential player as the young side traveled to the U17 World Cup in Brazil. This time, though, he was pulling the strings rather than applying the finishing touches.
In the quarter-finals of that competition, after going 1-0 down against Spain, France stormed back with Adil Aouchiche providing three assists, all from his exceptionally accurate dead-ball delivery, and finishing the rout with a smart finish that made it 6-1.
France would go 2-0 up in the semi-finals against Brazil shortly after, only to throw away a game they had firmly in their grasp, letting in three in the last half-hour to crash out.
Had they not done so, Adil Aouchiche would surely have been named player of the tournament. But as so often, the individual award went to the star performer on the winning team.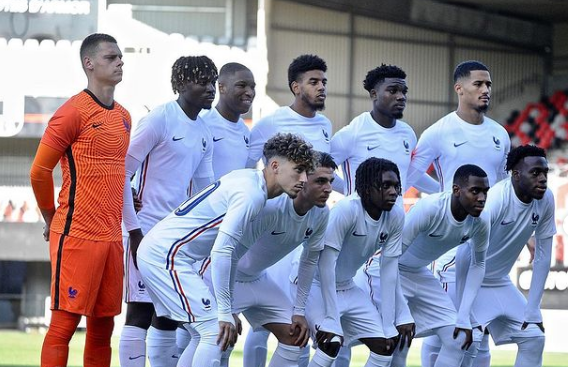 Looking at club level, PSG had no under-23 side; it was dissolved. The club decided they could no longer justify the running of the team and that the costs outweighed the benefits. For a club backed by the Qatari state in all but name, and a pool of youngsters to pick from, that seemed a perplexing decision, to say the very least.
Adil Aouchiche had found himself at a crossroads. In the final year of his contract, PSG attempted to secure the prodigious playmaker to a long-term deal but assurances over playing time were of particular importance to the player. With no guarantees he would feature for the senior side, Aouchiche was presented with the prospect of another season with infrequent action.
Similarly, the club found themselves with a financial conundrum. Aouchiche's representatives were well aware of the teen's ability, and PSG could easily have bowed to their financial demands. But that may have established a precedent, financially appeasing lesser academy products in future, to persuade them to remain. In the end, they swallowed hard and stood firm and allowed the future maestro to join Saint-Etienne on a free.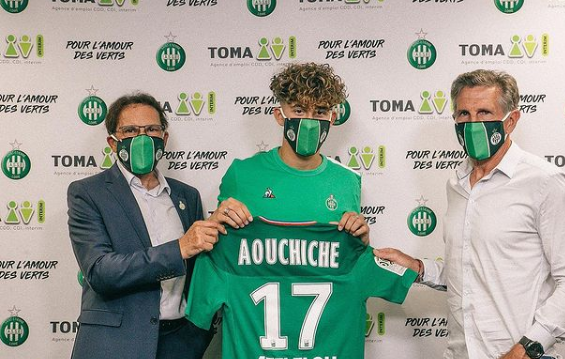 STATS
Adil Aouchiche has made 21 appearances this season amassing a total of 1142 minutes on the pitch, having scored 2 goals and laying 2 assists.
Furthermore, he takes 1.26 shots per 90 minutes and has an xG of 2.31 and an xA of 3.23 which are some decent numbers for a 18-year-old.
But what stands out most about him is his 3.07 key passes per 90 which is on par with that of the exceptional Kevin De Bruyne who has 3.38 key passes per 90.
This insane level of creativity is what made Saint-Etienne go all out for this midfield wizard and Adil Aouchiche has certainly all the tools to reach or even surpass the likes of De Bruyne or Bruno Fernandes.
WHAT THE STATS DON'T TELL
Aouchiche's deal with Saint-Etienne is set for three years. Aouchiche also had the option to stay with PSG's youth system but elected not to. In speaking to Telefoot, he reflected on his free transfer move and hope that there will not be any regrets with his decision.
"I chose to come to Saint-Etienne but I could also have stayed," Aouchiche said. "It's my choice today and I think it's the right one and I hope it will be the right one."
The player's desire to start games brought him to the attention of PSG's domestic rivals Lille, Bordeaux and Saint-Etienne, the last of which the player has transferred to.
All three, though, were thought to be put off by the €4m signing-on fee that his family and agent were requesting and the player's €25,000-a-week wage demands, but Saint-Etienne took the risk and has undoubtedly paid off.
If Adil Aouchiche develops into the player that talent alone suggest he can become, he will be one of the finest midfielders in Europe, worth well north of €50m. And even if he does not, he would retain re-sale value merely from the promise he has already shown.
WHAT MAKES HIM SPECIAL?
There is nobody currently in Saint-Etienne's squad who mirrors the style of Adil Aouchiche. That is encouraging if you are an Aouchiche fan, but not so much if you support the club itself. He is a player with excellent technique, great spatial awareness, and loves to be his side's playmaker.
The talent Adil Aouchiche possesses cannot be ignored. He has already become a regular starter in this relatively understaffed Saint-Etienne side by showing his immense quality; and he showed exactly that in his first outing in green.
He has the technique, self-belief and nonchalant demeanour to carry it out, and seven assists at the 2019 FIFA U-17 World Cup is a testament to that. His first steps as a Saint-Etienne player reinforced the conviction he can be that player, and should continue to develop as such.
Aouchiche, with his wandering fancy and effortless creativity from the No.10 position, would also fill gaps in any squad of the top clubs in Europe.
POTENTIAL
Adil Aouchiche has earned his starting minutes with Saint-Etienne, which would not have been a guarantee had he signed a contract renewal deal with PSG. At the least, the Frenchman now has the opportunity to showcase his talent and develop his game in one of the biggest leagues in the continent.
Aouchiche had a promising start with his new club in the team's 2-0 league win against FC Lorient. It was the first time in his career that he played in all 90 minutes of a Ligue 1 contest.
The jewel of the champions' academy and a creative touchpoint throughout his youth international career with France, is now something of a coup for a side who finished one place above the relegation zone.
"I chose to come to Saint-Etienne but I could also have stayed,".

"It's my choice today and I think it's the right one and I hope it will be the right one."
Adil Aouchiche is just 18, but has already made a move which could have huge ramifications for his career.
Saint-Etienne now have a maestro of their own; a wonderfully-silky, laid-back facilitator whose talent could very well be an endearing subplot to the 2020-21 Ligue 1 campaign.
Aouchiche will hope not to become the player whose head lies uneasy beneath the crown of expectation. He could so easily be trampled by the weight of hope and expectancy.
But the potential is surely there for Adil Aouchiche!