The case of Pedro Gonzalez, better known as Pedri, isn't exactly your average one. At the tender age of 18, the youngster has risen to every challenge placed in his path to firmly establish himself as one of Barcelona's standout performers this term.
Pedro Gonzalez 'Pedri' is an attacking midfielder who roams the pitch with a free licence.
Many fans refer to him as a winger, but this borders on simplicity and gives the wrong impression of where he actually plays. The Spaniard plays in a free roam position, he likes to occupy central areas or the left-hand half-space and will very rarely be seen hugging the touchline for too long while in possession.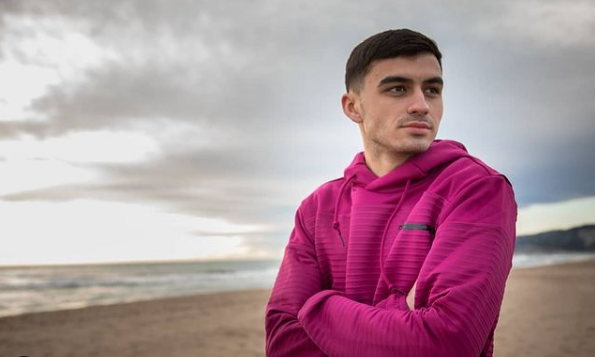 He moves to pick up the ball in between the lines and even drops as deep as the defence to pick the ball up. He can situate himself on the left, then the right, play as a second striker then a number 8 all in the space of 10 minutes of play.
Pedri joined FC Barcelona squad at the start of 2020-21 season. He is from the same generation as other young talents at Barcelona. Ansu Fati was born just 25 days before Pedri.
PLAYING CAREER SO FAR
Pedri was a complete steal. He cost Barcelona 5 million euros ($6.1 million) in 2019 when he was breaking out for lower-division club Las Palmas on the Canary Islands. Pedri remained on loan at Las Palmas last season before moving to Barcelona with his older brother acting as his chaperone and roommate.
Pedri was the outfield player with the most minutes played for UD Las Palmas in the 2019-20 season, participating in 36 games. He played 2,833 minutes for the Segunda Division team.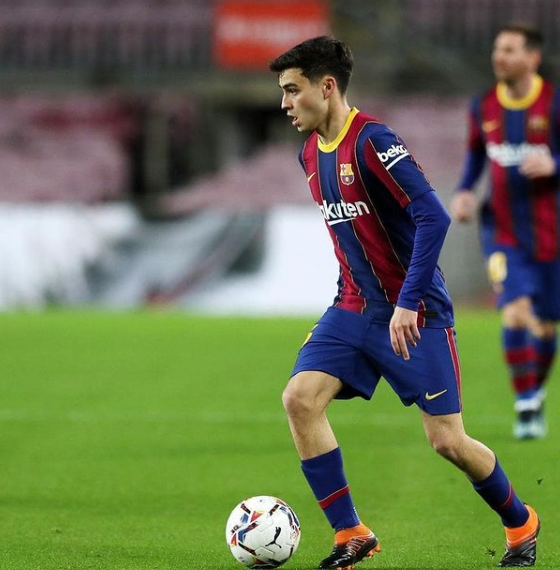 On September 19 he became the youngest goalscorer in UD Las Palmas history (16 years, 9 months and 23 days), finding the net against Sporting Gijon. He overtook Orlando Suarez (17 years, 3 months and 3 days).
Pedri also played in the 2019 Under-17s World Cup, in which Spain reached the quarter finals.
Out of the plethora of new players, Pedri is the one newcomer that the Ronald Koeman won't do without, which reflects from the fact that he leads in appearances this season at Barcelona.
STATS
Pedri this season, has made 20 appearances for Barcelona of which, 14 of them were starts.
He has an xG of 0.14 and an xA of 0.16 with a pass completion rate of 87%. These are neither exceptional nor mediocre numbers put up by the youngster.
However, it's his defensive stats, which raise eyebrows for any football fanatic or analyst. He attempts 2.35 tackles per game, with 1.10 of those tackles being successful, which means he has a success rate of 47% in tackles, which is exceptional considering his age and the primary position he is often deployed at.
WHAT THE STATS DON'T TELL
Pedri's connection with Barcelona runs in the family: His grandfather founded the Penya Barcelonista de Tenerife-Tegueste. In his home, even the dinner plates bear the Barcelona badge.
He's the only player in the 2020/21 campaign to have twice produced no-look flicks with the back of his heel to roll the ball behind to set up Lionel Messi for goals.
His pass in the game against Real Valladolid CF saw the Argentine send another record tumbling as he surpassed Pele's tally to become the player to have scored the most goals for a single club.
The precocious talent took his first steps in the game thanks to his elder brother, Fernando, whose coach asked Pedri, aged just four at the time, to join his team. Pedri currently lives with his brother and wears his shinpads in every game.
His non-soccer life is, like Iniesta, centered on his family; he said when his parents make the trip from the Canary Islands to visit him and his older brother in Barcelona they like to play board games.
WHAT MAKES HIM SPECIAL?
Pedri has always said that his idol is Andres Iniesta. His father also used to show him videos of Michael Laudrup.
It's no coincidence that Pedri conjures up those flashes of exquisite playmaking brilliance that Barcelona fans have been longing for since the days of Andres Iniesta.
"I always loved Iniesta and his way of playing soccer, because of how he was both on and off the field," Pedri told The Associated Press in a recent video call. "He has been my reference and I have tried to model myself on him."
The resemblance in playing style as well as demeanor is uncanny. Like Iniesta, Pedri is silky smooth with the ball on his feet, with his dribbling and passing in tight spaces. He also shares the Spain great's coolness under pressure and transmits a similar calm when making split-second decisions with the ball.
"The truth is that something must have stuck," Pedri said. "I think I have seen all the videos of (Iniesta) on YouTube. I never missed a game of his, so I guess some of it wears off.
"Maybe that is something I learned from Andres, but the truth is that these are things that just happen on the field."
"From since I was little I have had this sense of calm, and I always played like that as a boy in Tegueste- his home town, so why would I change at Camp Nou?" Pedri said.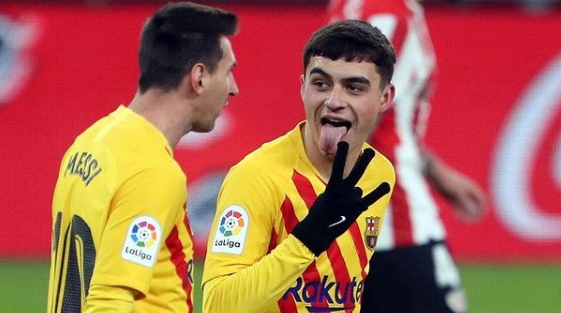 Pedri's on-field chemistry with Messi has many Barcelona fans hoping that he might help convince the Argentine great to stay at the club he is considering leaving after 20 title-packed years.
Pedri has shown great flair and personality in his game, his assist against CD Lugo was nothing short of astonishing, straight out of the Neymar book of skills, words fail to describe it.
Pedri has the flair and excitement which will have Barcelona fans on the edge of their seats, but it is the previously aforementioned passing and technical qualities which will impress fans more than the skill moves.
Pedri's style of play can lead to overturns of the ball, but, the Spaniard does not shirk his responsibilities to win the ball back quickly, like previously mentioned in his stats.
This shows that, Pedri presses a lot and is largely very effective at it, his work rate and understanding of when and where to press is impressive. This is something that should encourage Barcelona fans.
He will bring energy and desire which will surely make him a fan favourite and will be valuable, should the manager he plays under, want to counter-press high up the pitch.
POTENTIAL
Pedri announced himself to the world in the Azulgranas' meeting with Athletic Club, where the fledgling star become the youngest player to claim a goal and an assist in a LaLiga Santander game just 42 days after his 18th
Pedri has 2 goals and 2 assists this season, but it is his passing and footwork with the ball that has set him apart.
Those are the moments of majesty that instantly drew comparisons to Iniesta, who sent Pedri a message encouraging him to keep working hard when he joined the club.
Pedri is not an out and out winger but rather a creative playmaker or an attacking midfielder who plays in various zones; but mostly in the central or the inside left channel.
Pedri's style of play is dynamic and multi-faceted, he shows outstanding technical ability and consistency for his age.
He also has a fearless attitude and confidence which is a joy to watch. For an 18-year-old to play 30+ matches in their first professional season is testament to his capabilities and skill set, which brings us to the conclusion that he has all the tools to be a future star.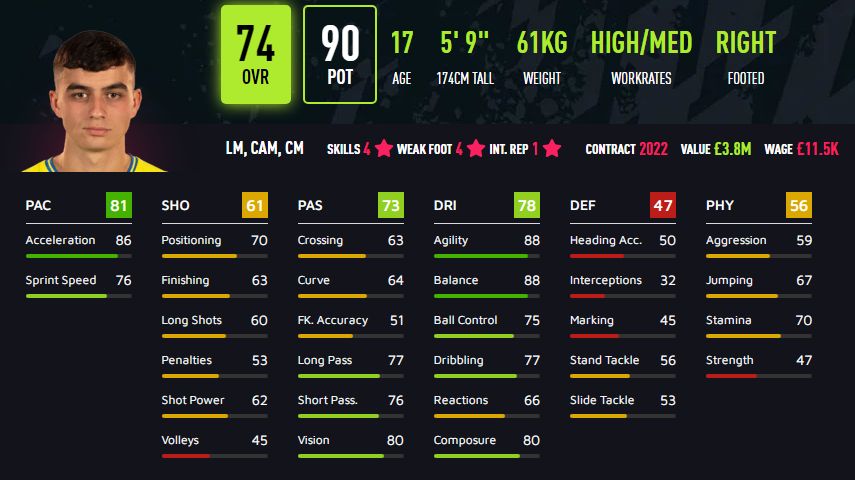 Well, even the people at FIFA agree with us on this one, where Pedri has an Overall rating of 76 and a Potential of 90.