The UEFA Champions League is regarded as the greatest club competition in the world for a reason. The season-long campaign sees the most decorated clubs belonging to various leagues from all across Europe fight it out for the title of the champions of Europe.
Since it was re-named back in 1992, the competition has seen its fair share of great finals and some great players which has provided us with several moments to savour and reminisce upon.
And with the prestigious competition resuming later this month, here is one player to look at, with some of the most memorable moments to have been played in the history of the biggest club competition in the world- Pavel Nedved.
As Pavel Nedved walked off the pitch for the final time he could've been forgiven for wondering what exactly was going on. He was being substituted in the 89th minute of his last game for Juventus to allow the Turin crowd to send him off with a rapturous standing ovation.
Remarkably, it wasn't just the Juventus fans that were standing and applauding, the away fans took to their feet as well. For someone of Pavel Nedved's stature, it shouldn't have been surprising.
𝗣𝗮𝘃𝗲𝗹 𝗣𝗿𝗲𝗰𝗶𝘀𝗶𝗼𝗻! 🎯

The Czech cannon takes aim 🆚 Cagliari! 💥⚽️#GoalOfTheDay #ForzaJuve pic.twitter.com/f0dP29EPPM

— JuventusFC (@juventusfcen) February 3, 2021
A great player being shown respect by fans of opposing teams has happened on a number of occasions; after all, Ronaldinho achieved such a response from the Real Madrid faithful while playing for Barcelona.
However, if you left your previous employers amid fans protesting your departure you wouldn't expect much adoration; but love is exactly what the away Lazio fans gave Pavel Nedved that day, demonstrating the level of respect he garnered throughout his time in Italy.
So why exactly does he deserve a tribute? What defined him? Well, let's start with what the experts have to say and Czechoslovakia's 1976 European Championship winning member Karol Dobias sounds like he'd have a good opinion on the matter.
"This lad has no future," he wrote in his newspaper column commenting on when Pavel Nedved started playing for Slavia Prague.
Later, Nedved stated that he "owes a lot to Dobias for motivating me even more to reach the very top."
His story begins many moons before in the tiny town of Skalna, in what was then Czechoslovakia.
Pavel Nedved born 30 August 1972 is a Czech retired footballer who played as a midfielder.
In the days after the demolition, Nedved joined non-violent demonstrations, which eventually led to the first democratic elections to take place in Czechoslovakia.
With the political change in his country came a change to some of the old archaic rules too. Gone was the law dictating that only players over the age of 32 would be allowed to join foreign clubs."It was the right moment for me, perfect for my career."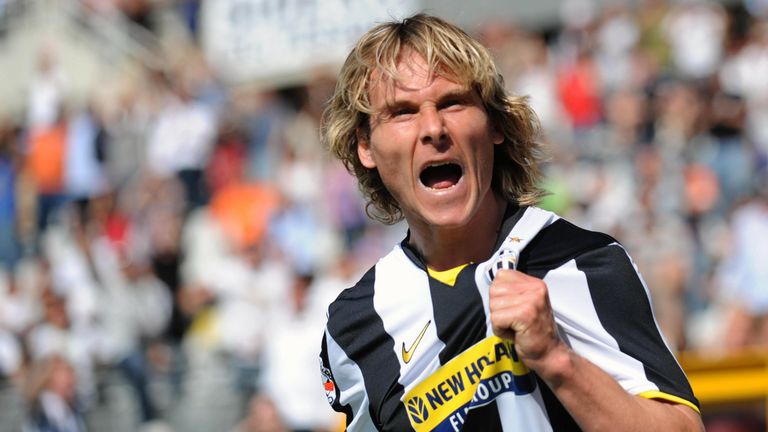 Pavel Nedved was a key member of the Czech team which reached the final of Euro 1996, during which he attracted international attention.
Furthermore, Nedved helped his team qualify for the FIFA World Cup for the first time since the breakup of Czechoslovakia. Due to his performances, as well as his quick and energetic runs during matches, Nedved was nicknamed "Czech Fury" by Italian fans.
PLAYING CAREER
Czech Republic
On 28 October 1991, Pavel Nedved played his first match for Dukla Prague. He played 19 times and scored three goals for Dukla that season before ending his military service and transferring to Sparta Prague, the nation's biggest club.
It was here that the foundations of a great career would be laid, but not everything was smooth sailing. The young Nedved had a fierce temper and, combined with the naivety of youth, managed to get sent off three times in six games whilst playing for the club early on. To his credit, he outgrew these early teething problems and would go on to have a successful time in Prague, winning three league titles and a domestic cup, as well as scoring 23 times in 97 appearances, mostly from midfield.
Pavel Nedved moved from Sparta Prague to Serie A club Lazio, where he signed a four-year contract for a fee of ₤1.2 million.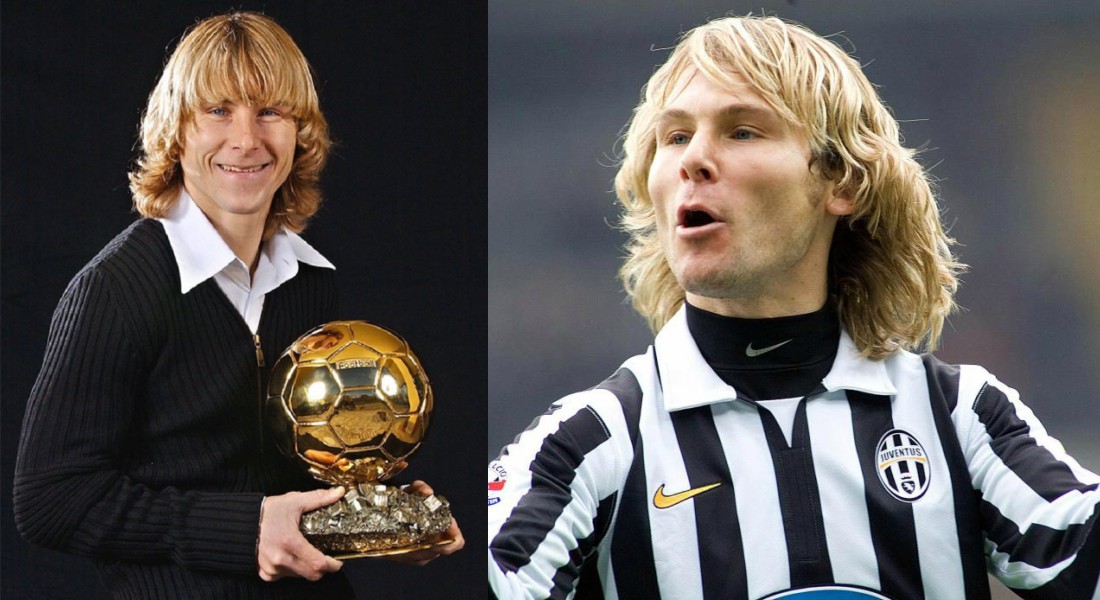 Lazio
Pavel Nedved made his league debut for Lazio on 7 September 1996 in a 1–0 away defeat against Bologna.
Having shone on the international stage, clubs around Europe came calling for Nedved's services. PSV were in the driving seat initially, and even had a verbal agreement with him, only for the Czech to experience a change of heart and instead sign for the rising blue tide in Rome.
Lazio had signalled their intention to sign some of the world's best talent and subsequently bought Juan Sebastian Veron and Hernan Crespo, among others, to the club.
Nedved was just another jewel in the crown of the Rome club as they attempted to build a scudetto winning team, sparing no expense in the process.
Although now playing for a big team in Europe's best league at the time, the move to Italy was not without complications for Pavel Nedved.
"Back then I considered the Italian field too tough. I was 23 and had never been abroad. Italy's championship was too hard and it seemed too much for me."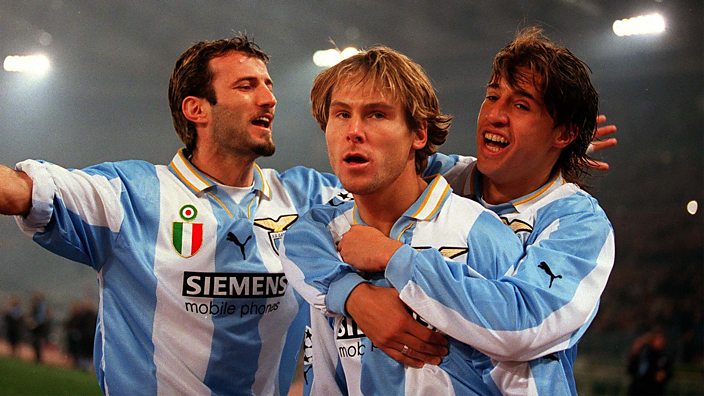 His wife was pregnant at the time with his first chid and the language barrier meant it took him a while to settle off the pitch. At the time the Czech Republic was a non-EU country, which meant dozens of documents needed to be filled out to be allowed to live in the country. "I thought: 'Where have we ended up?'"
When fans heard of Nedved's potential departure to Juventus they protested with incredible vigour, such was their love for him. Despite wanting to stay in Rome because his family had settled in the city, the time, on a professional level at least, had come to leave.
He had outgrown Lazio. His agent, the divisive Mino Raiola, had told him in no uncertain terms: "It's over in Lazio." The fond memories he had built up in the charm of Rome played on his heartstrings, but from a sporting perspective, the time for a new challenge was right.
Despite Nedved's signing a new four-year contract with Lazio in April 2001, the club tried to sell him and teammate Juan Sebastián Verón that summer, triggering fan protests against club chairman Sergio Cragnotti. The players were ultimately sold to Juventus and Manchester United respectively.
Juventus
After five seasons with Lazio, Pavel Nedved was speculatively linked to several clubs before moving to Juventus in July 2001 for 38.7 million.
When the Czech was signed by Juventus from Lazio in order to fill that Zidane-shaped hole left in their squad in 2001, he surprisingly outshone all his team-mates and earned all of their respect, not through his antics on the football pitch but instead through his commitment in training.
As Zinedine Zidane's replacement, it seemed Pavel Nedved was given an impossible job when he was signed by Juventus. The fact that he spent the remaining eight seasons of his playing career in Turin tells you everything you need to know.
He would deliberately stay on later in training than everyone else and even stay in Turin over summer just to ensure he was on top form. And it was this discipline which earned him the trophies and longevity which came later at the Old Lady.
Yet his move from Rome to Turin five years later may have had an element of cutting off a rival at the source.
"Nedved always scored against us. We'll buy him so we can resolve this problem," former Juventus director Luciano Moggi once claimed of the player's €41million transfer.
The Czech built his foundations on the principles of hard work and sheer grit and determination, in fact he said himself, "I don't think I am that great technically. My game is simple; there are no secrets to it, just work and more work."
By his own definition, Pavel Nedved is a pretty ordinary football player. He doesn't have any brilliant, shining, stand-out qualities but instead has worked hard at being good at everything; which is something we can aspire to.
If anything, he proved that football could be played at any level by almost anyone if backed-up with the right mentality.
"Back then I considered the Italian field too tough. I was 23 and had never been abroad. Italy's championship was too hard and it seemed too much for me."
Perhaps his most famous goal, however, is tinged with some sadness.
A run from deep and composed finish helped Juventus put one foot in the final of the 2003 Champions League, putting the Italian side 3-0 up against Real Madrid and effectively extinguishing a 2-1 first-leg deficit with 20 minutes still to play.
For some, it was proof that a post-Zidane Juventus could thrive, with a man capable of outshining his predecessor. Nedved was imperious that night, making a mockery of the Galacticos.
But he was also booked, ruling him out of the final against AC Milan, a game which Juventus would lose on penalties, denying them the honour of being named European champions for the first time since 1996.
He still got his hands on the scudetto that season, however, and was also awarded the prestigious Ballon d'Or, becoming the first Czech player to win it since Josef Masopust in 1961.
There are few greater signs of a player's loyalty to a team than the decision to stick around after relegation.
When Juventus were demoted amid the Calciopoli scandal, Pavel Nedved; like Buffon and David Trezeguet stayed loyal to the club and decided to fight back.
𝗥𝗮𝘁𝘁𝗹𝗶𝗻𝗴 𝘁𝗵𝗲 𝗯𝗮𝗰𝗸 𝗼𝗳 𝗥𝗼𝗺𝗮'𝘀 𝗻𝗲𝘁! 🥅⚽️

🤔 Who remembers when @delpieroale and #Zalayeta worked their magic on a rainy night at the Delle Alpi! 🌧💫 pic.twitter.com/25OexHmVah

— JuventusFC (@juventusfcen) February 4, 2021
At the end of the 2005-06 season Juve would be relegated to Serie B as punishment for fixing matches. Zlatan Ibrahimovic and Fabio Cannavaro were just two of the stars that would leave the club.
Nedved wouldn't though. He refused all offers that came his way. His family, who he always put first in his life and in his career, were settled and happy in Turin.
He was still committed to the club that he had grown to love, and along with Alessandro Del Piero and Gigi Buffon decided he would stay and help La I Bianconeri back to Serie A, which they did at the first time of asking.
Indeed, he retired with the club and remains on their board, taking on the vice chairman role in 2015.
INTERNATIONAL CAREER
His impressive performances at club level had led to a call up to the Czech Republic team in 1994. Like many before and after him, it is on the international stage where Pavel Nedved first made his name.
He was already catching the eyes of scouts with his performances for Sparta. His first major tournament was Euro 1996, where he scored his first senior international goal and helped his team reach the final.
Due to a suspension, Nedved missed the Czech Republic's quarter-final match against Portugal in Euro 1996. The Czechs won in his absence and progressed.
His legs rested and his mind refreshed, he was back for the semi-final against France. France were two years away from winning the World Cup but already boasted names such as Zinedine Zidane, Laurent Blanc, Youri Djorkaeff and Lilian Thuram in the starting line-up.
In 120 minutes of football that finished 0-0, Nedved ran himself ragged, constantly looking for openings for his team and defending from the front. Pavel Nedved was named man of the match as the Czech Republic advanced to the final after a penalty shoot–out
He and the Czech Republic team lost 2–1 in the final to Germany, who scored a golden goal.
In the 91 appearances he made for his national side, Nedved scored 18 goals.
The Czech Republic was still in its infancy as a nation but their football team had given them something to be proud of. Despite a hard fought loss to Germany in the final, they returned as heroes and are still revered to this day.
INDIVIDUAL ACCOLADES
He won the 2003 Ballon d'Or from the clutches of Zinedine Zindane and Thierry Henry.
Described as one of the best footballers of his generation, he is also regarded as one of the most successful players to emerge from the Czech Republic winning domestic and European accolades with Italian clubs Lazio, including the last Cup Winners' Cup, and Juventus, whom he led to the 2003 UEFA Champions League Final.
He also captained the national team at UEFA Euro 2004, where they were defeated in the semi-final by eventual champions Greece, and Nedved was named as part of the Team of the Tournament.
LIFE AFTER FOOTBALL
On 12 October 2010, Nedved was nominated for a seat on the Juventus board of directors; he remains a director as of the 2018–19 season. On 23 October 2015, Nedved was appointed as the vice-chairman of the board of directors
That new life still keeps him busy. As well as being an avid fitness fanatic and golf player, he plays a major role in their transfer dealings, as well as other day-to-day decisions.
Despite rarely being one of the first names to roll off the tongue when you think of modern day greats, there's no doubting his pedigree in the game.
A loyal and unassuming family man off the pitch, but a competitive and dazzling player on it, the name Pavel Nedved is firmly etched into the long, glittering annals of Italian and Czech football.