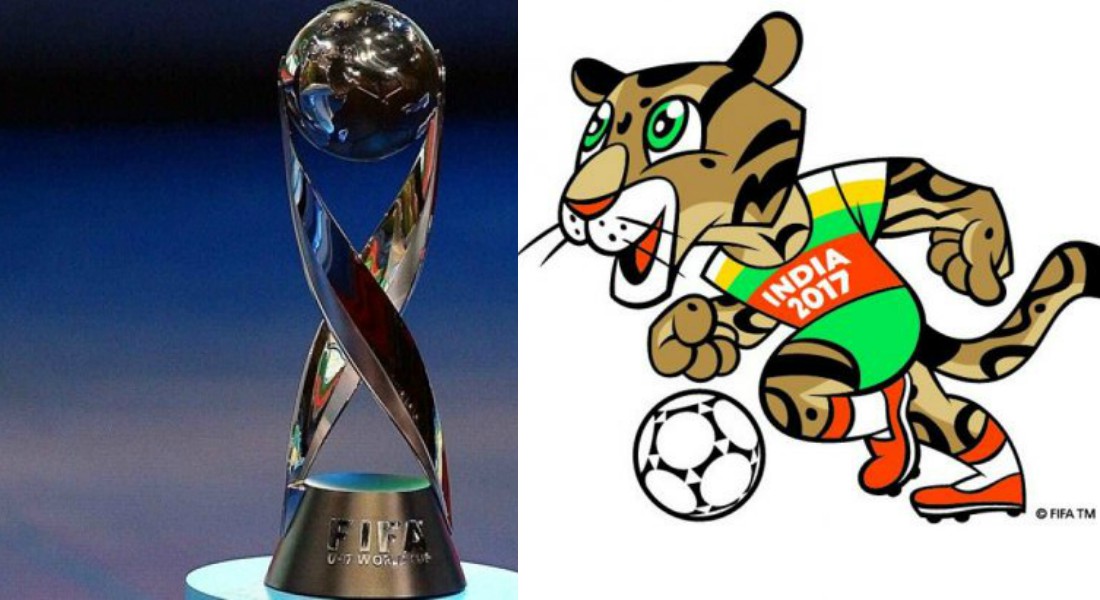 15 Things You Should Know About The U-17 FIFA World Cup To Be Held In India
It's just a few months before football takes over India as they are set to host the U-17 World Cup. It is the first major football tournament that India will host.
With the tournament just around the corner we bring to you the 15 facts that you should know about the tournament:
15
A total of 52 games will be played to decide the winner of the
FIFA
U-17 World Cup India 2017.
14
The competition will be played in 6 different venues in India. Goa, Kolkata, Kochi, Mumbai, New Delhi and Guwahati being the destinations.
13
There will be no extra-time in case a winner is not determined inside 90 minutes in the knockout games. In such a case, a penalty shootout follows the end of normal time.
12
Nigeria are the defending champion, having beaten Mali 2-0 in the final of the 2015 edition which was held in Chile. But Nigeria failed to qualify for the 2017 event and will not be able to defend their trophy.
11
The first edition of the U17 World Cup was held in 1985 in China but back then it was called the U16 World Championship. However, FIFA decided to raise the age bar to 17 in 1991 and it has been called the FIFA U17 World Cup ever since.
10
Football fanatics will arguably be excited to know that the first phase of ticket sales will see the World Cup pass being sold for only Rs 48.
9
Tickets went out on sale on May 16, exactly at 19:11 pm. The time 19:11 signifies the year 1911 when India's football giants Mohun Bagan became the first-ever club from the country to beat the English side, East Yorkshire Regiment 21, to win the IFA Shield.
8
Kolkata's Salt Lake stadium, which has been selected to host the World Cup final, will oversee ten games – the most among all the venues.
7
World Cup is scheduled to begin on 6 October.
6
Biggest ever football tournament allotted to India.
5
The draw for the event will be held on July 7.
4
The cheapest ticket costs Rs 40/- and is not available until after July 7.The latest update from FIFA tells us that Kolkata and Guwahati have sold the most tickets so far (first phase tickets have been sold out on both these venues), with Kochi steadily making progress as well.
3
Argentine legend
Diego Maradona
is set to kick off the football carnival in India during his September 18-19 visit, about a month ahead of the City of Joy's historic date with FIFA U-17 World Cup Final.
2
Sony pictures is set to broadcast the U-17 World Cup in India.
1
'Kheleo' the clouded leopard is the official mascot of the tournament.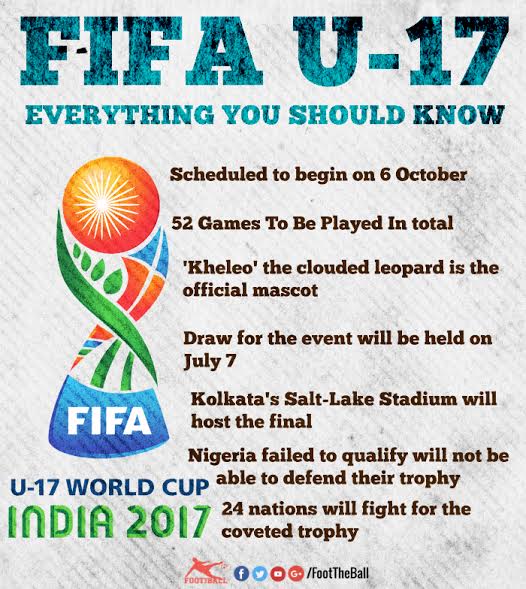 Facts you should know